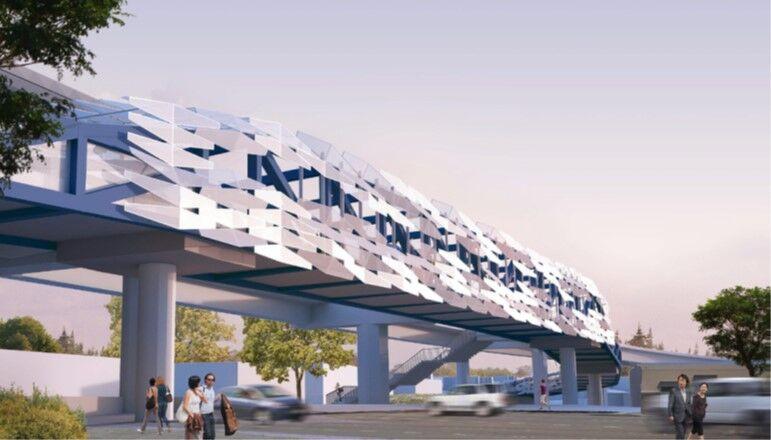 Bellevue residents on Saturday got an onsite opportunity to imagine the future of the Wilburton neighborhood paralleling the east side of Interstate 405 across from downtown. That future includes the new Eastrail bike-pedestrian trail that will become the area's spine, flowing with pedestrians, bicyclists, and sightseers — and likely flanked by shops, restaurants, offices, housing, and artwork.
On Thursday this week, a groundbreaking ceremony will occur for a highly visible piece of Eastrail: a $16-million, 500-foot-long bridge over Northeast 8th Street that will connect to and from the new Wilburton Link light rail station, near where the rail tracks begin their elevated turn west over I-405 into downtown Bellevue. The bridge, located roughly east of Overlake Medical Center, will include artistic cladding and artwork honoring the area's Japanese American heritage. 
Residents got a chance to see where the bridge will go and imagine how it and the rest of a future Wilburton area along 405 could look as part of a two-hour walking tour of the Wilburton study area. The tour was one of about 20 different programs the city held during its Experience Bellevue! Neighborhoods Conference covering myriad aspects of city development, neighborhoods, attractions, and programs. The conference, a biennial event that was last held in 2018 due to the pandemic, drew about 150 people overall. They were joined by councilmembers and numerous city staff.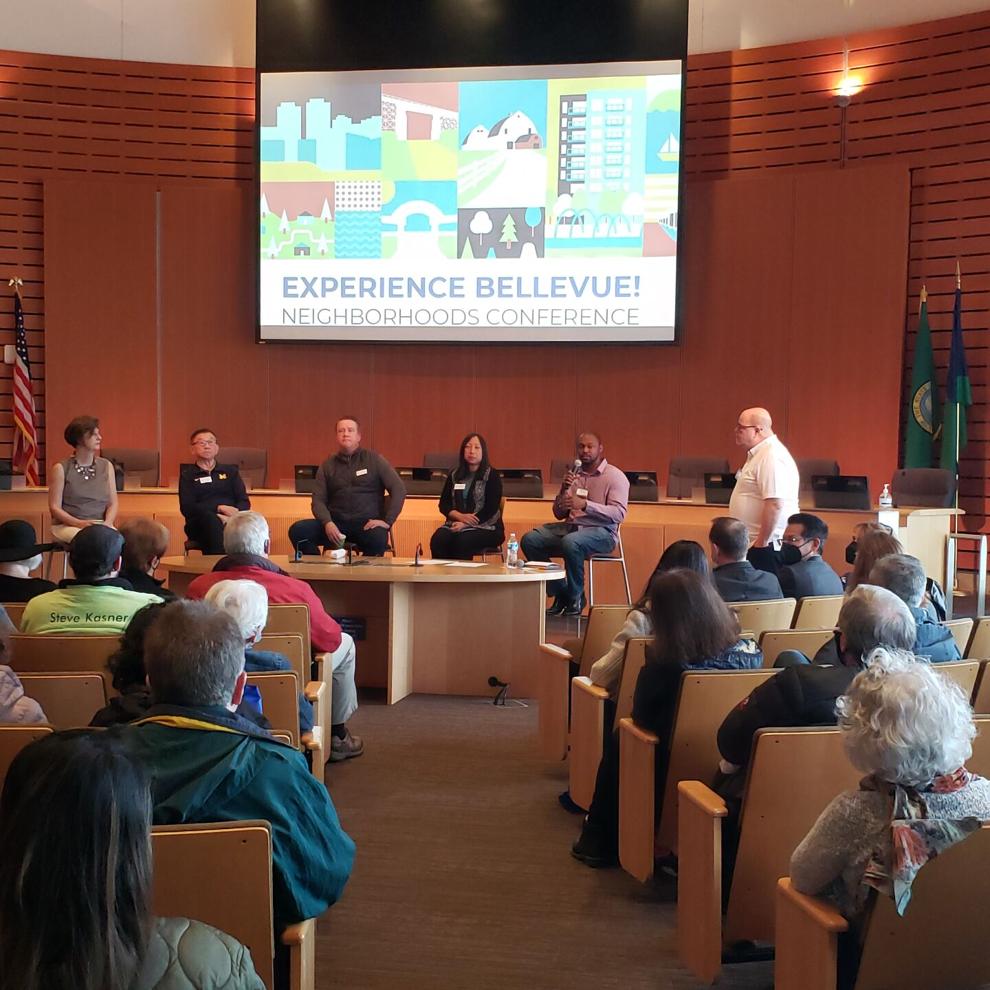 "We actually just kicked off the Wilburton process to look at how do we look at zoning in this space to be able to take advantage of the proximity to Eastrail. And so I encourage you to get involved, because that is part of community engagement in what kind of city do you want to be — and in this area in particular, that is really a connecting of the west side of Bellevue to the east side of Bellevue," Councilmember Janice Zahn said from the future Eastrail. "We're really excited about what we can reimagine this particular space to be."
The east-west connection someday could include a lid over Interstate 405, topped with park space and paths and/or a bike-pedestrian bridge over the highway. It would act as an extension of 6th Street from downtown to Wilburton — part of the city's Grand Connection from Meydenbauer Bay Park to Wilburton mostly following Northeast 6th Street.
The Grand Connection is envisioned to be a walking and biking thoroughfare with ample street-level attractions along the way. The city also plans to improve the pedestrian experience over the current Northeast 4th and Northeast 8th Street overpasses, as well as the aesthetics of both exits' highway cloverleafs that serve as portals into downtown.
The Wilburton walking tour covered a small portion at the heart of the roughly 300-acre Wilburton study area, focusing on the area between 4th on the south, 8th on the north, and 120th Avenue Northeast on the east.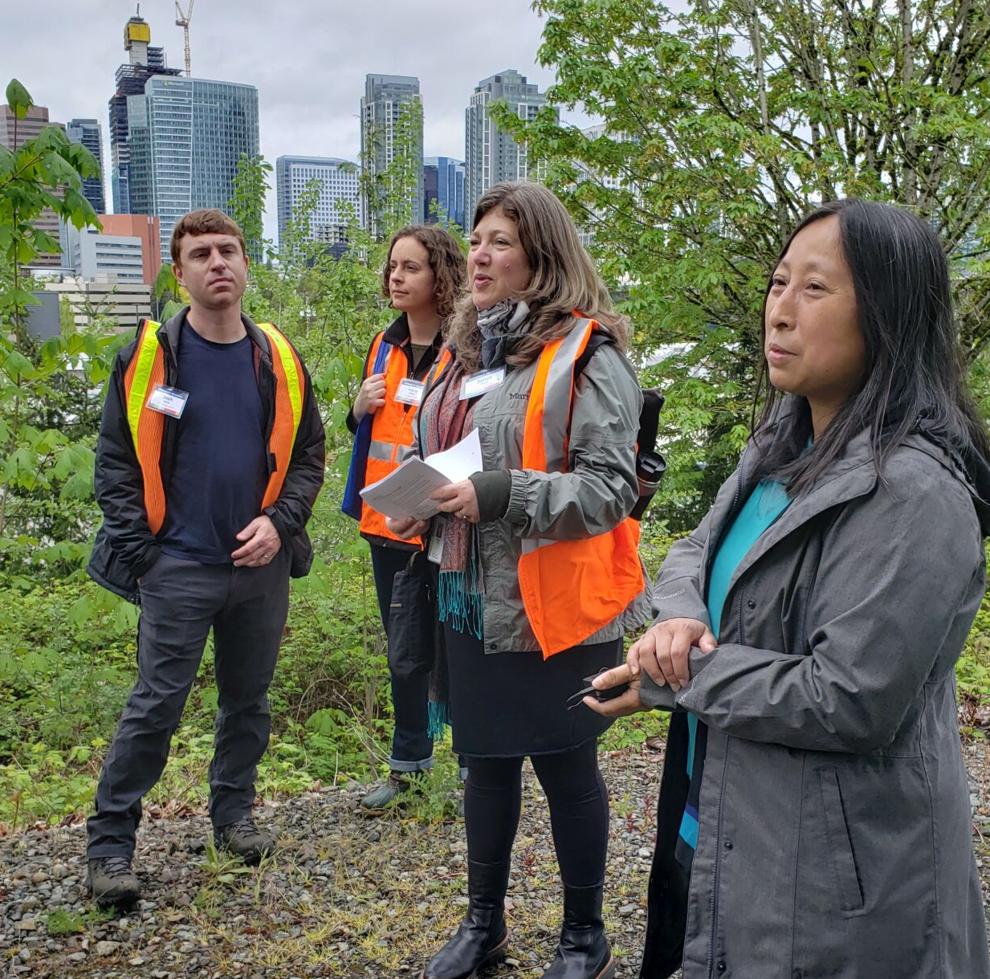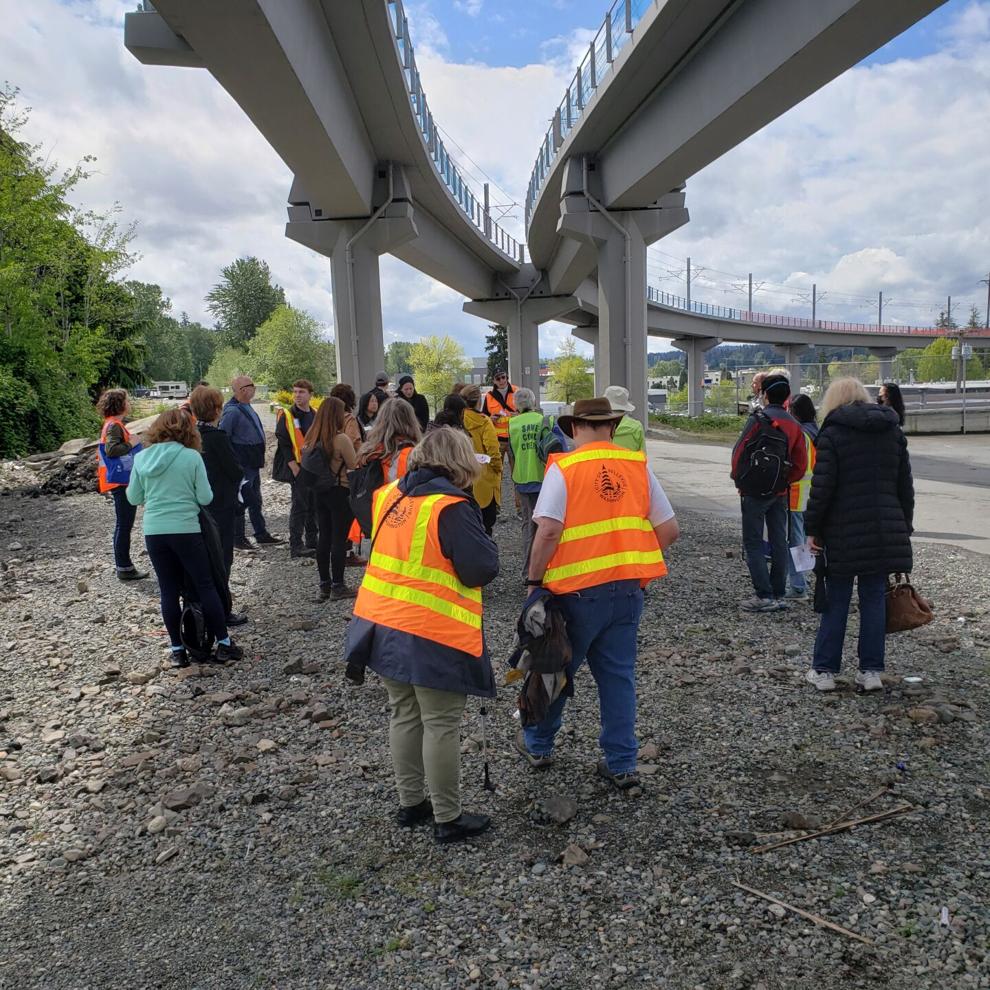 "This is not just going to be a trail — this is going to be a trail where people are going to want to go," Joe Inslee, communications specialist for King County Parks and Recreation Division, told the walking tour while standing on a portion of Eastrail's future path where it crosses 4th behind Best Buy.
Inslee said the 100-foot-high Wilburton Trestle that will be part of the trail about a mile south will become a must-see destination when it's retrofitted, including pop-out areas to enjoy the expansive view.
"This is a very unique opportunity because we're going to potentially have large buildings on either side of the trail (through Wilburton) — and how do you get all those people onto the trail safely? — but yet make sure people can get from Renton to Bellevue on their bikes, so we're going to have lots of opportunity for folks to say what they want to see here," Inslee said.
Janet Shull, strategic planning manager in the Bellevue Community Development Department and project manager for the Wilburton vision implementation, noted some of the elements of a Wilburton Citizens Advisory Committee study in 2018 that comprise a base for future planning. Those include higher densities for a mixed-use area with tall buildings similar to those downtown that would be situated along I-405, with building heights transitioning lower moving east within the study area. This is just a small portion of the greater Wilburton area existing outside the reimagined planning area.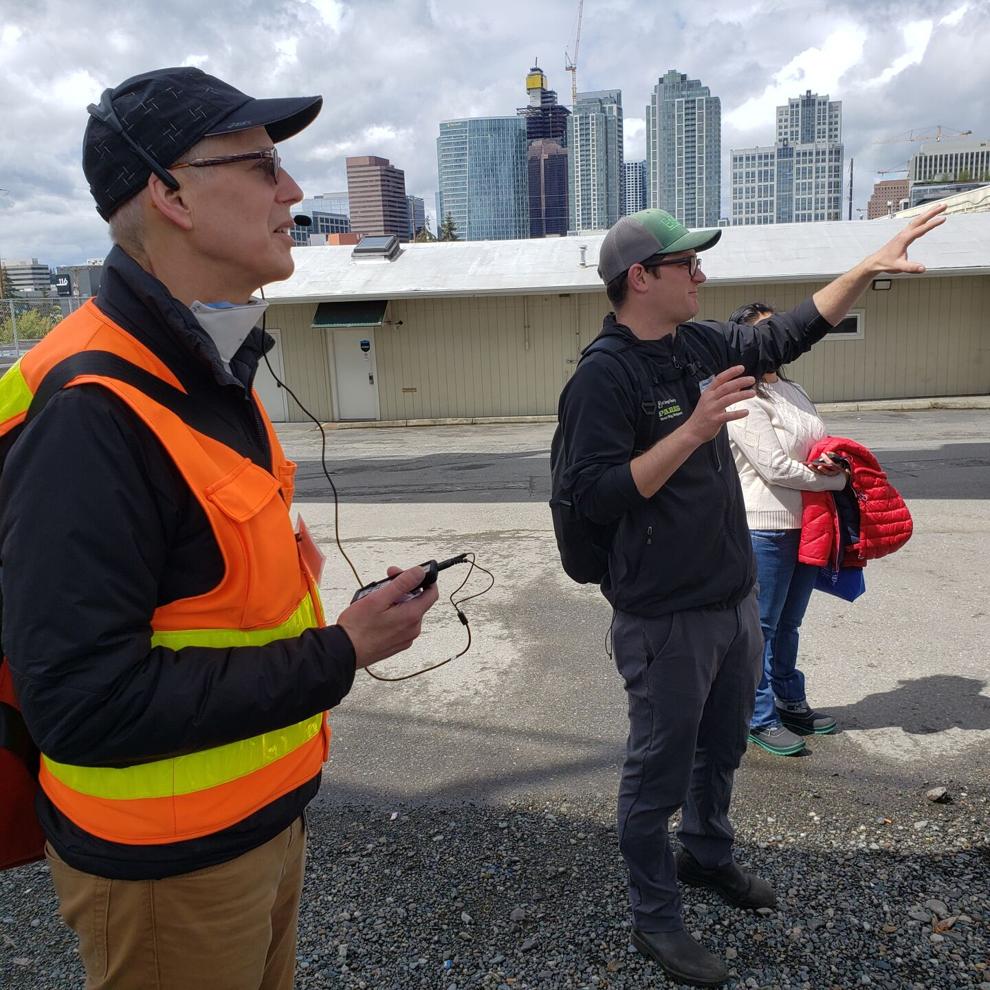 "Today, the zoning is pretty much commercial and, as you know, it's very auto-oriented, lot of large parcels, pretty big box developments, large surface parking area, so the future vision for Wilburton would be to allow residential use, office use, hotel, more retail, and a lot of basically mixed-use buildings throughout the neighborhood," Shull said.
The City Council initiated work on the Wilburton Vision Implementation on April 25. This work entails a roughly two-year process of developing policy and code to guide the transformation of the Wilburton study area into what the City's website calls "Bellevue's next urban mixed-use community that enhances livability, promotes healthy living, supports economic vitality, and serves the needs of a diverse and growing population."
The City's website contains links to planning documents and other key information about the project and how to get involved.
"We will have a public process," Schull told the tour group. "This whole process is going to take about two years to get through the comprehensive plan amendments as well as the zoning and land use code amendments, so we will have lots of opportunities for community engagement."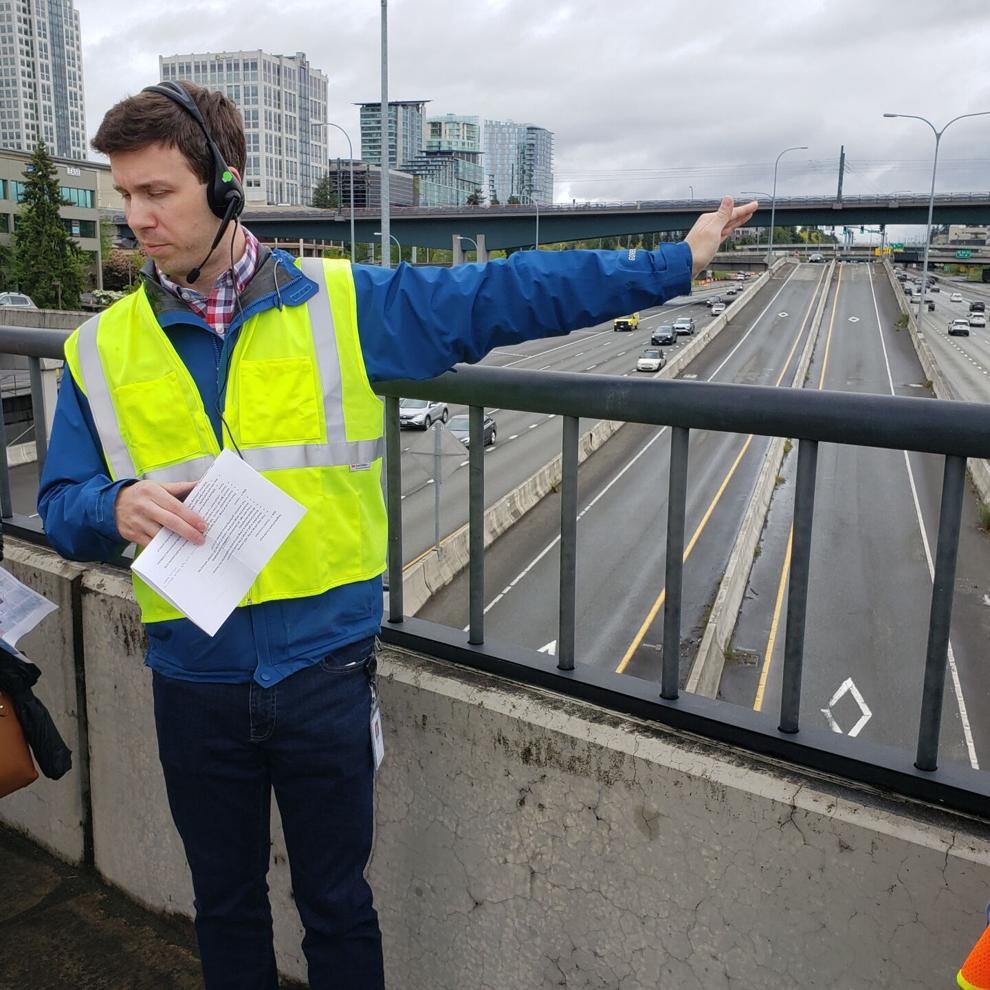 Significantly more housing — including affordable housing — will be a crucial consideration for Wilburton as the City looks for ways to address what many increasingly are calling a crisis in units and affordability.
Zahn, in an interview during the walk, talked about the different ways the community can work to imagine the future of Wilburton and development densities that can include myriad elements within easy walking distance. She recently returned from a tour of Arlington and Alexandria, Virginia, the latter of which, for example, included housing above and around a fire station.
Inslee's enthusiasm for the Eastrail —which eventually will stretch 42 miles from Renton to Snohomish — was clear Saturday as he spoke about it will mean for the Eastside and Bellevue in particular.
"When you want to take lunch break, you're going to go out on the Eastrail," he told the group. "When you bring your friends from (out of) town, you're probably going to come to the Eastrail and bring them to the Wilburton Trestle."
By 2024, after the 8th Street bridge is completed in fall 2023 in Bellevue, people will be able to travel uninterrupted from there to Kirkland to Woodinville, and connect with the Sammamish River Trail, Inslee said. To the south, people can cross the Wilburton Trestle, a new bridge over 405 and down to Renton once a steel bridge over Interstate 90 is retrofitted, timing for which is uncertain but is funded and a priority for completing the trail's Bellevue section.
Walking back to City Hall after the tour, Inslee said in an interview that the tour helped show, in working with Bellevue, how Eastrail can adapt and accommodate a growing urban area, "and how we can make sure it's a trail that works for commuters, a trail that works for recreation, and a trail that works for family. I think that's one of the things we're really trying to put at the forefront of our planning effort, is to make sure the Eastrail is a place that's an inviting experience for everybody, not just people who want to go out and ride 20 miles on their bikes."
Elements like the Japanese American artwork planned for the 8th Street bridge play a role in that, he said.
"We know that art is something that will welcome everybody into the space, and so we're really happy that can be a key component of the Northeast 8th Street bridge. Because, sometimes, a trail isn't enough to bring people out, but we know we've heard from communities that artwork and things like that can help invite people into a space that they traditionally wouldn't go towards," he said. "And you can kind of apply to the rest of the Wilburton area. How can we make sure we're planning this for a trail that works for all?"