As has been the case for most people, the pandemic caused Cynthia and William Wright to make some huge life pivots over the last year. For the past three-plus years, William had been a franchise broker, a job that entails he walk those interested in purchasing a franchise through acquisition. He's always kept his eyes open for the couple's next project, since he likes the idea of "being in control of our own fate."
The decision to get involved with Kitchen Tune-Up, a company that offers quality, professional kitchen updates, was expedited when Cynthia lost her job with the City of Issaquah. Though initially she found the transition disheartening, she then was able to enjoy her first summer off in 10-plus years, camping and savoring the splendor of the Pacific Northwest with the couple's young daughter. As Cynthia began to look for new employment, she quickly realized that, with her skill set, she would be overqualified for most positions and yet taking a major pay cut to work for someone else.
At the end of the summer, the duo began seriously digging into franchises, weighing several options. "Kitchen Tune-Up was the perfect fit for us," William said. "Home services have taken off since the beginning of the pandemic, and they were already doing well before."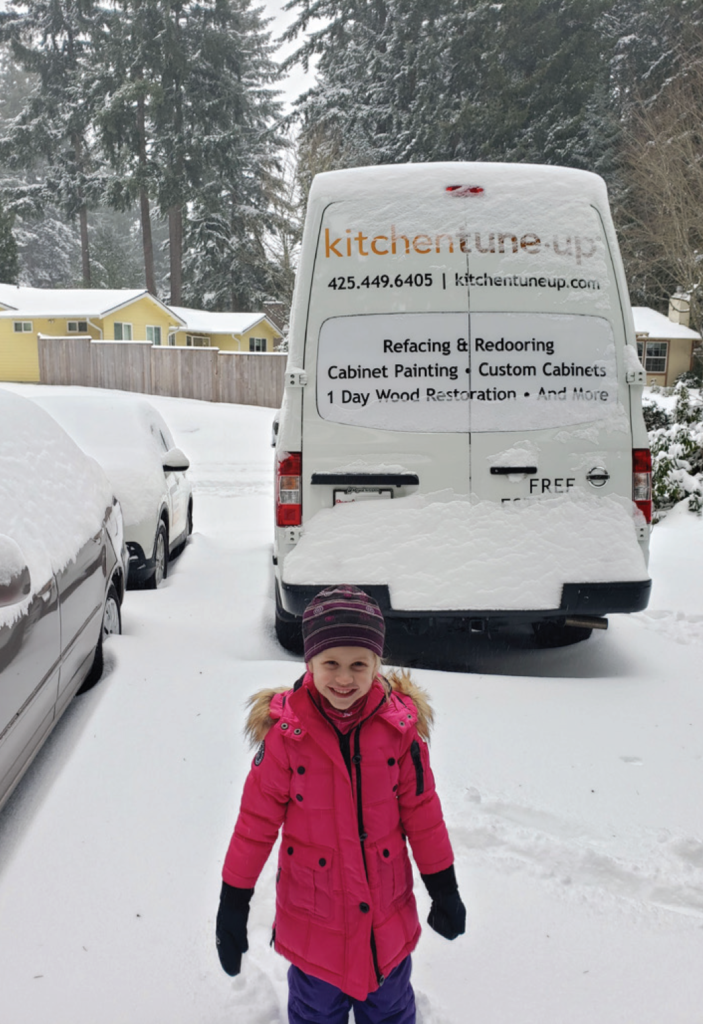 Even though the couple doesn't have specific experience within the home improvement industry, William said, "We have two very confident heads on our shoulders." (He adds that he's not unhandy, having built a deck and laid floor tiles before.) "He said, 'We can do it,'" Cynthia explained, "And I believed him. It's already come with huge rewards."
The company mission: "to make a difference in people's lives by beautifying and improving the functionality of kitchens and household spaces." Most projects can be completed in one to five days, with improvements ranging from the reattaching of doors, refacing, and painting of cabinets to discovering new storage solutions and figuring out what countertop materials best suit a kitchen (provided by local fabricators or national vendors).
Yet the couple is quick to point out that one of the biggest sources of joy comes from being able to provide jobs within the region, at a time when so many are seeking employment. "We run a business, and that's great," William said, "but we get to give back to our community." They have three employees so far — a lead technician, a sales representative, and a Tune-Up artist — and they are seeking more collaborative, enthusiastic team members to help them grow. On the office side, Cynthia has experience managing staff and even had overseen a couple remodels with the City (though never before in someone else's house). She explained that the learning curve has been more on the tech side — and training the staff who are in charge of the labor. Of the technician they hired, William said, "He's teaching us more right now than we're teaching him."
The couple currently serves the Eastside, including Bellevue, Medina, Kirkland, Woodinville, Redmond, Sammamish, and surrounding communities. They explain that they're able to work anywhere the territory is not owned by another franchisee. Right now, that means the Greater Seattle region, except for Bothell and Mill Creek, as they have a great neighbor there with whom they work closely.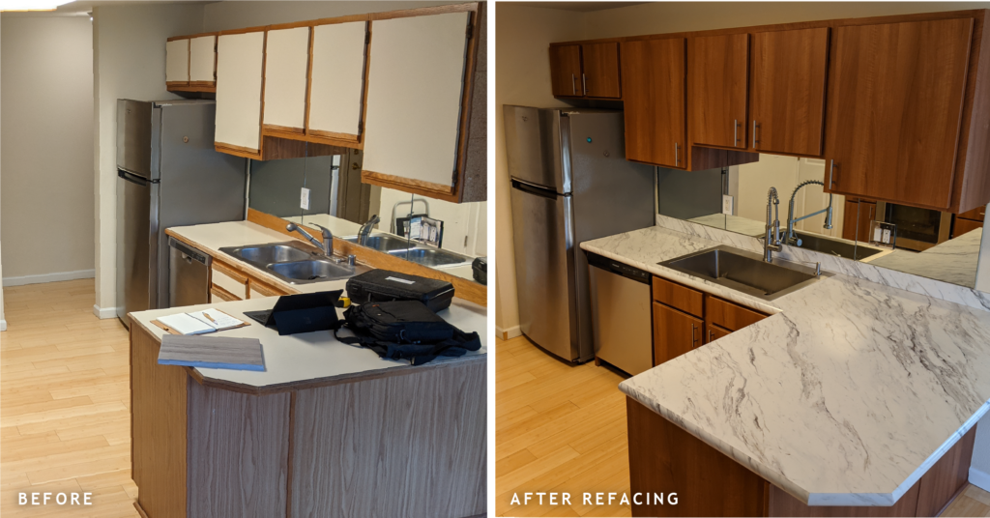 So far, the duo has been getting most of their publicity from online sources (like Facebook), and they joke that it's fun running into neighbors who exclaim, "Oh, you're the Kitchen Tune-Up people!" And with both of them having grown up in the region, William adds, "It's been great to support local and support neighbors who live here."
Both are passionate about animals and youth, and feel fortunate to have met some of the people working for various local efforts, like Friends of Youth, Hopelink, and Homeward Pet Adoption Center. "Being in the building space," William said, "we would also like to engage with Habitat for Humanity and other like organizations." William, who is co-chair of the Greater Kirkland Chamber of Commerce Ambassador Program — and received the 2020 Ambassador of the Year award — also volunteers with the Lake Washington School District at Keller Elementary School in its Lunch Buddy Program.
On paper, the couple currently works for Kitchen Tune-Up from 9 to 6, though the actual time investment spans far beyond those hours. "When you're ramping up," William said, "the business controls you."
Thankfully, however, the couple's 4½-year-old daughter keeps them humble, reminding them to put down their phones and reconnect face-to-face. The two have been married since 2009, remain close to their families, and relish spending quality time together in their backyard. Then, after refueling in nature, they're ready to head back indoors, helping neighbors create the home interiors of their dreams.