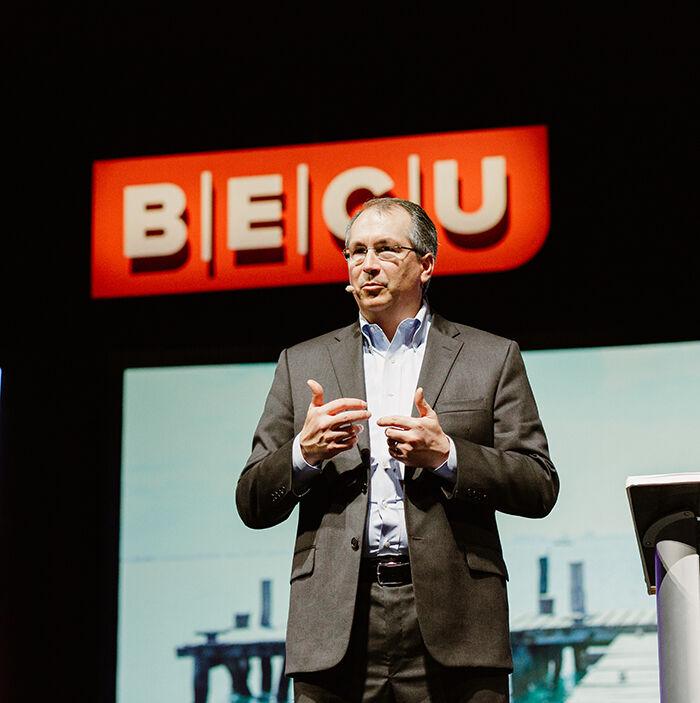 Few legacy businesses thrive today quite like Tukwila-based BECU. The not-for-profit credit union's roots are lean, and date back to 1935 and a $2.50 loan between Boeing employees. Fast-forward some 80-plus years, and the former Boeing Employees' Credit Union is the largest credit union in Washington state by assets, expanding its member eligibility to all Washington residents and workers (not just Boeing employees) in 2002, and officially rebranding itself as BECU in 2004. 
At BECU's helm is Benson Porter, who spent decades in the financial services industry — including more than 10 years at Seattle-based Washington Mutual, working his way up to executive vice president and chief administrative officer before leaving the company nearly two years before the bank's collapse — before he was hired in 2012 as BECU's president and CEO. 
Porter, 54, spoke with 425 Business about a range of topics, such as how growing up in a small town in Southwest Washington informed his career, challenges and opportunities associated with leading a large financial institution, and being mindful of market competition and emerging industry trends.
---
Q: You grew up in Aberdeen, and your family owned Bensons Office Supply downtown. Did you work at your family's store? 
A: Yes. Through high school, it was kind of my summer job. 
My grandfather bought (the business), and my dad was the second-generation owner. "Benson" was the last name of the person (my grandfather) bought it from. (My dad's) middle name was Benson, so he kept the name. It was always a joke that I was named after the store while I was growing up there. I wasn't named after the store; it just happened that the names all lined up.
What I took away most from my time working at my dad's store was to appreciate the value of relationships with small-town merchants, and just the relationships across the town. My dad was engaged in everything, whether it was building a log cabin down on the river in order to hold community events, to community volunteerism and donations that small-business people do. 
When I started thinking about my career, I liked the banking and finance side of things. I was going through college, and I was an economics major. That was probably the attraction of getting into community lending and the impact that those institutions have on the community. 
Q: When you reflect on Washington Mutual, what was your experience working there?
A: It was great to be working for an organization that was growing and created lots of opportunities for new employees, which I was at the time. I was young in my career. 
Also, I learned about the value of culture. It had a very strong, kind of "friend of the family" (culture) going back to the old WAMU. That was something I really valued while I was there. 
As it grew pretty quickly, there was pressure placed on the culture. That's one of the things I'm probably hyperfocused on at BECU as we are growing — that we don't lose the good parts of the culture we think are our key underpinnings as we grow.
Q: What was your reaction to Washington Mutual's collapse in 2008? 
A: Sadness and sorrow, like a lot of the local people. WAMU was a local institution. 
I had left a couple of years before that actually happened — not because of any great prediction capabilities. It was just that I had the chance to become CEO of another credit union in the Bay Area. 
Q: Your predecessor, Gary Oakland, was BECU's president and CEO for 25 years …  
A:I followed a beloved individual in the credit union industry. Gary had a huge impact. He was just a very humble, approachable person  — that whole tone — he really set BECU as very member-centric.
Q: What was it like for you to take over from someone like him? Did he offer advice?  
A: It was one of those things where we had probably an awkwardly long transition from both people's perspective, although it worked out great. We had about a 90-day overlap together. Gary had the idea to come up with two T-shirts — one read, "Thing One"; another read, "Thing Two." 
Forty-five days through those 90 days, we had a big ceremony where we swapped T-shirts, and that (made it) kind of official. He was in charge for the first half of the transition. I was (in charge) for the second half, and he was there to help and do backup. It was good. We had some fun with it, and the people on the team seemed to enjoy it.
I've kept the two T-shirts for whenever I go through a succession. They are ready to be put back to use again.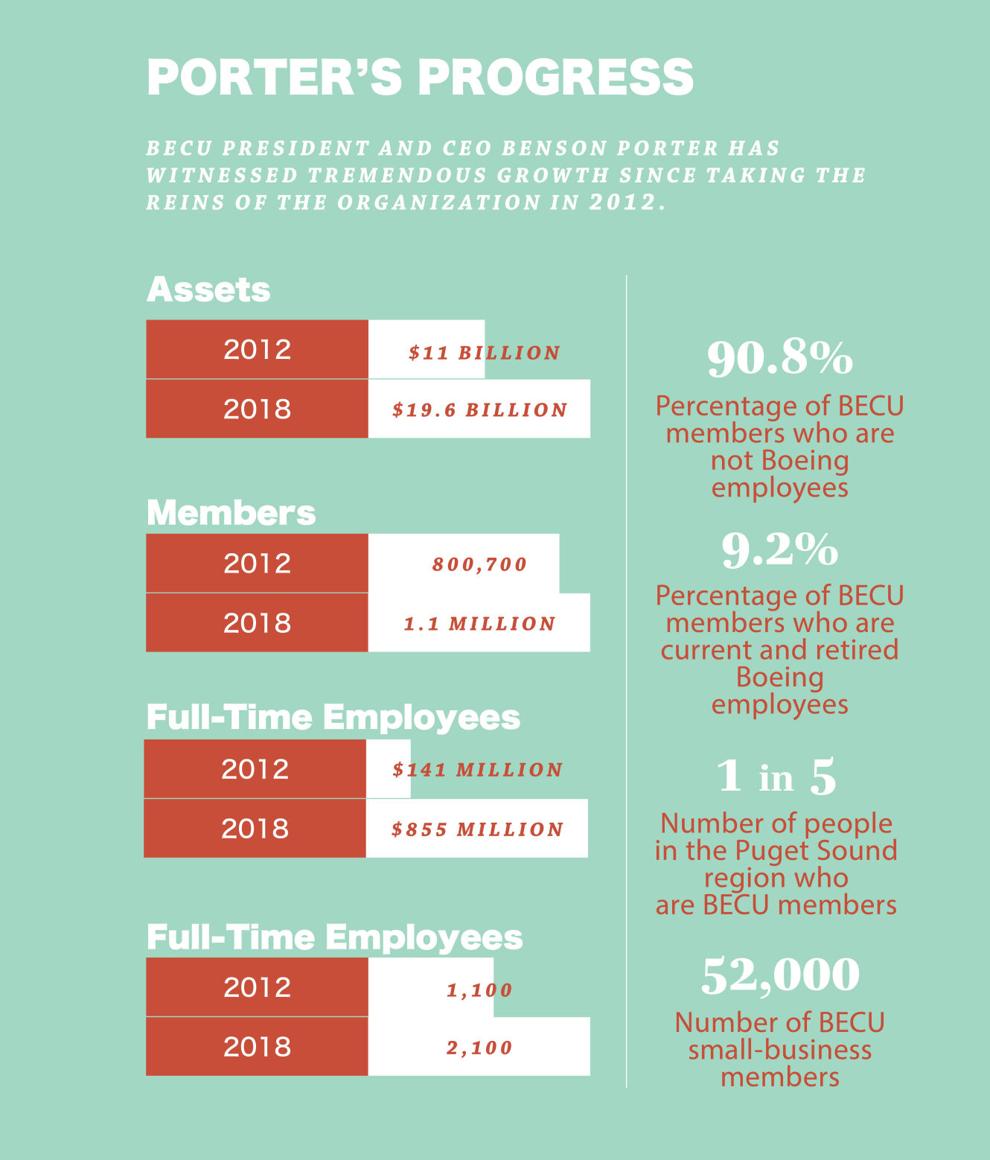 Q: Who are BECU's competitors? 
A: Well, there are the ones that we have traditionally competed with, kind of the traditional financial-service providers, which have typically been the big banks. We tend to be a great alternative for someone that wants the scale of a larger financial institution, like one of the big banks, but wants a higher level of service. We see a lot of our new membership coming from traditionally larger banks.
But everyone is competition (if they are) serving members for financial services. 
There's lots of talk about FinTech disrupting our industry little bites at a time. Some of the bites are pretty big. They will look at a particular product set, go in, and really try to optimize the experience around that and make it very easy, maybe apply some new technologies or tools to that particular product line and improve the experience in a way that it almost "Uber-fies" it.
Q: How are you responding? 
A: How we are responding is by sponsoring a FinTech Incubator at the University of Washington CoMotion Lab. We are sponsoring specific innovators around financial technologies. We hope that some of those will spin out into independent companies that we hope to partner with — or potentially fold into BECU — in some way.
Q: Beginning in 2016, BECU really started to expand its presence in Spokane. Were consumers in Eastern Washington familiar with BECU's brand? 
A:Yes and no. That was part of our test: Could we introduce the BECU brand into a new market and be successful? It wasn't totally a fresh start there. Obviously, some Puget Sound advertising gets over to the Spokane market. We did have an operations center for the past decade in Spokane. We had a solid base of a couple hundred employees that were already there. We had some familiarity with the market already.
But it was a good example of a market that was well served by credit unions. There's a number of really good credit unions in the Spokane market, so it wasn't a market that we looked at and said, "Wow, there's no credit unions there. We are going to go in and be the financial co-op option in the market." Instead, we said, "We will go and be part of this good sector that is already there, and see if we can be additive to it." 
Q: What would you like to achieve at BECU this year? 
A: We have a number of longer-term growth initiatives. Our board has identified four key themes for us to be focused on in our initiatives. If the culture stays good, we make the right infrastructure investments, and the member experience stays competitive and differentiated from the marketplace — with all those three pieces, then we should see sustainable growth above the norms. We look at those kind of four elements as we look at our strategy. We have initiatives across all of them.
Our True North as an organization is improving the experience and improving the value (for our members). Our goal is to improve the financial health of our members. If we can demonstrate that through experience and value, and the community rewards us with the opportunity to serve them — you know, growth is kind of the measuring stick; it isn't the objective.