Real estate agent Francine Schneider's stress melts away on her motorcycle
By day, Francine Schneider is an energetic, well-dressed real estate broker for Re/Max in Issaquah. By night, the petite 50-something wears a leather jacket and chaps and rides a 750-pound Harley-Davidson Softail Deluxe with a 1,585 cubic centimeter engine. The Harley helps Schneider disconnect after a busy day.
"My motorcycle forces me to take breaks and smell the roses," Schneider says. "You cannot think about the same thing on a bike for more than 30 seconds. There is always a different situation or a new view to appreciate."
Schneider is a residential agent who works 50 to 60 hours a week, including weekends when she hosts open houses. The day-to-day interaction with her clients, she says, maintains her passion for her career. She particularly enjoys previewing listings, during which she gets decorating and design ideas for staging other homes.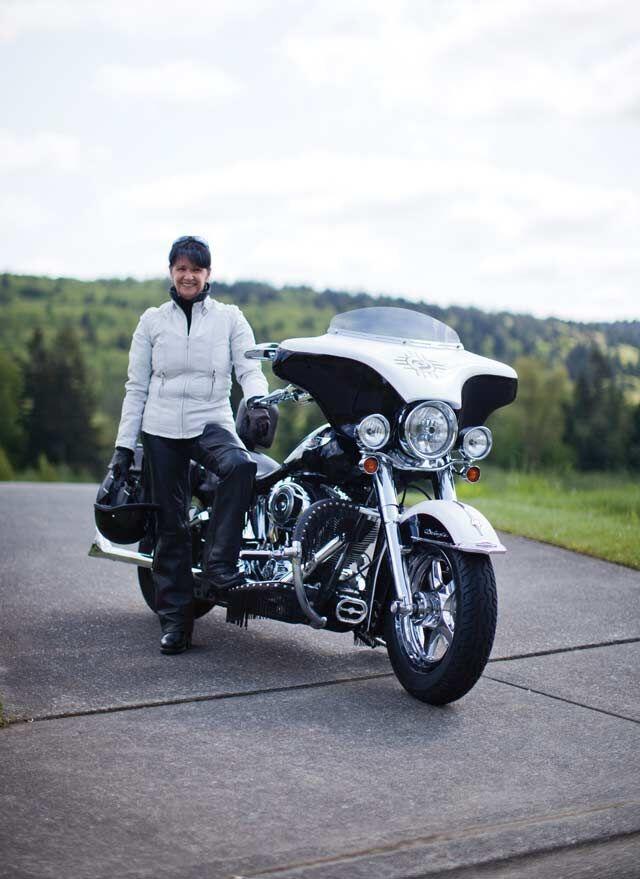 Schneider says her work is challenging but never stressful.
"I don't do anxiety," she says. Her motorcycle influences her positive attitude and peaceful mindset. "It keeps me sane. It is huge therapy, not just for real estate but for the world in general."
Schneider rides with her husband, Frank, and loves the beautiful views on the back roads in Washington. Road trips also take them to the Oregon coast, the Southwest, and California. The Schneiders met in a motorcycle club in British Columbia and ride as often as they can. Their annual vacations often revolve around riding. Schneider estimates she and her husband spend a cumulative three months on the road, including at least two weeks' worth of vacation riding. When they'd like some company, the Schneiders ride with the seven couples that make up their motorcycle club.
Schneider developed a love for the open road as a teenager in Montreal, where she would ride scooters and on the back of her cousin's motorcycle. In her 20s, Francine transferred her riding skills to horses. She says she loved the equestrian attire as much as she did the riding itself. Horses required too much responsibility for Schneider, though, so she opted for motorcycles instead.
"Like Bon Jovi sang, 'On a steel horse I ride,'" Schneider says. "A motorcycle was a little less responsibility. You can put it in the garage, and you don't have to give it carrots."
Schneider was in her 40s when she bought her first bike (she says she couldn't afford one prior) as a reward for earning her master's degree.
"I asked myself, 'What is the thing I would regret not having done?'" she says.
Not owning her own motorcycle was the answer. Schneider quickly discovered there was a bonus to being a female Harley rider.
"Being a woman on a motorcycle is a very special feeling," she says. "It is really pleasant to see the admiration in the eyes of people in cars I pass by. It is always very flattering."
Riding a motorcycle provides Schneider with a built-in ice-breaker when she meets prospective clients — especially if they also ride. Many are surprised that such a petite woman can ride such a big bike. Talking to other riders changes the conversation, Schneider says, and she even has a special business card featuring a picture of her on her Harley just for her clients who ride.
"It's easy for them to remember me and to feel like they're among friends," she says.
The skills Schneider uses in the professional realm come into play on her motorcycle: confidence, focus, balance, respect for others, and dressing the part.
"I am very confident on my motorcycle, and that helps me to be very confident as a real estate broker or in life in general," she says. "I need to be confident with my clients and help them to see the road mapped in front of us."
On a motorcycle, there is no room for mistakes. The same holds true in closing a big real estate deal. In both cases, you must pay attention to details and deadlines and always look ahead, Schneider says. Schneider must make fast, solid decisions both on the road and in real estate, and she doesn't exceed her comfort zone in either arena.
"It's all about the journey, not the destination," she says.
Survey Says …
12% of motorcycle riders are women.
34% of female riders reported being less stressed after they started riding.
40% of female riders (vs. 18% of non-riders) reported being extremely satisfied with their careers.
75% of female riders (vs. 64% of non-riders) usually feel content rather than worried.
Data source: Motorcycle industry council
The gear
Riders say nothing beats the feel of the open road on a motorcycle, but that road doesn't feel very good during a crash. Since motorcycles are smaller than cars and the rider is exposed, the following protective gear is essential.
Helmet(full-face or DOT-approved half helmet)
Tinted visor or sunglasses
Riding jacket (consider an armored jacket for extra protection and insulated gear for cold-weather riding)
Riding pants or chaps
Riding gloves
Boots with ankle protection