Float away from stress
Boating hasn't always been a part of Sandy Dupleich's life. The Issaquah resident and partner at Tukwila-based translation-services company Dynamic Language came to the area from Bolivia with her family when she was 2. Her parents started Dynamic Language, and now the company is recognized as one of the Northwest's leading translation services.
"We got into boating in (around) 2000," Dupleich said. "It's not something my parents did. When we were younger we really didn't have much. We never considered having a boat — it's a tremendous luxury and something we never thought would be possible."
Dupleich grew up in Bellevue, went to Newport High School, got her bachelor's degree from the University of Washington, and began working for Dynamic Language 29 years ago. Her husband, Will, is the company's CIO.
Dupleich said hard work has led to successful careers for her and her husband, and they made what had once seemed like a pipe dream become reality with the purchase, in 2001, of a 30-foot Chaparral Signature 300 cruiser.
"Usually the minute we hit the water, it feels like a ton of bricks has been taken off my shoulders. The sun, the wind in my face, the colors on the water — I can't really get that feeling anywhere else," Dupleich said.
Outside of boating, Dupleich loves to ski (she was a former ski instructor), plays tennis, and is the treasurer for the King County Sexual Assault Resource Center.
Dynamic Language still is a family affair. Dupleich's brother is her business partner, their mother is CEO, and their father is retired from the business. Dupleich manages the finances of the company, which helps businesses communicate in more than 150 languages. Dynamic Language does this through translation, localization, and interpretation services. Their services are carried out in-person, through written documents, or via software. Dynamic Language counts Boeing, Nordstrom, and Starbucks as clients.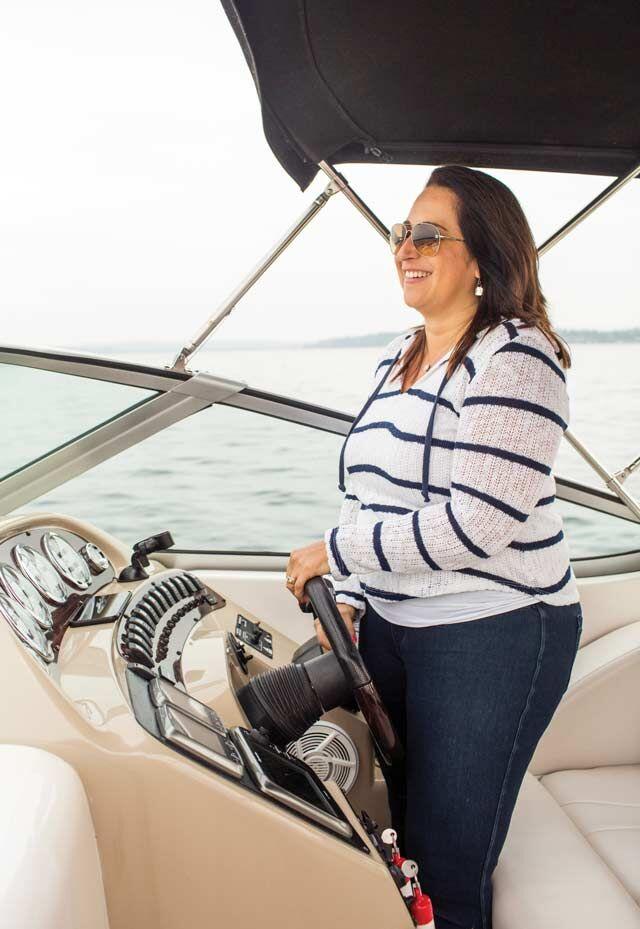 Dynamic Language has been a boon to local companies that take on international hires, especially as the Eastside population continues to grow and diversify. "Oftentimes the employee is actually well-versed in English and they may not need our services, but it's their family members that might not necessarily speak English, and that's where we can come in," Dupleich said.
One of Dupleich's work-related challenges is the influx of low-cost, out-of-state vendors competing for clients. She considers Dynamic Language a boutique provider that's not the most affordable option available in the market, but one that is known for strong customer service and winning results.
"Unfortunately, there are a lot of clients that will seek those more affordable options, and the results for them aren't great. It's frustrating because the work that we provide is high quality," Dupleich said. "The clients who work with us know that they're going to get high touch and consistent service over time, something they're not going to get with someone who's coming in with the cheapest price."
Managing a complex business is full of challenges, but it also has perks. Dupleich and her husband often travel for work, sometimes to sunny climes with boating opportunities. On a recent trip to Mexico, for example, Dupleich piloted a 151-foot catamaran, and on a vacation to Kauai she piloted another large catamaran along the scenic Na Pali Coast. Locally, Dupleich, her husband, their two adult daughters, and their teenage son cruise the boat every summer to the San Juan Islands.
The Dupleichs are members of the Bellevue Yacht Club, which runs organized monthly member cruises throughout the Puget Sound. Dupleich holds the rear commodore position on "The Bridge" — Bellevue Yacht Club's executive board. She is responsible for new-member outreach and recruiting.
Dupleich said the best way to learn more about boating is to join a club, especially before you make that big purchase. "Do you want to go small, sleek, and fast, or do you want something slow and steady? There is a huge jump in cost, and it's an exponential jump every few feet you go," she said. "Where do you want to go, and what do you want to do? Do you want to just relax on the lake? Maybe you want to do more extended cruising and you need a cabin for your family. How much do you know about engines and maintenance? Having the resources of a club is essential."
Despite the variables that go into buying and maintaining a boat, the Dupleichs take every opportunity they can to get out on the water with their kids and their dog, Lucy.
"It's the perfect escape from the day-to-day struggle of my job," Dupleich said. "There's nothing quite like it."
Where to Dock
Sandy Dupleich's five favorite Puget Sound cruising destinations:
1. Roche Harbor: A boater's paradise! A must for summer cruising in the San Juans. Fun nightlife, restaurants, hiking nearby, and beautiful scenery.
2. Poulsbo: This is our favorite location for a day cruise. We just returned from Viking Fest — a really fun weekend!
3. Victoria, B.C.: A bit more of a challenging cruise, but really worth it once you arrive. There's a gorgeous inner harbor with shopping, restaurants, and museums all within walking distance.
4. Friday Harbor: Our favorite first stop for a San Juan Island weekend. Ample guest moorage and great views.
5. Edmonds: An unexpected gem just on the other side of the (Ballard) locks. Good facilities for boaters and great restaurants nearby. Gorgeous sunsets are a bonus!
The Gear
Aside from the obvious (you need a boat to go boating), Dupleich recommends you join a club before even committing to the expensive hobby. Once you do commit, she believes a good mechanic also is essential. The United States Coast Guard requires the following safety equipment before heading out on the water. Take heed, and pack accordingly:
Life jackets 
One per person must be within easy reach of all passengers, and children 13 and under are required to wear them at all times. All boats 16 feet and longer must also carry a throwable flotation device.
Visual distress signal 
The following combinations fulfill the USCG's visual distress signal requirements: Three hand-held red flares that are approved for day and night use; one handheld red flare and two parachute flares for day and night use; one handheld orange smoke signal, two floating orange smoke signals for day, and one electric distress light for night.
Fire extinguisher 
At least one marine type USCG B-1 fire extinguisher is required for boats 16 feet and up if there is an inboard engine, enclosed compartments where combustibles are stored, closed living spaces, or permanently installed fuel tanks.
Sound-producing device
Bells, whistles, and air horns meet the Coast Guard's requirements.
Navigation lights
Recreational vehicles are required to display navigation lights between sunset and sunrise and during fog, rain, haze or other inclement weather conditions.