The Lodge at St. Edward State Park opens to guests this month, culminating 2½ years of painstaking renovation that converted the former Catholic seminary into an 84-room hotel surrounded by parkland and immersed in history — a past that the building's developer and preservationist has brought to life.
"The whole goal is to tell stories," Kevin Daniels said of the many historic features his Seattle-based company, Daniels Real Estate, included within the sturdy walls of the 90-year-old building in Kenmore, where budding priests were educated and trained from its opening in 1931 until St. Edward Seminary closed in 1976 due to declining enrollment. Afterward, the building sat vacant and fell into disrepair.
Father Michael G. Ryan, pastor of St. James Cathedral in Seattle, was a student at St. Edward in the mid-1950s and early 1960s, and said Daniels' project brings him joy after watching the structure deteriorate over the years.
"It was kind of heartbreaking to see that because it's a beautiful building," said Ryan, now 80, who's thrilled to see the building restored and blossom anew at Daniels' hands. "If it was good before, it's better now. He's put some finishing touches on it that are remarkable."
Daniels credited a team that included partner Carl Shumaker, and dozens of contractors, designers, and others who've done "an absolutely phenomenal job in a most difficult situation," which included working through a pandemic that delayed the opening. Of the roughly 75 companies involved, all but one are headquartered in King County.
Ryan provided some of the stories and historic direction for Daniels as the project unfolded. And when Daniels was making his case for his plans for the building before the state Parks and Recreation Commission in 2017, Ryan was among those who testified on his behalf, telling the commission that Raymond G. Hunthausen, archbishop of Seattle from 1975 to 1991 and for whom Ryan had served as chancellor, studied in the building and had hoped its sale to the state would result in its preservation for the community.
Stories about the building's history rolled off Daniels' tongue as he highlighted some of the building's many features during an early March tour:
• He pointed out the tonsorium, Latin for "barber shop," where students were shorn, which will be a bar by the same name. Daniels said it would include a barber pole and other fun features.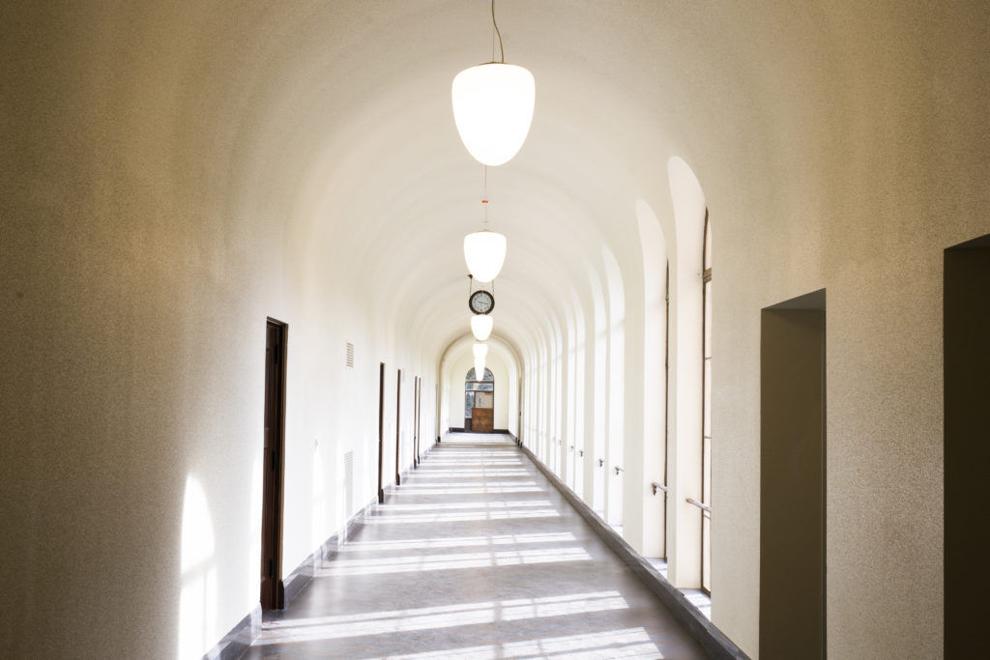 • There's also Father Mulligan's Heritage Bar, named after the seminary's first president, Thomas Mulligan. It's located in the former faculty common room, where priests would go to relax and which was off-limits to students. Ryan remembered that as doors to the room — located near the dining hall — opened, students could catch a passing glimpse inside, "but not very well, because there was always kind of a cloud of smoke in the room. They were smoking cigarettes and cigars. You could barely cut your way through it, I think."
• Daniels also pointed out original doors, citing stories of mahogany that was shipped from South America and crafted on-site as the building was erected during the Great Depression. "Those doors weigh a ton; they're very solid, and we used them where we could and matched where we couldn't," Daniels said. "It was a fun project — lot of craftsmen."
• He pointed to the original chandeliers hanging in the former refectory, or dining hall, that will illuminate the new restaurant occupying the same space; talked of the classrooms converted to conference space for a new type of learning; and pointed out the original windows now beautifully refurbished.
• Other features include the bell tower, where a large rusty bell still hangs on the landing above a narrow, steep spiral stairway and may be rung now for special occasions, like a wedding, but not as a reminder to come for dinner or Mass. He said a replica statue of St. Edward the Confessor will greet visitors as a tribute to the seminary's namesake. The original statue, once located in the seminary's entry, is housed in Bishop O'Dea High School.
Edward, who was born circa 1003 and died in 1066, was among the last Anglo-Saxon kings of England, ruling from 1042 until his death, according to cathloic.org. Pope Alexander III canonized him in 1161. A video on the site calls him "one of England's most beloved kings," and the website notes his piety gained him the surname "the Confessor." King Edward built a church where Westminster Abbey is today and where he is entombed, the video notes.
At The Lodge at St. Edward State Park, guest rooms include curated wallpaper that depicts the seminary's original architectural drawings, showing the building's design detail. The drawings allow people to reflect on how intricate the building is, Daniels said.
"Now they can go outside and see those same details on the exterior of the building," he added.
The seminary was designed in late Romanesque Revival style by noted Seattle architect John Graham Sr., according to National Register of Historic Places documents filed in 2007 supporting the property's registration. Daniels also plans photos displaying the history, complemented by displays of modern artwork by Pacific Northwest artists.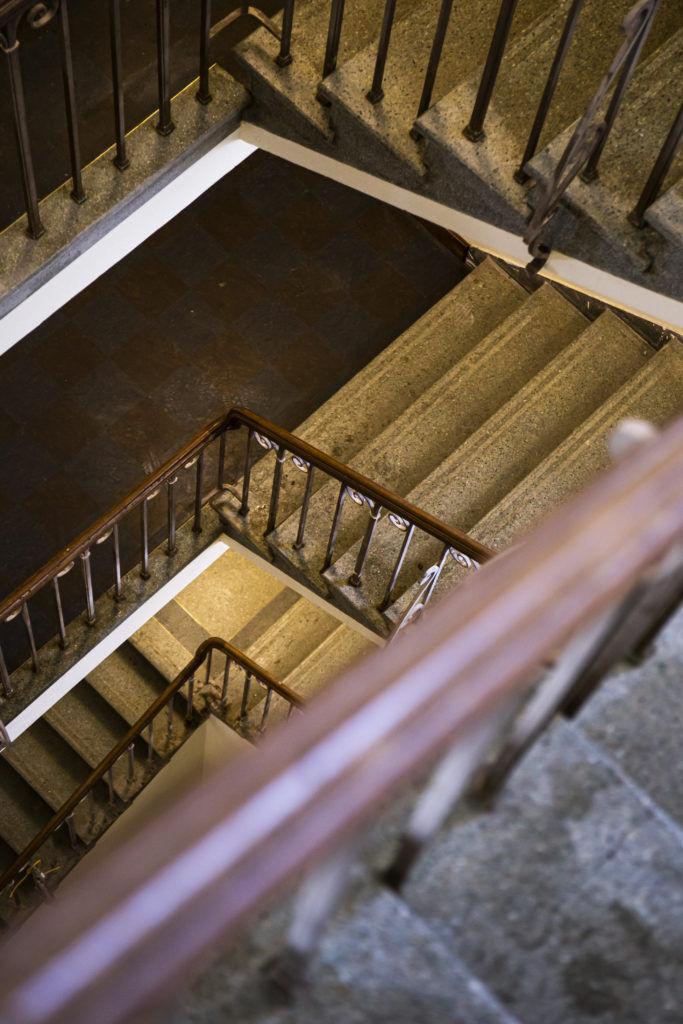 "It's a building and a project easy to fall in love with," said Daniels, whose company spared no expense restoring it.
He estimates the project, at $55 million to $56 million, was the second-most-expensive hotel project to build per room in the Seattle region, second to the hotel within The Mark, now the F5 Tower in downtown Seattle, which his company also developed. That works out to about $660,000 per room. The project doesn't necessarily work financially, "But it's just a phenomenal project, so you had to save the building at all costs," Daniels said.
Daniels Real Estate, in exchange for a 62-year lease for the seminary, bought 10 acres of undeveloped old-growth forest bordering Lake Washington and the park and transferred it to the state, and it's also collecting the $10 park access fee from overnight guests to give to state parks. A 69-stall parking garage was dug into the hill under the building to preserve existing spaces at the park.
The 339-acre park, which had about 545,000 visitors last year, has numerous trails, including the short Seminary Trail winding downhill through trees and ferns from the lodge to the lake, where there are picnic tables, vault toilets, and beach access. An expansive lawn, with picnic tables, borders the lodge.
Daniels plans 10 beehives on the roof to pollinate area vegetation, including the gardens that will supply farm-totable produce for the restaurant, and generate honey sold in a lodge store.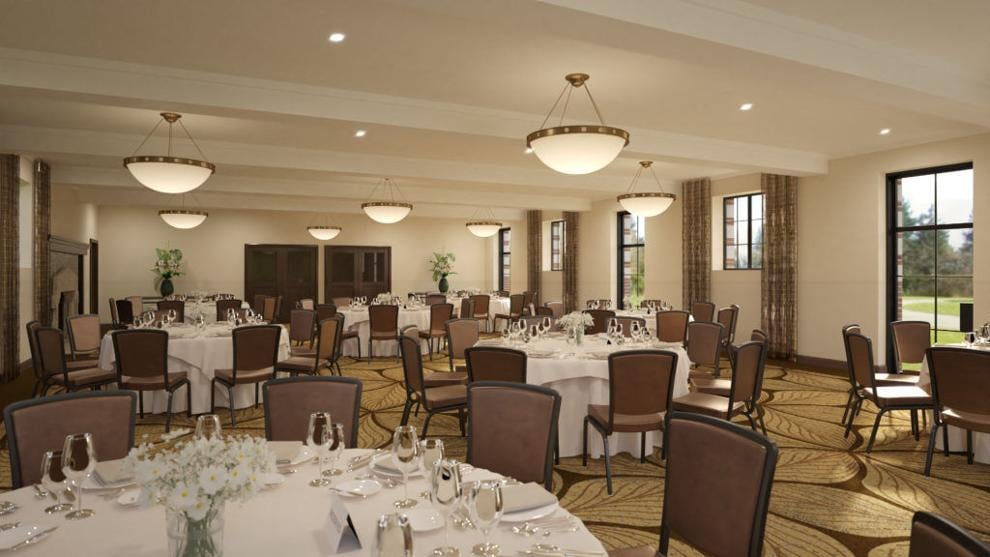 Bastyr University — a pioneer in science-based natural medicine with programs in nutrition, public health, exercise science, naturopathic medicine, and more — will influence the lodge's spa, restaurant, and program offerings. It has occupied the former St. Thomas Seminary, a quarter-mile from St. Edward, since 1996.
The Archdiocese of Seattle in 1977 sold what today is the park and St. Edward, excluding the parcel with St. Thomas, to the state. Washington's 93rd state park was dedicated in 1978, according to the National Register of Historic Places documents.
The parks department plans an environmental education and research center at St. Edward, in partnership with University of Washington-Bothell, to provide field learning and environmental research opportunities to K-12 students, local colleges, and neighboring communities, who will use the park as a "living laboratory and outdoor classroom." It will be located adjacent to the lodge, inside a building with a former gym that Daniels plans to renovate next. It will likely remain a gym. A former indoor pool building in front of the lodge will be renovated later, but its use remains uncertain.
Public-Private Partnership Key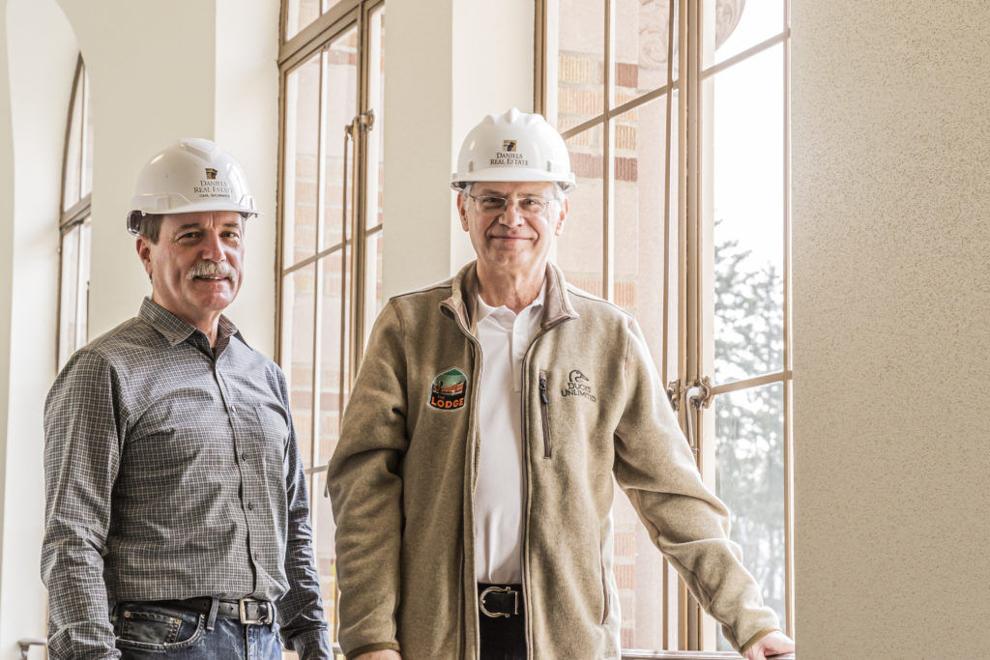 Ken Bounds, a state parks commissioner, said the state didn't have the money to preserve the building and appreciates the deal with Daniels.
"We had lots of public meetings … and the really overwhelming majority of folks recognize that it's a building worth saving and recognize the only way to save it is to have a partnership with a private entity that could afford to invest the money to make it work," Bounds said.
"I think we were fortunate to have a partner like Daniels Real Estate to make this a reality," Bounds said, noting the project isn't unlike lodges built in national parks. In addition to the building's historic preservation and providing something interesting for visitors, parks with more activity tend to be safer, he said from his experience as former superintendent of the Seattle Department of Parks and Recreation.
Preservation is important to Daniels, and The Lodge at St. Edward State Park holds a special place in his heart. He and his wife, Mary, who live in Newcastle, were married in 1984 at the St. Thomas Seminary building. They had their rehearsal dinner on the lawn outside St. Edward.
While that marked a personal beginning for Daniels, the lodge project marks a professional end; he doesn't plan to take on any more development or preservation projects after this, but will stay on to wrap up projects under way.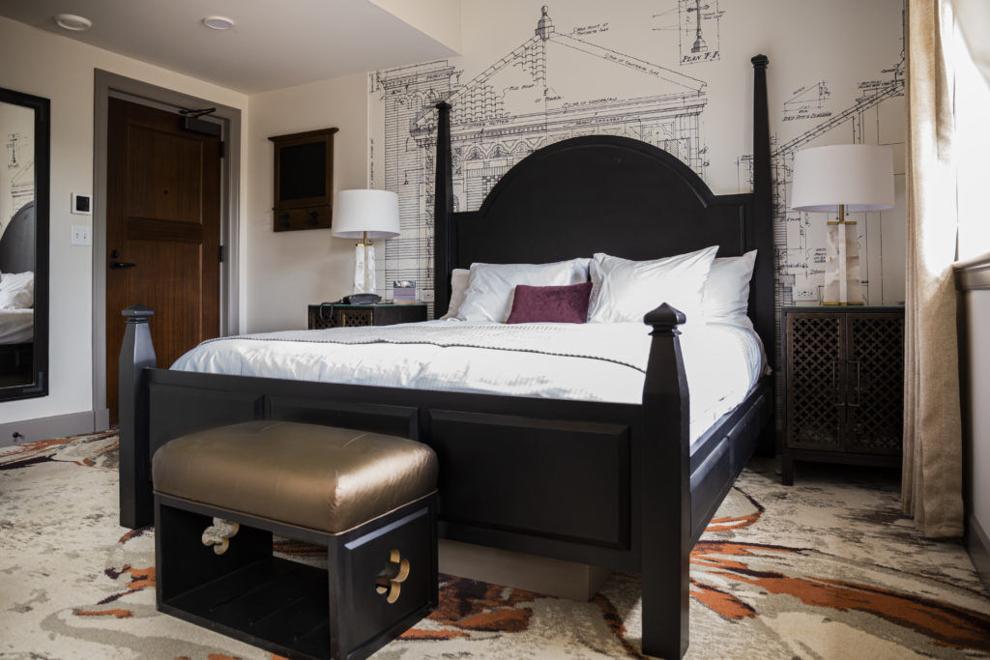 "Kind of a big circle," Daniels said while gazing over the sprawling park from a guest room window offering peek-a-boo views of Lake Washington through the trees. "What is that Elton John song, 'Circle of Life'?"
It's clearly a satisfying project for Daniels, 64. His personal history and that of the building explain his passion for the project, and his willingness to stretch expenses. He seems to view the project as giving back after a rewarding career. His company is responsible for high-profile projects in downtown Seattle, including The Sanctuary (the historic former First United Methodist Church) next to the F5 Tower, Starbucks Center (headquarters), Union Station, Frye Art Museum, Stadium Place, and more.
Daniels called St. Edward "kind of a last hurrah" for Mary and him from a rehabilitation/ historic preservation perspective, "and we want to share it with everyone."
He admits his personality is more apparent in this project than any he has done, fulfilling a vision for the property that includes not only preserving and sharing history, but also creating a place to have fun and relax. The lodge will be infused with a Pacific Northwest influence, from its farm-to-table restaurant, Cedar + Elm, to displays of artwork from Northwest artists. A hand-painted mural in the main hall depicts early Kirkland, including drawings of an old Kenmore Air seaplane and 1930s Boeing warplane overhead, and a lake ferry.
"You will be transported back in time, into the 1930s, when you walk in," Daniels said. "You'll understand it was a seminary. Like we did at The Sanctuary, we brought a little bit of play to it … and this is similar. You'll know what you're in; at the same time, you'll be free to have fun, lot of places to gather — COVID past us, let's hope — and … it'll be like being transported back in time, I hope. That's our whole goal."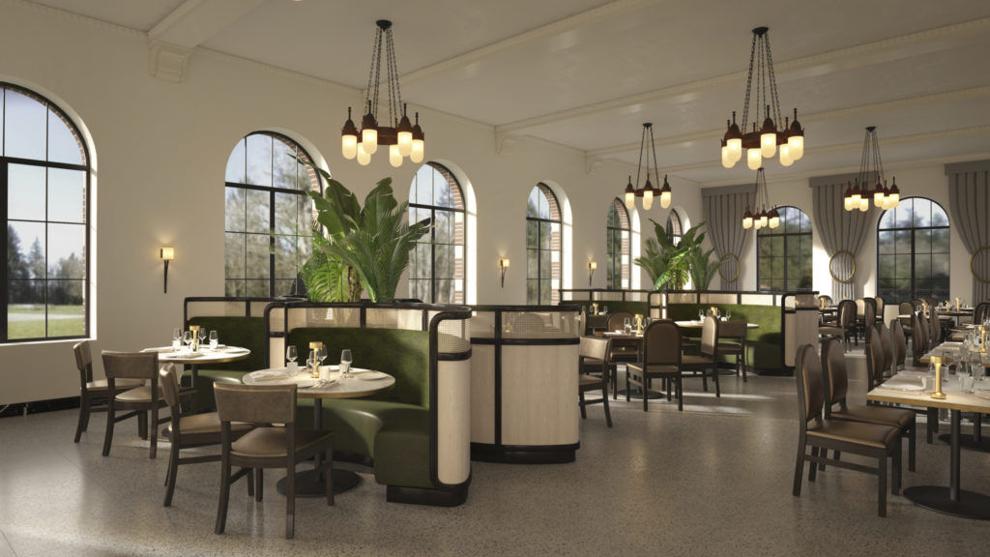 Seattle-based Columbia Hospitality is managing the hotel, another in its lineup of distinctive properties it manages in the state, including Salish Lodge, Semiahmoo Resort, The Heathman Hotel, and many others.
Lodge general manager Jenne Oxford, a Sammamish resident, has a history of working in historic properties. She held various leadership roles with Kimpton Hotels & Restaurants, including serving as GM at Seattle's Alexis Hotel, built in 1901.
"What I loved about that was taking something that had all of this very rich and unique history and just turning it into something where a guest could come and experience it — and (St. Edward) is really the ultimate of that story," Oxford said. "It's just the layers of stories that are going to be uncovered and opening it up to the public so they can experience that history."
She noted Daniels' passion for the project.
"He just has so many ideas of things that he wants to see here at this property, from the history, to the art program, the music, the programming," she said during a March lodge tour. "There's going to be a lot of details that go in, and most of it comes from Kevin and just what he envisions for the space."
'I Hope It Will Bring a Lot of Joy'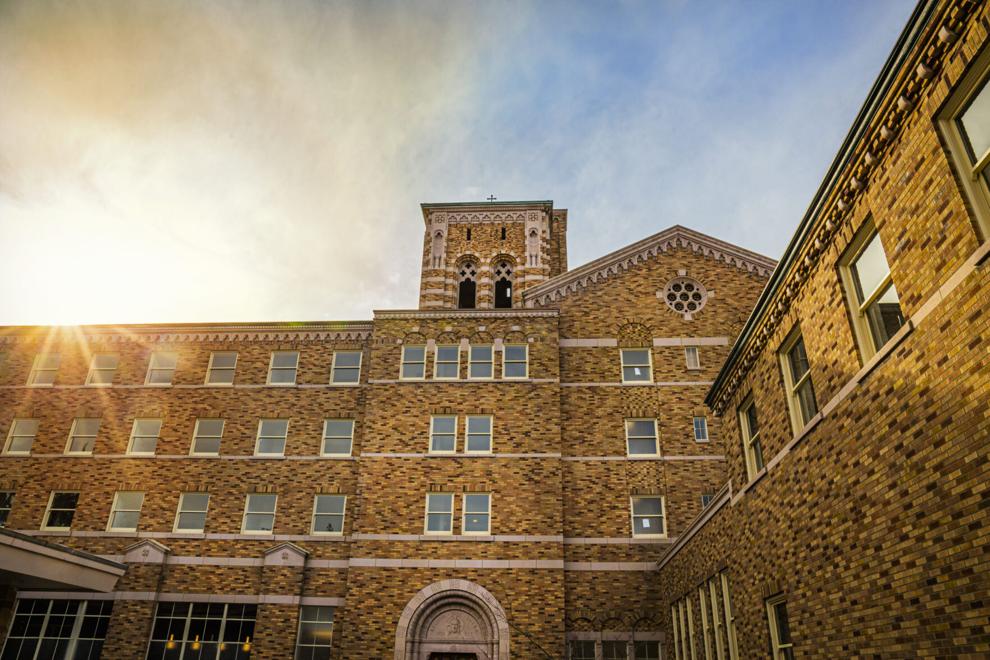 Daniels got some of his stories and historic direction for the building from Father Ryan, of St. James Cathedral. Ryan entered St. Edward as a freshman in high school in 1955 and graduated in 1961, after completing high school and two years of college before moving to St. Thomas Seminary to complete his bachelor's degree in philosophy in 1963.
Students would attend St. Edward for four years of high school and the first two years of college before going to the major seminary, St. Thomas, for two more years of college, and then four years of graduate school in theology. Ryan completed his graduate theological studies at the Gregorian University in Rome and was ordained as a priest in 1966 at St. Peter's Basilica in the Vatican. His work afterward included director of field education at St. Thomas, where he was in charge of pastoral formation of theology students, and teaching religion to high school students at St. Edward. He became pastor of St. James in 1988.
Until St. Thomas opened in 1958, St. Edward housed all the students, high school and college for 12 years, meaning their ages ranged from the midteens to mid-20s.
While under one roof, the minor and major seminarians ate separately and did not communicate, Ryan said.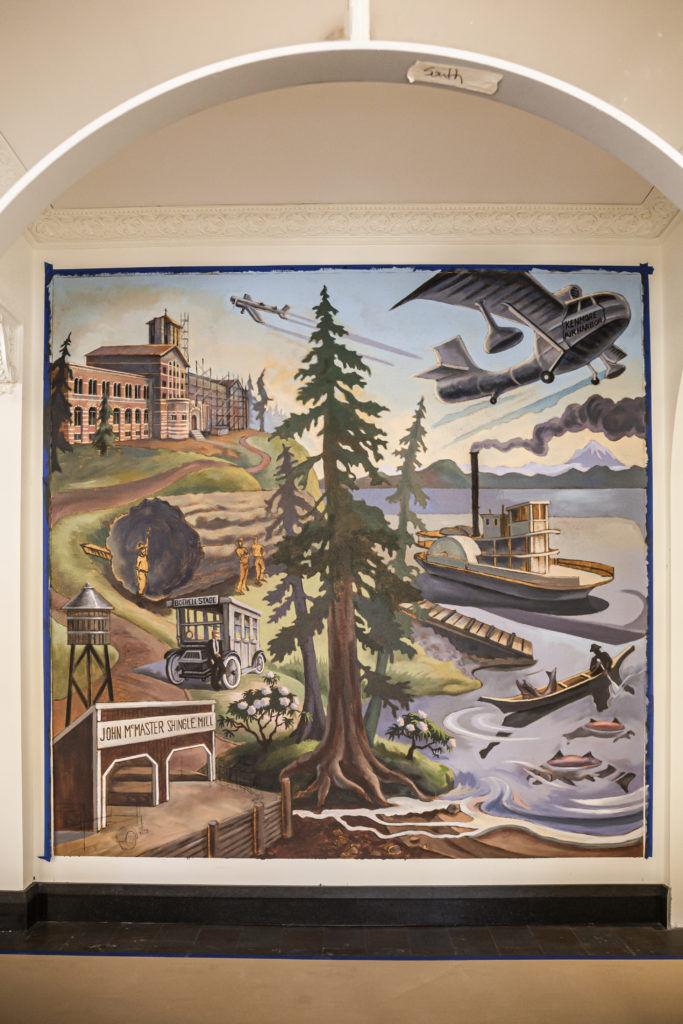 Ryan also remembers the tiny dorm rooms housing three students, where he slept atop a triple bunk so high, he accidentally kicked the light fixture off the ceiling one night, sending it crashing to the floor. The rooms measured 10-by-15 feet, according to National Register of Historic Places documents, and there was one bathroom per floor and a common shower, but Ryan remembers everyone seemed to adapt. Some rooms were said to house four men.
Today, two dorm rooms have been combined to make one lodge guest room, and private bathrooms were added to each. To maintain the original look in the guest room hallways, every dorm door was kept, but today, only every other door opens to a room after the 2-to-1 conversion.
"I felt I received a really good, solid education" there, Ryan said. "The class sizes were not large, most of them, so you got pretty good individual attention. … They were certainly very serious about academics."
Naturally, spiritual growth was heavily emphasized.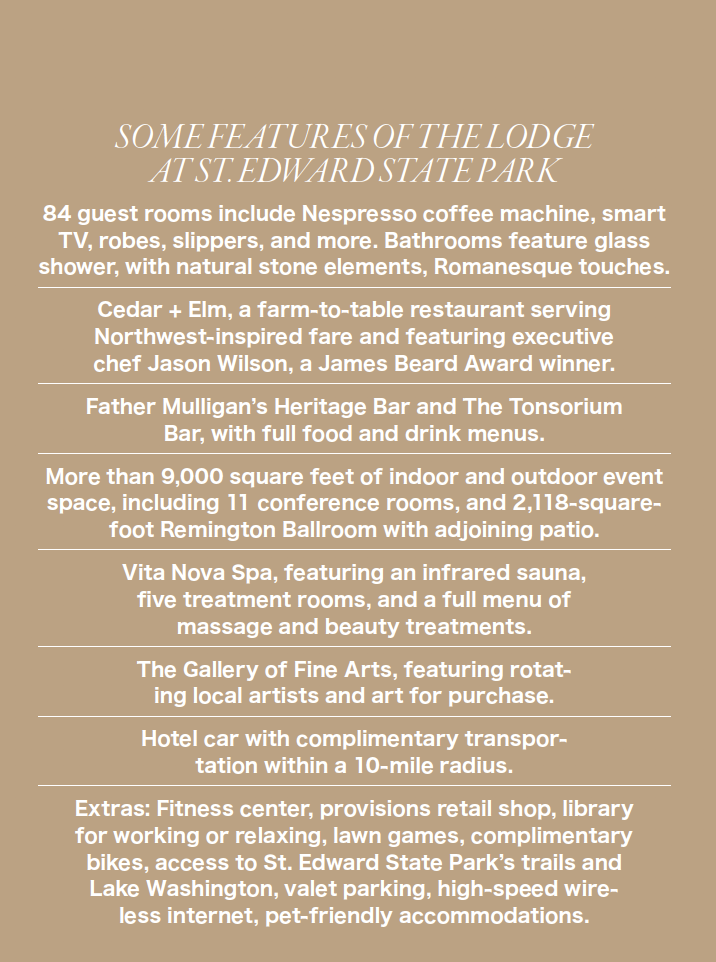 "We spent a fair amount of time in chapel every day and in prayer," Ryan recalled of Mass in the morning, prayer at noon, and again in the evening. "The prayer part was very important, of course; we were preparing, at least considering, the priesthood, so the whole notion of growing in one's faith and spirituality was important, and we had a lot of opportunities for that."
On the lighter side, he said, there were ample sports, including football, basketball, baseball, handball, and tennis. Recreation occurred each afternoon, and then all afternoon on Tuesday and Thursday as a break from academics because classes were held on Saturday.
In spring and fall, students would swim in Lake Washington. "We had a lot of fun down there," Ryan remembered. Students also explored the property's woods and trails, many of which the students built and cleared. A sign on the lawn outside notes, "Manual labor was a part of daily life at Saint Edward Seminary." It tells of students and faculty clearing brush and pruning trees, and says the park's modern layout is "largely a result of their work."
Ryan said the woods "were a source of fascination and fun," where students would play games such as capture the flag. "There were a lot of outdoor activities, lot of sports and fun."
Students also put on several plays each year on the stage in the gym next door to the school.
"Looking back, it was an important part of my life, a formative part of my life," Ryan said. "It's nice to see that it's going to live on for other people. … I hope it will bring a lot of joy to the people that gets the chance to experience it."
Built to Last 1,000 Years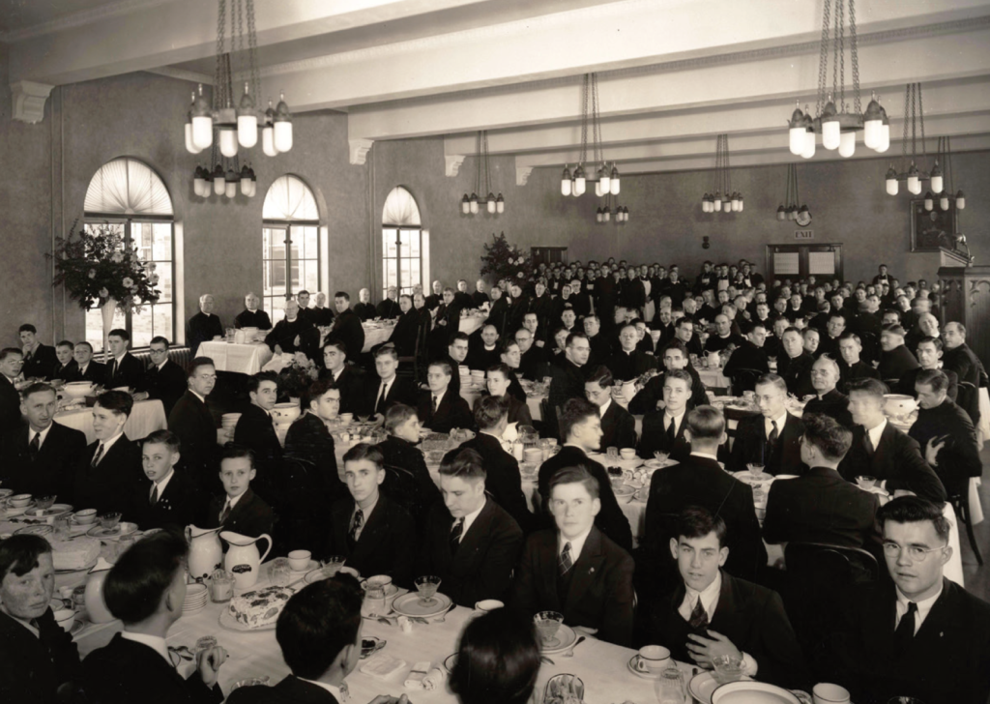 The biggest surprise Daniels uncovered in the building was that it was made of solid concrete, including the roof under the tiles, and the walls behind the brick facades. It was built to last 1,000 years, he said.
"In all my career working in older buildings, that's the only solid concrete building I've ever seen," Daniels said.
While that makes the building structurally stout, seismic retrofitting was required to meet current building codes, without upsetting the historic features.
While its bones are strong, and the state maintained the roof and exterior, 40 years of vacancy took its toll inside. There was a lot of superficial water damage to plaster inside, he said. Workers, though, removed all roof tiles, cleaned them, and reinstalled them in their original locations when possible. Brick on the walls was cleaned, and grout replaced if necessary. The fix-it list was long.
"I would say it's not as tough as we've seen and worked on … but it wasn't in good shape, either," Daniels said.
It included good discoveries, too, such as vaulted ceilings on upper floors that had been hidden behind false ceilings. They're now incorporated into airy upper-floor rooms.
Developing St. Edward Seminary was a lifelong pursuit of Bishop Edward John O'Dea, an early pioneer priest in the Northwest and the first U.S.-born bishop of the Seattle Diocese, the documents say.
Father Ryan's family is linked to the site's selection for St. Edward. Ryan said his father's first cousin, Monsignor Theodore Ryan, was O'Dea's chancellor, essentially his right-hand man, who visited the Kenmore site with O'Dea and recommended it for the seminary. Ryan considers the seminary O'Dea's "crowning achievement." O'Dea also built St. James, which opened in 1907.
"O'Dea was known as a great builder of Catholic institutions," the National Register documents read. "Under his tutorship, hundreds of churches, chapels, hospitals, orphanages, and schools were built," and St. Edward was among his last achievements. He died Christmas Day 1932, a year after it opened.
Father Mulligan, the first president of the seminary, designed a program that included class six days a week and included male students mostly from Washington, but also Oregon, Idaho, Montana, and Wyoming, the documents say. Room, board, and tuition cost $350 a year.
"The male-only students were expected to be in good health," it said. "Cloistered nuns cooked and served meals to the students."
As interesting as the lodge is, the park is a special asset, Daniels said.
"It's an incredible park," he said. "We're very lucky that way."