International Sherpa Guides of Redmond can take you to the Seven Summits and beyond — all places company owner AC Sherpa has gone himself.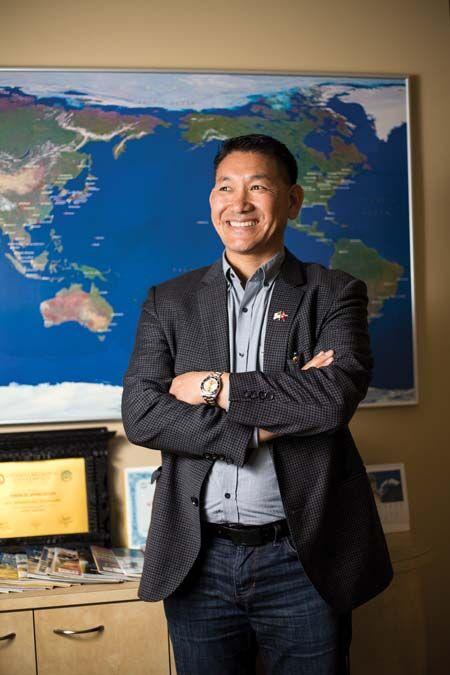 It's called the death zone, and it's right around 25,000 feet above sea level, where there isn't enough oxygen for humans to breathe. At this altitude where your body is literally dying, is where Ang Chhiri "AC" Sherpa makes his living.
Sherpa runs International Sherpa Guides in Redmond, but on this day in November, he's in a café booth at Bellevue's Pro Sports Club waiting for his daughter to finish a basketball game. "She's no Michael Jordan, but she's pretty good," he said.
Sherpa's a proud father, and one who also has plenty of reasons to be proud of his own accomplishments. For one, he has the distinction of setting a world speed record for climbing the Seven Summits — the seven highest peaks of seven different continents (Everest, Nepal; Aconcagua, Argentina; Denali, Alaska, USA; Kilimanjaro, Africa; Elbrus, Russia; Vinson, Antarctica; Carstensz Pyramid, New Guinea; Blanc, France/Italy; Kosciuszko, Australia). That's some 165,281 combined vertical feet of rock and ice. And he pulled it off in 42 total days. Think about that the next time you're in the gym hitting the StairMaster on "leg day." More on this later.
Sherpa's business is located in a small office in downtown Redmond, and its owner happily takes people on, as his website boasts, "Journeys of Imagination." That's not marketing hyperbole. He's a born guide who can take you virtually anywhere in the world. Sherpa is his name, but also his title: one that must be earned. "Sher" means "people", and "pa" means "east".
Born and raised in Tapting, a small village in Nepal, Sherpa started acting as a guide at a young age. "I've been climbing since I was 12 years old," he said. "My brother used to own a company called Sherpa Adventure Treks on Mercer Island, and when he would send groups over to Nepal to climb, I would work with them. I was born with the name Sherpa and eventually earned the title of Sherpa."
At 14, Sherpa came to America with his older brother, who sponsored him under a student visa. Sherpa attended Mercer Island High School before moving on to Bellevue College and eventually Hawaii Pacific University. While he slowly adapted to America, he still held a deep love for his birthplace. And that love of country is what launched his career.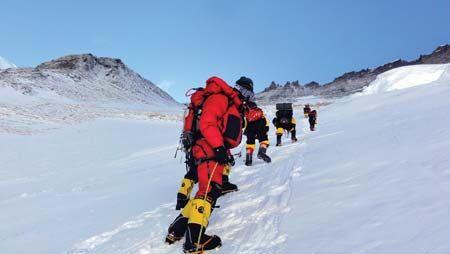 "I wanted to be a professional guide, but how do I get people to know about me?" Sherpa said. He hit on an idea: "Nepal is a very poor country. When I came to America, I got an opportunity; most people from where I was born have no opportunities, so I wanted to help them." His idea was to kill two birds with one stone — do something that could help raise money for his village of Tapting while raising his profile in the mountaineering community. That's when he decided to climb the Seven Summits.
"The plan wasn't to do it in record time; that just sort of happened," Sherpa said. He'd climbed Mount Rainier 14 times by this point in 2010, and his attitude was that a mountain was a mountain; they were all challengeable. But climbing the Seven Summits is no small financial undertaking. "I used my own money to make the climbs," Sherpa said. "It cost about $97,000. Back in 1996, I bought a lot of Microsoft stock when I was in college. I sold the stock to finance my climbs."
After scaling the peaks in record time — he finished at 9:40 a.m. on May 22, 2010 — he worked the talk-show and climbing-club circuit as a guest speaker, raising awareness of the plight of the people of Nepal. He eventually was able to donate $175,000 to his village.
Sherpa has climbed Mount Everest twice. One of his employees, Chhurim Sherpa, also has climbed Everest twice — in a week, which made her the first woman in history to do so.
Sherpa's guides are contractors he hires on a per-project basis, and he also has an office in Kathmandu that is run by a staff of nine.
Mountain climbing accounts for only about 10-15 percent of Sherpa's business. "The majority of our business is trekking — hikes and bike trips, jungle safaris, river rafting, city tours, mountain flights, even bird watching. One local woman contacted us and said she didn't want to climb Mount Everest, but she wanted to see Mount Everest. And to top it off, she wanted her husband to be cutting his birthday cake while looking at Mount Everest. So I said, 'Sure, I can make that happen.' So I did," Sherpa said.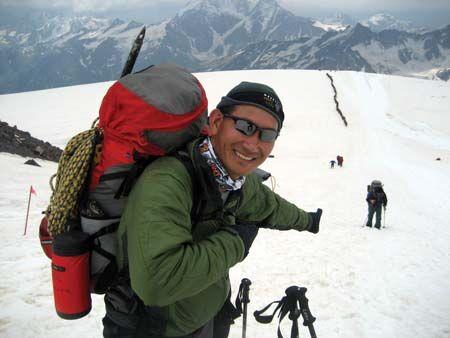 Sherpa's rates vary depending on what you want to do. For example, a one-week trip to Nepal runs about $1,500 (not including airfare), and a climb of Everest is roughly $40,000.
Sherpa spends about five months a year away from home, but rarely puts himself in harm's way these days. That's not to say he hasn't been in some perilous positions, including once on Everest.
"I'd just reached the South Col (a between-mountain pass), and my goggles didn't fit right and were slipping down. I became snow blind. My eyes were burning, and I cried all night. I couldn't see. I thought this was it. I called my wife and said I didn't know if I will see you again. I had to climb down the mountain, blind, for 17 hours. My Sherpa saved my life. He led me down the mountain, tied to me."
Sherpa loves the challenge of a mountain and the feeling it gives him. "When I first climbed Mount Rainier, when I reached the summit, I had this feeling of achievement, like I'd just received a doctorate degree," he said. "I felt extraordinary."