Whether you're looking for a vacation retreat or an investment property, now is a good time to buy a second home. Here are some of the best places to look.
Sales of second homes are skyrocketing nationwide, and Eastside home buyers have been fueling their fair share of the growth.
From plush homes in resort communities to modest condos in suburbia, wealthy homeowners are buying second properties as vacation spots, investment opportunities, or sometimes a combination of both.
Vacation properties accounted for 21 percent of all homes sold in the United States last year — the segment's highest market share in more than a decade — according to a survey of investment and vacation homebuyers conducted by the National Association of Realtors. Sales of investment properties, on the other hand, declined for the third straight year, to 19 percent.
While the median price of primary residences continued its ascent, the median price of both vacation and investment properties dropped in 2014, largely because almost half of all second-home buyers purchased a distressed property — a foreclosure or a short sale. The median price of vacation properties fell year-over-year from $168,700 to $150,000, and the median price of investment properties dipped from $130,000 to $125,000.

Nineteen percent plan to convert their vacation home into their primary residence when they retire; 13 percent bought for potential price appreciation; and 13 percent purchased because of low real estate prices.
Thirty-seven percent of investment property buyers purchased the home to rent to others; 17 percent purchased because of low real estate prices; and 15 percent for potential price appreciation.
Even those non-distressed properties are relatively cheap compared with primary homes on the Eastside. "Prices have been slower to come back over here, which gives 425ers a lot of buying power," said Corey Atherton, vice president of brokers with Suncadia Real Estate Sales Company.
Suncadia, a resort community near Cle Elum, has sold about 1,300 of a planned 3,000 homes. Atherton estimates 75 percent of all buyers hail from the Puget Sound area, including "quite a few" from east of Lake Washington.
Second homes are "more and more becoming an investment opportunity," said Peter Orser, director of the Runstad Center for Real Estate Studies at the University of Washington.
The growth of VRBO (vacation rental by owner) organizations over the past two decades has made it easier than ever for owners to rent out their vacation homes. A VRBO usually handles the advertising and facility management for its members in exchange for a fee or percentage of the profit.
"The magic recipe is 10 to 12 weeks a year," said Laura Harris, lead sales agent at The Lookout, a Lake Chelan resort community. "If you can keep it rented that long, it will cover your costs."
About half of The Lookout's 52 homeowners rent their homes through a company-operated program. For a 37 percent management fee, Lookout staff takes care of all rental responsibilities. Rental prices range from $220 to $835 per night.
The situation is similar at Seabrook, a 10-year-old resort community north of Ocean Shores. About 155 of the beach community's 300 homeowners rent their "cottages" through the company program, with prices ranging from $114 to more than $1,000 a night.
Second-home owners "can definitely get the best of both worlds," said Ivo Andov, marketing director at Seabrook Land Company, referring to the mix of vacation value and investment return.
Where to buy a second residence depends on a variety of factors. Vacation or investment? Salt water or fresh water? Relaxation or recreation? Mountains or waterfront?
Nationally, 40 percent of 2014 vacation home buyers preferred properties at a beach, followed by "country" at 19 percent, according to the NAR report.
Twenty-two percent of vacation properties were located in resort areas, and another 22 percent in suburbs or subdivisions. For investment properties, 58 percent were in either an urban area or a suburb/subdivision.
If absentee ownership is any indicator of hot second-home markets, Westport is tops in the state. Ninety-five percent of homes there are non-owner-occupied. Lake Chelan (88 percent non-owner-occupied) and Mazama (84 percent) follow the coastal town.
"A second home is truly an emotional purchase," said Jennifer Lampe, director of real estate marketing for Suncadia. "You really need to know what you're looking for, and really think about what you want to get out of your second home."
For those considering a second-home purchase (or a third or fourth), here are 10 great places to check out: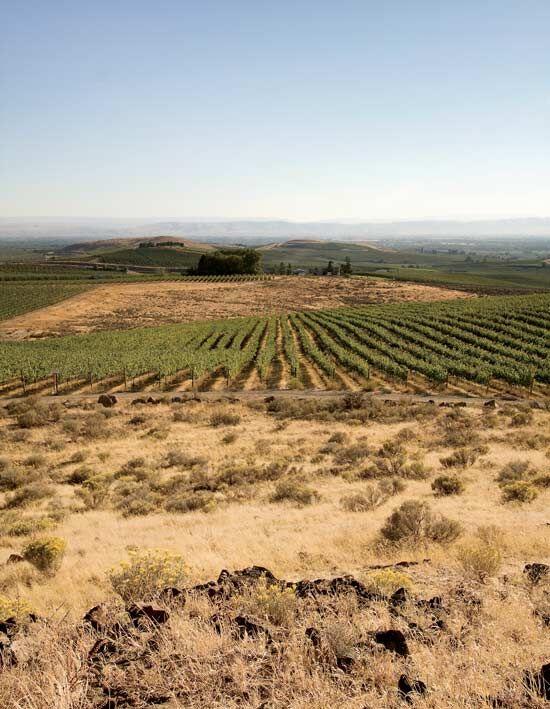 Canyon River Ranch
Surrounded by state- and federally owned land, Canyon River Ranch borders 1,000 feet of riverfront in the Yakima River Canyon near Ellensburg, about a two-hour drive from the Eastside.
Billed as a "rare opportunity to own Yakima River recreational property," Canyon River is selling fractional ownership of its 10 two-bedroom, 1.5-bath condominiums. It also has six home sites for sale, from $225,000 to $320,000.
Fractional ownership costs $129,000 for 56 nights a year. Unlike timeshare holders, fractional owners receive a fee simple, undivided deeded interest in their unit, and shared ownership in the lodge and other common areas, which include a private vineyard and shooting range.
Canyon River Ranch is worthy of consideration if you love fishing, rafting, hunting, shooting clay pigeons, hiking, camping, horseback riding, and wildlife watching. The weather is sunny about 300 days a year, and a few minutes away is Yakima Valley wine country.
Coeur D'Alene
This Idaho town of 46,000 residents borders its namesake lake, a spectacular 25-mile long playground about a half hour from Spokane. If Lake Coeur d'Alene becomes too touristy in the summer for your liking, there are 55 more lakes within easy driving distance, not to mention mountains for hiking and skiing.
Home prices are generally lower than in Washington, with options in every price range. There is a VRBO to advertise rentals.
Coeur d'Alene should be considered for those who like water, outdoor and mountain activities, and kicking back. Nearby ski resorts promote winter use. In good traffic, Coeur d'Alene is a five- to six-hour drive from the Eastside.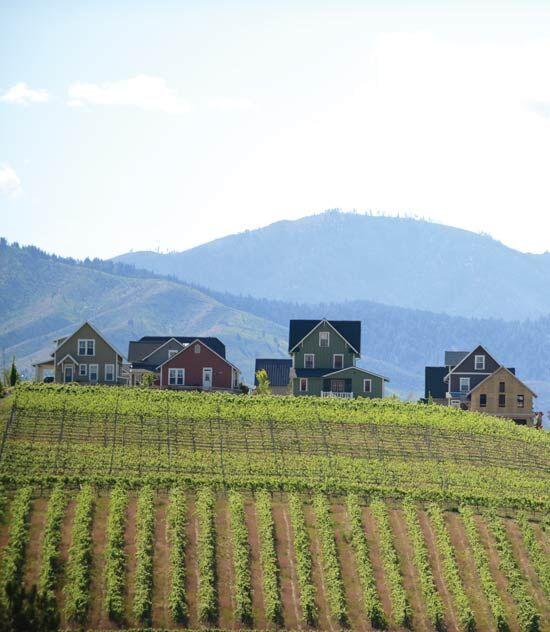 The Lookout at Lake Chelan
Aside from the obvious attractiveness of Lake Chelan, The Lookout features a self-contained community with a small-town feel. Its design emphasizes front porches, plenty of outdoor gathering spaces, and unique shops and restaurants within walking distance.
Home prices begin at $350,000 for a vacant site, and top out at $825,000 for a four-bedroom, three-bath house that was still being built in late August. Fifty-two properties have been sold thus far.
The weather is temperate, property taxes are low (1.03 percent), and utility bills are among the cheapest in the nation. Each new house comes with two complimentary bicycles to pedal around town.
The Lookout is a good choice for those who like water activities, sunshine, hiking, and wine. There are more than two-dozen wineries nearby.
Hood Canal
This 50-mile-long fjord separating the Olympic and Kitsap peninsulas has long been a favorite play place for Eastsiders. Eight state parks line its banks, as well as several charming communities, including Union, ranked one of America's 20 prettiest small towns in 2010 by Forbes.
Waterfront homes can be pricey. One September listing featured a 10,500-square-foot house for $8.9 million. There are two-bedroom waterfront houses available for less than $100,000, however, and the area is so vast it accommodates a wide range of prices and styles — especially if you're not bent on waterfront property.
The rental market is robust, promising a good return on investment, and drive and ferry time from the Eastside can be a reasonable two to three hours.
Hood Canal is worth checking out for boaters, hikers, campers, SCUBA divers, watersport lovers, beachcombers, shoppers, and wildlife watchers.
Methow Valley
The Methow Valley, nestled in the North Cascades foothills, contains the small communities of Pateros, Carlton, Twisp, Winthrop, and Mazama. This is ranch country, and the 80-mile-long Methow River, a tributary
of the Columbia, slips through.
Like Hood Canal, the valley spans a large geographic area featuring diverse prices and options. Like the rest of Eastern Washington, home prices have rebounded more slowly from the recession, so there are potential bargains to be found. Methow Valley listings abound on vacation rental sites, and because of the area's world-class cross-country skiing, homes attract renters year-round.
The Methow Valley could be a good choice for outdoor enthusiasts of all types — fishers, hunters, rafters, cyclers, hikers, skiers — as well as bird watchers and Western aficionados. There are more than 120 miles of interconnected cross-country ski trails in the area.
San Juan Islands
Orcas, Lopez, and San Juan islands are the largest and most well-known, but there are hundreds more islands — 743 at low tide — in this stunning archipelago located about three hours northwest of the Eastside.
Home prices can be steep — many sites fetch millions — but rentals here are in high demand, offering a chance to offset costs. Also, as with all islands, prices for basics such as food and gas are inflated.
But, as native Puget Sounders know, the islands' splendor is priceless. There are killer whales, bald eagles, water sports, boating, beachcombing, hiking, camping, fishing, and romance, not to mention spectacular views of the mainland and Canada.
The San Juans could be a good choice for those who love the outdoors and a sense of seclusion; sans private boat or plane, residents and tourists are dependent on ferries to reach civilization.
Seabrook
The state's first resort community, Seabrook was the model for The Lookout, its sister property. After more than a decade, the oceanside village is not resting on its laurels.
A new fitness center, Italian restaurant, and bakery highlight 10,000 square feet of retail space added this year. A three-year-old elementary school, North Coast Montessori, opened to the general public in September. Last but not least, a new 19-home neighborhood — The Farm District — is slated to open in October.
Seabrook has sold about 300 homesites so far. It plans to develop and sell 350 single-family homes.
"This is a very special property," Andov, the marketing director, said. "We have one mile of oceanfront, but it's elevated, so it's protected and it has great views."
Home prices range from $359,000 for an 832-square-foot, two-bedroom, one-bathroom property to $1.5 million for a beachfront homesite.
Seabrook marketers compare the community to Cannon Beach, Oregon, which has grown to include hotels, a community theater, and other small-town amenities.
Suncadia
This 6,300-acre resort community lies in the Cascade Mountains about 80 miles east of Seattle. It features two public golf courses and one private course, a five-star lodge, a spa, indoor and outdoor swimming pools, an extensive hiking trail system, and an amphitheater for summer performances and winter ice skating.
Prices range from $89,000 for a vacant homesite to $3 million for a 7,800-square-foot, four-bedroom estate. The median home price in nearby Cle Elum is $189,000, well below the state average of $250,800. The property tax rate is $7.72 per $1,000, a full $5 below the U.S. average.
"We're selling a lifestyle more than anything," Lampe, the marketing director, said. "Lots of people are extremely attracted to this lifestyle."
Suncadia could be a good choice if you like golf, hiking and fishing, cross-country skiing, or rest and relaxation. The weather is more Eastern Washington than Western, and the short drive is hard to beat.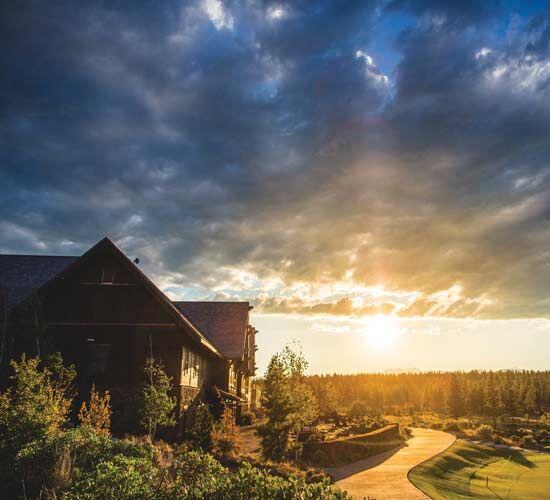 Tetherow
For those who don't mind a longer drive, the newest of several Central Oregon resort communities near Bend, boasts many attractive features.
Its four neighborhoods border a public Scottish links-style golf course designed by renowned architect David McLay Kidd. Tetherow lies about 10 minutes from Bend and within 45 minutes of all the noted outdoor attractions, including Mount Bachelor and the Deschutes and Metolious rivers.
Prices start in the low $200,000s for vacant homesites and rise to $800,000-plus for a three-bedroom, 3.5-bath townhouse.
Tetherow could be a good choice for lovers of skiing, cycling, mountain biking, fishing, hiking, rafting, relaxing, shopping, and wining and dining. Also, it's Oregon: no sales tax!
Westport
Westport is more than fishing.
Long known for its coastal marina which harbors the state's largest charter fishing fleet, this town of 2,000 is gaining popularity as an oceanfront retreat. Prices are cheap — one September listing touted $99,950 for 21 acres of undeveloped land — and rentals are plentiful.
Along with fishers, this could be an appealing choice for surfers, boaters, beachcombers, clam diggers, bird watchers, kite flyers, and antique shoppers.