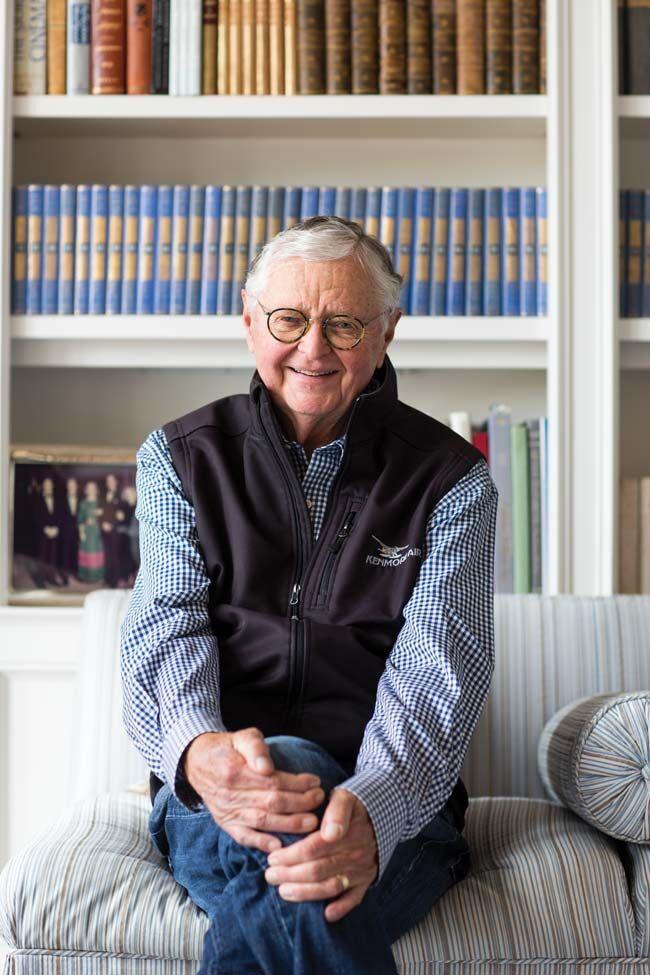 Some know John Nils Nordstrom because of his work with the iconic brand his grandfather cofounded more than 100 years ago. Others know him for his family's role in bringing the Seahawks to Seattle. We met with the man behind the brand name to learn more about his life and the Nordstrom family legacy.
By Adam Worcester & Todd Matthews
The Nordstrom name means different things to different people. For North American shoppers, Nordstrom is a luxury purveyor of high-quality clothing, furniture, and other household goods. It's a department store
built on the tenet that unrivaled customer service would build customer loyalty. It has, and it has made the company a retail giant.
For local sports fans, it was the Nordstrom family that brought the Seattle Seahawks and professional football to the Pacific Northwest in the 1970s.
For 79-year-old John Nils Nordstrom, the name, obviously, has a more personal meaning. Nordstrom recently has been especially reflective of his family's name and its meaning because, several years ago, he began working with a veteran journalist to write Mr. John: Football, Flying, and a Proud Family Legacy. The autobiography was published in 2015 and records his personal life and the Nordstrom family history. But if you think you overlooked it on the shelves at your local bookstore, you would be mistaken. There was no big media splash or book signings to herald its publication.
"I didn't think there would be much interest in it," says Nordstrom with a warm laugh steeped in measures of modesty and humility. It's late January, and Nordstrom is speaking by phone from Santa Barbara, Calif., where he spends winter months with his wife, Sally. In fact, Nordstrom says he probably wouldn't have written the book if it weren't for the persistent urging of his oldest son, Jim, who enjoyed hearing family stories and thought others would, too: "He kept after me: 'Dad, you've got to write some of this stuff down. Otherwise, it will be lost.' I kept saying, 'I don't think anyone is going to be interested in this stuff.'"
In the end, Nordstrom decided to give his book away to friends and family.
"I felt bad charging people for something that I wrote because I didn't think it was worth that much," he says. "I got enough copies so that anybody who is interested, I just send them one."
Nordstrom shares the same wire-rimmed glasses and owlish-round face found in historic photographs of his maternal grandfather, Nils August Johanson. He lives a reasonably quiet retirement on a waterfront estate in the Eastside town of Hunts Point, a quarter-mile-long peninsula that sits between Evergreen Point and Yarrow Point that is crowded with oak, cedar, and fir trees, and reaches out into Lake Washington. On maps, the two-lane Hunts Point Road is a straight, spinal arterial that serves the fewer than 500 residents who live in one of the most exclusive and expensive areas of King County. Former Microsoft CEO Steve Ballmer, and Costco cofounder and former CEO Jim Sinegal own homes in Hunts Point.
Nordstrom's home is tucked between newer mega-mansions owned by his billionaire neighbors. He and Sally live in a home built in 1974 that's modest in comparison to other Hunts Point homes. When we visited Nordstrom there, he was dressed comfortably in a pair of leather boat shoes, blue jeans, and a sleeveless fleece pulled over a button-down shirt. We took a tour: a walk through a backyard garden and down to the dock for a closer look at his seaplane; a brief stop in a bright and formal living room with built-in bookcases and a scattering of family photographs; and a look at his favorite room of the house — a ground-floor man cave with walls covered by framed photographs of Seattle Seahawks players, an oversized sofa, and a custom-made glass coffee table that employs an old airplane engine as its base.
The Nordstrom name is outsized compared to John Nils Nordstrom, who prefers to live in the shadows of the family eponym. He rarely drinks and doesn't smoke. But that doesn't mean retirement has been sleepy and inactive: he's run marathons, climbed Mount Rainier, and earned a pilot's license, among other things. And written a book.
"It's a small book, but we wanted to keep it interesting as people (read it)," said Nordstrom, with a slight chuckle. "The last thing I wanted to do was to bore anybody."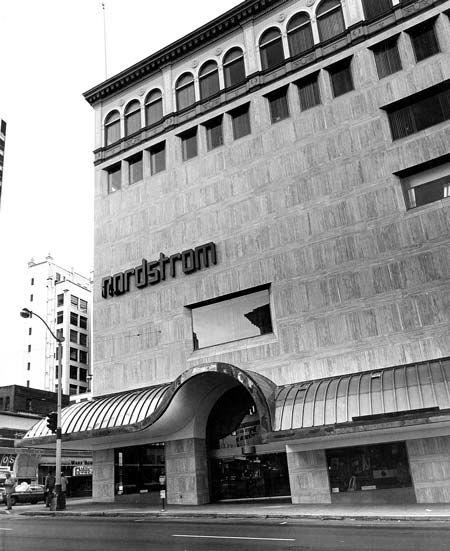 A Local Legacy
The Nordstrom story is hardly boring.
For our purposes, that story begins in 1887, when 16-year-old John Wilhelm Nordstrom emigrated from Sweden to New York City with little money and the inability to speak English. He worked as a laborer for coal mine operators, railroad companies, shipyards, and lumber mills while inching further west toward Seattle. In 1897, he traveled to Alaska in search of his slice of fortune in the Klondike Gold Rush. It didn't work out as planned: a disputed gold-mine claim left Nordstrom with a $13,000 settlement and a ticket back to Seattle. Instead of mining for gold, Nordstrom partnered with a friend and former prospector, Carl Wallin, who created a second career repairing shoes. The pair opened Wallin & Nordstrom in downtown Seattle, at the corner of Pike Street and Fourth Avenue, in 1901.
More than a century later, that small shoe shop is a multibillion-dollar retail enterprise, with more than 120 Nordstrom and more than 200 Nordstrom Rack stores throughout the United States, Canada, and Puerto Rico. Nordstrom department stores anchor several Puget Sound-area malls, including Bellevue Square, and Nordstrom Rack discount stores populate Southcenter Square and Factoria Mall, with a new one scheduled to open this year at The Village at Totem Lake.
In 2014, Forbes pegged the Nordstrom family's net worth at $3.7 billion — placing them number 69 on the list of richest American families.
Six years after John Nils Nordstrom's paternal grandfather came to the United States seeking gold, his maternal grandfather, 21-year-old Nils August Johanson, emigrated from Sweden to the United States to study medicine. In 1908, Johanson and nine fellow immigrants bought $1,000 in bonds to found Swedish Hospital. Today, Swedish Medical Center operates five hospital campuses and more than 100 clinics, and employs more than 12,000 people in the Puget Sound region. Johanson, who died in 1946, earned a posthumous Order of the Northern Star from the king of Sweden.
"It seemed to me that their upbringing, coming from Sweden as immigrants, having nothing, struggling, and then each of them having success, they were just like dogs to the bone," recalled Nordstrom of his grandparents. "They just wouldn't give up. I don't know that they were necessarily any smarter than anybody else in their industries. I think that maybe both of them just outworked their competitors."
Both grandparents influenced John Nils Nordstrom's career: John Wilhelm Nordstrom with his famous emphasis on customer service, and Nils Johanson with his fastidious attention to detail and cleanliness. That influence was seen in John Nils at an early age. At 13, for example, he began to work summers in the stock room of the family's downtown and University District stores.
"Growing up and being around the stores with my dad was kind of a normal thing," said Nordstrom. "He would drive to work in the morning and I would work stock from, say, 8:30 or 9 o'clock in the morning until about 1 or 1:30, and then jump on the bus and take the bus home. One day, I was having lunch with my dad downtown and I asked him, 'Dad, how much am I making?' He got out a paper napkin and a pencil and started jotting some figures down. He said, 'Well, you're making about 13 cents an hour.'" Nordstrom paused for a moment to laugh about the earnings, meager today but then a fortune to a 13-year-old. "I said, 'Oh, that's great!' Of course, Social Security took about 20 percent out of it. That was my first experience with paying taxes."
Nordstrom worked at the family stores over several summers as he coursed through John Marshall and Eckstein junior high schools and Roosevelt High School, where he grew to 6-foot, 3-inches and played intramural sports, although he spent more of his teenage years on the water than he did on any sports court. He was drawn to high-speed boating, and often raced a 9-foot wooden hydroplane with fabric decking and an outboard Mercury engine. One Sunday on the Columbia River, Nordstrom was competing in a race when the lead hydro flipped, ejecting the driver. Instead of passing him and winning the race, Nordstrom whipped his boat around and held the driver's head above water until help arrived. It was a benevolent move that surprised a lot of spectators, but one that was wholly expected by anyone who knew Nordstrom.
At the University of Washington, Nordstrom tried out for crew and made freshman first boat. His senior year, he rowed at the famed Henley Regatta in England, even though a bout with mononucleosis had knocked him from the varsity shell to a smaller boat. Afterward, he joined his parents in Sweden, where they were tracking down ancestors.
"I guess the main thing I learned from competing in sports is that the little details are so important," Nordstrom wrote in Mr. John. "Maybe the most important thing is you learn to never quit. I went through four years of hard work (in crew), and the thought of giving up never crossed my mind."
After college, he worked his way up the Nordstrom hierarchy, bouncing from stores in Yakima and Portland and back to Seattle. By this time, he had married his high school and UW classmate, Sally Boid. Their first child, Kristin, was born in 1960; followed 18 months later by James (born in a hospital elevator); and, six years after that, John Elmer. Also by this time, Nordstrom's grandfather had bought out Wallin and sold the company to John's father, Elmer, and Elmer's two brothers, Everett and Lloyd.
Unrivaled customer service
In 1970, Elmer, Everett, and Lloyd handed the company reins to a third generation of Nordstroms: brothers John Nils and Jim; John's cousin, Bruce; and Lloyd's son-in-law, Jack A. McMillan. All were co-chairmen, rotating the title of president among them. Each partner played a different role. John was the "detail guy" — Grandpa Nils at work again — who made sure operations met high company standards.
The new leaders took Nordstrom public in 1971 (the stock symbol for Nordstrom is JWN, a nod to founder John W. Nordstrom), just ahead of a recession that, by 1974, had driven the stock price down 66 percent (from $24 to $8 per share). "Luckily, we were very conservatively financed," said Nordstrom, when asked how the company survived. "We had very little debt, so we were able to get through those economic downturns and come out of them in pretty good shape. We weren't saddled with servicing a substantial debt. That's continued to this day. We still are, relatively, conservatively financed."
Indeed, the company hit its stride beginning in the late 1970s. Aggressive expansion into the eastern United States and California raised earnings from $3.5 million in 1971 to billions of dollars by the time the third-generation owners retired in the late 1990s.
More importantly to John, he and his crew had made the Nordstrom brand synonymous with customer service. They did so by flipping the organizational pyramid upside-down, placing customers on top, followed by salespeople, managers, and the ownership group providing support from the bottom.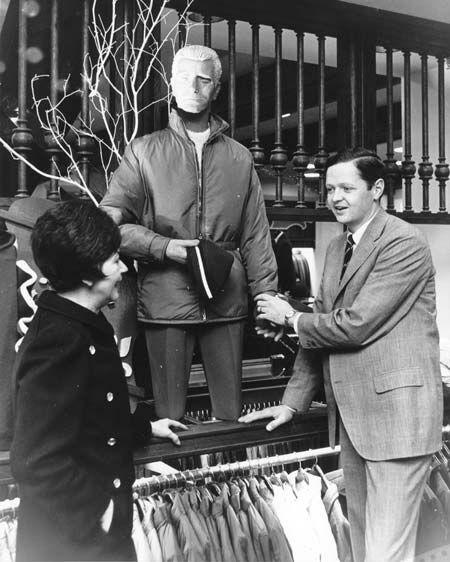 Over the years, Nordstrom gained a reputation that other department stores failed to rival. For example, the ownership team had a list of guiding principles that included opening the store 15 minutes early and closing it 15 minutes late; never leaving customers standing in line; managers would never screen phone calls or ask who was calling; and no one could use customer service as a selling point in advertisements — it should just be practiced by employees, and expected from shoppers.
"We wanted to make it easier for (employees) to take care of customers, to give them the right kind of merchandise, a clean store, good bathrooms, a good lunch room, and on and on so they wouldn't have to do anything but serve their customers," said Nordstrom. "We decided that was the one overriding thing. We didn't talk about sales, stock price, only customer service. (Customer service) was number one, two, three, and four. Our generation really got into it. We tried to take it to a new level. We tried to never criticize any level of customer service. (Employees) could've given a customer the keys to the store, and we would have said 'OK.'"
In Mr. John, Nordstrom gives an example: He was visiting a Fairbanks, Alaska, store the company had just purchased and expanded. The remodeling incorporated into the new store the site of a neighboring B.F. Goodrich tire shop inherited in the sale. Nordstrom watched as an elderly gentleman, confused, came in with a tire he wanted to return. A young salesman asked the man how much he'd paid for it, opened the cash register, handed him the amount, and urged him to return soon to buy clothing or shoes. Company leaders displayed the tire in the stockroom as a symbol of model customer service.
Nordstrom said this innovative type of customer service gave his family's stores an edge during a time when, in many markets, Nordstrom was a scrappy upstart compared to more established specialty stores such as Saks and Neiman Marcus.
"Me, my brother, and my cousin decided that if we were going to compete in the industry against those stores and get locations in shopping centers, we had to be more desirable in some area than they were," he explains. "They had beautiful stores, great merchandising, great advertising, and all that stuff. But we thought they were all lacking in customer service. So the three of us decided that we would make customer service our culture. It would dominate everything we did. It drove them crazy because that was really one area where they couldn't compete. I'm sure that they thought we were crazy doing all of that, but it certainly worked. Our sales per square foot were probably higher than most of our competitors."
He rarely feared that customers would take advantage of such generosity.
"There is a teeny, teeny, teeny, teeny group of people that take advantage of it," said Nordstrom. "We make sure they don't take advantage of us more than once or twice. But the vast, vast, vast majority of customers do not have any thought of taking advantage of us. In fact, they went out of their way not to take advantage of us, I think. At least, that's what we felt."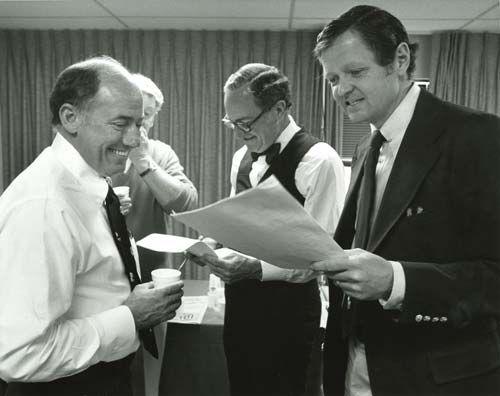 Tackling Football
Longtime area football fans can't help but link the Nordstrom family to the Seattle Seahawks. That's because in 1976, the family brought professional football to the city when it purchased the expansion team. Initially, John Nils Nordstrom was against the family investing in a professional football team, and was the only family member who voted not to buy the team. Twelve years later, he was the team's managing general partner and voted against selling the team.
Even so, the family always acted unanimously, and Nordstrom had to come up with $1 million for his share of the new franchise. Fortunately, the NFL let the Seattle owners pay off their $16 million expansion fee — half from the Nordstrom side, half from minority owners — over eight years, interest-free. Also, fans were hungry for pro football, selling out 58,000 season tickets while the Kingdome was being built, which provided immediate operating income.
Then, during the Seahawks' inaugural season, the Nordstroms benefited from another piece of great luck when the NFL renegotiated its TV contract, upping annual revenue from $2.2 million to $5.5 million per team. This allowed the new owners to pay off their debt without borrowing money or even writing a check.
Expectations on most expansion teams are low, but the Seahawks experienced some early success, and the team prospered at the gate. The Nordstroms owned the team from 1976 to 1988, during which time the Seahawks reached the postseason four times (they competed in the AFC championship game in 1984, and won the AFC West in 1988). Players such as Steve Largent, Jim Zorn, and Dave Krieg became local celebrities.
Still, trouble was brewing. For one, Nordstrom says the contract with the Kingdome was a bad business deal that ownership wanted to renegotiate. And then two NFL player strikes — one in 1982, another in 1987 — further dampened the owners' enthusiasm.
So in 1988, the family elected to sell the team rather than endure a looming political fight to build a new stadium. John was the sole dissenter among eight family members voting on the sale. He considered buying the team himself, but finally decided to go along with the family and sell. The Nordstroms put the team on the market with an $80 million price tag and one nonnegotiable condition: The Seahawks had to remain in Seattle.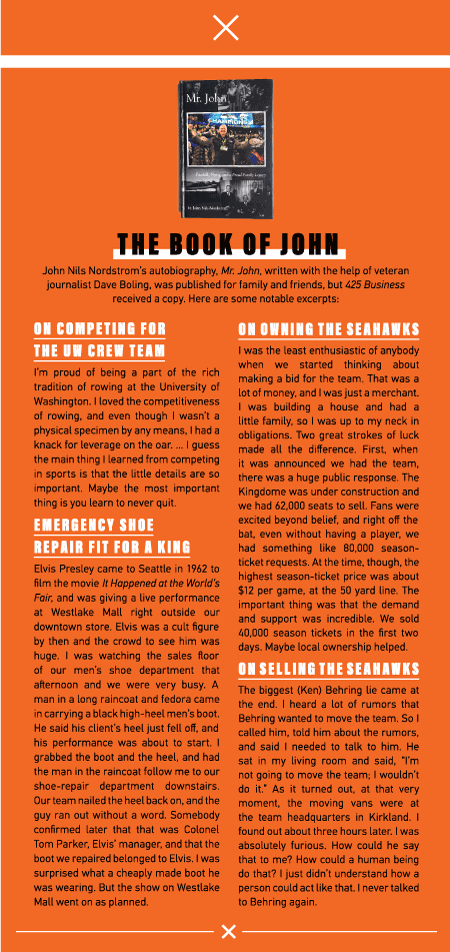 Chicago businessman Lester Crown, actor Bill Cosby, Hollywood producer Jerry Perencio, and oil tycoon Marvin Davis expressed interest, but all wanted to move the team. Ken Behring, a California real estate developer, also showed interest and promised to keep the Hawks in Seattle. The sale to Behring was approved by NFL owners in 1988.
For Nordstrom, the years of Behring ownership were excruciating. He went to games, but the former owner in Nordstrom noticed the loose ship, the inattention to detail. Meanwhile Behring, an astute businessman, felt the Kingdome had become inadequate for an NFL franchise. So, in 1996, after lease negotiations with the Kingdome broke down, he tried to move the team to Southern California. Players were practicing in Los Angeles until the league vetoed the relocation, ordering the Seahawks back to Seattle.
Nordstrom claims Behring lied to his face while moving vans were packing up team headquarters in Kirkland. In hindsight, Nordstrom calls the sale to Behring a "huge mistake," and wishes he had acted on his instinct to go solo.
Still, the hindsight and distance that come from some decades of distance have left John Nordstrom feeling proud about his family's role in bringing professional football to Seattle. "It was more of a civic thing," said Nordstrom. "Seattle was kind of out of the way, and now all of a sudden the city was going to be major league with basketball, baseball, and football. Frankly, it was really an exciting period for us."
He's pleased Microsoft cofounder Paul Allen stepped in and purchased the team from Behring and kept the franchise in Seattle. Allen has proved a good steward, and has elevated the team's presence in Seattle. "I'm not sure we'd have been able to do what Paul did and build CenturyLink Field," said Nordstrom. "That's a pretty special place. And Paul has been special in letting me be part of the team. My job is to be the in-house cheerleader."
Rough waters, new challenges
It hasn't all been smooth sailing for Nordstrom Inc.
In 1993, the company agreed to pay more than $15 million in compensation as the result of a 1990 class-action lawsuit that accused store managers of requiring off-the-clock work from employees, such as stocking shelves and writing customer thank-you notes. The opposition, led by two unions, turned bitter enough to bring 60 Minutes to town for a national exposé.
Nordstrom claims several employees wanted out of the unions because they weren't getting adequate return on their monthly dues. The unions balked, and started a public relations counterattack.
"It was relentless; the union's campaign went on for almost two years," Nordstrom wrote in Mr. John. "But we were adamant. We are not going to cave in. Our employees would never forgive us and never trust us again if we caved in."
"The only time I ever saw Dad get stressed out about work was when the union issue arose," said Nordstrom's son, John, a music composer/producer who won a 2015 Emmy award for his score on The Bold and the Beautiful daytime TV series, in Mr. John.
Daughter Kristin added: "Dad's hair seemed to turn gray overnight."
Ultimately, 60 Minutes reporter Morley Safer changed his view. The show aired a program touting the Nordstroms' exemplary management style, and employees promptly voted the offending unions out of their stores.
Adding to the distress during this period was the nine-year battle John's brother Jim, two years younger and a close confidante, was fighting against prostate cancer. Jim died in 1996, at age 56.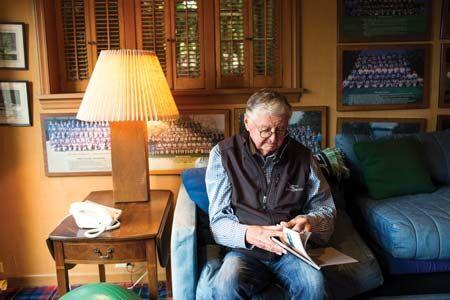 An Active Retirement
Jim's death inspired John to redouble his attention to good health. John had played pick-up basketball games into his 40s, when he quit and began running. Nordstrom worked his way up from short jogs to 10K races to marathons. Eventually, he ran nine marathons, including the original course on a trip to Greece. An ankle problem ended running, which led him to begin biking. A spill on the Burke-Gilman Trail necessitated a hip replacement, but it didn't diminish Nordstrom's enthusiasm. He still rides three or four times a week, either outdoors or on a stationary cycle, and includes one ride of at least 20 miles.
Toward the end of his running period, at about age 50, Nordstrom's brother-in-law, Hans Mautner, invited him to climb Mount Rainier. Jim Whittaker, the first American to reach the top of Mount Everest, was to lead the expedition. The group summited, but on the way down, Nordstrom said he crossed beneath a building-size serac, or wall of ice. He asked Whittaker how he knew it was safe. It's not safe, the guide replied; it could crash at any moment. That caught Nordstrom's attention: "I decided that was the last time I was going to go up the mountain."
Still, he wanted to keep pushing himself and felt the need for a new challenge. That new challenge came from aviation. Growing up, Nordstrom had dreamed of piloting one of the military planes and Kenmore Air float planes that he watched through his front window take off and land all day long. It was a hope he shared with brother Jim. And it was Jim who made the first move, buying a float plane. So at age 53, four years before retiring, Nordstrom bought a deHavilland Beaver single-wing plane and began studying for his pilot's license. Today, he's logged more than 3,500 hours of flight time and received several ratings for specialized piloting skills.
Once, Nordstrom's plane was parked at its Santa Barbara hangar when it caught the eye of movie director Ivan Reitman, who was looking for a plane to use in an upcoming Harrison Ford movie called Six Days, Seven Nights. Ford, himself a pilot, loved the deHavilland, and became fast friends with Nordstrom. They have since taken many flights together with their families.
"It's liberating," said Nordstrom. "I love the challenge of it. When I was going to retire, I needed something to challenge me other than playing bridge or golf or whatever it was. I wanted something that I really had to work at. With flying, you have to study and pass tests and all that stuff. I like that."
Nearly 30 years have passed since the Nordstroms owned the Seahawks. Yet, Nordstrom is still connected to the team. He attends practices and home games, and is a sort of grandfather to staff, coaches, and players. After the Seahawks won the Super Bowl in 2014, the team even surprised him with a championship ring. Each year, Nordstrom also takes his growing clan — now eight adults and 11 grandkids — to Hawaii.
Decades have passed since Nordstrom co-led the family company's day-to-day operations, but retirement fits him fine. He prefers flying, spending time with family, and watching a younger generation lead the Nordstrom stores.
"It's fun watching the young guys run the company," he said. "The best thing they've done, in our opinion, is they haven't changed the culture at all. That's given us a lot of strength. I don't have any additional big projects. I, frankly, just kind of enjoy spending time with my kids and grandkids. Just keeping track of my immediate family keeps me pretty busy."