Heavy, wet snowflakes fall along Bellevue Way Northeast on a chilly December evening.
A young girl flanked on either side by her parents wears an oversized knit hat that falls in front of her eyes. She pushes the hat out of her gaze, extends her arms out to catch the fluffy flakes, and turns her face toward the sky with a serene smile. 
Elsewhere on the block, a man hoists his small son on his shoulders and points to a passing float on which a snowman with rosy cheeks and a permanent smile dances and waves enthusiastically. 
At that moment on the other side of the street, a toy solider on stilts pauses mid-stride and bends down — as best he can — extending candy cane lollipops to a group of toddlers huddled around their parents' legs. 
Smiles abound all over the block between Bellevue Square and Lincoln Square in an atmosphere that can only be described as "merry." All around, cheerful holiday music is winding down, and a booming voice fills the air. 
"From the Kemper Freeman Family and all of us at the Bellevue Collection …" 
This is Snowflake Lane. Now in its 15th year, the nightly holiday parade runs from Black Friday until Christmas Eve, during which time 16 floats and a cast of more than 300 performers — including toy drummers; Jingle Belle dancers; stilt walkers; Snow Flurries color guard members; snowmen; teddy bears; princesses; and, of course, the big guy: Santa Claus — take to the street.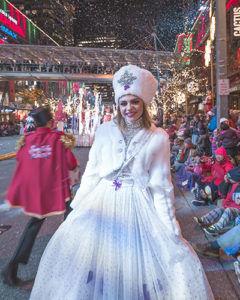 Drawing families from Canada, Oregon, Idaho, and beyond, Snowflake Lane can see between 12,000 and 15,000 spectators per night, according to Jennifer Leavitt, vice president of marketing for the Kemper Development Co. Over the course of the entire run, Snowflake Lane is seen by approximately 400,000 people.
Though attendance has grown steadily since the event's 2005 launch, Leavitt said the inaugural event looked much different than today's grandiose performance. 
From Saks Fifth Avenue to Bellevue Way Northeast
It was a fateful trip to New York City during the Christmas season in 2004 that inspired the now-famous local celebration. 
Kemper Freeman Jr., chairman and CEO of Kemper Development Co., had arrived in the Big Apple the day before a meeting with representatives from Saks Fifth Avenue when he first saw the store's Christmas show. Or rather, he heard it. 
"All of a sudden, out of nowhere, the most beautiful Christmas music at a pretty loud volume came on," Freeman remembered. 
"I keep walking, and I get up to Fifth Avenue, and I see whatever's going on involves the whole surface of Saks Fifth Avenue — nine stories high and one block from one end to the other," he continued. "They were choreographing the music to what was then kind of a new thing — LED lights, which are pretty normal now, but it was new (then). And they had snowflakes and stars in different shapes and different colors, and all hooked to a computer."
When Freeman returned from his business trip, he called his former University of Washington fraternity brother and longtime friend, Greg Thompson, owner of Seattle-based Greg Thompson Productions. 
"(He) said, 'Have you ever seen Saks Fifth Avenue at Christmastime?' I told him we were going back to see some shows, and I'd check it out," Thompson remembered. 
As promised, Thompson soon visited. "I'm standing there in that little mall area between Rockefeller Center and Saks, and I'm waiting for something to happen," he said. When the light show finally started, Thompson, a career theater professional, was unimpressed. "I'm looking at that thing, and I'm thinking, 'That's it?'" 
Upon Thompson's return to Seattle, the two brought in Leavitt and other Kemper Development team members and began talking about possible ways to bring Freeman's vision to life while improving on what the two men had witnessed in New York.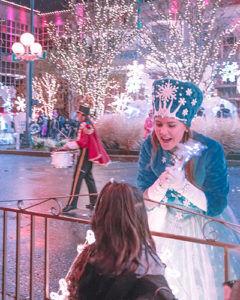 Freeman said his primary goal had nothing to do with profits, rather the Bellevue native endeavored to provide a traditional family Christmas event for the people of Bellevue.
"I remember when Kemper first came to us and said, 'This is what I want to do: I want to do this nightly thing, and I want to bring a tear to someone's eye,'" Leavitt said.
A year after Freeman visited New York, the inaugural Snowflake Lane event came to life, featuring nightly performances with drummers on podiums lining the street, carolers crooning Christmas songs, and carts loaded with roasted chestnuts. 
Over the years, Kemper Development and Thompson's company have worked to evolve the event. In the first few years, the production morphed from a sidewalk performance to one held in the street. Over the next decade, dancers, color guard members, and characters were added. Partnerships were formed with other firms like Tukwila-based Reliant Group; Seattle-based GASlight Design; and Lynnwood-based special effects company CITC, which produces biodegradable snowfall. And, by 2016, the team had escalated the production into a 16-float, two-block parade. 
"You just have to keep thinking about, how can we add more little chocolate chips to it — we always call it chocolate chips," Thompson said of the production's innovations. "What can we throw in that will be interesting? How can we move the people around differently?"
In the future, Thompson hopes to bring the emphasis back to the drummers, and he might try to add a centerpiece float to the Macy's court in front of Bellevue Arts Museum. 
The Snow Must Go On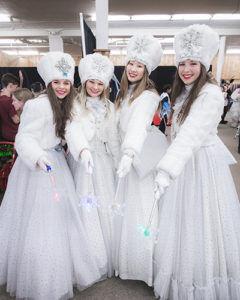 Snowflake Lane isn't simply a seasonal endeavor. In fact, Dominique Alvarez, director of operations and casting for Greg Thompson Productions, said there's really no off-season for her team.
Alvarez is responsible for all casting, employee contracts, scheduling, and managing of the production's more than 300 performers, many of whom are high school and college students. Everything from paycheck issues to counseling a late performer to ordering the more than 150,000 candy cane lollipops is under her purview. 
When Alvarez returns from her brief Christmas break, she begins looking for talent for the following year at regional band and color guard competitions. The company has even begun sponsoring trophies for the annual Northwest Pagentry Association Championship in March to attract talent. 
"Half to two-thirds of our cast leaves every year — they go on to college elsewhere; they go to grad school," said casting director and former Snowflake Lane performer Amanda Cherry. "We'll get a really excellent cast together and we want them all back, and then the next year they're like, 'Yeah, I don't live there.' So, it's like starting fresh every year."
Alvarez and her team also work with local school districts to recruit high school band members for the drum team, which means making contact before summer break. "The next school year is too late," Alvarez said.
By the first week of the new school year, Alvarez already is sifting through more than 500 applications from as far away as Everett, Tacoma, and Whidbey Island. Auditions and interviews follow. By Halloween, most of the cast has had costume fittings and begun rehearsals.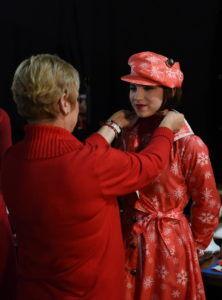 Meanwhile, costume director Mimi Countryman has been cleaning, repairing, and improving on the more than 10,000 pieces for the Snowflake Lane production.
"Things have to be repaired: the harnesses for the drums, buttons, trims, and holes," said Countryman, who still was cleaning and repairing the costumes when we visited the company's Seattle headquarters in May. "They wear them for 30 days straight, and they are quite physical in them." 
The Snowflake Lane jobs often serve as the first jobs for many performers. For these young professionals, Countryman said taking care of their uniforms is a good lesson in responsibility. 
"They have to get trained backstage on how to put on their costume, how to store it, how to care for it, and what they can and cannot do in their costumes," she said. "They are responsible for repairs that need to be done nightly." 
In addition, performers are required to attend every performance, a nightly commitment of three to four hours. If a performer attends every night, she receives a monetary bonus. 
Organizers are routinely approached by parents who are thankful for the lessons the job has imparted on their children.
"Every time I meet their parents — and I have probably met hundreds of their parents by now … They'd say, 'Nothing in their lives has changed our son or daughter for the better more than this activity,'" Freeman said. 
'A Gift from Kemper'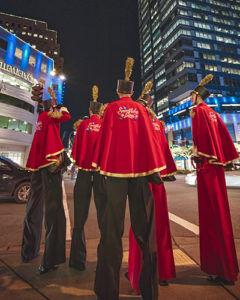 As a private company, the Kemper Development Co. does not release financials surrounding the Snowflake Lane event, but Leavitt said it now costs "far north of $1.5 million per year" and emphasizes that the annual production is a "gift from Kemper."
"Kemper really does this as a legacy event for the community that is family-friendly and free to the guests," she said. 
While it's true that Snowflake Lane is part of KDC's effort to remain an experiential destination with shopping, dining, and entertainment, Leavitt said the aim of Snowflake Lane goes far beyond sales. 
"It is a first paying job for a high school performer, a multigenerational holiday tradition, an aspiration for a child who wants to grow up and be in it, and it is a surprise and delight for the couple that had no idea and were just here and ended up looking up to surprise snow," she said. "We joke that if we really wanted this to be about sales, we wouldn't do it during our already busiest time of the year." 
Freeman said he has entertained offers for event sponsorship but has routinely turned them down. 
"There's a bunch of things that we could do, (sponsorships) that the bean counters would love, and that's to sell it to Coca-Cola or Pepsi, who would just die for those kinds of opportunities (so) they can sell their products to everybody," Freeman said. 
But even Freeman can't deny that people come for the show and stay to shop and eat.
"Almost no one goes home afterwards, they love what they saw, and they are all charged up," he said. "They all go inside either over here (at Bellevue Square) or Bellevue Place, Lincoln Square, or somewhere in the Bellevue Collection. All the restaurants fill up before and after."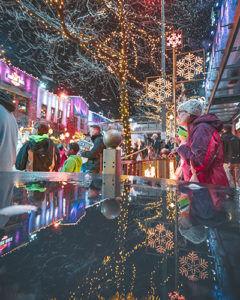 Freeman often recalls a time when it traditionally was a father's "chore" to bring the kids to the mall to see Santa arrive after Thanksgiving, something he's happy to have seen turn into an entire family outing today.
And anyone who has tried to book a hotel room or get a table at one of the many restaurants along the parade route on a December evening knows all too well how much families contribute to businesses before, during, and after the production. 
Even production company owner Thompson, who stays in local hotels the first few days of each year's production, has trouble finding a room or table. 
"There was a new restaurant that opened up in the new section (Lincoln Square South,) and someone was saying the guy opened it and said it usually takes a year for a new restaurant to kind of kick in," Thompson recalled. "They opened there in October and then Snowflake Lane came, and they never had an empty seat the entire season." 
Thompson said this means his longtime friend Freeman and KDC are succeeding in their mission to keep Christmas a family affair.
"I think Kemper is singlehandedly keeping Christmas alive. Because otherwise, I don't see it happening any other place," he said.