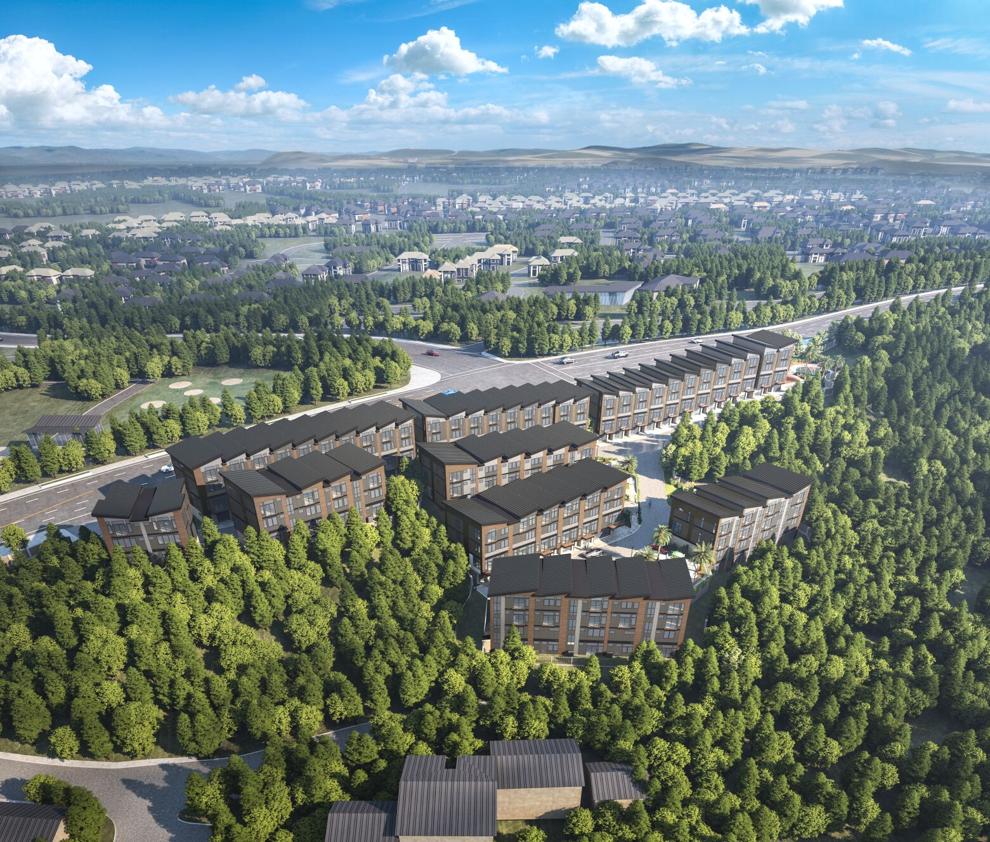 Work has begun on a 58-unit townhome community in Bellevue's Factoria area. The family-oriented units are planned to be completed in phases from about March 2023 through December that year.
The project, Cambridge Manor, is the first in the Seattle area for Basel Capital, according to Lucy Chen, vice president at Basel, which has offices in Medina and Hong Kong. The company has other multifamily projects in the pipeline, though, in King and Snohomish counties, she said.
Chen put Cambridge Manor's total cost at about $65 million, excluding land cost.
Basel Capital last week announced that it had closed on a $57.3 million construction loan for the project with Seattle-based specialty real estate finance company Broadmark Realty Capital.
Broadmark Realty Capital generally provides financing in the $2-50 million range for commercial and residential real estate opportunities, but its investment committee concluded that "Bellevue is a Tier 1 market, and the opportunity to finance a single-family residential property supported a good investment above the $50 million threshold," Broadmark CEO Brian Ward said in an emailed statement.
Basel Capital founder and Chairman George Li said in a news release, "Basel Capital is pleased to partner with Broadmark Realty Capital in the development of Cambridge Manor, one of the largest luxury residential projects in Bellevue. The closing of this loan kicks off a new project phase for us and in the coming months we are going to start seeing the site transforming into a purpose-built townhome community perfectly tailored for multigenerational families."
The units, at 12855 Coal Creek Parkway S.E., will be three to four bedrooms and range from 2,056 to 3,345 square feet. Almost half the homes for sale will have in-unit elevators to promote mobility, Chen said. Other features of the nine-building, five-acre site include a resident-only dog park, two outdoor common space, and two children's playgrounds.
The region is becoming more diverse demographically, so Basel is trying to provide more inclusive living products, she said.
Basel has partnered on other U.S. projects, but this is the first solely developed by the company, Chen said. Westcloud Construction, also owned by Basel's Li and based out of Medina, is building Cambridge Manor. 
This will be the first project Broadmark has done with Basel, but Broadmark earlier did a bridge loan for the project's land prior to providing the financing for construction of the buildings.
Despite the inflationary headwinds facing the broader economy and nagging recession fears, the project was attractive to the lender.
"The sub-60 percent LTV (loan-to-value) on a trophy single-family project in the Tier 1 market of Bellevue led Broadmark's decision to make this investment," Ward wrote. "Broadmark's underwritten basis in the project on a per-unit basis was conservative enough to weather any storm."