Walk into the lobby of Aegis Living's new 122-unit senior living property in Bellevue and it's immediately apparent that the essence of the Pacific Northwest envelops the environment — a deliberate design to connect people to nature and familiar surroundings.
"The concept for the whole project is really this oasis in the city," said Jeanna Korbas, executive director of interiors for Bellevue-based Aegis, which has eight properties under development and 32 operating in Washington, California, and Nevada, including 17 in the Greater Seattle metro area.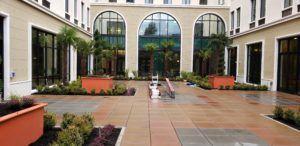 The new Bellevue Overlake property — equipped with 91 units for assisted living and 31 for memory care, and to be staffed with about 110 people — will open in spring 2021 on 116thAvenue NE, near Overlake Medical Center and Seattle Children's Bellevue facility. Korbas and Brian Palmore, director of development for Aegis, on Tuesday provided 425 Business a property preview, some design elements of which are installed, with others, including furniture, artwork, and more, to come.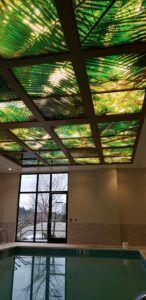 A greenhouse entrance sets the tone for the building and features abundant light, living walls of plants and moss, a waterfall, koi pond, carpet colors, stone, and light fixtures resembling flowers. The lobby opens to a large, enclosed courtyard with sculpted landscaping and provides a quiet shelter from the bustling surroundings of Bellevue's Overlake neighborhood.
Walking through the building is a journey of sorts through the region, with artistic light fixtures resembling rain, ice, clouds, and trail cairns, a basement wine cave that acknowledges Washington's wine industry, and more. Floating on one's back in the indoor saltwater swimming pool, kept at a temperature in the mid-90s, residents will be able to gaze at a ceiling mimicking a forest canopy.
The second floor, for memory care residents, has a Memory Garden made to resemble a waterfront setting, including a "dock" pathway and space where an actual seaplane being painted with the Kenmore Air logo will be displayed as if it's taking visitors to see Puget Sound sights. The garden is open-air, but will have a pergola in one section to provide some cover from the elements while still allowing residents to see the outdoors and sky.
With the seaplane facing a mural representing iconic Puget Sound views on the garden's large windows, the area is designed to evoke residents' memories of watching the familiar aircraft travel the region, Palmore said.
"We want to try and activate those memories to bring those good times that they've had back into their lives," he said.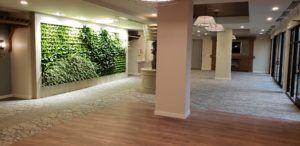 The memory care floor also includes an atrium area that will house plantings, and hallways wired for auditory stimulation that can include chirping birds and crickets, or flowing water.
The roughly $42 million project features biophilic design, which is meant to connect people to the natural environment, which can have health benefits particularly relevant to seniors, Korbas said.
While the building has plenty of natural elements, it also will feature trappings of a luxury hotel, including a restaurant-style dining room called the Herb House, which includes wine lockers; yoga studio; juice bar, massage room; salon and barber shop; sports lounge; pub; movie theater, activity room; baby grand piano; large-screen TVs; 160-inch video wall; fireplaces; ample flex space for activities like painting, crafts, and music; and top-floor Sky Room overlooking downtown and surrounding cityscapes.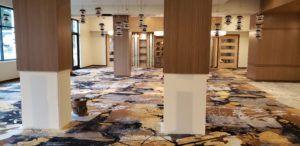 "You're entering into this greenhouse with … that nod to the biophilic in the (Bellevue) botanical gardens, but the rest of the building that you see behind it is a nod to a luxury urban hotel setting," Palmore said from the lobby. "It's merging the interior, the exterior, the urban, with the natural, and just really putting all of those features together into one building."
That look and feel, designed long before the COVID-19 pandemic, is complemented by an HVAC system that sanitizes and filters indoor air through a combination of treatments, including UV light.
The design balances technology and nature, plus a little whimsy to provide a sense of discovery throughout the building, Korbas said of planned art elements.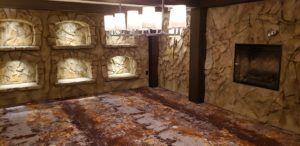 The design detail at the Bellevue Overlake property is typical at Aegis properties, she said.
"Dwayne's philosophy is really about creating an experience — he loves experiential design," she said of Aegis founder and CEO Dwayne Clark. Korbas and Palmore come from the hospitality industry and also specialize in experiential design.
"The intent is if a resident has traveled their whole life, we want them to be able to continue to feel like they've traveled," Korbas said. "If they are someone who hasn't traveled in their whole life, but has always wanted to, we want them to be able to feel like they're traveling in their elder years."
While Bellevue Overlake is meant to feel like a resort hotel, it's also people's home, and designed to appeal to all levels of personal engagement, she said.
Added Palmore, "We want it to feel like they're traveling, but we also want them to feel like they're at home because as much as everybody loves going on vacation, they always love to come home … so we want it to be able to fit both of those modes."
Aegis also has a senior living facility under development on Kirkland's waterfront opening in summer 2021, plus two in Seattle – at Lake Union, opening in fall 2021; and in the Greenwood area, debuting early 2022.
The privately held company has 2,500-plus employees, and residential capacity of about 2,500, according to its website.
Tours of the Bellevue Overlake property will start in January for those on its priority/reservation list. Reservations are being accepted by phone, 425-654-8352, or email, bellevueoverlake@aegisliving.com.