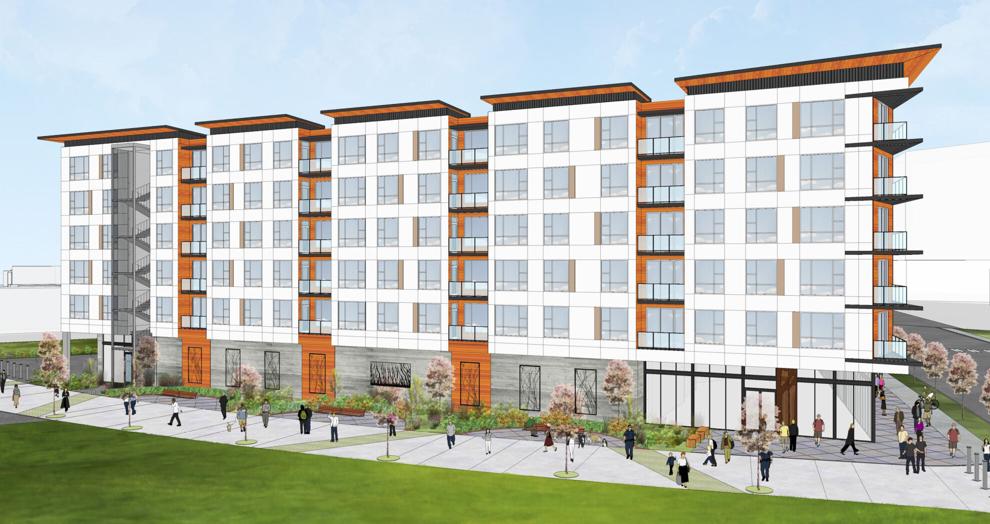 An affordable housing project in Renton has broken ground and is slated to open late next year, with funding coming together from a mix of public and private sources.
Seattle-based GMD Development, in partnership with the nonprofit AOF/Pacific Affordable Housing Corp., has closed financing and begun work on The Watershed, which will have 145 affordable housing units for 350-plus people, according to a news release on the project. The units, many with two or three bedrooms for families, will be leased to households earning an average of 50 percent to 60 percent of King County annual median income, or approximately $71,170 for a family of four based on a King County AMI of about $134,600.
Watershed, at 625 Williams Ave. South, is walkable to downtown Renton, Rainier Avenue, parks, schools, and services, as well as the South Renton Transit Center, with connections to employment on the Interstate 405 corridor, Seattle, and SeaTac. It's among the first low-income housing tax credit projects in the state to be built under a new building code requiring significant sustainability and energy efficiency, the release said. 
The Watershed received private financing from Evergreen Impact Housing Fund and Citi Community Capital, alongside public funding from the Washington State Housing Finance Commission.
"Like most of the Puget Sound region, Renton has become too expensive for many working families," Kris Hermanns, chief impact officer at Seattle Foundation, said in the release.
The foundation manages the Evergreen Impact Housing Fund, which uses private capital to complement public funds to produce more affordable housing.
"Folks who are elementary school teachers, grocery clerks, and caregivers cannot afford our region's skyrocketing rents. Projects like Watershed will allow some of these families to stay — or bring them back."
With higher construction costs and interest rates, Evergreen Impact Housing Fund played a crucial role in meeting the funding gap that enabled the project to move forward, the release said. The housing fund's $10.8 million in funding for Watershed was provided by Microsoft as part of the company's $50 million investment in the fund. Microsoft and the Evergreen Impact Housing Fund also financed TWG's Grata property in the Totem Lake area of Kirkland with 125 affordable housing units and Bellwether Housing's 200-unit development in the Bitter Lake neighborhood of North Seattle.   
"The successful launch of the Watershed project captures what our region desperately needs: a broad network of public, private, and philanthropic organizations that all come together around shared solutions," Jane Broom, senior director of Microsoft Philanthropies, said in the release. "This project is an important step towards addressing our region's housing crisis, and while much remains to be done, initiatives like the Evergreen Impact Housing Fund are helping hundreds of people access affordable housing."
Broom earlier this year updated Microsoft's work on increasing affordable housing in the region. In January, she wrote that Microsoft had so far allocated $583 million toward preserving and creating approximately 9,200 housing units in the Puget Sound region as part of its Affordable Housing Initiative announced three years ago to help address the region's housing and homelessness crisis.
Watershed is the fourth project for the Evergreen Impact Housing Fund, which previously financed the Solera property in Renton with a consortium of five local credit unions. According to the housing fund's website, half of the 550 multifamily units at Solera will be affordable housing units, with 20 percent of those for people with disabilities.