Amazon plans to add 10,000 more jobs in Bellevue in the next few years, a company executive announced in a blog post today. This brings the number of Amazonians expected in the city by around 2025 to 25,000.
The announcement follows word last February that the company would create 15,000 jobs in Bellevue over the next few years, in part by moving its entire worldwide operations division (about 10,000 jobs), to the city from Seattle.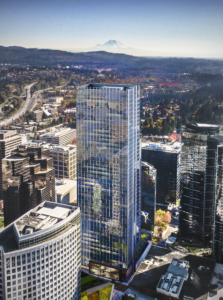 In his blog, John Schoettler, Amazon's vice president of global real estate and facilities, called Bellevue "a growing, business-friendly community with great amenities, a high quality of life, and a fantastic talent pool." Amazon has made good progress hiring talented staff there, he added.
There are about 3,000 employees already in Bellevue, according to The Seattle Times.
Amazon, which had already announced the construction of a 43-story office tower to accommodate future growth at its Bellevue 600 site, will build another tower at the site comprising 27 stories, Schoettler wrote. That tower, designed by Seattle-based NBBJ, also will create new retail amenities and additional green space open to the community, he said.
"As part of our commitment to sustainability, we are targeting at least LEED Gold certification for this project, which we expect to complete by 2025," he wrote.
Schoettler also announced that Amazon secured an additional 2 million square feet of office space in downtown Bellevue by leasing two new properties from Vulcan: 555 Tower and West Main, both within walking distance of the Bellevue Downtown Station scheduled to open in 2023 as part of South Transit's East Link extension.
"Already under development, these projects will provide our teams with state-of-the-art office space and the community with new amenities — such as public parks and retail space — to help fulfill the city's vision of a thriving, connected, and pedestrian-friendly business district," Schoettler wrote.
The company opened its first office in Bellevue in 2017 and is becoming a major player in the Eastside's robust tech-sector growth.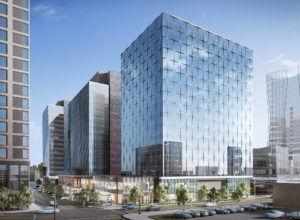 Brian McGowan, CEO of Greater Seattle Partners, was thrilled to see Amazon continue to invest and create jobs in the region.
"This expansion in Bellevue is demonstrative not only of the high caliber of talent that can be found throughout the Puget Sound but also that we are open and ready for business," McGowan said in the blog post.
Schoettler also announced that Amazon is granting $1 million to the City of Bellevue's Human Services Fund to support local families in need. The resources also will support communities being disproportionally impacted by COVID-19, he said, adding that the City will distribute the money to more than 40 entities across the Eastside.
The grant adds to Amazon's existing work with Bellevue Lifespring to provide credits for groceries, health goods, and personal care items to families in the Bellevue School District during the pandemic, he said.
In the post, Mayor Lynne Robinson called Amazon's jobs and grant announcement "a major win for our community and region" and thanked the company for its support of community services.
"The City looks forward to expanding our partnership with Amazon and creating new opportunities for all Bellevue residents," she added.
Concluded Schoettler, "We look forward to bringing more jobs to Bellevue — contributing to a regional growth strategy that can create opportunities for people across the Puget Sound."