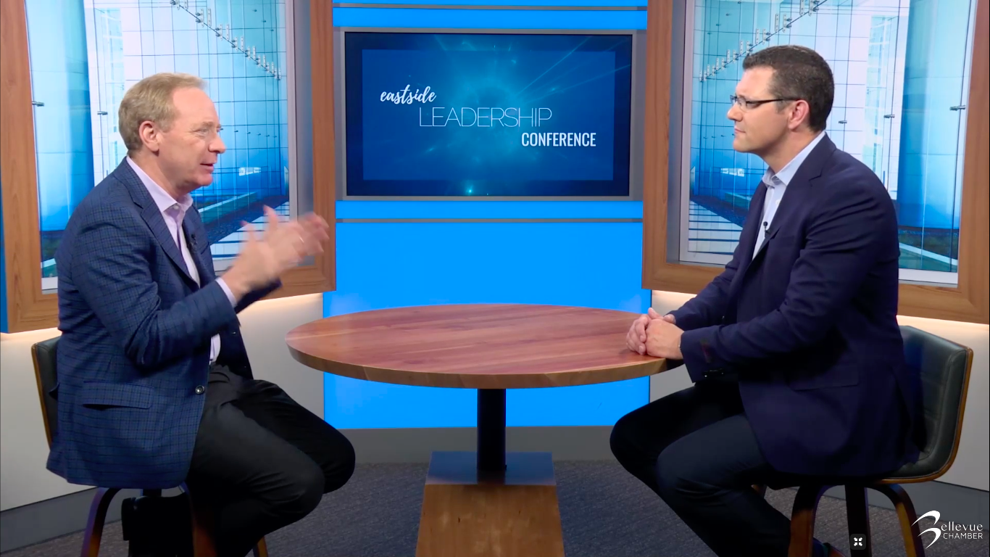 Two executives from major companies with large and growing footprints on the Eastside today emphasized the need for business, governments, nonprofits, and communities to work together to plan for and address major issues like affordable housing and transportation to keep pace with the region's exploding growth.
Amazon's vice president of public policy, Brian Huseman, encouraged state lawmakers to convene a special session in November to pass a transportation investment package. And Microsoft president Brad Smith encouraged the region not to shy away from big goals like a high-speed rail between Vancouver, B.C., and Portland, to help with growth and opportunity beyond greater Seattle.
Huseman and Smith provided keynotes on the first day of the virtual two-day Eastside Leadership Conference produced by the Bellevue Chamber. Their talks bookended virtual breakout sessions with various local executives on retail innovation, tourism and hospitality, changing demographics, and the future of learning.
Amazon, which has about 4,000 employees in Bellevue now but is planning to have about 25,000 in the next few years (including some in Redmond), is trying to ease transportation stress. It placed two office towers it's building in downtown Bellevue near the new East Link light rail station, committed $7.5 million to close a funding gap for a key Bellevue segment of the Eastrail bike and pedestrian path, and offers other incentives for employees not to drive to work.
But representatives of the multinational conglomerate know more needs to be done for transit.
"The arrival of 25,000 employees would have an impact on any community and we're working hard so this growth is responsible, sustainable, and positive for the broader community," Huseman said, outlining some of Amazon's work with local governments to do its part.
"We also encourage state and federal policymakers to do theirs and help Bellevue with this growth," he added. "We've been active in Olympia working on a state transportation package, and we encourage legislators to reconvene for a special session and pass a balanced transportation investment package so they can finish the job, not just for Eastrail, but for all Bellevue, the Eastside, and the entire state of Washington."
More affordable housing also is critical, Huseman said. He outlined Amazon's work nationally, including its housing equity fund to provide more than $2 billion in below-market-rate loans and grants to preserve and create more than 20,000 affordable homes for people with low to moderate incomes in its primary headquarter communities of Puget Sound, Arlington, Virginia; and Nashville, Tennessee. That includes $185 million so far to preserve 1,000 affordable units in King County.
Amazon also committed $100 million to Sound Transit to build about 1,200 affordable housing units along light rail lines.
"But we're just getting started," Huseman said. "We're asking local state and federal officials to provide new tools for affordable housing, preservation, and production here in Bellevue and across the country."
Huseman called for more housing investments, both for market-rate properties and affordable housing, to support the growth that's coming.
"We also need land-use changes to spur this housing development and call on state, county, and local policymakers to do what's necessary to make this happen," he said.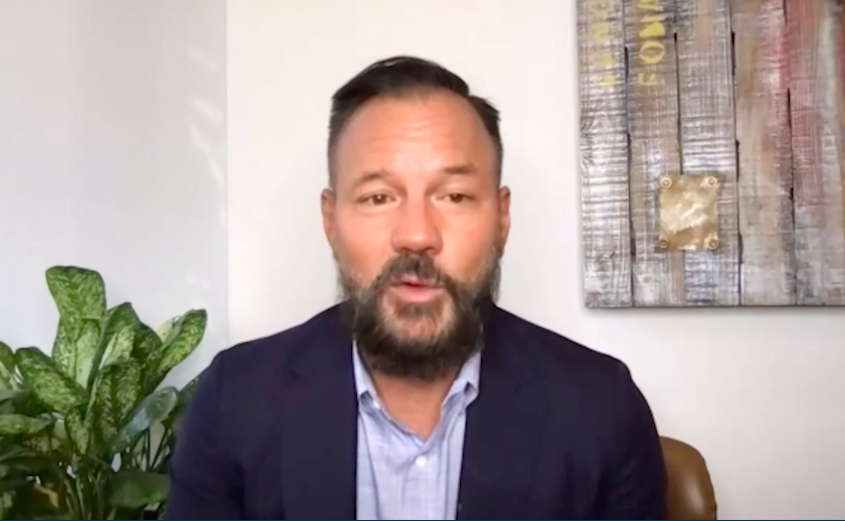 Smith's Keynote
Microsoft also has addressed the regional housing affordability issue, first committing $500 million, then raising that number to $750 million, Smith said, noting the company has helped build 8,000 units so far, and helped develop different financing approaches to stimulate the market.
"I feel good about what we've done and I feel good about what Amazon has done," Smith said. "I feel like we're moving forward, but we still run the risk as a region of falling even further behind because we're trying to keep pace with explosive growth."
Companies and governments are in this together, Smith said.
"The city councils, frankly, will be more important than Microsoft and Amazon and all the other companies," he said, encouraged by efforts like Bellevue's recent initiatives for multifamily housing.
It's important for housing and transportation to keep pace, but also protect what makes the Eastside special, he said, encouraging more face-to-face communication in 2022 among interested parties to understand each other and work together on problem-solving. It's important not to be too timid in goals, he said, noting success with big projects that once seemed daunting, like building the State Route 520 Bridge and replacing the Alaskan Way Viaduct with a tunnel.
"We always believe as a company that we should be identifying a few really big goals," Smith said. 
The Vancouver-to-Seattle-to-Portland high-speed rail is one, he said. 
"It's not only about unifying and creating more opportunities in this broader economy," he said. "It will spread growth out. It will bring jobs to Everett and to Bellingham, and Anacortes and give people the opportunity to move back and forth, and that in turn will also help us address the affordable housing issue in our neighborhood."
Added Smith, "People hear that and go, 'Oh my gosh, we could never do that,' and I'm like, 'Why not?' The Dutch do it, the Swedes do it, the Chinese do it, the Northeast corridor does it. The Northwest of this country can as well."
Amazon's Huseman also sees opportunity at Bellevue College. He noted that it offers a bachelor's degree in computer science, which inspired Amazon to help champion a new state law for all state community colleges to offer a four-year computer science degree.
"It brings high-demand degrees to the students who need them and increases access and equity, especially for low-income students and students of color," Huseman said. "We need to expand this pipeline and help make Bellevue College the incubator of homegrown talent on the Eastside."
What better place to earn a computer science degree than in the backyard of Amazon, Microsoft, Facebook, T-Mobile, and other tech companies, he said, adding jobs will be available for graduates.
Finally, Huseman said, "We need to keep Bellevue as a great place to do business. Bellevue's success is due in no small part to their collaborative approach with the business community to tackle problems together. Not every city does this. There are some cities in our region, including one nearby, that would rather score political points at the expense of the business community rather than wanting to work to come up with creative solutions together, but not in Bellevue," he said, calling the city a model of governance.
Microsoft's Smith said the Eastside feels a lot like the Wisconsin he grew up in, when bipartisanship was the standard. It's key to maintain that, he said.
"I think the way you preserve it and protect it is to always look for common ground," Smith said. "I think we're so much better getting four small things done than arguing the entire year about one big thing on which we can't agree. And if we can get four things done this year, we can get four things done next year, and we do that every year and a decade from now we will make more progress than we can possibly imagine. But it starts and it ends with this cohesion as a business community, with the political leaders, with the nonprofit leaders, with the public as a whole so we bring everyone along. Let's treasure what we have and let's ensure we build on it."