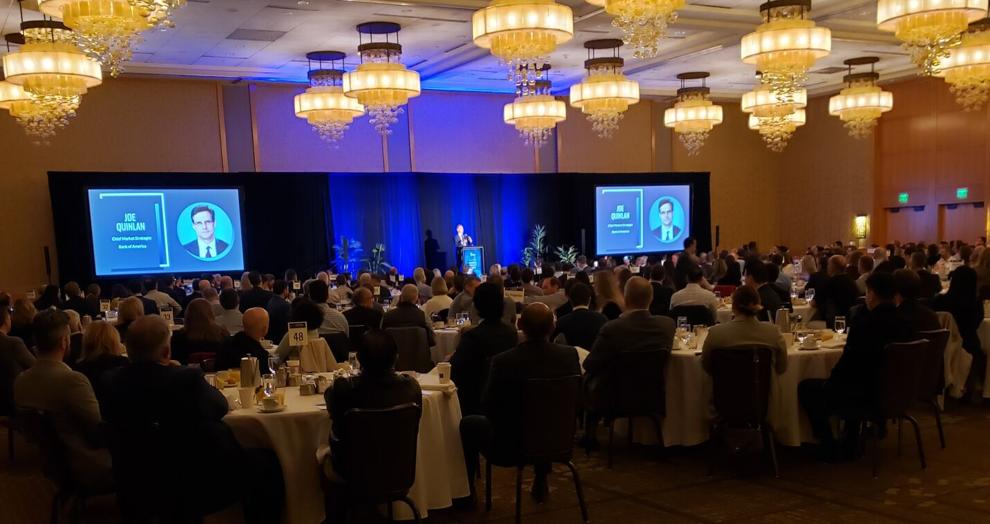 The United States may be headed for a mild recession in 2023, but the chief market strategist for Bank of America isn't panicking.
Recessions have a connotation of "the end," Joseph Quinlan told attendees this morning at the Bellevue Chamber's 2022 Economic Forecast Summit. "But remember: Recessions, they're not terminal," he said, noting that the country's weathered about a dozen since World War II.
The U.S. will reset afterward and come out stronger, Quinlan told the sold-out event that drew 360 business leaders and representatives to the Hyatt Regency.
"We are forecasting a recession for next year, shallow so to speak, quarter to quarter, first quarter, second quarter, perhaps in the third quarter," he said, acknowledging some economists think a recession can be avoided, while others are more bearish.
But Quinlan kept the economy in perspective.
For example, the S&P 500 produced about 100 percent return from 2019 through 2021, and while 2022 has seen a war in Europe, continued fallout from COVID lockdowns in China, and the U.S. hitting 9-plus percent inflation in June, the S&P is off about 17 percent this year. "That's not bad at all," he said.
The U.S. is a $25 trillion economy, or 25 percent of the world's GDP, with only 4.5 percent of the world's population, he noted, calling the U.S. economy large, dynamic, and diverse.
"Don't bet against it; it's a fool's errand," Quinlan said.
Yes, the Federal Reserve has more tightening it plans to control inflation, which Quinlan thinks has peaked. But when the Fed tightening cycle peaks, that's when the economic reset starts, he said. The weak companies who are not using their capital appropriately, and are burning through cash, and don't have any core competencies will fail; and the strong companies will get stronger, the economy will reset, and its strength will continue, he said.
Gary Guenther, executive vice president-managing director at Kidder Mathews in Bellevue, told 425 Business that he felt a sense of optimism after listening to Quinlan.
"Joe always does a great job of taking complicated macro-economic issues and articulating them into something we can all understand," Guenther said. "Even though we have some short-term struggles ahead, his big picture view helps me feel more optimistic about the long-term strength of our Country and economy."
Kemper Freeman Jr., chairman and CEO of Kemper Development Co., expressed a similar opinion to 425 Business afterward, "but nothing's easy, you can't take anything for granted," he said.
Quinlan expressed his share of concerns today, too, including deteriorating relations with China, how the war in Ukraine will end, and effects on U.S. businesses from a certain recession looming in Europe.
Quinlan took some questions from the audience, including one about worker scarcity. He noted that many immigrant laborers returned to their home countries during the pandemic, cited the continuing effect of long COVID on some workers and its drag on productivity, and female participation in the workforce not yet to prepandemic levels.
Introducing what he called his "favorite pet peeve," he said, "Why do we still pay women 83 cents on the dollar?" drawing loud applause from women in the audience.
If the shoe were reversed, that might not inspire returning to the workforce, he said, also criticizing U.S. family/maternity leave policies.
Immigration needs improving, too, he said.
"I don't see the labor problem going away anytime soon," Quinlan added, citing, in part, demographics and immigration policies. He called it good news that international student numbers rebounded this year in the U.S., saying the country needs more of them to come here, get their degrees, and stay.
Quinlan, as he has at previous Bellevue summits, also offered his must-read books for the audience: Danger Zone: The Coming Conflict with China, by Hal Brands and Michael Beckley; Chip War: The Fight for the World's Most Critical Technology, by Chris Miller; and How the World Really Works: A Scientist's Guide to Our Past, Present and Future, by Smil Vaclav.