Bellevue has tackled a host of social and economic issues over the past year, including examining policing policies, laying the groundwork for more affordable housing, advancing transportation improvements, and preparing for significant growth, all while struggling to deal with the pandemic's effects on business, communities, and government, two City leaders said Tuesday during a "State of the City" presentation.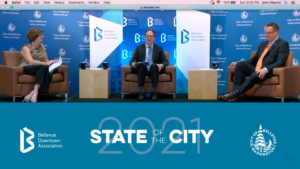 "It has been hard, there's been a lot, but we are about through it and very bullish on Bellevue and we will emerge from this stronger than ever," Deputy Mayor Jared Nieuwenhuis said after an hourlong review of the past year and look ahead with Mayor Lynne Robinson as they answered questions from Bellevue Downtown Association (BDA) President Patrick Bannon as part of BDA's Downtown Talks series.
A link to the presentation is on BDA's website.
Asked about top-of-mind challenges from the pandemic and looking forward, Robinson said,"I think the biggest challenge is going to be working with the families and the businesses that were struggling before COVID," which exacerbated those challenges.
"Fortunately we live in a city that has poured every extra penny it has into human services, into small-business support, and our large employers have joined us in doing that, so we're just trying to keep people afloat to the end here and really hoping that we don't lose families when that (eviction) moratorium (by the state) ends and that we don't lose any more small businesses," she said, estimating the business loss at more than 400.
Robinson credited City staff and the council for its work, as well as the community for its involvement in finding solutions.
"If any city can make it through this and come out on top, it will be Bellevue," she said.
Nieuwenhuis pointed to improving economic indicators in Bellevue, including a 4.4 percent unemployment rate that is "quite good" compared to similar-sized cities regionally or nationally. The current hotel occupancy — 34 percent — is up over the previous 12 months, "so we are getting there and there is growth there." Bellevue also has 9 million square feet of office space with 90 percent of it already preleased, "so Bellevue is really poised to really take off, almost a V-shaped recovery, at least that's what we're hoping for and what a lot of the economic indicators are pointing towards as well."
More than 6,000 Bellevue businesses received about $900 million in PPP loans, Nieuwenhuis said. Bellevue distributed more than $600,000 in direct-relief grants to 122 businesses and business-support organizations, he said. Nieuwenhuis also cited the alfresco outdoor dining program; Amazon and Facebook bullishness on the city with their office investments downtown and in the Spring District, respectively; and the City's recent update to its Economic Development Plan with focus areas including tourism, small businesses, and the creative economy.
Robinson said the city is working hard on incentivizing more affordable housing.
"There is a tremendous need for affordable housing in Bellevue," she said. Only 10 percent of the city's housing is affordable to a family of four earning $80,000 a year or less, "so that's a lot of people who work in Bellevue that can't afford to live here," she said.
Only 10 percent of the people who work in Bellevue live in the city, she said, which impacts traffic and the environment.
"We need to create that full spectrum of affordability, which would be like zero to 120 percent area median income."
The Bellevue City Council has advanced affordable housing policies and on Monday revamped its multifamily property tax exemption, which was a compromise between developers and affordable housing advocates that should incentivize more affordable housing development within market-rate housing, she said. Robinson expects to see significantly more housing developed on all affordability levels within the next couple years from that and other initiatives.
Asked by BDA's Bannon how she would define success on the housing issue, Robinson said, "If I see 50 percent of the people working in downtown living in Bellevue, I will call that a success."
Robinson and Nieuwenhuis highlighted other efforts. City officials examined police use of force policies after George Floyd's murder and hired a consultant who reviewed the police department's policies. The consultant made recommendations embraced by the police, including use of body cameras, banning neck restraints, and codifying de-escalation policies. Robinson and Nieuwenhuis also discussed a communities of color program to advance racial equity; efforts to advance the "Grand Connection" from Meydenbauer Bay to Wilburton; progress on the Eastrail pedestrian-bike path that is now about 95 percent complete; road improvements; and more.
The City Council recently examined its priorities, with Robinson noting that equity and inclusion permeated the work. There's interest in a cross-cultural center in Bellevue and the City has hired a consultant to examine building a center or revamping an existing building to support cultural programming, she said, also citing a renewed focus on art and its connection to culture. Affordable housing and multimodal transportation are priorities, too, she said.