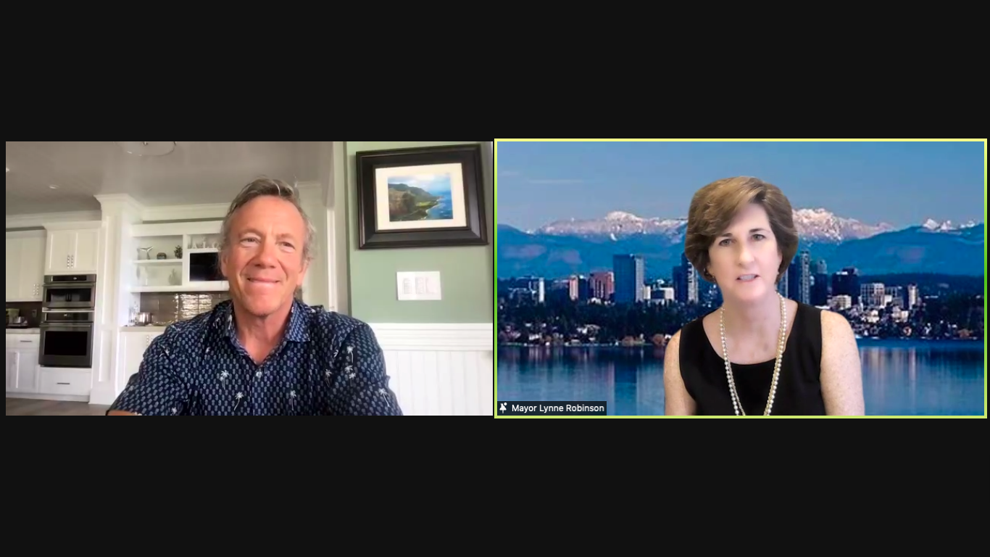 Bellevue's tech-heavy economy has helped it weather the COVID-19 pandemic in good shape — and the sector's continued growth bodes well for the city's future, Mayor Lynne Robinson said today during the latest edition of the Washington Technology Industry Association's (WTIA) virtual policy speaker series.
"We not only have all these tech companies leasing office space in Bellevue, but those office spaces are preleased, and there's this tremendous pipeline," Robinson said, noting that 30,000 additional workers are expected in the next few years, a big jump for the city of roughly 150,000 people. "It's not just looking good today; it really looks good for tomorrow as well."
The WTIA event focused on what it takes to build a global tech hub. It included WTIA CEO Michael Schutzler interviewing Robinson, then a separate presentation from state Rep. Vandana Slatter, who represents the 48th District (which includes Bellevue, Redmond, and Kirkland).
Robinson credited the city's attractiveness to tech and other companies to its focus on policies geared toward creating a place where people want to work, live, and visit.
"My philosophy is that any policy that benefits a child benefits a city," she said. "The public safety, excellent public schools, access to parks and green spaces, a healthy environment — all those things really are not just good for a child, they're good for everybody, and people really liked that. … If you don't have that, I don't think you can get the growth that you want or attract the growth that you want." 
Robinson also stressed the importance of a strong startup ecosystem for companies. She said she has made it a priority to meet local tech companies, visit their offices, host networking events at City Hall, and more.
WTIA's Schutzler said the industry is focused on trying to improve its diversity, noting that the sector is largely white and male. More tech companies are committing to changing how they recruit, onboard, and develop talent. But it will take a public-private partnership to do it well, he said, asking Robinson's view on public policy for improved diversity.
She talked about the importance of workforce development, including starting early by making coding or tech classes easily accessible for everyone in schools.
Supporting the workforce development pipeline between employers, Bellevue College, the University of Washington, and coding schools is vital, as is training and retraining adults, she said.
Robinson also referenced a Greater Seattle Partners recommendation to invest in women of color while they were in school and as small-business owners, providing support to move up the corporate ladder, get into good jobs, and provide them childcare.
"[Greater Seattle Partners] said that that would increase our economy by a significant amount, and so that's something we all need to be looking at: How do we support those people who are kind of being left out right now, because not only are they missing out, we are missing out," Robinson said. 
Rep. Slatter emphasized the need for industry and government working together to ensure growth is equitable and doesn't exacerbate disparities. The pandemic, for example, underscored the need for more broadband service in underserved communities.
"I believe if we're going to build on, attract, and sustain the energy of this region with a technology focus, that we must focus on a partnership that will build a resilient community and promote responsible innovation," Slatter said.
"How do we work together to implement inspired and intersectional solutions?" she asked. "It begins by building trust, by truly listening, by having courageous and sometimes uncomfortable conversations, by embracing failure, and by recognizing that everyone has a voice, especially those who have never even been invited to the table," she said. "Building multifunctional teams, thinking in diverse ways, being unafraid to fail and learn quickly is what builds innovative companies … and I believe can also build smart policies and resilient communities."
Slatter said, "We need to find pathways that do not disenfranchise workers, including women and people of color who do not see the same opportunities as their white colleagues and men. From an education workforce standpoint, we need more upskilling and lifelong learning opportunities to give workers more options."
She also called on industry to advocate for continued funding of mass-transit systems, including reliable bus service on Interstate 405, that many lower-paid workers rely on to get to work from areas with more affordable housing.
The Eastside's booming growth, transportation policy development, affordable housing, and workforce development keep her up at night, Slatter said, stressing a need for cooperative solutions.