By BizX
BizX's purpose is to improve the lives and businesses of our communities through bartering, and it has some amazing members to help further that goal. But members like Bernie Garcia, president of Moctezuma's Restaurant Group and Grandeza Spirits, are the cherry on top.
As the COVID-19 crisis hit, being in the hospitality industry, Garcia saw an immediate closure of his restaurants. Instead of staying paralyzed, he and his staff immediately swung into action. They saw a need to provide meals to the front line healthcare workers and got involved. What started as deliveries of 150 meals in a day for St. Joseph Hospital quickly turned into a delivery over 1,000 in a single day for multiple hospitals.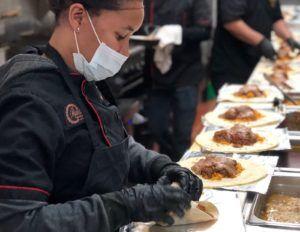 "We got so much amazing response from the healthcare workers and from our guests that they actually wanted to participate and provide more meals to more hospitals," Garcia said. "It's been an amazing response and we keep getting more and more people that want to get involved."
Enter the power of social media.
"I saw what was being done through Bernie's social media and how they were delivering food to the people out on the front lines, trying to help the situation and help the people on the front line and show appreciation," Sidney Rice, former wide receiver for the Seattle Seahawks, said. "I got together with [BizX Founder and CEO] Bob Bagga, whose wife works at Evergreen Hospital. And because of playing for the Seahawks, I thought Virginia Mason would also be a good one."
"We love when people come together and we are so proud to be able to come out and help," Bagga said. "Because BizX is more than just a company — it's a collaboration."