The governors of Washington, Oregon, and California, and the premier of British Columbia stressed the need Tuesday for their governments to continue being leaders laying the groundwork for private-sector innovation helping the planet stave off climate catastrophe.
The virtual meeting of Govs. Jay Inslee of Washington, Kate Brown of Oregon, Gavin Newsom of California, and Premier John Horgan of B.C. punctuated Cascadia 2050 Vision: Moving to Climate Action, a two-day event hosted by the Cascadia Innovation Corridor at Semiahmoo Resort in Blaine.
The CIC's sixth annual conference focused on climate change and action, and provided myriad presentations stressing the need for cross-border and public-private partnerships. Speakers Monday included Microsoft co-founder Bill Gates, who's investing in clean-energy technologies and authored How to Avoid a Climate Disaster last year. 
The CIC — which includes business, government, and academic leaders representing British Columbia, Washington, and Oregon — has a vision, according to its website, "to become one innovative economic zone that generates a shared sense of identity and belonging as its centerpiece. With a focus on research, economic development and transportation, the Cascadia Innovation Corridor is enhancing improved connectivity, productivity, health outcomes, and innovation for the benefit of people living in the region, and beyond."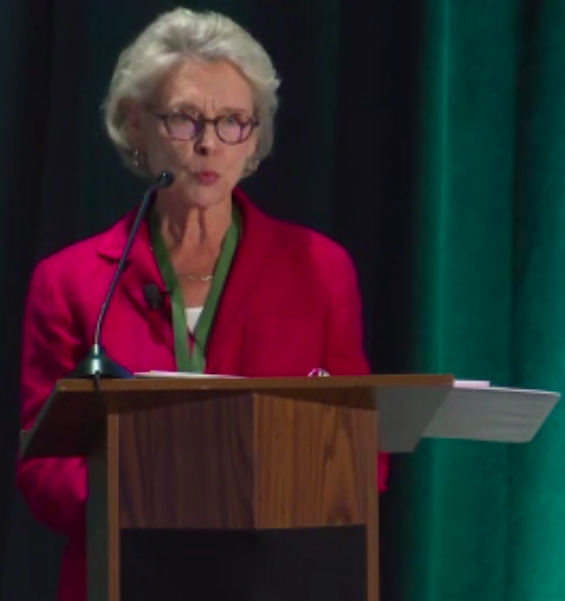 The event's climate action theme is central to CIC's goal to become the first sustainable mega-region in the world. One of its key components is environmental stewardship and meeting Paris Climate Accord goals, Christine Gregoire, CIC steering committee co-chair, CEO for Challenge Seattle, and former Washington governor said Monday in kicking off the conference. That means reducing greenhouse gas emissions while adapting to the effects of climate change apparent in the Northwest and elsewhere, she said.
"Our vision thus requires us to act today," Gregoire said. "It's a daunting task and we believe we can take it on if we simply focus and we work in the collaborative style."
Speakers at the Blaine event, held in-person and virtually, expressed support for the recently passed federal Inflation Reduction Act, part of which allocates almost $370 billion for climate investments that they say already are spurring private-sector action.
"Hallelujah, brothers and sisters, we now have the United States following the leadership of these four states and provinces," Inslee said Tuesday, praising the federal legislation signed into law last month by President Biden.
In a "fireside chat" at Semiahmoo with Microsoft President Brad Smith on Monday to launch the conference, Gates said he was thrilled with the bill's passage, noting "discussions with the climate innovation companies, for example, on how quickly are they going to go out and do green energy projects is definitely accelerated."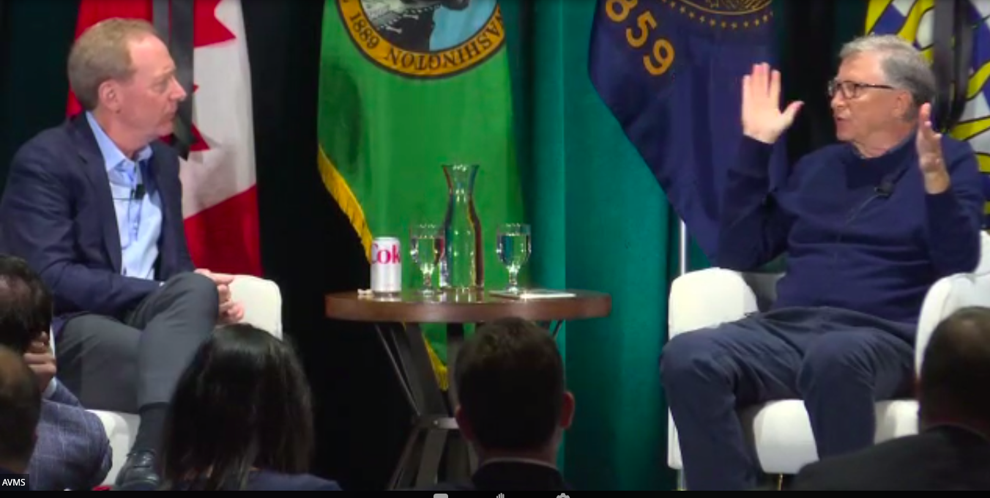 Gates said many of those companies were looking at Europe as a better place to go.
"Now I'd say North America … because that bill got passed," he said. "In terms of accelerating that industry, both for the country and getting the (carbon) reductions, it's a fantastic milestone."
Gates thinks companies with promising climate technologies will get able to get the funding to advance their work.
"People believe in this cause enough that I think we can scale them up, get them industrial partners, get them over the finish line," he said. "So I'm actually feeling pretty good about climate because of the pace of innovation."
'Climatenomics'
Bob Keefe, executive director of E2 — a nonpartisan group of business leaders and others advocating for good economic and environmental policies — also called the Inflation Reduction Act the biggest and most important climate policy in the country's history.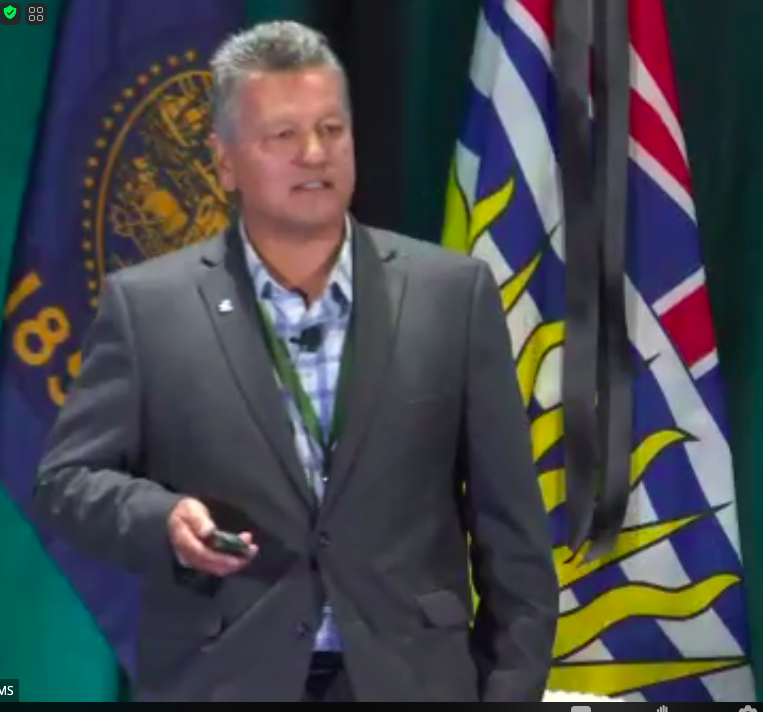 Climate change is an environmental, health, and social justice issue, but it's also an economic issue, he said, citing National Oceanic and Atmospheric Administration data showing that climate-related disasters like fires and hurricanes caused $150 billion in damage in the U.S. last year. Those direct costs also have triggered additional costs such as higher homeowners' and crop insurance rates, he said.
"The good news is that there's two sides of the 'climatenomics' coin, as I like to say; certainly, it's the economic cost, but then there's the economic benefits," Keefe said, adding that the right policies, technology, and public-private leadership in climate action can create jobs, drive economic growth, and spur innovation and investments.
According to E2, 3.2 million Americans worked in clean energy and clean transportation in 2021, including 77,000 in Washington, 54,000 in Oregon, and 505,000 in California. That's triple the number of people working in the fossil fuels industry, he said, also noting that half the top 10 states for clean energy jobs are in Republican-led states.
"This should not be a partisan issue, this should not be a political issue," Keefe said. "These aren't blue-state jobs, these aren't liberal, lefty, coastal jobs; these are red, white, and blue jobs and they're happening in every state in the country."
He credited the job growth to advancing technology, government policies, and people's desire for cleaner energy because it's good for the environment and economy. He praised efforts in Washington, Oregon, and California to clean up the energy supply and advance clean-energy vehicles, for example, adding that state policies help drive economic growth. The Inflation Reduction Act will scale up change even further, he said.
B.C.'s Horgan said it was a policymaker's job to work with the private sector to stimulate its innovation and deliver what the marketplace needs.
"This is not rocket science — it's much more difficult than that," he said. "It involves the state intervening in our private-sector economy to stimulate more private-sector activity; it's as simple as that. It's not doctrinaire — it's common sense."
High-Speed Rail
Another conference panel on Monday discussed the idea for ultra-high-speed, zero-emission rail between Vancouver, B.C., and Portland, noting as many as 4 million additional residents expected in the region in the next 30 years and the effect that will have on roads, communities, and lifestyles without bold action.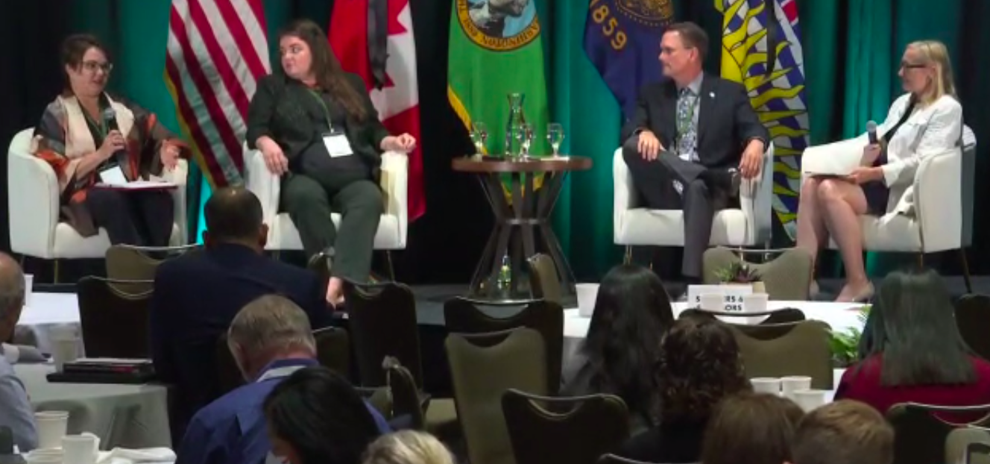 Alex Hudson, executive director of Transportation Choices, had "skeptical curiosity" at first about such a project but not after considering the devastating alternatives. "We remain very open and curious about what it can look like and I think that's what's made it possible for this project to continue to move forward," Hudson said.
Mark Riker, executive secretary of the Washington State Building and Construction Trades Council, said such a project could be transformational in many ways, including providing jobs for people who aren't engineers or coders.
"This is the kind of foundational mega-project that can actually start and complete careers that can transform communities," he said.
Riker stressed that such a massive project won't happen without a public-private partnership and parties aligning priorities.  
"We already have massive transportation challenges in front of us, so here's a component that can be a big part of connecting communities, making the affordable housing question spread across a broader sector of the region instead of in the very urban dense areas" and create easily commutable distances between points," he said.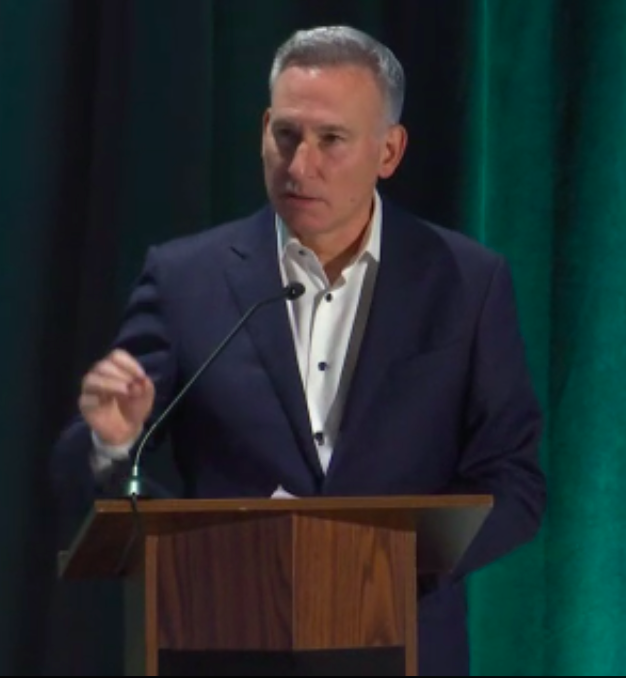 King County Executive Dow Constantine on Monday noted the county's transition to all-electric, zero-emission buses by 2035 and voter approval for expansion of Sound Transit's electric light rail. He said that project, along with others in the U.S. — like California's plans for high-speed rail — can provide lessons for the next bold, visionary project like Cascadia's ultra-fast train.
"To maintain public support for these investments, we have to learn from others and not be afraid to adjust our approach when necessary and be upfront with the public about scope, schedule, and cost challenges," he said, adding that he's eager to continue advancing the project's vision.
Government Sets Table
At Tuesday's session, Inslee said government can help private enterprise create demand for their products and services.
"We create the demand for electric cars because we require it," he said. "We create the demand for cleaner systems of solar and wind because we require it in our grid. … We're in the demand-creation business and we do so because we want to end pollution."
Private businesses, not government employees, will build the new clean-energy economy, Inslee said of architects, contractors, and others. He added, "This is the biggest job-creating, profit-creating enterprise since the creation of the steam engine."