For the past six weeks, teams from across the gaming world have practiced and perfected their gaming skill and trivia knowledge to make it to the Gauntlet gaming tournament on May 19.
And, while, yes there was a trophy at stake, the main goal of the tournament was to fundraise in support of the organization El Centro de la Raza which serves the Eastside and most of  King County.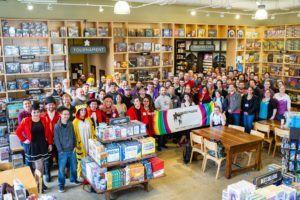 The yearly tournament was hosted by the popular game store, Mox Boarding House in its Bellevue location and organized by its community outreach committee, Engage. This year, the tournament raised $116,992.
This was Engage's sixth year hosting the tournament to fundraise for a nonprofit that benefits the greater Seattle area. For this tournament, teams fundraised specifically in support of El Centro de la Raza's after-school program which provides low-income students with mentors and tutors. 
The tournament is structured by teams of four players who fundraise within their communities for each year's organization. This year, Team Bungie (from the company of the same name) raised the greatest amount of more than $70,000. By raising the most money, Team Bungie took home the title of fundraising champions for the sixth year straight.
The final day of the fundraising campaign consisted of the tournament. It featured a round-robin style play of different games, circus trivia, and carnival games with a unique spin created by local game designer, Paul Peterson. At the end of the final day of play, Team Bungie ended with the most points making them the winner of the coveted Gauntlet trophy.