Before weighing pros and cons, define exactly what you need
Let's start this off with a quick quiz. To you, an effective marketing plan is:
(A) Vital to the success of your business, and needs to be under the control of employees who understand your mission, your products, and your customers' needs.
(B) Not necessary, because your products are in high demand.
(C) A good idea. But who has time to develop a marketing plan when you're up to your ears in product development?
If you answered C, you might have considered hiring a creative agency to augment your marketing efforts, or maybe you're already working with one. If you answered A or B, you probably don't think you need to hire a creative agency, but you might want to read on.
425 Business talked to several local agencies and the companies who engage them to get a snapshot of today's marketing environment and help smaller businesses decide when and whether hiring a creative agency makes sense.
So what can a creative agency do for a small business? Quite a bit, though not all agencies offer all services. Some focus on digital marketing, specializing in website design or social media. Clocktower Media in Kirkland, for example, designs and maintains websites. An effective website is critical if you're looking to grow your business, especially in an environment in which most pre-sale research is done online.
Tim Mushen, founder of Clocktower, said that adapting websites to mobile devices is at the top of his customers' minds. Because clients range from startups to large corporations, businesses on a limited budget can leverage Clocktower's knowledge of what the Fortune 500 firms are doing.
Still, while you're busy making sure your website and social media outreach are up to date, you also might want to consider some old-fashioned marketing approaches. Bellevue-based financial services firm Clark Nuber recently hired a creative agency to redesign its website, but it also hired a different one to lead some direct-mail campaigns.
Ann Callister, senior director of marketing at Clark Nuber, said such campaigns are her "secret weapon." Fighting through the clutter of email to get your message heard can be difficult, and direct mail "stands out against the massive amounts of email marketing," said Gary Meyers, president of BlackWing Creative in Seattle, which handled Clark Nuber's campaign.
In-House or Outsource?
Deciding whether to hire a creative agency often boils down to in-house expertise and budget. According to several creative agencies, small businesses often hire them because they don't have the designers, writers, and developers on staff to do the work. Hiring full-time personnel requires overhead, and startups don't necessarily have enough ongoing work to make it worthwhile to add marketing staff.
"We're a bunch of engineers," said Craig Center, vice president of sales for Custom Mechanical Solutions in Seattle. Creative design is not Centers' coworkers' strength, so the company knew it had to outsource its website update.
Businesses sometimes choose to hire in-house expertise. Bellevue-based WorkWhileWalking did just that, recently bringing a creative director on board to improve its marketing capabilities. But, as CMO Josh Leichtung explained, WorkWhileWalking is a marketing-oriented organization that started as a product-review website. His staff already includes expert designers and writers.
Leichtung admits, however, that while his website works well for the company's purposes, it could benefit from an update, and perhaps an outside professional agency could provide value.
But he is reluctant to outsource marketing for two reasons: the upfront cost and the prospect of turning over creative control to someone outside the company.
Creative agencies are aware that potential clients may be reluctant to give up control, but they often point out that an outside perspective may help refine how businesses are positioning themselves. "We can offer a unique and broad perspective and a process that ideally gives the client a better sense of who they are and what types of customers they need to reach," said Julie Burke, who heads brand strategy at GA Creative in Bellevue. "It is our responsibility to deliver on brand ideals."
BlackWing's Meyers emphasizes that the first priority for businesses should be to "get your story right." "There is so much noise in the tech market," he said, that it is important to focus on what you're good at and how to best present your company to prospective clients. In his experience, many companies struggle with this and can benefit from an outside voice.
What about Freelancers?
The upfront cost of hiring an agency is overwhelming to some businesses, but they still may need outside help with marketing. Hiring individual freelancers can help fill the gap.
The full-service agencies understand this. "We are a small business," said Burke, explaining that GA will bring in freelance developers for a complex web-development project that requires expertise beyond what GA's in-house staff can provide. The firm also will hire freelance writers or designers when the workload is unusually high.
Although hiring freelancers can be a good option to get a specific project completed, or for long-term website maintenance, sometimes it is worth springing for the services of a creative agency.
"I've had such great experience working with agencies," said Linda Caudle, director of marketing communications at the Master Builders Association of King and Snohomish Counties. The Master Builders had not previously worked with creative agencies, but when Caudle joined the organization in late 2014, she convinced it to hire BlackWing to develop a tactical marketing plan for its health trust campaign and "bring a little more muscle to the plan and the marketing effort."
The goal of the Master Builders' campaign is to encourage its members to get health insurance, something they must do before the end of 2015. The association's marketing team is busy publishing a magazine and running events, so outsourcing the campaign made sense. Caudle said BlackWing's work will help her organization meet its deadline. Burke noted that businesses often hire creative agencies to help them move marketing projects along that would otherwise get put on the back burner.
Businesses that have hired creative agencies advise finding one that has experience working with similar companies as yours and offers the services you need. Choosing someone you like working with who will help hone your message, and deliver it to the right audience, is equally important.   
Creative Agency Services
Not all agencies provide all these services, so it is important to understand upfront the strengths and limitations of a particular agency and make sure it can satisfy your needs. Some agencies work solely with B2B clients, and others work with clients in the retail space. Some agencies have deep experience working with one or more industry sectors. The perfect agency for a construction firm is not necessarily the best fit for a cyber-security startup. Different agencies have different personalities. Choose one that fits your company's culture.
Blog content
Brand-awareness campaigns
Branding, including logo design and creating a consistent message
Design and maintenance of content management systems
E-newsletter design, content, and distribution
Event and trade show materials
Lead-generation campaigns
Marketing collateral such as brochures and fliers
Email or direct-mail advertising campaigns
Sales presentations
Social media strategy and campaigns
TV or radio advertising campaigns
Website content, including text and video
Website design, whether starting from scratch or updating an existing website
Website development, ranging from simple to complex
 The Sweet Spot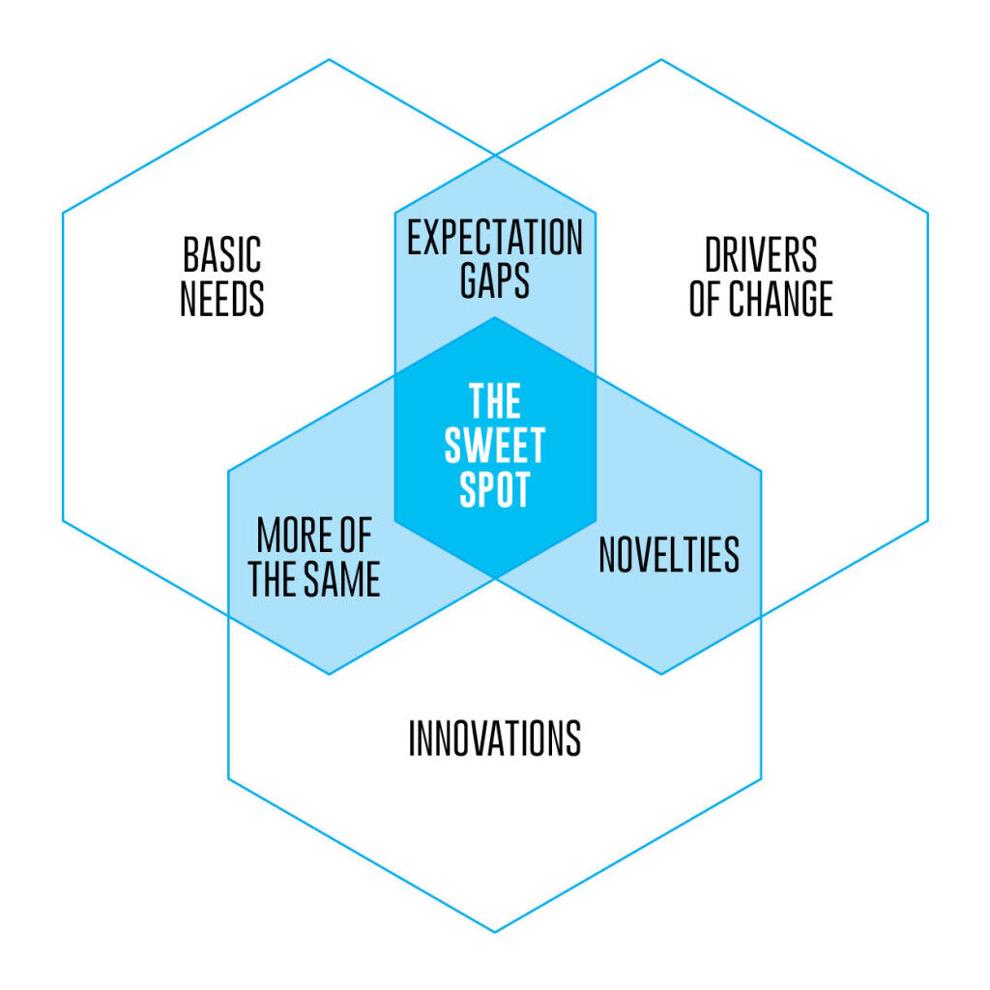 According to trendwatching.com, there are three major elements that drive all trends: basic needs, drivers of change, and innovation. Where those three elements meet, which trendwatching.com calls the sweet spot, is where you should focus your strategy when marketing your company.
Who You'll Work With
Creative agencies assign a team of experts to work with each client. The team usually includes an account manager or principal to oversee the project, but may also involve the following people as needed:
Creative director
Project manager
Website designers
Website developers
Writers
Video directors