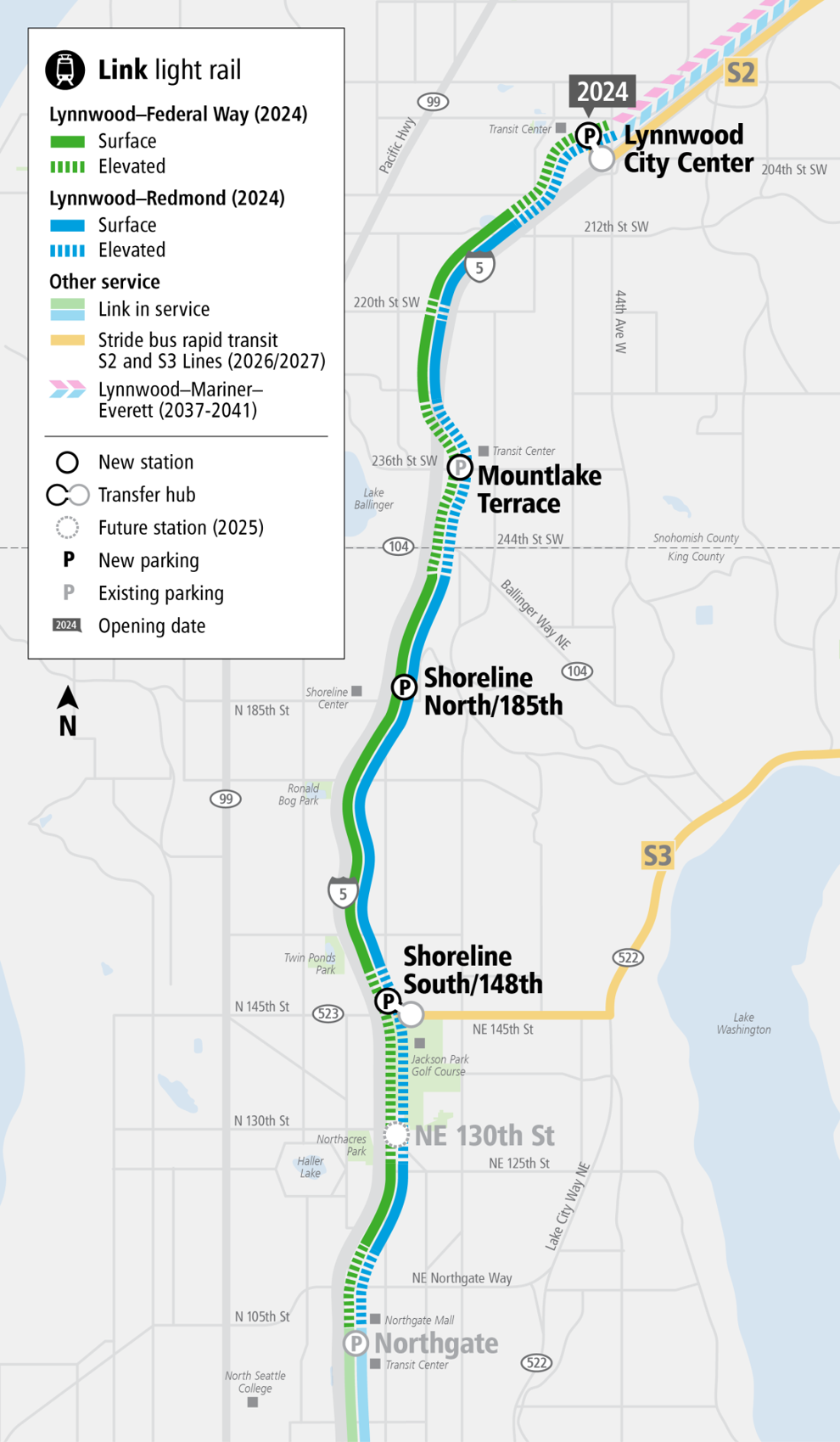 Construction on the Lynnwood Link extension is now 50 percent completed with service scheduled to begin in 2024, Sound Transit said today.
"In just two years, riders will be able to avoid some of the worst highway congestion in the nation and enjoy reliable trips to their destination," Sound Transit Vice Chair and Everett City Councilman Paul Roberts said in a news release. "Because Sound Transit is at the national forefront of operating carbon-free transit, riding Lynnwood Link will be the environmentally friendly way to get around the region." 
Sound Transit board member and Snohomish County Executive Dave Somers added, "Snohomish County has been leading the way to ensure our residents get light rail as quickly as possible while staying within the budget. As Link Light Rail stretches north toward Everett, it will serve even more residents and provide more commuting options."
Construction progress to date includes:
All of the project's 188 columns are complete. 
530 of the 533 girders have been set, with the remaining girders to be set by year end.
Rail work has begun on multiple locations.
Construction of all ten 10 bridges has begun and is 80 percent complete.
Three new garages also are under construction.
The garages at the Shoreline South/148th and Shoreline North/185th stations will each have about 500 parking spaces. The new garage at Lynnwood Transit Center will have 1,670 parking stalls in a five-story structure scheduled to open to the public in spring 2023, more than a year before light rail service to the Lynnwood City Center Station begins.
After Lynnwood opens in 2024 riders will have access to service between south Snohomish County, the University of Washington, downtown Seattle, the Eastside, Sea-Tac International Airport and Federal Way. The extension includes four new stations serving Lynnwood, Mountlake Terrace, Shoreline and Seattle.