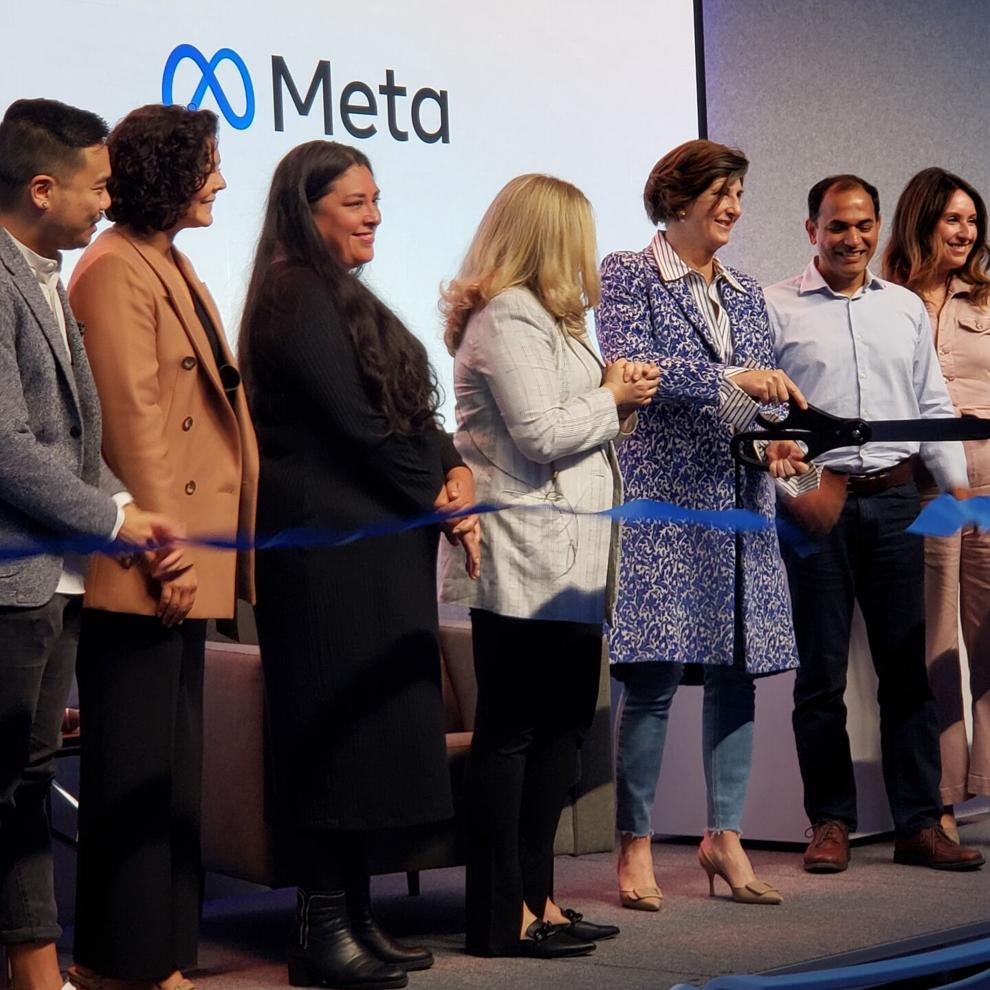 Meta celebrated the grand opening of its new Spring District offices with a glimpse Tuesday night inside one of its several buildings transforming the former Bellevue warehouse district into a hub of high-tech activity playing a key role in how people will connect in the future.
"We have a saying internally here that the road to the metaverse goes through or passes through the Pacific Northwest," Paresh Rajwat, Meta's new head of office for the region, told a group of employees, business and nonprofit representatives, and elected officials invited to the company's Block 16 building. The building is one of roughly a half-dozen Meta owns, leases, or has preleased. Overall space totals about 2 million square feet in the Spring District, and is part of an overall Meta lineup of 30-plus buildings between Bellevue, Redmond, and Seattle.
Meta has talked a lot about where it's going with augmented reality and the future of the metaverse — and many teams locally are working on those technologies, he said.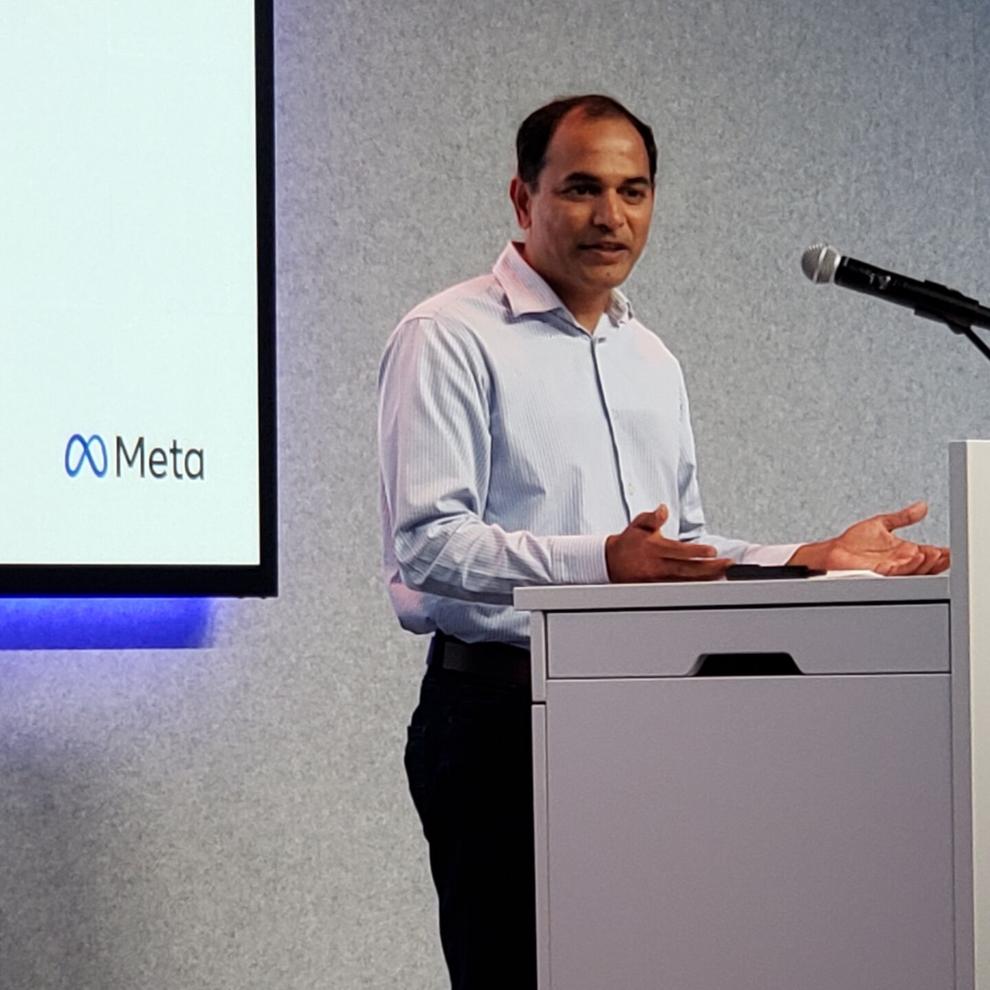 Rajwat, who's vice president of product management and based in the Spring District, rattled off past innovations originating in the Northwest, including Facebook Live and Facebook Marketplace. Meta was formerly known as Facebook.
"There's a lot of really, really cool things that have come from this region and Mark (Meta CEO Mark Zuckerberg) wants to keep pushing more and more of like what can the Pacific Northwest do and the innovation that we can try," Rajwat said. "And it's no surprise why: this region is such a hotbed of amazing talent, great engineers we have here. … We'll keep doing some great stuff and I'm sure a lot of really amazing innovations will come from this region."
Greater Seattle has more than 8,000 Meta employees and is home to the company's second-largest engineering hub behind its Silicon Valley headquarters.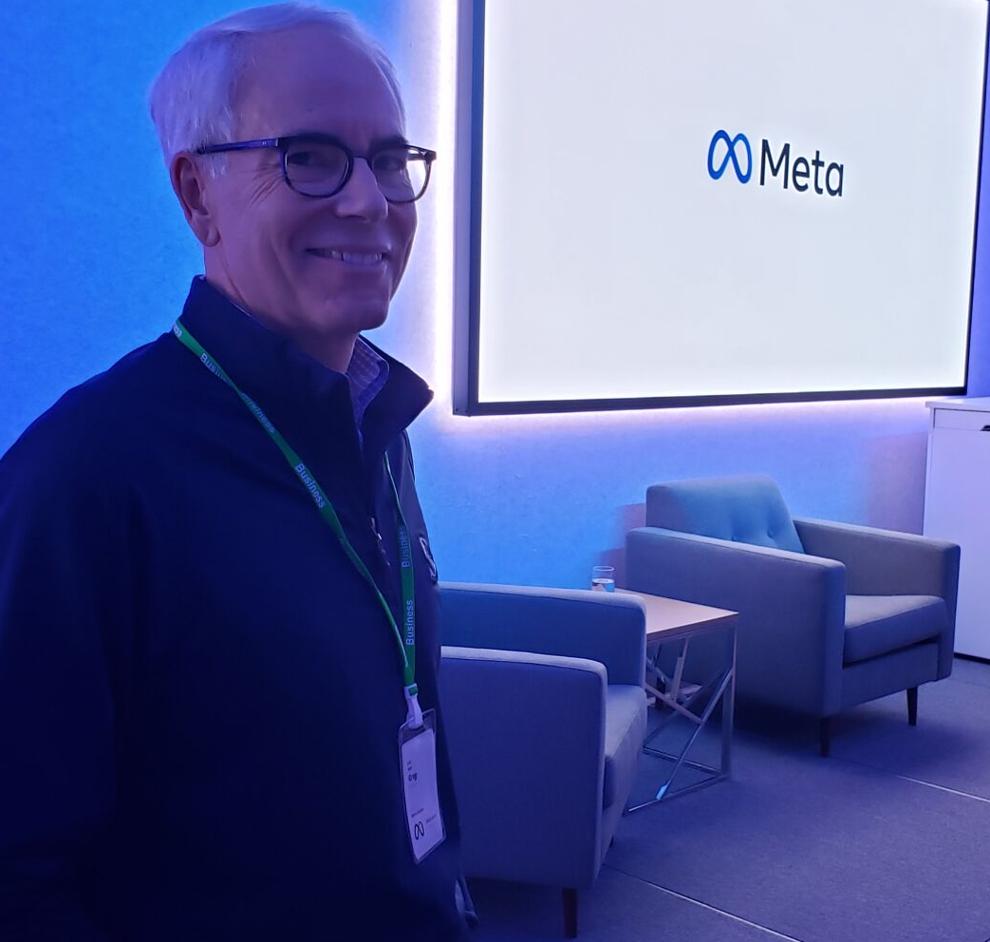 Greg Johnson, CEO of Wright Runstad & Co., which is developing the Spring District, was among guests attending Tuesday's event. In an interview afterward, he said he's thrilled to see the district come to life with companies like Meta, the Global Innovation Exchange (a partnership between the University of Washington and Tsinghua University in Beijing that includes a graduate school focused on technology and innovation), 800 apartment units, and Bellevue Brewing Co. brewpub.
"We bought the property 15 years ago and to see where it's come today is really, really rewarding," Johnson said, putting the Spring District at about two-thirds complete. The remainder of the development will be north near the new light rail station opening in 2024, where more offices and/or residential units are planned.
"It remains to be seen how the economy that we're experiencing now … how that's going to impact our marketplace," Johnson said, noting that the district is enjoying momentum as it eyes the future. 
Johnson expects to wrap up the final third of Spring District development in five to 10 years.
"When the light rail opens, that's a huge accelerator for development," he said.
On having worked on the Spring District for so long, Johnson added, "to now see a company like Meta adopting this as their home, people living here, an educational institution here, the trail network connecting here, and the rail system about to open — there are few projects that one gets to work on in a career that kind of have all these elements, so this is fantastic. Good for Bellevue for putting the zoning in place, good for the region for investing in light rail … it's good stuff."
Bellevue Mayor Lynne Robinson was among speakers Tuesday. Flanked by Meta representatives, she wielded the scissors for the symbolic ribbon-cutting commemorating the opening Meta's new offices.
"In Bellevue, we believe that great things can happen when communities and businesses come together, and that has been true of Meta's investment in Bellevue," she said, noting the Spring District's transformation from industrial development to 36-acre urban village she labeled the largest transit-oriented development on the West Coast.
She praised Meta's investment in the Eastrail bike-pedestrian corridor, its help for small businesses during the pandemic, and its investment in the arts.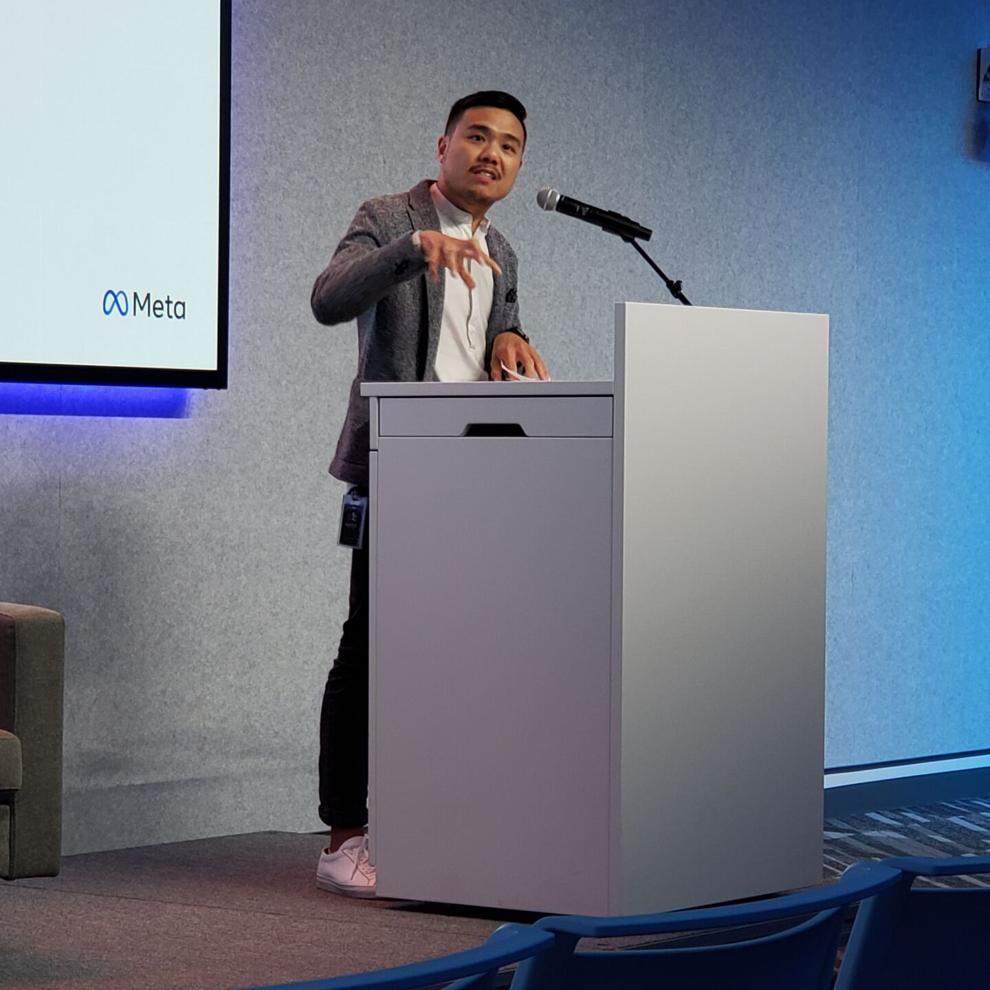 Stephen Uy, Meta's head of public policy in the Northwest, said the company gave about $8.5 million in grants to support small businesses in Puget Sound during the pandemic.
Tamar Benzikry, curator and producer for Meta Open Arts, highlighted some of the program's efforts to build community through creativity.
"Our team was created over a decade ago on the belief that creativity is essential to our collective wellbeing, and that the act of making art and the act of building technology are both forms of creative problem-solving," Benzikry said, adding the company has invested in 96 artists who have created installations across its Bellevue, Redmond, and Seattle campuses.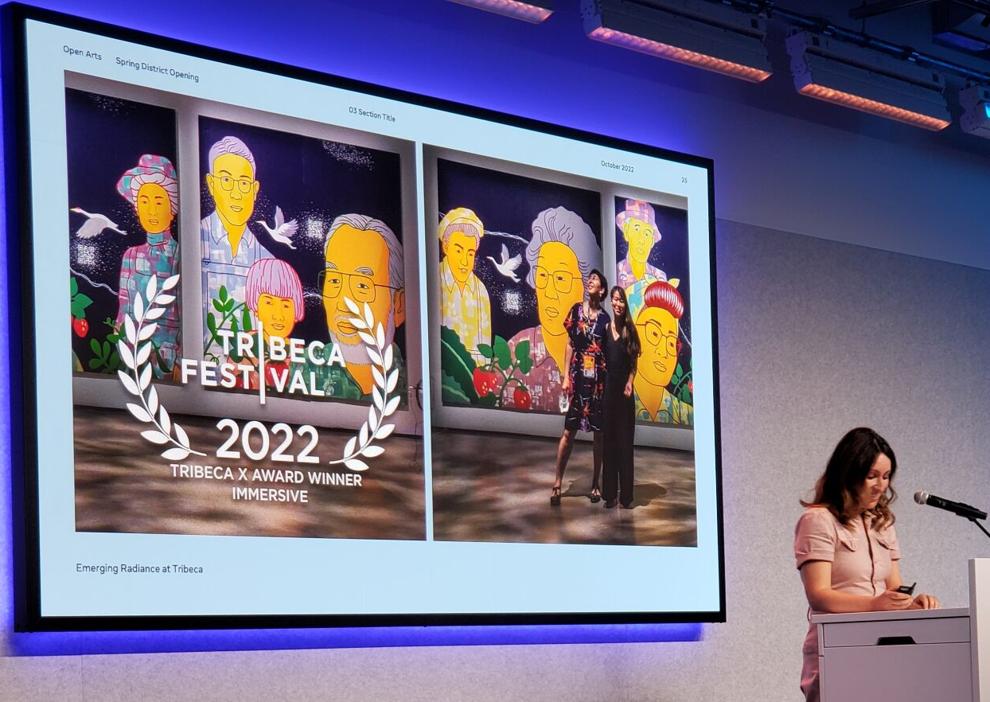 "Through Meta Open Arts, Meta has become one of the fastest-growing commissioners of local art in the Puget Sound region — and that includes 32 installations by 34 artists just right here in the Spring District," she said.
She brought special attention to a mural, Emerging Radiance, honoring the Japanese American Nikkei Farmers of Bellevue who farmed in what is today the Spring District and were removed and incarcerated during World War II. The mural, on an upper floor of Meta's Block 16 building, is an augmented reality-activated artwork that animates the untold stories of the farmers through a QR code on the mural.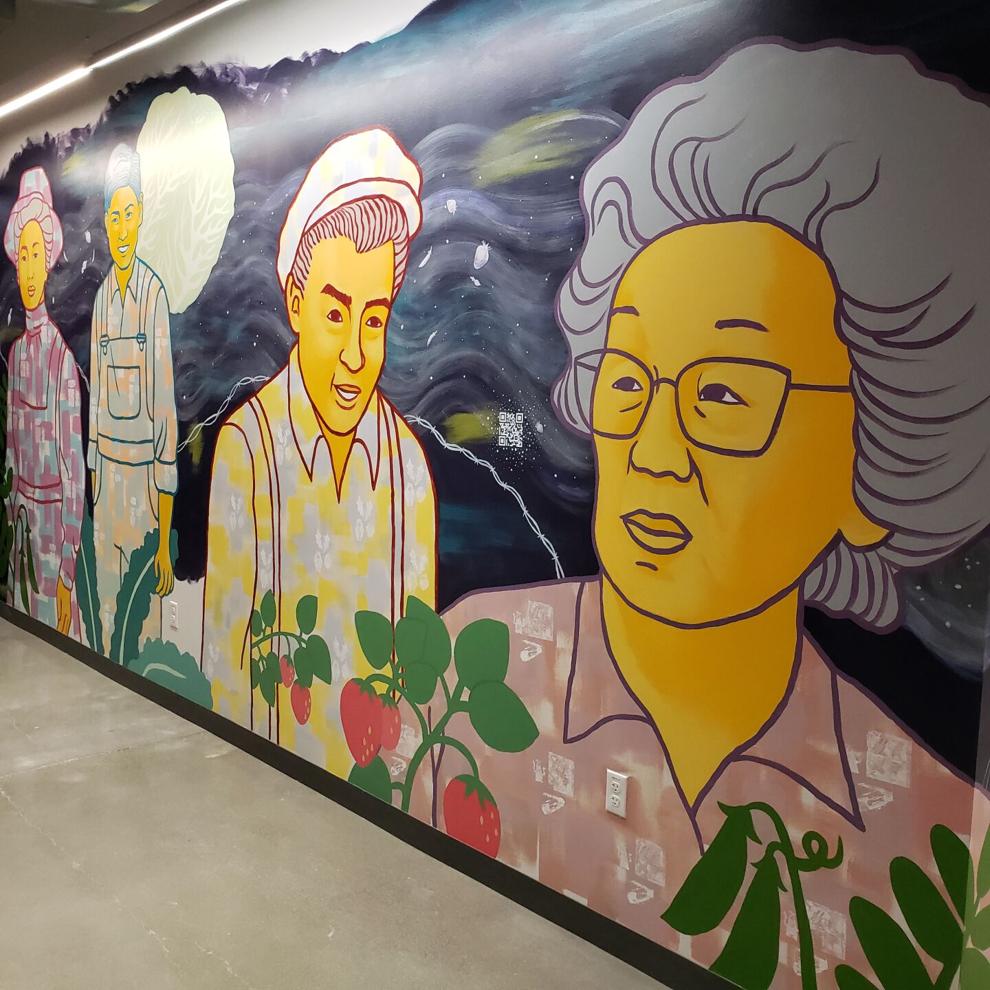 "The mural comes to life with AR filters, which animate three of the individuals pictured with archival images and audio recordings of the subject's own words sourced from our incredible community partner, Densho," Benzikry said. "It is a truly powerful experience to hear their voices."
Artist Michelle Kumata, who painted the murals and worked with creative director Tani Ikeda, repainted the murals for an interactive exhibit at Bellevue Arts Museum earlier this year. The exhibit also traveled to New York in June, where it won the Tribe X Award for Best Immersive project at the Tribeca Festival, Benzikry said.
Tuesday's event also included a short Q&A with Eighth Generation CEO Colleen Echohawk. Eighth Generation is a Seattle-based art and lifestyle brand owned by the Snoqualmie Tribe that sells Native-designed home goods and gifts.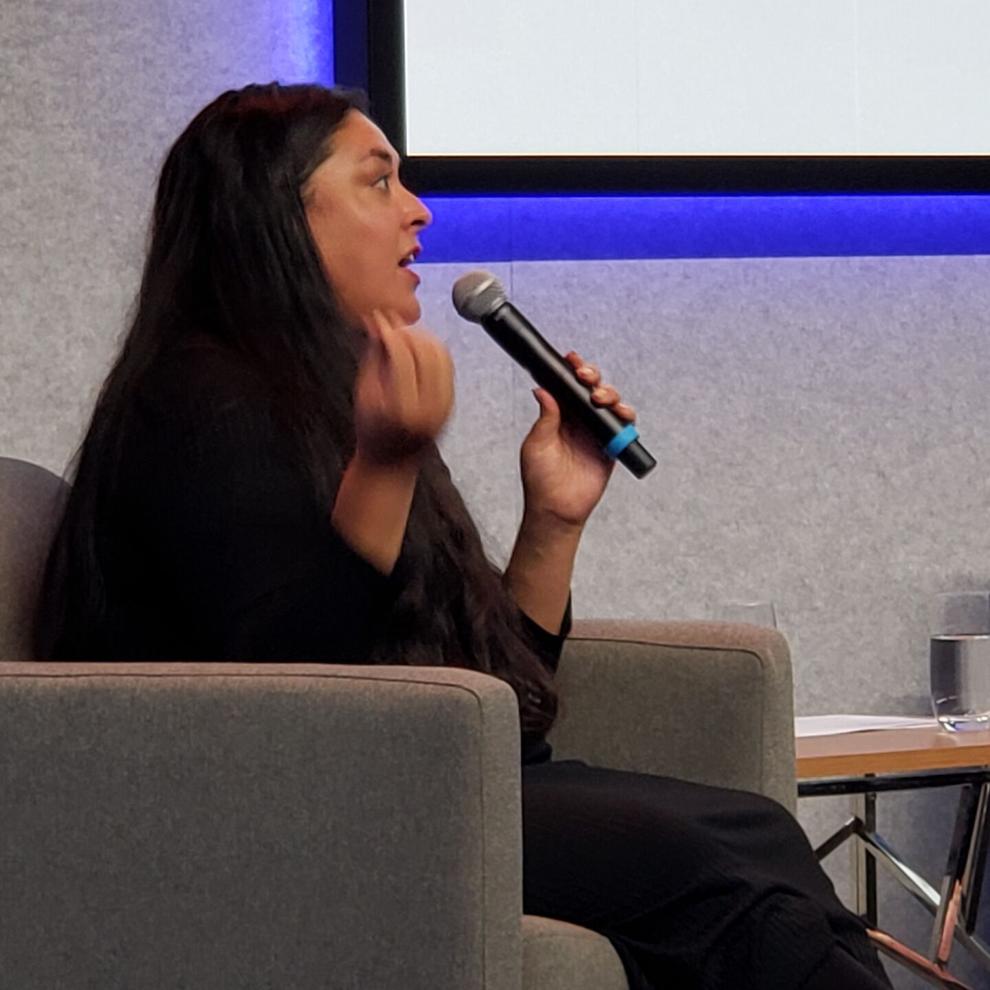 Asked by Meta's Uy why supporting small business is important to the Native community, Echohawk stressed the long entrepreneurship and trading history of Native people that once existed up and down the West Coast and how supporting Native businesses lifts up the community and promotes the diversity and inclusion that will move the country forward.
Rajwat, head of office, also stressed diversity, equity, and inclusion in his remarks.
"It's very clear when you have inclusive and diverse workplaces, you build better products, you build better cultures, you build better teams, and that's why it's something that I'm very passionate about," he said.
Rajwat noted five-year company goals set two to three years ago to increase diversity. Since then, the number of women has doubled, the number of women in leadership roles has risen to 36 percent, the number of Black and Hispanic employees in the U.S. has doubled — all good progress with more to come, he said.
"I'm excited about pushing, as Meta overall, more we can do on diversity and inclusion, but more particularly, how do we continue pushing that in the Pacific Northwest even more," he said.
Rajwat also noted that the Seattle region's offices are a model for other global Meta offices outside the headquarters, and highlighted the Spring District.
"With our establishment of Spring District, the big thing that we want to make sure here that comes across is our commitment to this region and the connection that we want to make with the local community," he said.
After the remarks and ribbon-cutting, Meta visitors were invited to see Emerging Radiance, experience virtual reality headsets, and try on smart glasses with built-in cameras and audio combining Meta technology with Ray-Ban glasses.