Design elements of Issaquah's first building to incorporate cross-laminated timber (CLT) in its construction is a visual beacon along Interstate 90 in more ways than one.
The 2005 Poplar building, named after its address at the western gateway to the city, incorporates a number of other sustainability features beyond CLT, its developer, architect, and builder said in a virtual tour Thursday. VIS Designs principal Gloria Chien was responsible for the full scope of the interior design in the building
"We wanted to kind of pave the way for other developers to adopt more use of cross-laminated timber in the future," said Kari Magill, CEO of Rowley Properties, owner and developer of the 70,000-square-foot property.
The building is currently for lease along the south side of I-90 near Exit 15/State Route 900.
CLT is a wood-panel product made by gluing together layers of lumber stacked in alternating perpendicular directions to create a lightweight, strong building material that is fire-resistant, earthquake-safe, and well-insulated, according to the Seattle-based nonprofit Forterra. Forterra added that CLT has been used in European construction for more than 20 years.
CLT was used in 2005 Poplar's roof and top-floor ceiling, soffits, some walls, and the glass-enclosed stairway fronting I-90. That stairway is illuminated at night and has customizable lighting.
"We believe that a great project has elements of surprise and delight that are essentially baked into the project, and with the staircase, we have another one," Magill said of the lighting. "We have the ability to change colors so that we can celebrate holidays or sports teams, and make the building more interactive to be able to engage with the neighborhood."
The building's interior includes light fixtures made of recycled cardboard by Seattle-based Graypants as well as bike lockers and showers for pedaling commuters.
Also inside is a sculpture of a buck, Wedgwood, named for his Wedgwood china paint job, and which Rowley previously displayed in its Issaquah corporate office.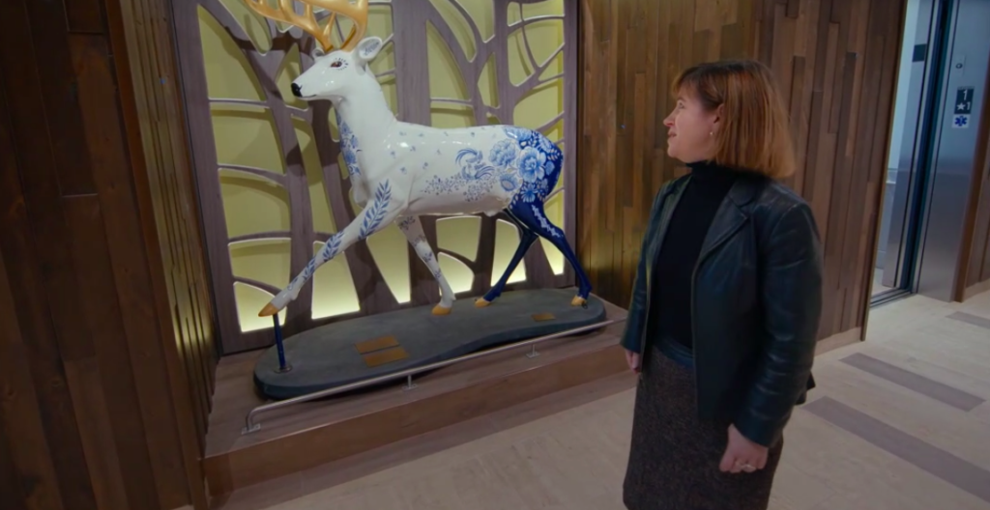 Outside is another sculpture — an otter alertly standing on its hind legs. The otter was made by the same Puget Sound artist, Georgia Gerber, who designed the husky in front of Husky Stadium and Rachel the pig in Pike Place Market.
Otter prints are stamped in the concrete walkway outside the office.
"You'll also see footprints of other wildlife in the sidewalk, which was part of our design theory to bring the outdoors in and integrate nature with the built environment by making it seem like animals might've come out of the wetland and walked across the wet concrete," Magill said.
Electric vehicle charging stations also are outside the building.
The building sits atop alluvial deposits that are sandy and silty, and the groundwater table is only about 5 feet below the surface, so a conventional foundation was not possible, noted Chris Duvall, a principal at Coughlin Porter Lundeen structural engineers. Engineers employed a driven grout pile system, putting the building on about 100 piles to protect against building settlement and soil liquefaction in an earthquake.
Another unique feature of 2005 Poplar: Rowley placed a time capsule in the building marking the eventful year in which it was built, with the idea the capsule will be opened in about 100 years.
"So a hundred years from now, we're hoping that people will open that time capsule, and they will know whether we got things right or not," Magill said.
The future also includes a Link light rail station planned near the project, tentatively scheduled for 2041, according to Sound Transit's website.
The 2005 Poplar design and construction team included VIA Architecture, GLY Construction, and Coughlin Porter Lundeen structural engineers.