As the Eastside continues to grow as a big-tech hotspot, many wonder how the region's arts and culture will be affected. How do you properly provide on a culture front for the inevitable swell in newcomers while also supporting the long-term communities already making up the Eastside's bedrock?
EastHUB, a new nonprofit, wants to ensure that as the Eastside keeps growing, arts and culture infrastructure can congruously evolve, too. EastHUB aims to do this by collaborating with local governments, businesses, preexisting arts organizations and culture groups, and other key entities; finding out what their needs and wants are; and then, through fundraising, providing new spaces and facilities (like theaters, recital halls, music venues, and more) through which arts and culture can thrive.
"It's a fleeting opportunity … because once this wave of (tech) construction is done, if we haven't built these arts and cultural facilities, it's very difficult to go back and sort of try to reverse-engineer arts and culture spaces into finished buildings," EastHUB founder and CEO Ray Cullom told 425 Business in mid-June. "The time to do it is now, and the conditions are just perfect to get it done."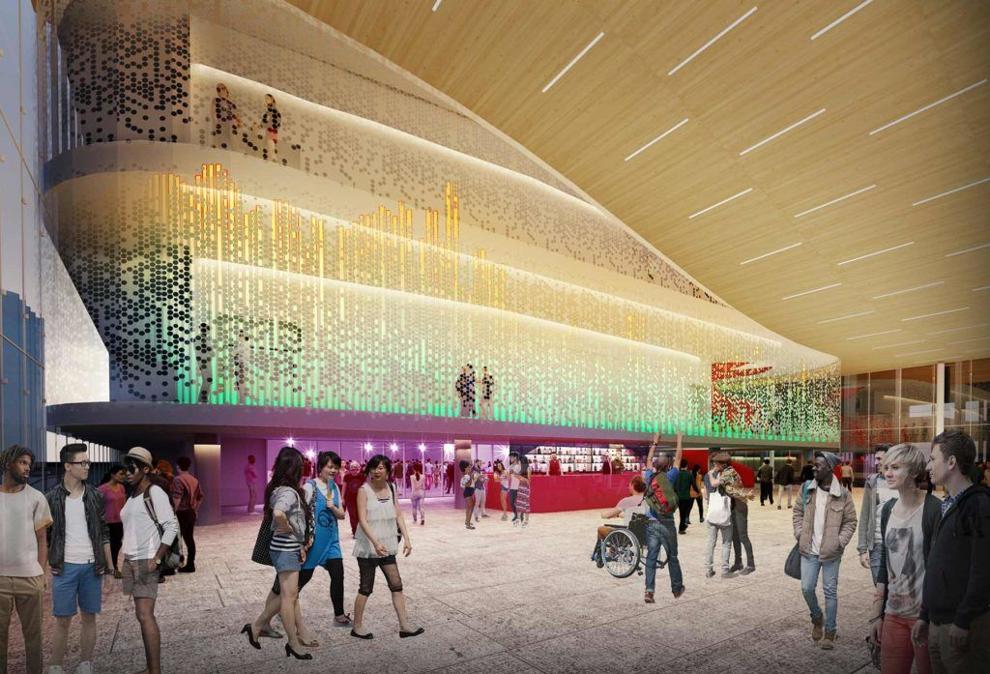 'Unique and Rather New'
Cullom, who has worked in arts management for more than 25 years, said that he and other community members began coalescing around the EastHUB idea in spring 2020. Only a handful of meetings were conducted before the COVID lockdown began. Cullom, who was named EastHUB's CEO in June 2020, said that while the timing was unfortunate, it gave the nascent organization additional time to refine its goals and strengthen its mission.
He said the first year was mostly spent discussing EastHUB with various Eastside constituencies, art groups, city governments, businesses, and philanthropists to gauge their interest and ideas.
Cullom's 25-year-long career in arts management includes roles as the Performing Arts Center Eastside's CEO, the Nederlander Worldwide Entertainment senior vice president, the Queen Theatre's executive director, and others.
Sudeshna Dixit, appointed the organization's cultural connections director in February, said that to foster accessibility and inclusion, EastHUB is in the process of hiring community members and business organizers of color to work with different Eastside arts and culture organizations as ambassadors to measure various community needs. Outreach additionally involves surveys, panel discussions, and other ways to create "equitable access that ultimately builds trust, which is earned both ways," Dixit said.
"What we've done is gain a great deal of traction around the idea of what we're doing, and why it's important," Cullom said. "Now that things are opening up again, we feel like we are poised to jump off — to commence right away with some of the projects we already have in motion, and then go out and really engage the community, really begin to transition from planning into full operations, which will happen over the next three to four years."
One of EastHUB's biggest supporters is Microsoft, which Cullom said saw the EastHUB as "an interesting and worthwhile vehicle for some investments." The organization initially got connected with the company and its president, Brad Smith, because some community members who were involved in early EastHUB planning had ties there, Cullom said.
"There is this unbelievable energy happening on the Eastside right now, and expanding opportunities within arts and culture is a critical piece of that. We want every person on the Eastside to have access to the sights, sounds, and experiences that EastHUB is fostering, and we are thrilled to be a part of this effort," said Jane Broom, senior director of Microsoft Philanthropies.
Cullom said EastHUB would be "making some announcements over the coming months about some wonderful partnerships with major businesses that are in Bellevue and coming to Bellevue." He also highlighted support from the City and some "key individuals on the Eastside" as integral to the EastHUB effort.
Though EastHUB emphasizes creating new arts and culture spaces, Cullom said EastHUB also is looking at existing properties that can be repurposed or activated "in a prominent way."
Two confirmed initiatives in the pipeline are the City of Bellevue Cultural Partnership and the Cloudvue project. Cloudvue, whose developer agreement Cullom said was in its final stages in June, will be a 1,000-capacity flexible-use playhouse and music hall located in downtown Bellevue. According to EastHUB's website, the facility is designed to accommodate several performance and seating layouts, and resulted from extensive community input.
The City of Bellevue initiative, set (as of mid-June) to begin later this summer, will kick off with a revamped cultural events website and a streamlined directory to help organizations advertise services.
Cullom sees the "first phase" of EastHUB unfurling in the next five years, with its second phase in the next decade. While Bellevue is, for now, the main focus, regional expansion is the long-term goal. Currently, the organization is actively engaging with Redmond, Sammamish, and Issaquah leaders, Cullom said, adding that ongoing light rail construction additionally plays a significant role in future planning.
One thing that will remain steady is the organization's dedication to relieving community arts and culture needs rather than prescribing them.
"We just want to talk to anybody and everybody about what it is they're looking for," Cullom said. "We're not — we don't think of ourselves as — the experts who are going to dictate what needs to be done and what spaces need to go where, and what they're going to look like. We are going to draw our inspiration from the community."