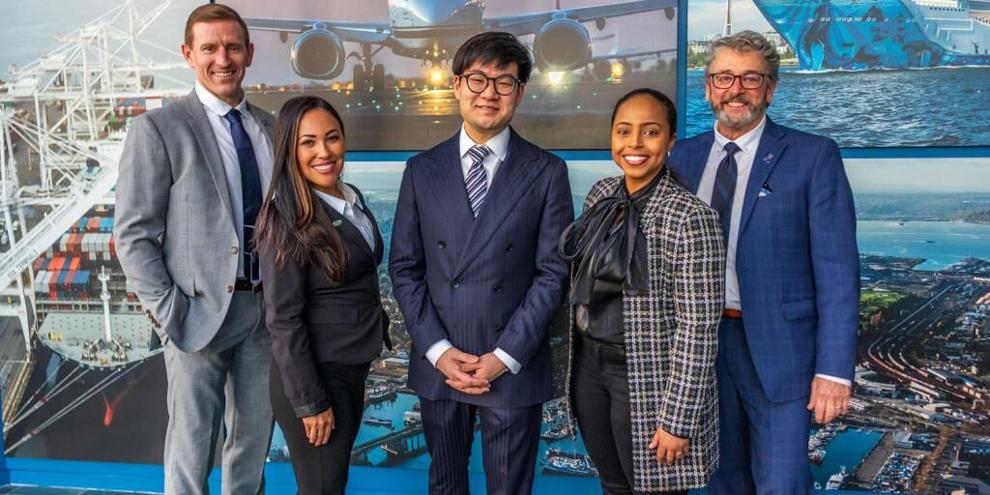 The Port of Seattle Commission on Tuesday confirmed Commissioner Sam Cho as its new president. The 32-year-old Kirkland resident is the first commission president of color and the youngest president in the port's 111-year history.
In another first, the port made Commissioner Toshiko Grace Hasegawa its first female vice president of Asian descent.
It's the first time the commission's top two officers are of Asian descent, according to a port news release.
Commissioner Fred Felleman will serve as commission secretary.
"I am honored and humbled to begin my term as Port of Seattle Commission president," Cho, who was elected to the commission in 2019, said in the release. "Thanks to the work of this Commission, the Port staff, major stakeholders, and everyday community members, we are making real progress on making your Port more efficient, sustainable, and a greater source of economic opportunity. I look forward to continuing our momentum in this work during my presidency."
Cho's remarks at a Tuesday reception honoring the 2023 commission officers are available here.
Commissioners' roles are part-time. Cho's other board roles include serving on the Bellevue Chamber board of directors.
In the release, Hasegawa added, "This is a milestone moment for the Port. Last year, we centered policy discussions around people and made historic investments in our aviation and maritime gateways, communities, and the environment. This year we are ready to accelerate our rate of progress together."
Her remarks made Tuesday are here.
Felleman said he welcomed the support of colleagues to serve as an officer of the commission, "which increasingly better represents the diversity of the constituents that we serve."
The port is coming off a year in which it opened three marquee projects: Sea-Tac's new International Arrivals Facility, the new Duwamish River People's Park and shoreline habitat, and — with the Northwest Seaport Alliance — the first phase of the modernized Terminal 5. Sea-Tac also welcomed four new international services: FinnAir to Helsinki, Finland; Air Tahiti Nui to Papeete, Tahiti; Air Canada to Montreal, Canada; and Turkish Air to Istanbul, Turkey, the release said.
The port also progressed on its sustainability goals, including efforts to explore the feasibility of a cruise-led Green Corridor to Alaska and a Green Shipping Corridor to Busan, South Korea, through the Northwest Seaport Alliance. The port also initiated new economic development partnerships aimed at increasing exports and supporting small businesses, the release added.
Meanwhile, the port's 2023-2027 five-year capital plan is the largest in port history. It provides funds to modernize Sea-Tac, maritime facilities, and expand economic development and sustainability efforts across King County and the state, it said. The commission and port Executive Director Stephen P. Metruck will share the port's 2023 plans at its Jan. 19 State of the Port event. Visit State of the Port 2023 to join the live stream or access the Port's 2022 annual report.