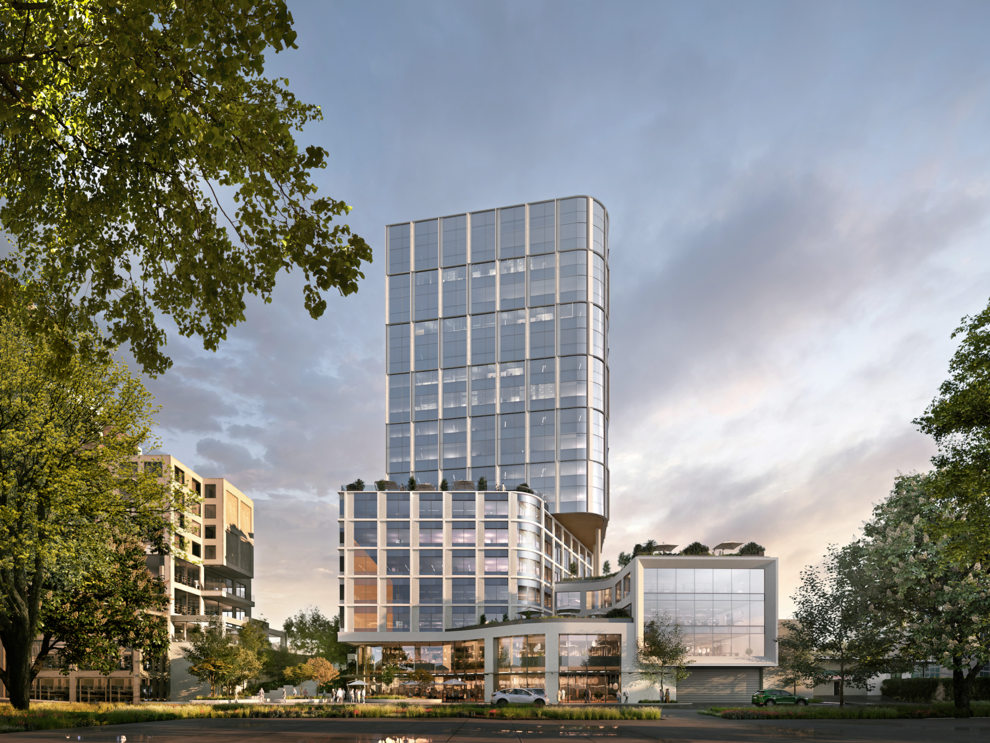 Schnitzer West LLC today announced plans to develop a 19-story Class-A office building in downtown Bellevue, the latest in a string of new office projects planned or underway in the city's central business district.
The Arcadian is expected to break ground in the third quarter next year and be completed in the fourth quarter of 2025. It will have 458,000 square feet of rentable space.
The building will be located at 120 106th Ave. N.E., two blocks from Main Street's restaurant, retail and residential core, according to a news release. It will include about 5,000 square feet of ground-floor retail space for rent.
"Downtown Bellevue continues to show an increasing demand for desirable, modern office space with amenities that offer an enhanced, worker-friendly experience," Erik Fagan, senior investment manager at Schnitzer West, said in the release. "The Arcadian is a continuation of Schnitzer West's 25-year history in Bellevue and will be the company's sixth office project in the city's commercial business district, bringing a total of 2.5 million square feet of office development to the area."
Planned amenities include a fitness center with locker rooms, bicycle storage, private conference rooms, executive conference rooms, and Schnitzer West's signature Great Room. The Arcadian is being designed to offer multiple outdoor terraces for tenants and visitors to enjoy scenic views and host meetings or other events. An open-air pedestrian plaza will connect 106th and 107th streets to enhance walkability, according to the announcement. 
The Arcadian is within walking distance of public transportation hubs, including the Bellevue Transit Center and both downtown Bellevue East Link light rail stations. On-site parking also will be available with about 2.5 parking spaces for every 1,000 square feet of space. 
Last June, Schnitzer West, a real estate investment, development, and property management company, announced the groundbreaking of The Artise, a 25-story Class-A office tower underway at the corner of Northeast 8th Street and 106th Avenue in downtown Bellevue. Amazon will lease that 600,000-square-foot building, which is scheduled to open late next year.