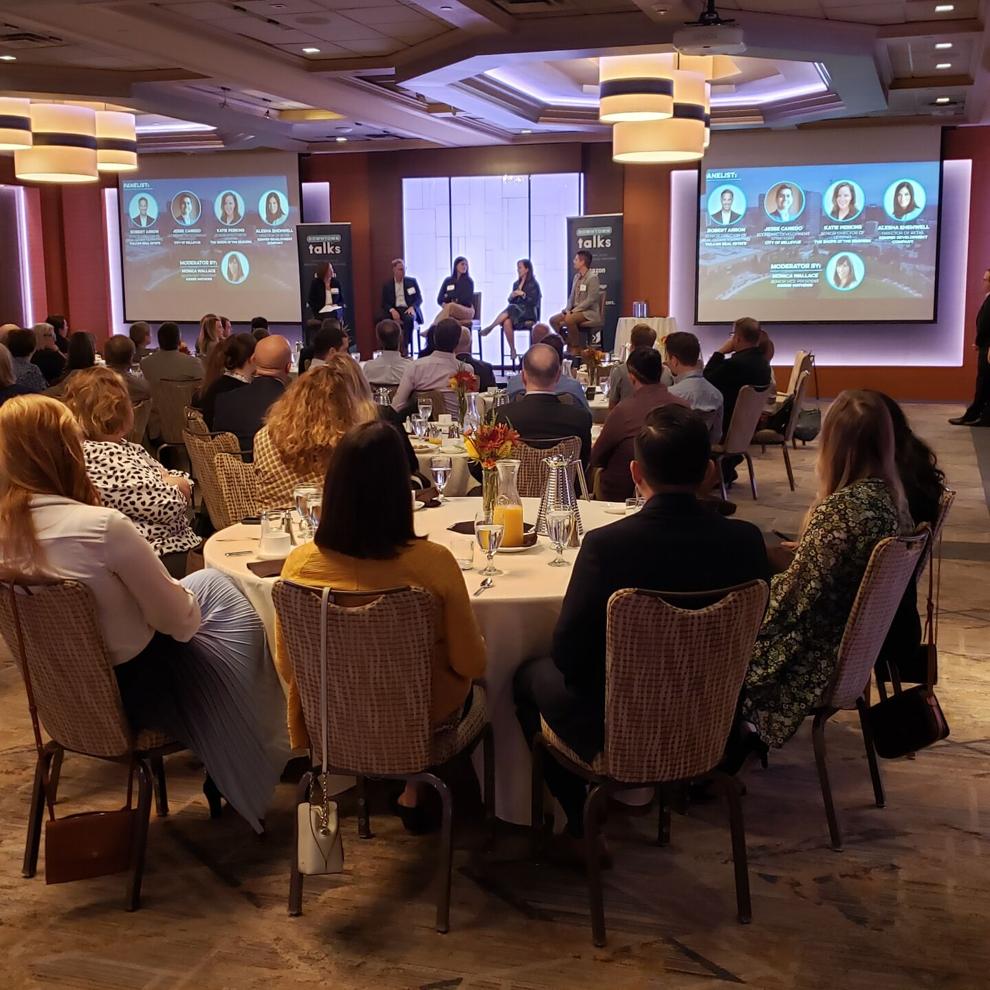 Downtown Bellevue can look forward to some new-to-market retailers coming next year as the city is viewed among top retail markets nationally, officials from three property groups said Tuesday morning during a panel discussion titled, "Future of Retail: What's in Store for the Downtown Experience?"
Panelists representing Vulcan Real Estate, The Shops at The Bravern, and The Bellevue Collection, plus a City of Bellevue official, also weighed in on organized retail theft; shoplifting; affordable housing and transportation needs for retail workers; and efforts to diversify the city's appeal through experiences that include more outdoor dining, more local retailers and restaurateurs, tourism events, and arts and culture, including a potential 2,000-seat performing arts center.
Speakers would not reveal names of new market entrants when playfully prodded during the Downtown Talks breakfast series hosted by the Bellevue Downtown Association. The event drew about 115 people to the Bellevue Club.
"We don't really announce things until they happen, but I can tell you that we have a lot of interesting announcements to come," said Robert Arron, senior director of real estate marketing and leasing at Vulcan, garnering laughs when answering a question from moderator Monica Wallace, senior vice president at Kidder Mathews, if panelists had any "hear-it-here-first" news.
Vulcan has more than 2 million square feet of office towers under development downtown that will include about 60,000 square feet of retail space. Vulcan's office projects include the 42-story tower at 555 108th Ave. NE, the tallest downtown, which recently was topped out.
Speakers held their cards close to their vest, with Katie Perkins, senior director-leasing retail for Brookfield Properties, a partner in the luxury Bravern property, saying Bravern's 123,472-square-foot, three-level space formerly occupied by Neiman Marcus will be converted next year to house multiple tenants.
Alesha Shemwell, director of retail at Kemper Development Co., also was mum on a new-to-market store coming to its property, only sharing that Nordstrom is undergoing a major remodel at Bellevue Square that includes making the beauty department similar to its New York store.
"When we're talking to retailers around the world, and in particular the U.S., it's great that Bellevue is included as one of those top 10 markets for the retailers," Shemwell said following a remark from Perkins that The Bravern is among 10 iconic, primarily luxury Brookfield properties nationally that benefits from the caliber of Bellevue and its people.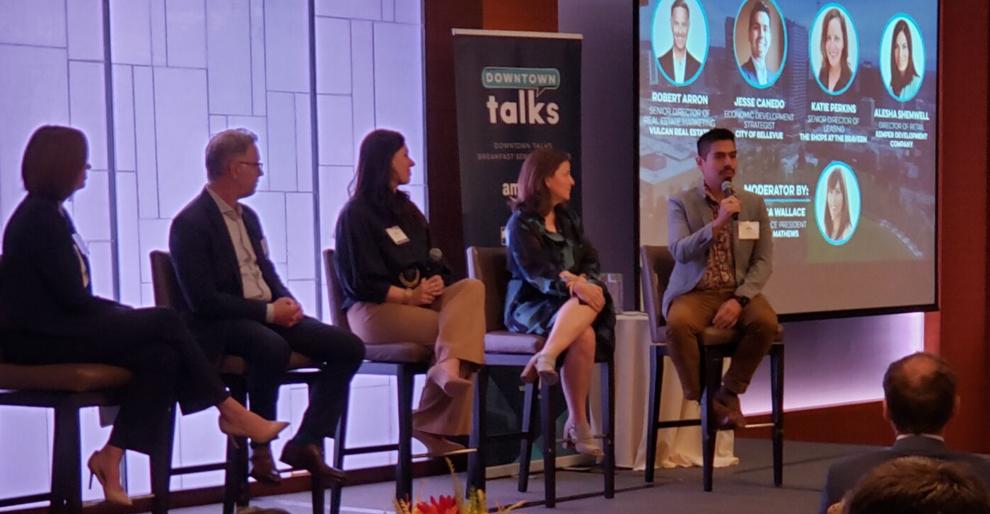 Jesse Canedo, head of culture and economic development for the City of Bellevue, said Bellevue is the Pacific Northwest's luxury regional shopping destination and has one of the highest average per-capita retail sales figures in the country at more than $23,000 annually, has the second-highest total retail sales in the state at $3.5 billion, and is forecasting $251 million in retail sales tax revenue in the next budget. He noted that 25 percent of Bellevue's retail businesses are located downtown and that the city has 946,000 square feet of "active use" space in the development pipeline.
"We can't have nationals (national retailers) in all this active use space," Wallace said, asking what the City is doing to help small businesses or regional chains overcome construction cost and labor barriers and participate in the growth.
Canedo said the City is hiring a consultant to help understand retail needs and trends throughout all Bellevue and in January will be retooling Startup 425, a five-city Eastside partnership focused on helping first-time business owners succeed.
"We'll be revamping that to make it more relevant for diverse communities, diverse owners, (and) retail shops," he said. There's risk for property owners or leasing agents renting to first-time retailers or restaurateurs, "so we're going to see if there's something we can do in that space that can help lower that risk profile for the property owner and increase the chance of success" for new businesses.
Brookfield's Perkins also noted the company's national Partner to Empower program to partner, empower, and provide resources to Black and minority-owned businesses looking to start anew, expand from online to brick and mortar, or open additional locations. The company is investing $25 million through 2025 to help the communities open stores in Brookfield malls, helping with construction costs, mentoring, networking, and more. The program is currently accepting applications for Alderwood Mall in Lynnwood, Westlake Center in Seattle, and Spokane Valley Mall, according the company's website.
Canedo also noted Bellevue is setting up a Tourism Promotion Area that will generate about $2 million to $4 million of additional marketing money annually for attracting more tourists from outside 50 miles to help businesses, including shops and restaurants. The City also wants to continue to diversify reasons for people to visit, including working on an arts district in Bel-Red, which he said has the highest concentration of arts and creative uses on the Eastside.
"We're working with a very energetic association there to bring that to light more and give people a reason to get off at the 130th Street (light rail) station when it opens," he said.
Asked by an audience member what Bellevue is missing, Arron said Vulcan is focused on bringing more authentic retail, some local brands, some first-to-market brands:  "That's something we focused on a lot at South Lake Union, so that's one thing I think will make a big difference in Bellevue."
Asked by Wallace what top issues are affecting tenants or leasing efforts, Arron cited uncertainty about where the national economy is headed, construction costs, and labor availability.
Costs are necessitating more creativity in structuring deals.
"I think you're hearing a lot more of the word partnership, and in a good way," Arron said, noting the ability to structure leases, for example, to incentivize parties working together.
Shemwell said organized retail crime is a huge concern among retailers nationally for the financial losses and safety of employees in a labor environment that's already difficult. Locally, shoplifting remains a problem, she said, adding she's on a statewide task force looking for ways to turn the tide. Supply chain issues also continue to affect the ability to get some products, she said.
Perkins said supply issues can stretch the time from leasing signing to store opening, but credited retailers' tenacity amid challenges.
On the positive side, shopping centers are busier now than prepandemic, she said.
"It's amazing how many people are using retail as an experience to get out of the house," Perkins said of busy stores evening restaurant traffic.
Asked about the gap between retail wages and Bellevue housing costs, Shemwell said the industry, working with the City, is looking at options to address housing costs, and has talked with King County about creative ways to shuttle employees who live outside the area to Bellevue.
Another audience member asked if a theater is envisioned for downtown, to which Shemwell said Kemper Development has donated land for an Eastside performing arts center that could have 2,000 seats for concerts, opera, and more. Funding needs to be arranged for construction, though.
"This city has grown to the point that we need something like that and the different arts organizations value that and value this market, and so now it's just a matter of the timing and getting it all done," she said.