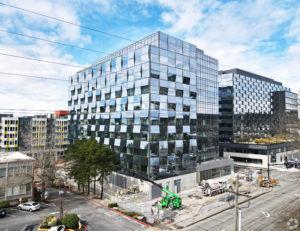 Another major office building in Bellevue's Spring District has sold — this one for $200 million.
The recently completed Block 24 office building, which is leased to Facebook, was sold to a Brookfield Asset Management real estate fund, according to a news release today from the building's developers. The deal follows Brookfield's purchase of a larger Spring District office building, also leased to Facebook, last fall for $365 million.
Wright Runstad & Co., Shorenstein Properties, and institutional investors advised by J.P. Morgan Global Alternatives announced the sale.
The Block 24 building is 197,959 square feet and located at 12355 NE District Way. The nearby Block 16 building that sold last October is 343,528 square feet and sits on 123rd Avenue at the corner of District Way.
The Block 24 building represents the latest addition to the Spring District, which now includes more than 1 million square feet of office space, retail space, and more than 800 apartments centered on the future Spring District light rail station, the release says. Completed offices include the two Facebook buildings it's leasing and another it purchased; the 400,000-square-foot former REI Co-op headquarters building Facebook bought last year for $367.6 million; plus the University of Washington's Global Innovation Exchange (GIX) building.
"The Spring District is a leading example of the shift to sustainable mixed-use communities centered on transit, which is why the University of Washington's Global Innovation Exchange and employers like Facebook find it so attractive," Greg Johnson, CEO of Wright Runstad, said in the release.
Colby Wick, managing director at Shorenstein, added, "Our strategy of investing in high-quality properties in growing markets has again proven successful. We are confident that the employees of Facebook will enjoy their new state-of-the-art offices."
Sound Transit will begin light rail service in the Spring District in 2023, part of the 14-mile East Link extension connecting from the Redmond Technology Station near Microsoft's campus to Seattle. More than 350,000 square feet of additional office and retail space is under construction, with more than 1 million additional square feet in the planning stages. Facebook plans to lease another building, Block 6, at 329,000 square feet and due for completion in 2023.