Drive Interstate 90 through Issaquah, and you can't miss two prominent offices under construction about a mile apart on either side of the interstate: Costco Wholesale Corp.'s headquarters expansion, pinpointed by cranes, on the north side of the freeway, and an office building that Rowley Properties is developing on the south side.
Rowley's building, called 2005 Poplar after its address at 2005 N.W. Poplar Way (near Exit 15/State Route 900 off I-90), rises four stories, comprises about 70,000 square feet, and includes notable construction elements such as a cross-laminated timber (CLT) ceiling spanning the top floor, and CLT stairs and wall inside a glass-enclosed stairwell facing I-90. The "irresistible stairway," built wide to encourage use over the elevator, will be illuminated at night to create a gentle glow and landmark, said Kari Magill, CEO of Rowley Properties, of the building due for completion in September.
"It will be a very Pacific Northwest experience," Magill said of the wood elements. Between the new Poplar and Costco buildings changing the I-90 visual landscape, "People's perception of Issaquah is probably going to grow a little more sophisticated."
While Costco's 600,000-square-foot office expansion is spoken for by Costco, 2005 Poplar is available for lease by one or multiple tenants, Magill said, noting that a company that leases the entire fourth floor or more can get its name on the building. In mid-June, Rowley was tentatively planning the first floor to contain a daycare facility, plus about 5,000 square feet of retail and/or office space, with the second floor divided for multiple tenants, but options remained open. Other building plans include bike lockers and showers, plus electric vehicle charging stations to accommodate five autos, contributing to the building's sustainable features.
The building is near hotels and other attractions on Rowley's property, known as Hyla Crossing, including a new brewpub, Formula Brewing. Future development at the 59-acre Hyla Crossing could include additional office buildings as Rowley redevelops the area, Magill said, adding, "We're building the entire neighborhood, if you will."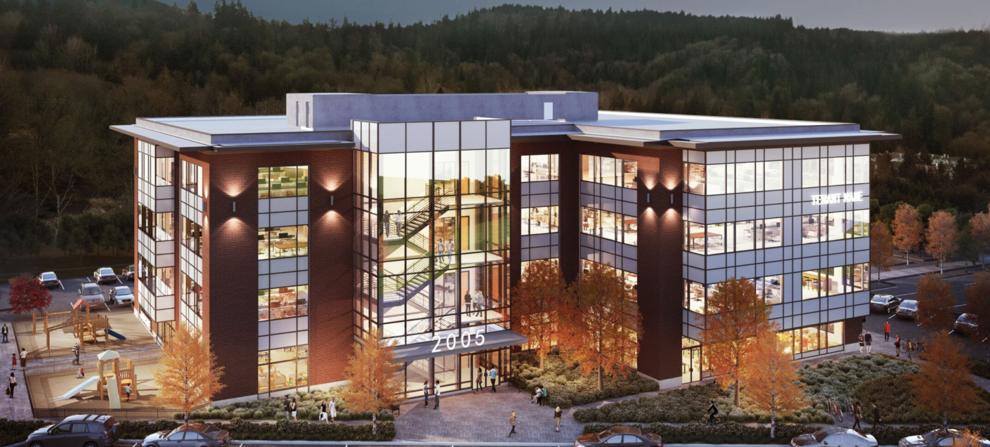 One exit east of 2005 Poplar is the recently completed project called Issaquah Work Lofts, at 160 N.W. Gilman Blvd., near Front Street. Opened in mid-June, it comprises 143 units rentable monthly or annually and ranging in size from 150 square feet to 600 square feet, according to Parker Roach II, property manager. Tenants have access to conference rooms, kitchenettes, and laundry.
Issaquah Work Lofts, with a lobby and directory on the ground floor, plans to group similar tenants on the same floor, Roach said, with the first floor eyed for businesses like salons with more in-and-out public traffic. The building, developed and owned by Sea Con LLC, has 127 parking spaces.
COVID-19 has more businesses looking at the lofts as an option for scaling down, plus businesspeople looking for their own offices able to control their own spaces, Roach said.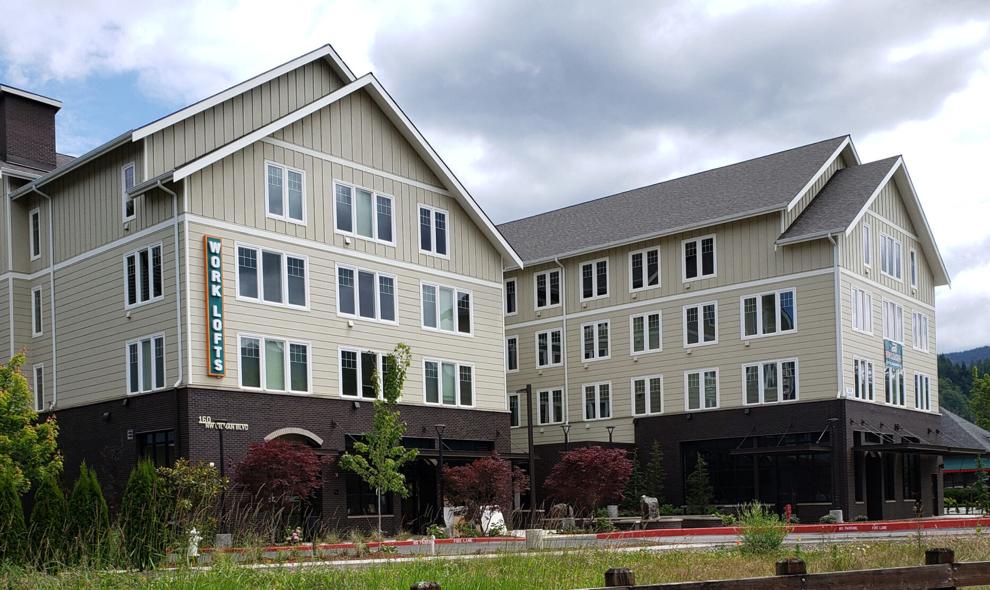 Jen Davis Hayes, the city's economic development manager, said in an email that the 2005 Poplar and Issaquah Work Lofts buildings "will help Issaquah to continue to provide small and midsize firms the opportunity to conduct business in a community that balances work and play. We expect to see many of the new residents that have moved into our community along Newport Way, Issaquah Highlands, and elsewhere take advantage of these close-to-home work opportunities."
The city continues to see interest in business investment and has significant commercial projects in the pipeline that she wasn't ready to announce in mid-June.
So, what makes Issaquah tick from a business/economic development perspective?
"Issaquah's strength is our location, workforce, and amenities," Davis Hayes said. "Easy access from I-90 and abundant outdoor recreation opportunities have drawn businesses and residents alike. Our residents are highly educated and value the community's approach to support businesses and protect nature. There is a range of commercial office opportunities — from headquarters or a branch office to smaller footprints and remote work opportunities."
Kathy McCorry, CEO of The Greater Issaquah Chamber of Commerce, said Issaquah's entrepreneurial spirit also makes it special.
"We're fortunate that we're surrounded by all of these large, high-tech companies like Microsoft, and so it's a great training and breeding ground, if you will, for truly innovative spirit, and we get to reap the benefits of that," McCorry said.
Issaquah also enjoys a diverse business climate comprising many types of businesses of different sizes and industries, including a sizable medical community anchored by Swedish hospital, which has additional land for future development. In 2015, Issaquah was designated by the Washington State Department of Commerce as a Sports Medicine Innovation Partnership Zone (IPZ). IPZs are designed to stimulate development of industry clusters and build regional economies, according to Commerce's website, adding, "IPZs empower regions to create formal alliances among researchers, private business, local economic development leaders, and workforce organizations to collaborate and develop commercially viable technologies."
The city's economic diversity bodes well for helping make Issaquah more recession-proof, vibrant, and healthier, McCorry said.
The city also enjoys myriad trails at the base of Cougar, Squak, and Tiger mountains, referred to locally as the "Issaquah Alps." It also touts Cougar Mountain Zoo; Lake Sammamish State Park; Issaquah Salmon Hatchery; Village Theatre; Gilman Village; Issaquah Depot Museum; and, during years not roiled by pandemic, more than two dozen events annually, including art/wine walks, live concerts, and festivals.
"We attract companies because we're a beautiful place for their employees to live," McCorry said. "We've got great schools, we've got beautiful trails, we're surrounded by the Issaquah Alps, and so we use that as our recruitment tool. … It's not about what kind of business; it's about businesses that really value a high-quality lifestyle for their employees."
Those employees include many with Costco, the world's third-largest retailer, with 787 warehouses as of May 31, and net sales of $149.35 billion in its fiscal year that ended Sept. 1, 2019.
"The city is proud that Costco calls Issaquah home and has decided to expand its headquarters here," Davis Hayes said, noting the 600,000-square-foot, nine-story office addition and 630,000-square-foot, 10-story parking garage going up at Southeast 62nd Street and Lake Drive.
The city and Costco entered a development agreement in 2014 that allows for up to 1.5 million square feet of expansion and also resulted in a new road and access to the area and further improvements to intersections that benefit other businesses in the vicinity. The new building will accommodate more than 3,500 employees and consolidate about 2,000 employees now at off-campus locations, according to city documents.
There's more commercial development planned in Issaquah Highlands, the master-planned community of commercial and residential properties off Exit 18 on I-90. The Highlands, with an estimated 10,000 to 12,000 residents, accounts for about a third of Issaquah's population, according to Christy Garrard, executive director of the Highlands Council and Blakely Hall community center. The council is the communications and social programming arm of the community, and operates parallel to the Issaquah Highlands Community Association governing body. Highlands Council's communications efforts were recognized nationally in May, when its monthly community newspaper, Connections, won best print newsletter among nonprofits in the Neighborhoods, USA 2020 awards competition.
Issaquah Highlands' boundaries include 2,200 acres — 484 acres of developed land and 1,540 acres of dedicated open space. In mid-June, there were 3,459 residential units in the Highlands, 94 percent of the total allowable residential units planned there, according to information shared by Garrard from Sarah Hoey, executive director of the Issaquah Highlands Community Association. The community launched in 1998.
Much of the remaining residential development is occurring in an area called Westridge, on property west of Ninth Avenue Northeast/Highlands Drive Northeast. Polygon Homes is building 221 townhomes, 72 single-family homes, and 38 affordable-housing flats in the Westridge development. Also west of Ninth, Shelter Holdings has 21.5 acres zoned for virtually all commercial/retail, according to the Highlands Council website. Also west of Ninth/Highlands, Swedish Medical Center has enough land to double in size someday, Garrard said.
East of Ninth, behind the commercial development that includes Dick's Sporting Goods, a 135-unit apartment building, Alexan Highlands, is under construction. Virtually all the area east of Ninth is built out, save for a 20-acre parcel (technically outside the Highlands urban village boundaries) owned by Bellevue College south of College Drive that could host a 425,000-square-foot campus approved in 2014 or, alternatively, some other institutional use or 310 homes, and a parcel behind Dick's owned by Sycan Corp./InnSight Hotel Management Group, where the property is zoned commercial, according to the website and Garrard.
Issaquah's other big master-planned community, Talus, is mostly built out, except for a commercial site and a new middle school in lower Talus, Davis Hayes said.
The city's robust growth the past two decades was focused in those two master-planned communities, she said, adding that in the past several years, Issaquah has seen larger residential development along Newport Way and in the Issaquah Highlands. 
"We anticipate our future residential growth to be smaller in-fill projects and redevelopment of existing low-density properties," she wrote. "The city upzoned the Central Issaquah area, which is the valley floor on either side of I-90, to allow the area to transform  into an urban center while protecting current neighborhoods and the natural environment. We are poised to work with property owners and developers to reach that vision."
---
Header photo caption: This rendering shows how the expansion to Costco Wholesale Corp.'s headquarters campus will look upon projected completion in summer 2022. The new parking garage is at left and the new office at right, with I-90 in the foreground and Lake Sammamish in the background.