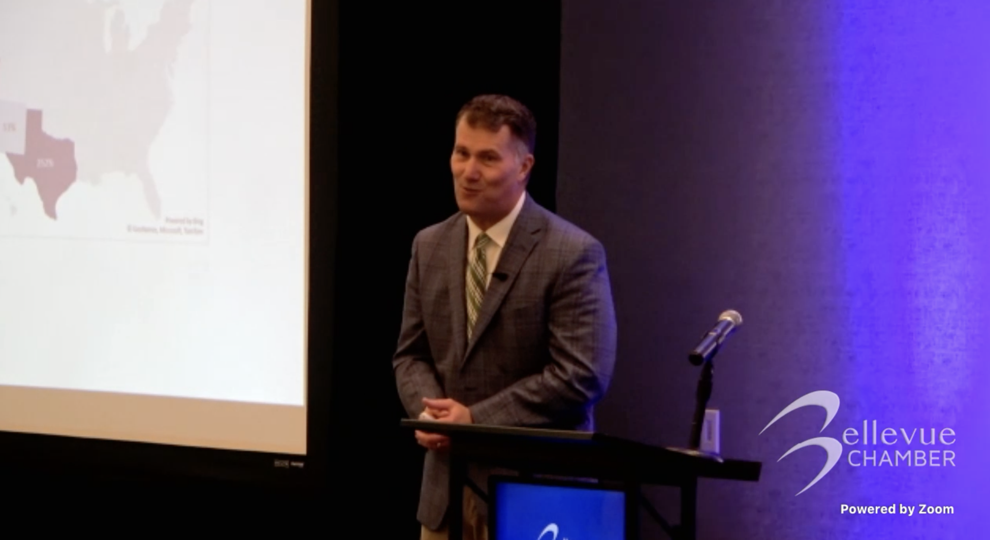 WaFd Bank president and CEO Brent Beardall delivered the Midyear Economic Forecast at the Bellevue Chamber's fourth annual luncheon Thursday.
During the event, held both virtually and in person at the W Hotel in Bellevue, Beardall proffered a global and local midyear update on changes and growth within the region and how the economy has responded.
In a departure from the previous year's forecast, Beardall talked less about the fallout from the COVID-19 pandemic to focus on topics that looked more toward the future. Chief among the stated concerns was the rate of inflation, which he noted is seeing its biggest increase in more than 40 years.
"Toto, I've got a feeling we're not in Kansas anymore," Beardall quipped about the drastic surge. "The world has changed — it's changed dramatically, and it's changed quickly."
Consumers certainly are feeling the squeeze at the gas pump, but also at the dealership where Beardall said 82 percent of new vehicles are being sold over sticker price. Pressure is felt elsewhere, too. Across the board, Beardall said inflation hit 8.6 just last week — the highest it's been since the early 1980s.
"Part of the reason for that," he said, "is the officials at the Federal Reserve were unfortunately mistaken when they saw the first signs of inflation. They said it's transitory, that it's not going to be sustainable. And they were unfortunately wrong, at least in the short term."
Beardall also cited a supply and demand imbalance, labor shortages, record early retirements, a lower inflow of immigrants, and a diminished societal birthrate as additional factors for the sudden squeeze.
Moving on to real estate and using the example of a $1.6 million Bellevue home — the average home price in the city according to Beardall's data — he played out mortgage rate increases thusly: "In December last year, the interest rate was about 3.5 percent and your monthly payment was $5,748. Think about what happens if you're just willing to take the increase in interest rate through to your mortgage. That means your mortgage goes from $5,700 to $7,700, an increase of 35 percent in your mortgage payment to buy the same house."
If a buyer wanted to increase their down payment to compensate for that rate increase, Beardall said they would have to shell out $334,000 up front. For some consumers, Beardall said up to 70 percent of their income could solely go to housing in the current market.
"If you asked me, 'Brent, are you nervous about home values when you've got $6 billion of single-family loans on your books?' Of course, I'm nervous about home values," he told the hybrid audience. "But do I think it's a bubble? No. Because if you're in an inflationary environment, what do you want to own? Real assets."
On equity markets, Beardall reported that just last week the markets entered bear territory, generally defined as a 20-percent decrease from its peak.
"I like to look not just at the absolute level of equities in the marketplace, but I like to look at price to earnings," he said. "How are equities valued relative to what they're earning? We went up to about 40 times price to earnings on the S&P 500. It's come down pretty dramatically, down to about just over 20 times. I think the long-term average is about 15 times price to earnings. So, there's still a ways to go."
Too many speculators and not enough investors is a part of the problem, according to Beardall.
"What is the speculator? Someone that just invests blindly, that doesn't understand the fundamentals," he said. "I believe fundamentals matter and ultimately over time that will play out the impact of programmatic buying and selling increases. We've seen that more and more. I think that 20-percent correction has provided some value opportunities."
Moving on to crypto currency, Beardall showed a screen capture from a Crypto.com ad starring Matt Damon that aired during the Super Bowl earlier this year, during which Damon intones the "four simple words that have been whispered by the intrepid since the time of the Romans: Fortune favors the brave."
The valuation for crypto currency at the time of the commercial's airing was just shy of $60,000, according to Beardall. Today, the value is approximately $21,000. Citing these numbers, Beardall recalled previous economic forecasts, during which he urged caution regarding crypto.
"It's good to finally be right if you're stubborn enough like I am," he said with a laugh. "For those of you that have heard me the last few years, I've said cryptocurrencies are the biggest Ponzi scheme of my lifetime. And I think that's coming to fruition."
Crypto is so volatile because it has no repayment source, "unless there's a bigger sucker than you," Beardall said.
He went on to point out that earlier this year, the cryptocurrency market had a larger market cap than all the banks in the United States combined. "Let that sink in," he said. "Now, there's some reason coming into the marketplace."
Other topics discussed during the event centered around banking, employment, and recession — the latter of which Beardall said can be a time for healing economic recovery.
In the coming year, Beardall forecasts several reasons for optimism including substantial job growth coupled with a talented regional workforce, a "never-before-seen" city and state economic surplus, advent of new automation technologies, and the overall entrepreneurial spirit of the population.
The economic forecast event was the last of the Chamber's events for the season, according to Chamber President and CEO Joe Fain, who came on to close out the program.
"This is a bit of a rough one to end on, but certainly one that sends us out a bit more prepared into the world to see what's happening," Fain said.
Visit the Chamber online for future events.