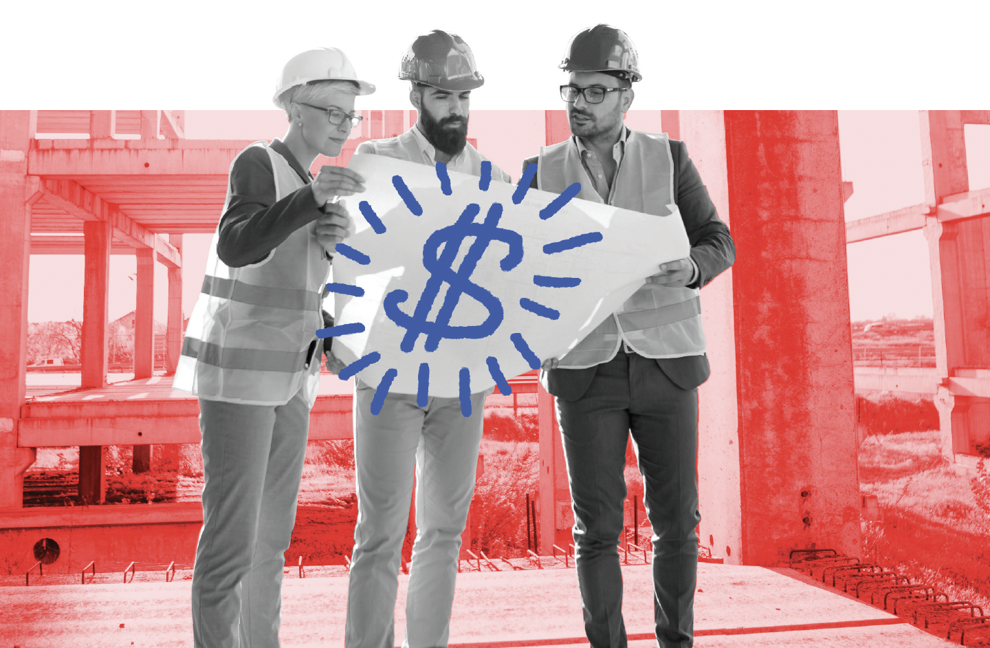 The last 18 months have been … turbulent. As the effects of COVID continue to linger, it's clear that few industries were left unaffected, and commercial real estate development was no exception. During the pandemic, most lenders took a pause on construction lending and focused on asset management and advancing PPP loans. Projects already under construction battled skyrocketing material costs, shipment delays, and cumbersome COVID protocols.
Finally, the dust is beginning to settle. Many of us have received a COVID-19 vaccine, costs are leveling out, and lenders are back to deploying capital.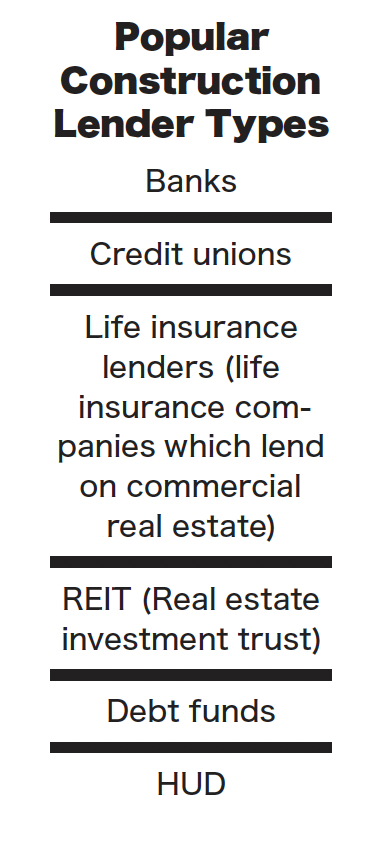 Now lenders are inundated with loan requests, and developers are facing a new challenge: "How do I get my project to stand out amid a sea of competing loan requests?" Sure, seasoned developers and brokers know how to leverage relationships and build attractive loan presentations, but if you're going at it alone, then here are a few pointers to keep in mind.
As the Boy Scouts say, "Be prepared." When you begin planning, reach out to a bank or broker, and discuss your project at a high level. Ask them what a typical construction loan for your project would look like and whether they see any concerns from a financing perspective. When budgeting, bake in 5 percent contingency for hard costs and 3 percent for soft costs. Use conservative estimates in your budget and pro forma wherever possible (you can bet your lender will do the same).
Map out your timeline. Typically, the process of "shopping" for quotes can take around a month, and a loan closing takes around 75 days; both depend on how organized and responsive you are. Ideally, a construction loan usually closes at the same time you're ready to break ground, so you'll want to start calling lenders about four months before that time.
There is a wide variety of construction lenders, each with its own set of loan programs. For loans under $25 million, banks and credit unions are a common source of capital. Typically, these institutional lenders will provide up to 75 percent loan-to-cost (LTC), are full-recourse, and want their borrower to have a minimum net worth equal to the loan amount. If any of these are an issue, alternative platforms, like debt funds, REITs, and some banks offer nonrecourse, higher leverage, or other flexible terms. Be warned: As your leverage increases, so will your rate (same goes for switching to nonrecourse structures).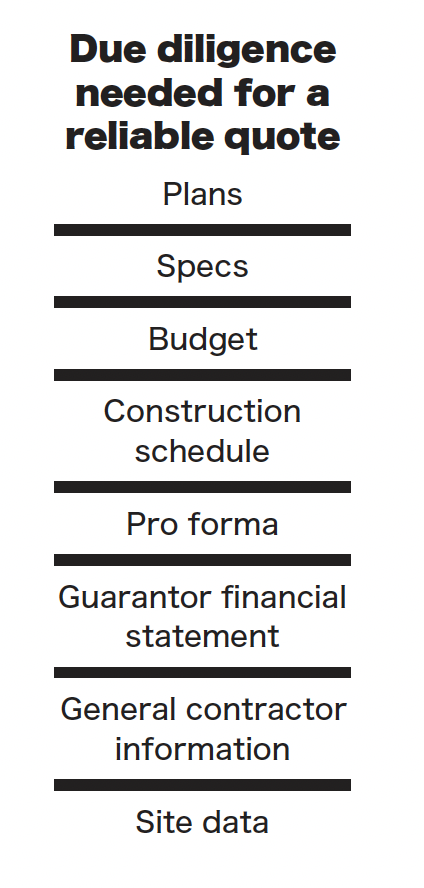 Now you've got a quote and are ready to put your savvy negotiating skills to work. There's no problem with asking a lender to sharpen its pencil and come down on fees or rate, but understanding a lender's capabilities is crucial. For example, asking a lender that doesn't have a construction program for a construction loan is like walking into a Ford dealership and trying to buy a boat … no amount of negotiating will get what you need.
Don't be the borrower who expects a bowl of hot water filled with ice cubes that don't melt. If you want a maximum-leverage, nonrecourse construction loan, then don't be surprised when your rate and fees reflect the lender's perceived risk. As lucrative an endeavor as developing commercial real estate is, understand that the "best-case scenario" for a lender is simply that it is repaid its principal with interest.
You've finally executed a term sheet and can already smell the concrete and lumber. All that remains is to close your loan. Prepare for a lengthy closing checklist, and schedule a kickoff call with your lender as soon as possible. You'll want to discuss lead-time items, order third-party reports, and engage title and escrow. This is where your organizational skills and responsiveness pay dividends, as the speed of a closing depends greatly on how quickly you can respond to requests. It's a good idea to set up a weekly checklist call with your lender and title company to ensure things are progressing as they should.
The right lender can turn a good project into a great one. With proper planning, organization, and persistence, you can secure a competitive loan while building relationships that will bear fruit throughout your development career.
Matthew Fisher is the director of debt and equity at JS Coats Capital, a boutique commercial investment banking firm in Kirkland. He secures capital for a range of commercial real estate transactions, including ground-up construction, permanent financing, and equity syndication. Outside the office, he enjoys spending time with family and practicing woodworking at his home near Tiger Mountain.