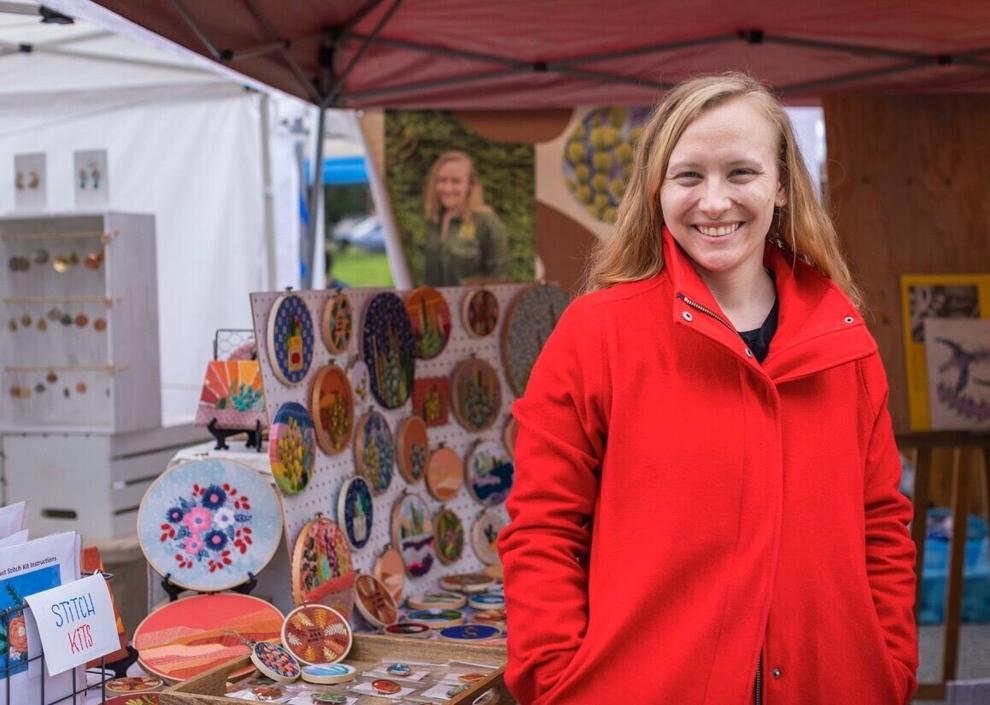 The isolation of spring 2020 brought with it a flurry of new hobbies or rekindling of old interests. As people were made to work from home or found themselves furloughed, many used the extra time to trial banana bread recipes, start their own YouTube channel, or take up embroidery.
The latter endeavor is where Melissa Galbraith's side hustle, MCreativeJ, comes in. Established before the onset of the pandemic, MCreativeJ features nature-inspired embroidery patterns, kits, and both virtual and in-person workshops. Quite literally, Galbraith and her patrons paint desert and mountain landscapes with thread.
Where the late Bob Ross might have added some "happy trees" with his brush, Galbraith has happy cacti made of embroidery floss.
"I think embroidery often has that stereotype of being something that old women do, and it's actually just really fun and relaxing — like coloring with thread," she said. "So, I want to make it approachable for anyone who wants to give it a try. Which is why I have kits and patterns that are kind of at different skill levels, so you can jump in wherever you want."
While embroidery might have been a relatively new pandemic pastime for some, it has been a lifelong skill for Galbraith, who said she began the hobby in elementary school, albeit begrudgingly at first.
"My mom taught me how to embroider, and I will readily admit that I hated it as a kid," Galbraith said with a laugh. "It was just challenging for me because I didn't have the patience for it. But as an adult, I've really loved it."
It wasn't until graduating college and entering the workforce that Galbraith picked it back up. "I just felt that I was really sitting behind the computer all the time. So it was nice to get back to that tactile making experience, and (I) have been embroidering for about seven or eight years now," said Galbraith, who also does communications work for the Mercer Island-based Bezos Family Foundation.
In addition to her business and her day job, Galbraith also is busy writing, styling, and photographing her first how-to embroidery book, which she said she hopes to have out next spring. In the meantime, Galbraith will share the process and craft on social media (@mcreativej on Instagram).
"I think it's important to make time for a mindful craft, and just really dig in and enjoy yourself," Galbraith said of embroidery. "And a lot of times, it's about the process and the experience, and not necessarily about finishing a piece. I think it's really about making that time to have crafting and that joy."
---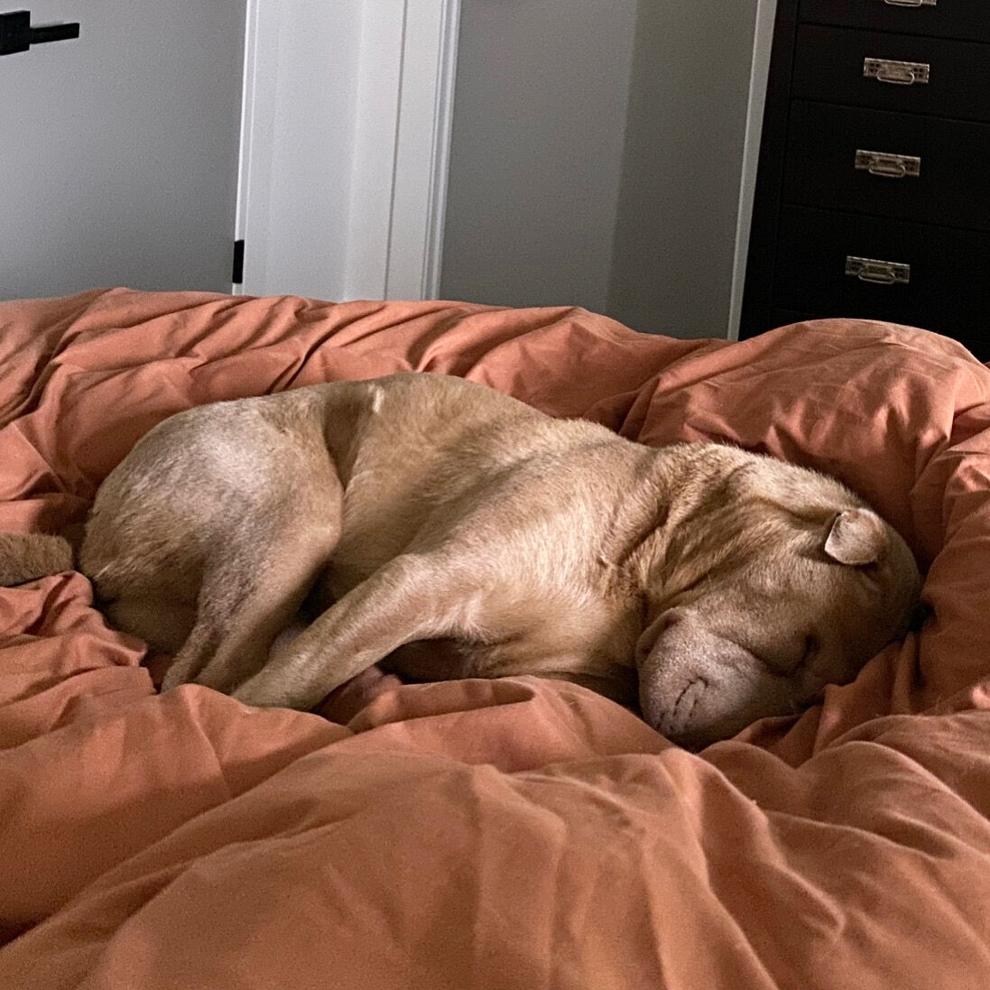 8:49 a.m. I stay in bed as late as possible and snuggle with my pup, Henley. She doesn't like getting out of bed in the mornings, and neither do I.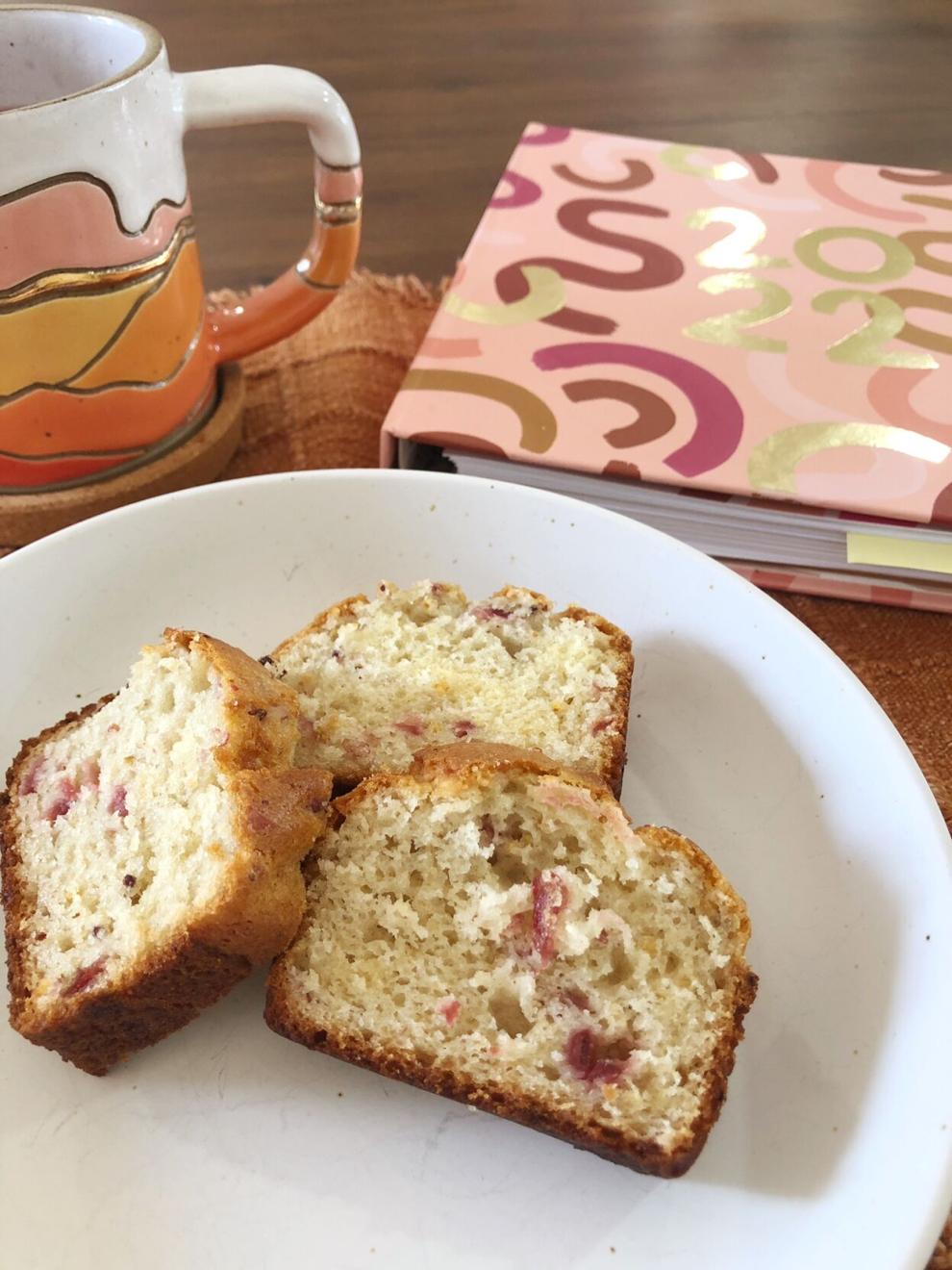 9:16 a.m. Time for breakfast with a cheery handmade mug and a review of my planner to start the day.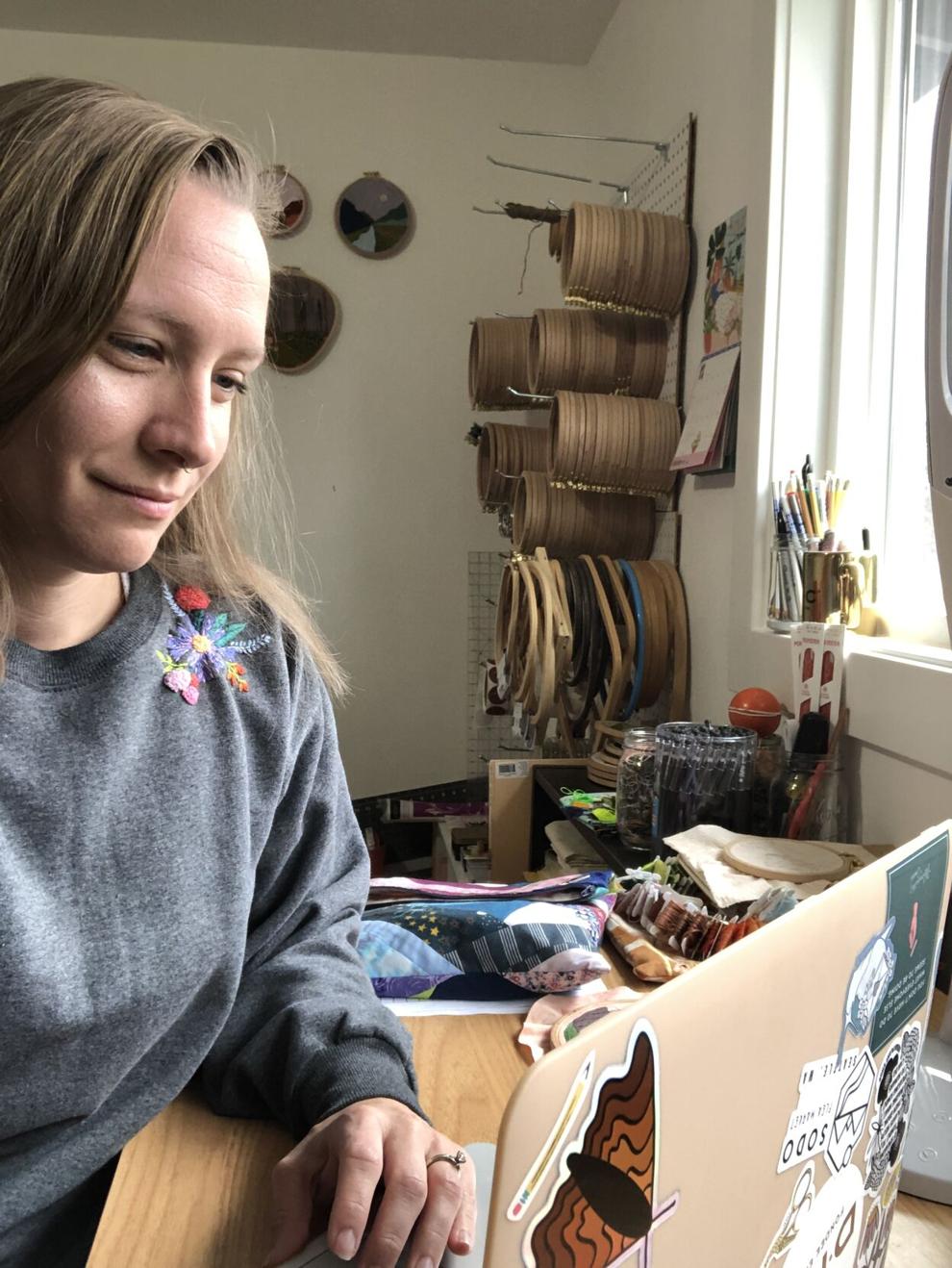 9:20 a.m. Lots of computer work. I answer emails, sit in on virtual meetings, and schedule social media posts.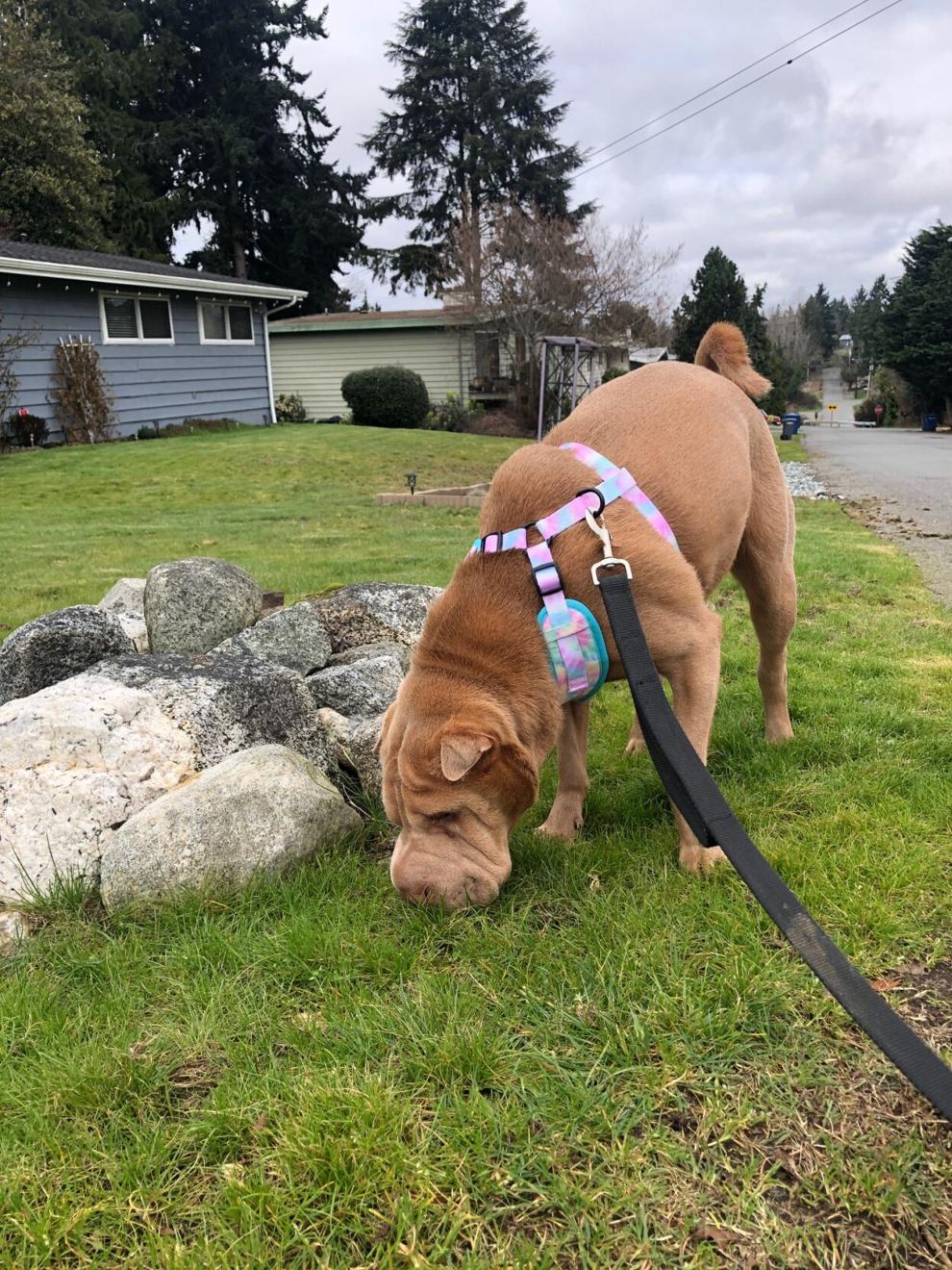 11:05 a.m. The first of my two daily walks around the neighborhood with Henley.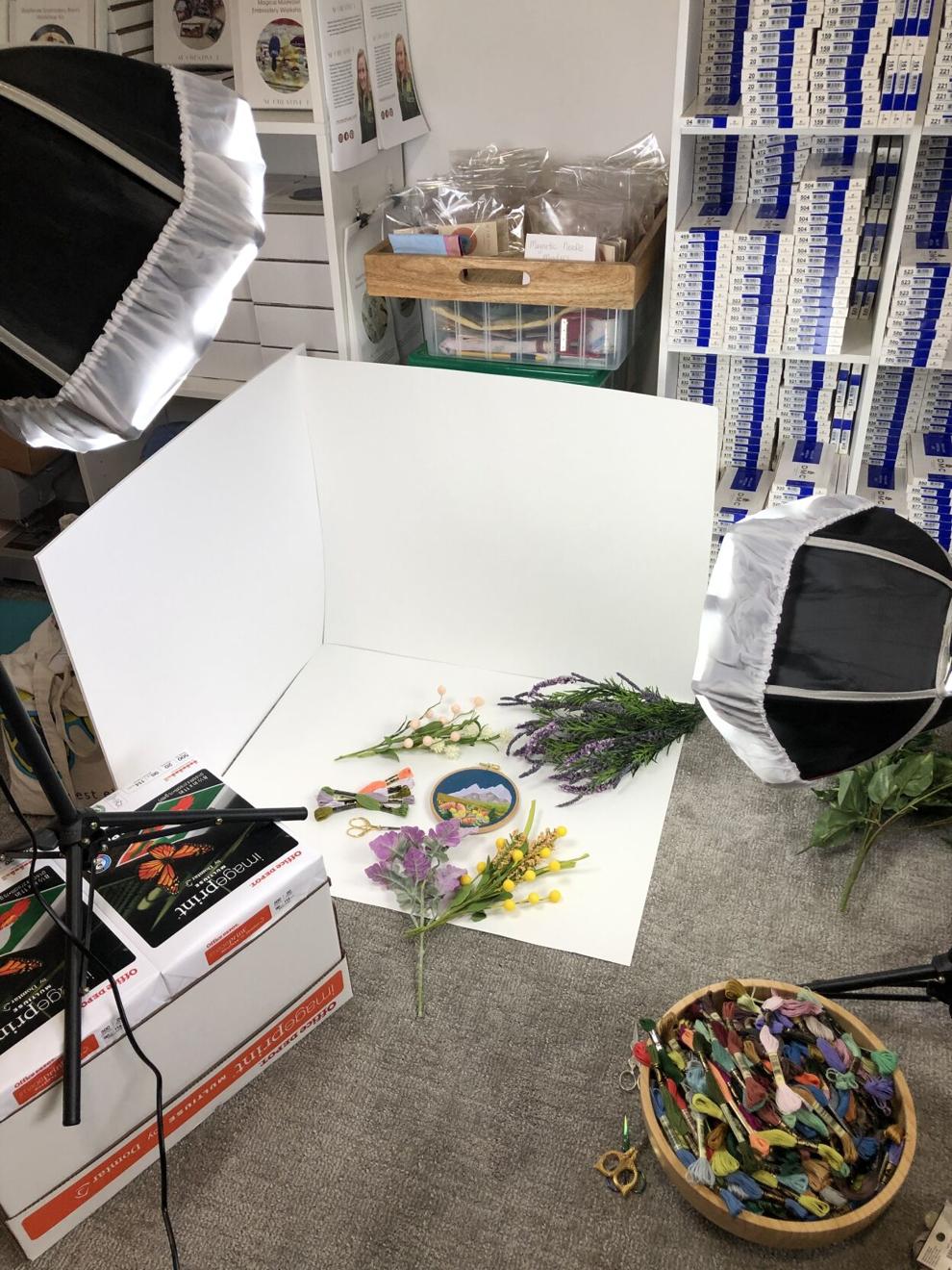 Noon I use my lunch break to take photos for my upcoming do-it-yourself embroidery book, which will be coming out next spring.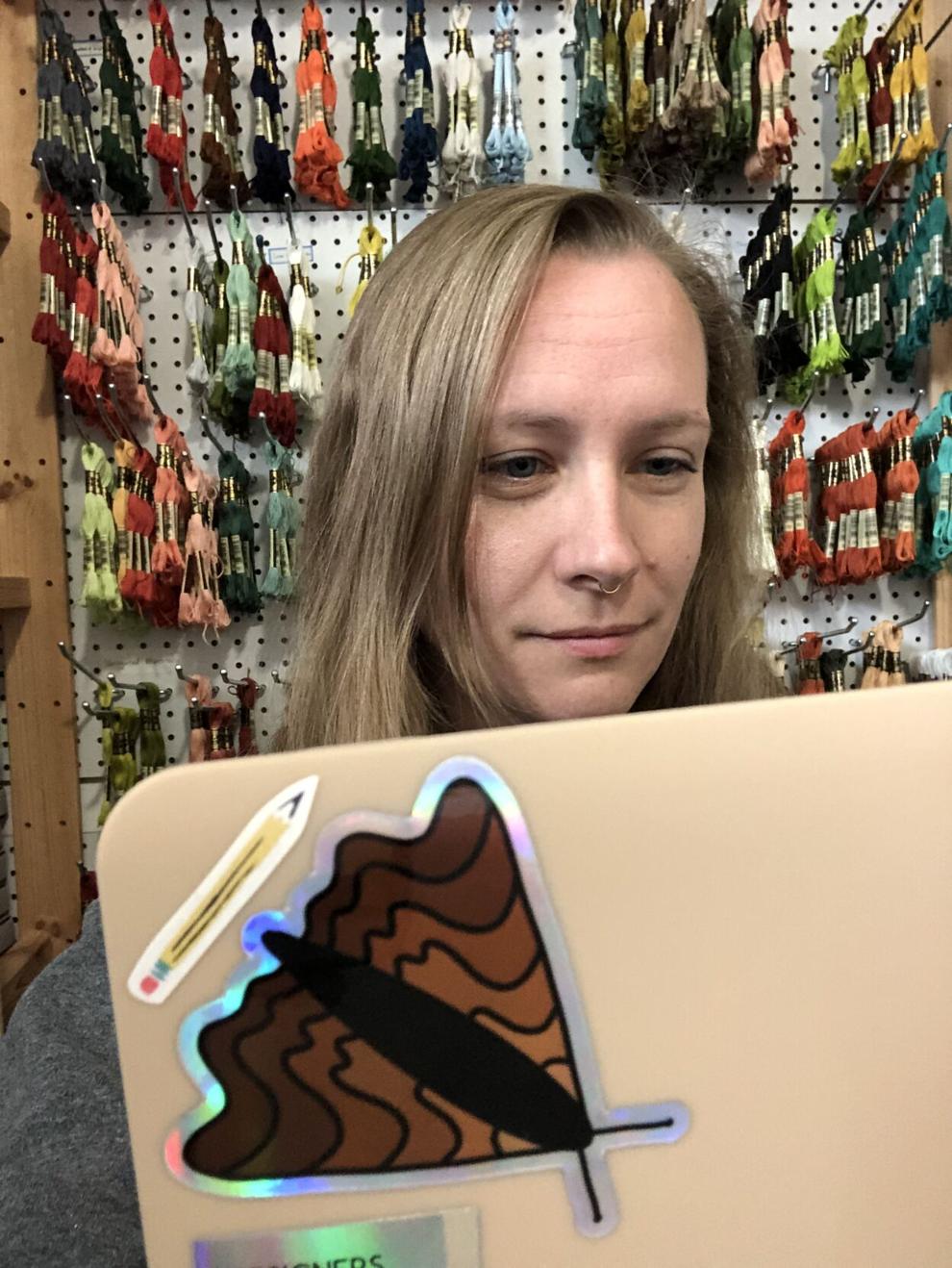 12:30 p.m. More computer time, as I write blog posts, e-newsletters, website updates, and schedule more social media posts.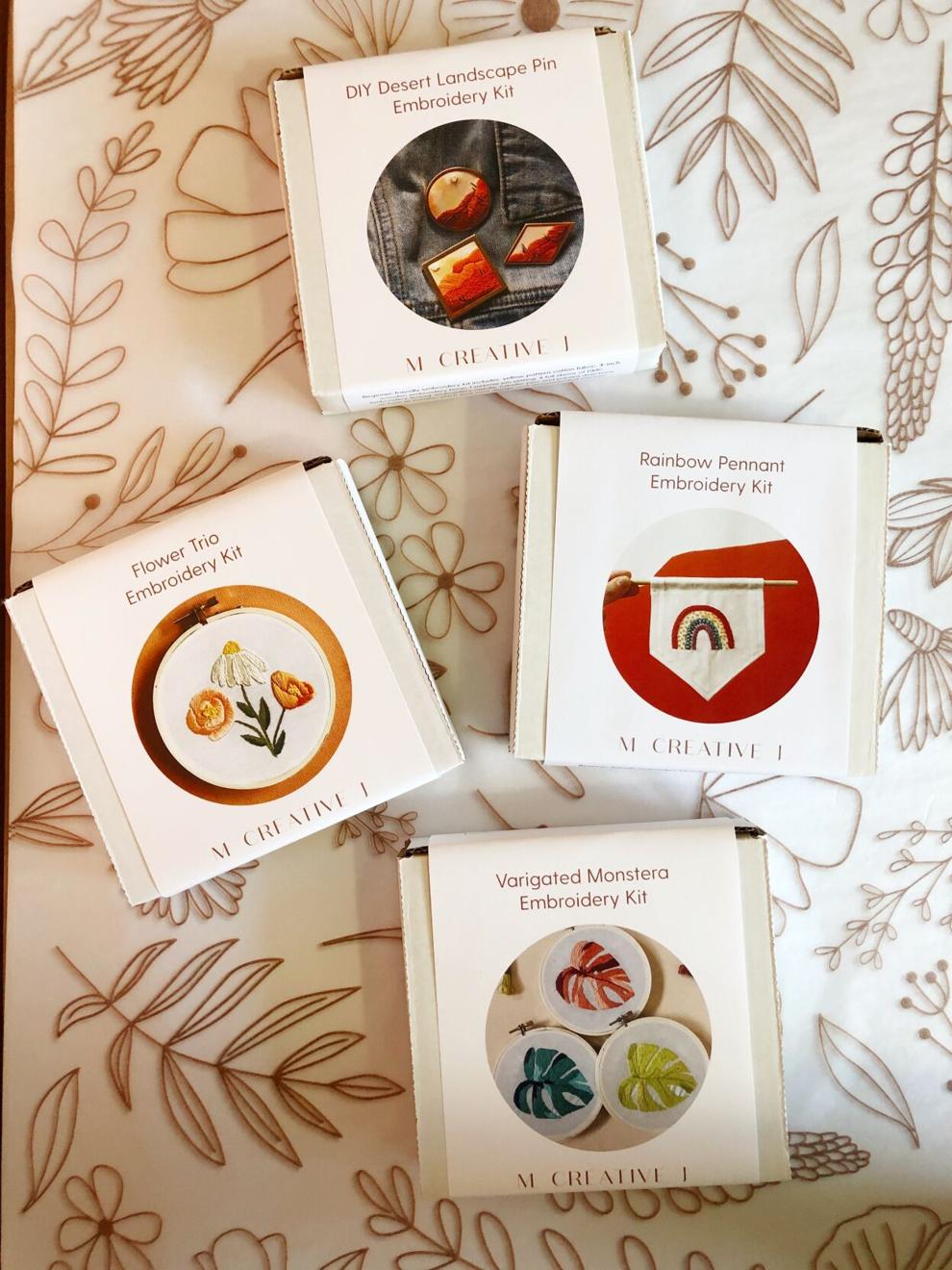 3:49 p.m. Time to pack wholesale and retail orders for shipping.
4:05 p.m. My second Henley walk of the day. This time, my husband is joining us.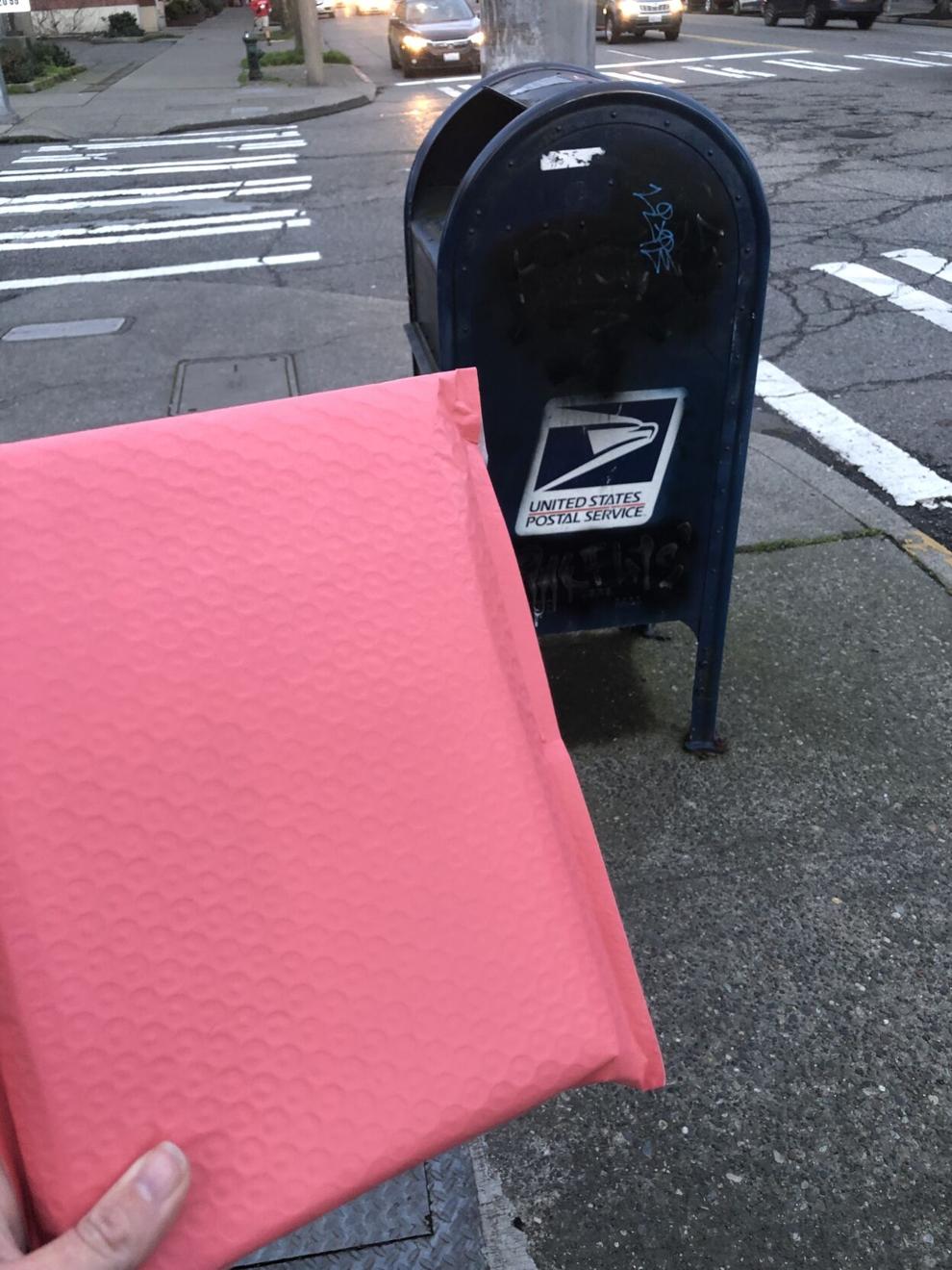 4:45 p.m. I drop off orders at my local USPS post box on my way out for a workshop.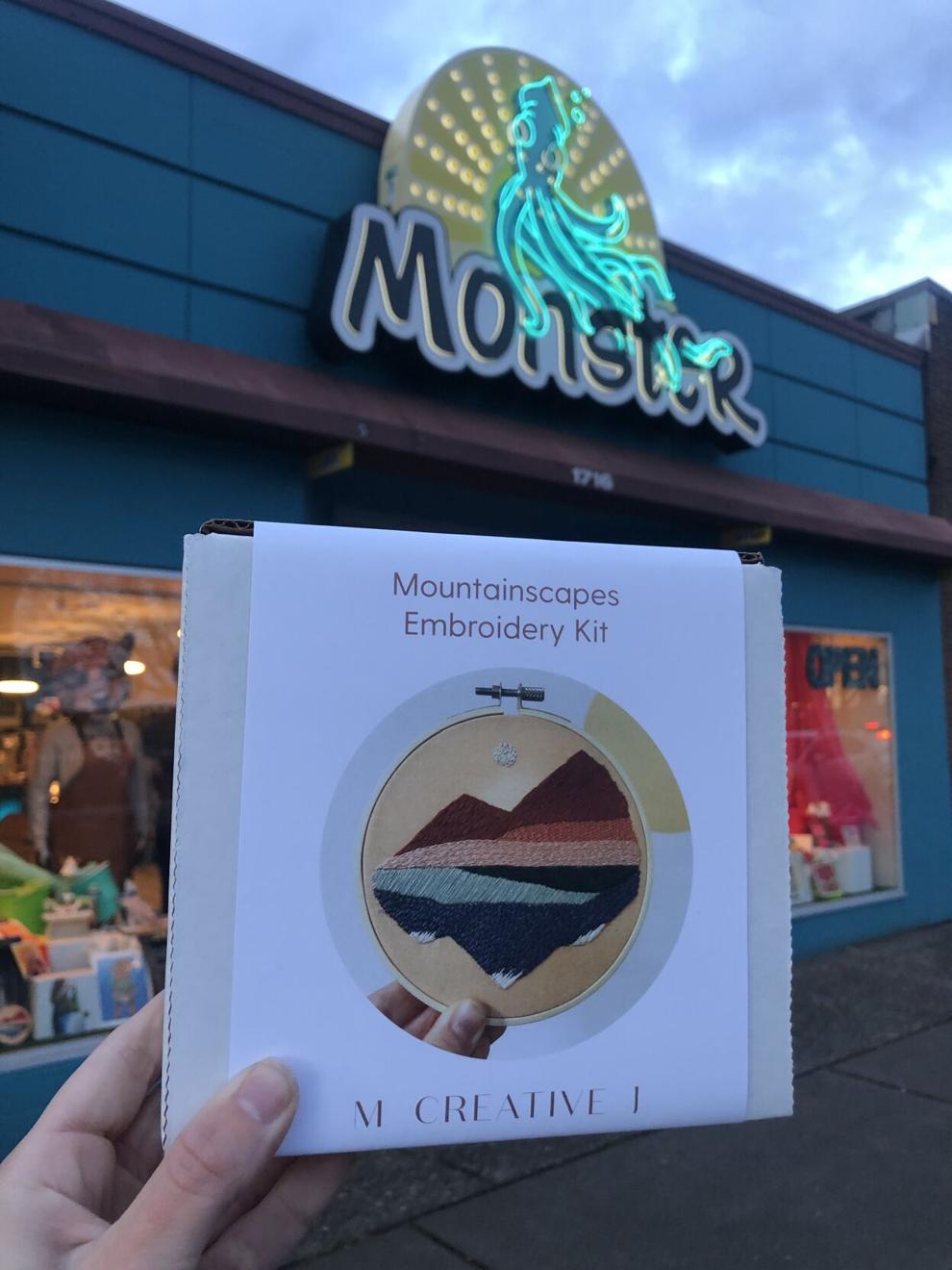 5:30 p.m. I drive to Ballard for my in-person embroidery workshop with Monster.
6:30 p.m. I spend two delightful hours teaching attendees how to create an embroidered mountainscape.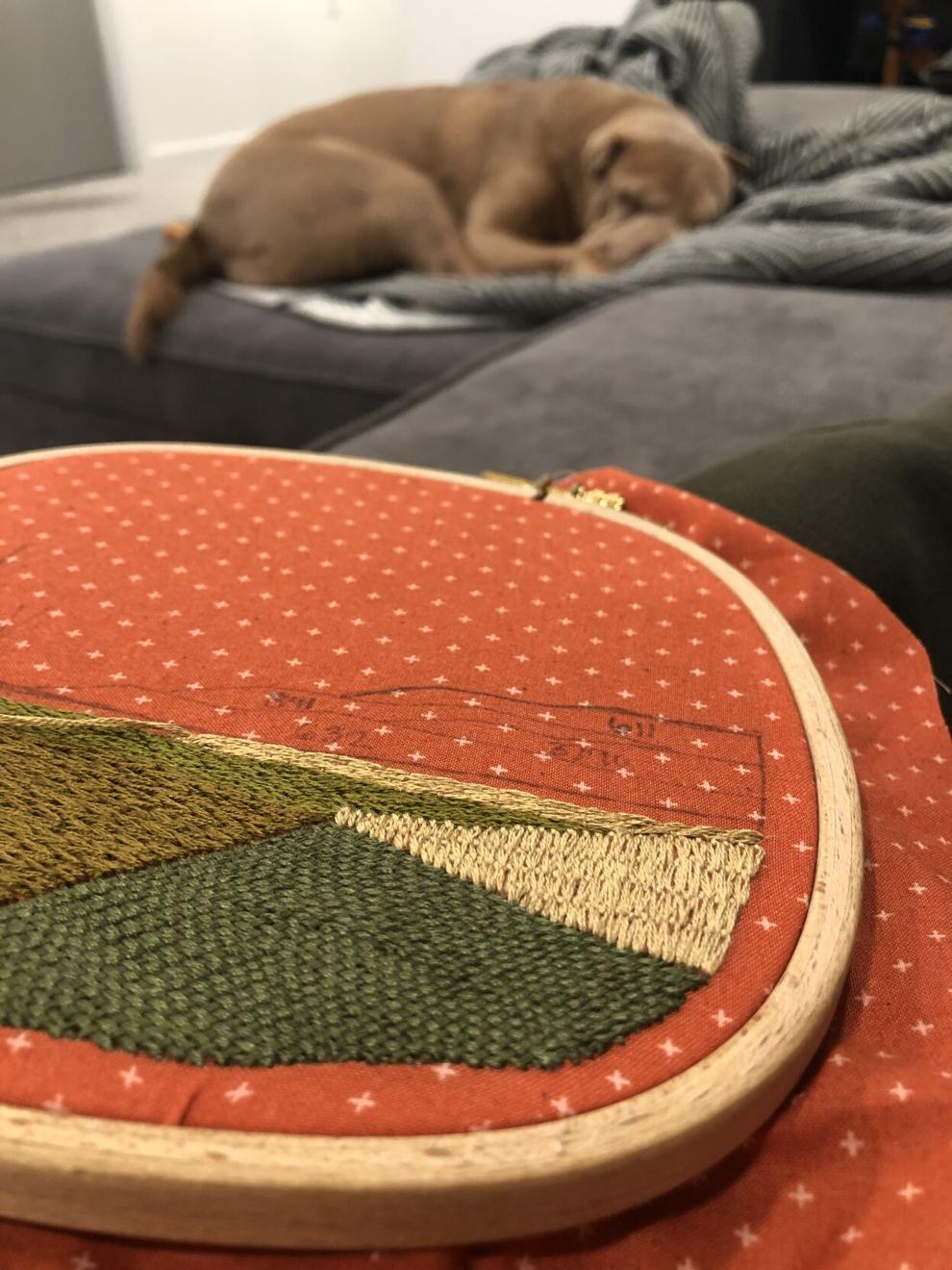 9:30 p.m. After I change into my sweatpants, I curl up on the sofa to work on an embroidery project and watch true crime with Henley.