Technology and theology are two words not often spoken within the same sentence. But for Christopher Lim, they couldn't be more intertwined.
While working as a software development engineer at Amazon, Lim found himself wanting to find a way to better integrate his Christian faith with what he was doing at his day job.
Lim's goal was to create a company based on his research in automatic language translation. While he loved his Amazon team — even forming organized events with co-workers to discuss the theology of technology and to compare Amazon leadership principles with scripture — and enjoyed the comfortable income the position afforded him, he felt called to leave the job and follow the purpose that he said God bestowed upon him.
In 2013, he did so and founded TheoTech. The startup, Lim said, aimed to answer a similar question to that of Joan Osborne's "What if God was one of us?" ballad. Rather than being a stranger on a bus, Lim posits, "What if God was our customer?"
The company launched Lim's journey of what it means to "obsess over God's desires and invent products that create foretastes of God's kingdom," he said. In essence, TheoTech's mission is to help people experience the power of God's love through technology entrepreneurship for the gospel. Lim and his co-founder and sister, Natasha Lim, have developed two products.
The first is Ceaseless, an app that helps users remember to pray for, and connect with, at least three people a day. It functions similarly to a calendar or notes app on a smartphone. It's connected to a user's list of contacts and sends reminders. Privacy is key, and the contact information and notes stay on the phone.
Lim said he was inspired to develop Ceaseless after realizing his thoughts and prayers were often more selfish. He wanted to challenge himself to connect with friends, family, and acquaintances and actively pray for them. To date, Lim said the app has more than 400,000 users. It can be downloaded for free on Apple or Android devices.
"I've gotten users say they'll see a name come up that they haven't thought about in a while, and then they might reach out to that person," Lim said. "And it just reestablishes a connection, and they find out maybe that that person really was in need in a deep way. … The big dream would be to have 1 percent of Christians around the world praying for others every day through their contacts, because that would be enough, mathematically, to personally pray for everybody on Earth."
TheoTech's second — and most notable — product is spf.io (pronounced spiffy-oh). Tying back to Lim's research in automatic language translation, spf.io is all-in-one translation and accessibility software for events and prepared content.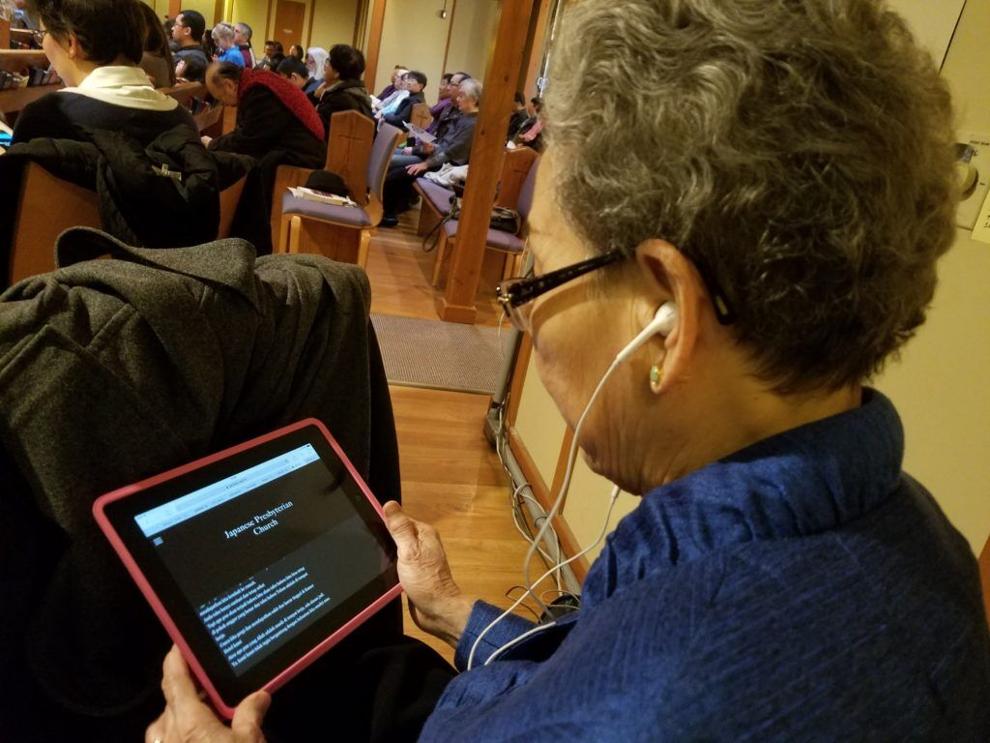 The inspiration behind spf.io is rooted in Lim's experience attending a bilingual church. At the time, the church was seeming to split into two — one with English speakers, the other with Indonesian speakers. This apparent language — and cultural — barrier spurred Lim to develop a translation service that would help unify the church.
"In the Bible, it talks about that one day in God's kingdom there will be people from every language that will be worshiping together. And when I was looking just at the majority of our churches in America today, or even worldwide, so many of our communities are segregated by language and culture. And believing if God's the customer, and if this is what God wants, there is a gap here. So, we wanted to build a technology that can bridge that gap and can enable churches and other organizations to be more (unified)," Lim said.
Unlike other captioning software, spf.io enables content to be accessible in over 40 languages through captions, translations, transcriptions, and more. It's completely accessible through the web and does not require installation or download. In action, spf.io can caption and translate content in real time, allowing for people who speak multiple languages to be able to understand the content as it's being presented to them.
"People can come to an event or to a church, open up their phone, pick a language on their phone, and get the translation on their phone in real time," Lim said. And while it can transcribe and caption automatically, Lim said it works best for preprepared content. For events with unscripted speaking, the transcription and captioning still works well, but it's just not quite as accurate.
Spf.io is used in churches all over the country in addition to local churches, including Overlake Park Presbyterian Church in Bellevue. Unlike Ceaseless, spf.io is not a free tool. Pricing depends on how many language pairs the client needs and for how long (usage).
"It's been extremely rewarding to see spf.io being used to help bridge language and cultural barriers," Lim said. "I think it's an introductory tool for the introductory conversation that will lead to disruptive change within the Church. There is bigger work to be done in churches in regard to these divisions."
While spf.io was developed with churches in mind, it's also used for other nonreligious events. With the onset of the COVID-19 pandemic prompting church sermons and office teams to go virtual, Lim said there was a growing need for spf.io's services. The program now is compatible with YouTube livestreams, Zoom, and others.
As COVID-19 restrictions ease and in-person gathering is permitted, Lim said virtual isn't going to go away, and that spf.io has adapted to serve in-person, hybrid, and virtual needs.
Lim said he hopes to see more Christians in the tech industry be empowered and activated to use their gifts where they see their work as aligned with their faith.