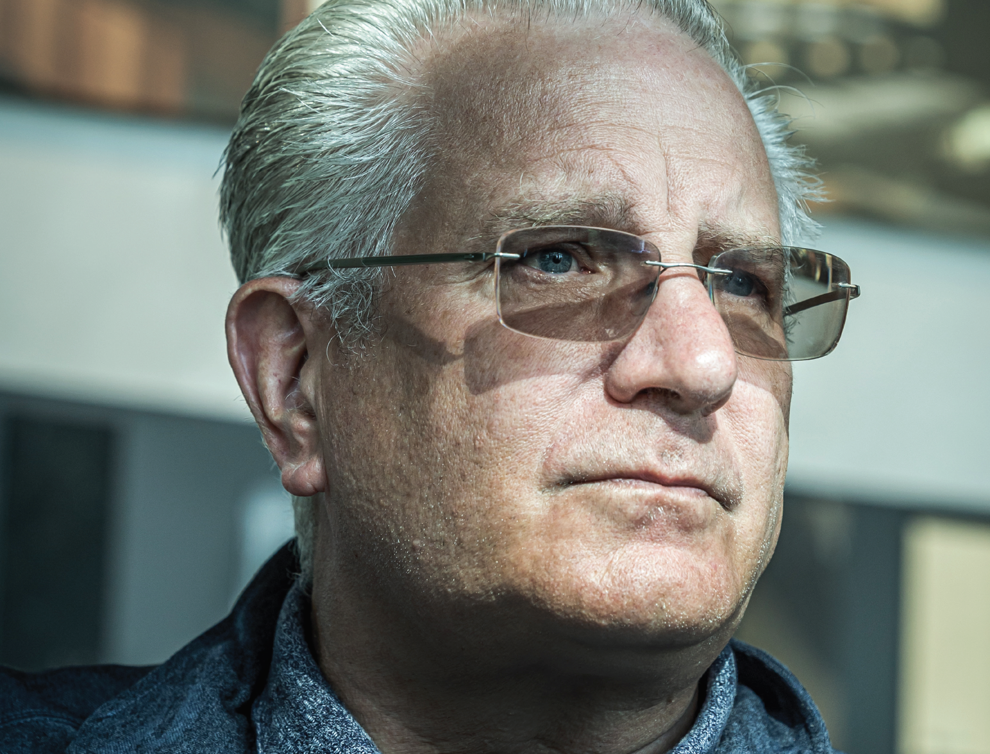 The Seattle Kraken doesn't take the ice for its first regular season game in the National Hockey League until Oct. 12 and won't open at home until Oct. 23. But according to team CEO Tod Leiweke Seattle is already a hockey town.
Some would argue it has been since the days of the Seattle Metropolitans in the early 1900s, the Seattle Totems after them, or the current Seattle Thunderbirds in the Western Hockey League. Certainly it has been since March 1, 2018, the day 32,000 fans put down Kraken ticket deposits, some from as far away as Alaska, others from British Columbia, and many more from Greater Seattle (March 1 is a Kraken staff holiday in honor of those fans' hearty support). The crowds that showed up in July for the expansion draft at Seattle's Gas Works Park demonstrated hockey- town character, too. You also see it in Kraken gear tentacled to people throughout the region.
"The response of the fans on a national and international scale is unprecedented," Leiweke said in late July from Kraken offices in the Seattle Center, where the team will play its games at the new Climate Pledge Arena. Climate Pledge will be home for the Kraken; Seattle Storm of the WNBA; and, many hope, reborn SuperSonics in the NBA. The arena was built NBA-ready, he said.
How soon could the NBA return?
"Hey, one miracle at a time here; let's get this hockey team up and on its feet," Leiweke said. "That's really why I came back (to Seattle), and the hockey team was catalytic to the arena happening. So, I hope that when the NBA does come back, and I believe it will, I hope that all those NBA fans tip their hat to the NHL fans, because they got this whole thing going and broke the gridlock."
Leiweke (pronounced LIGH-wih-kee) lauds the fan support. "Now we have to build up an organization commensurate with the support," he said. "We're going to be sold out every night. … It's up to us to build this out, on the ice and off the ice, to honor the support that's been given us, which has just been phenomenal."
While the team's on-ice performance is TBD, there's nothing uncertain about Leiweke, 61, a familiar and successful sports manager in Seattle and nationwide, including with three other NHL teams. Born in St. Louis, the Show Me State product is forthright and modest, shining the light on others around him and putting mission over self.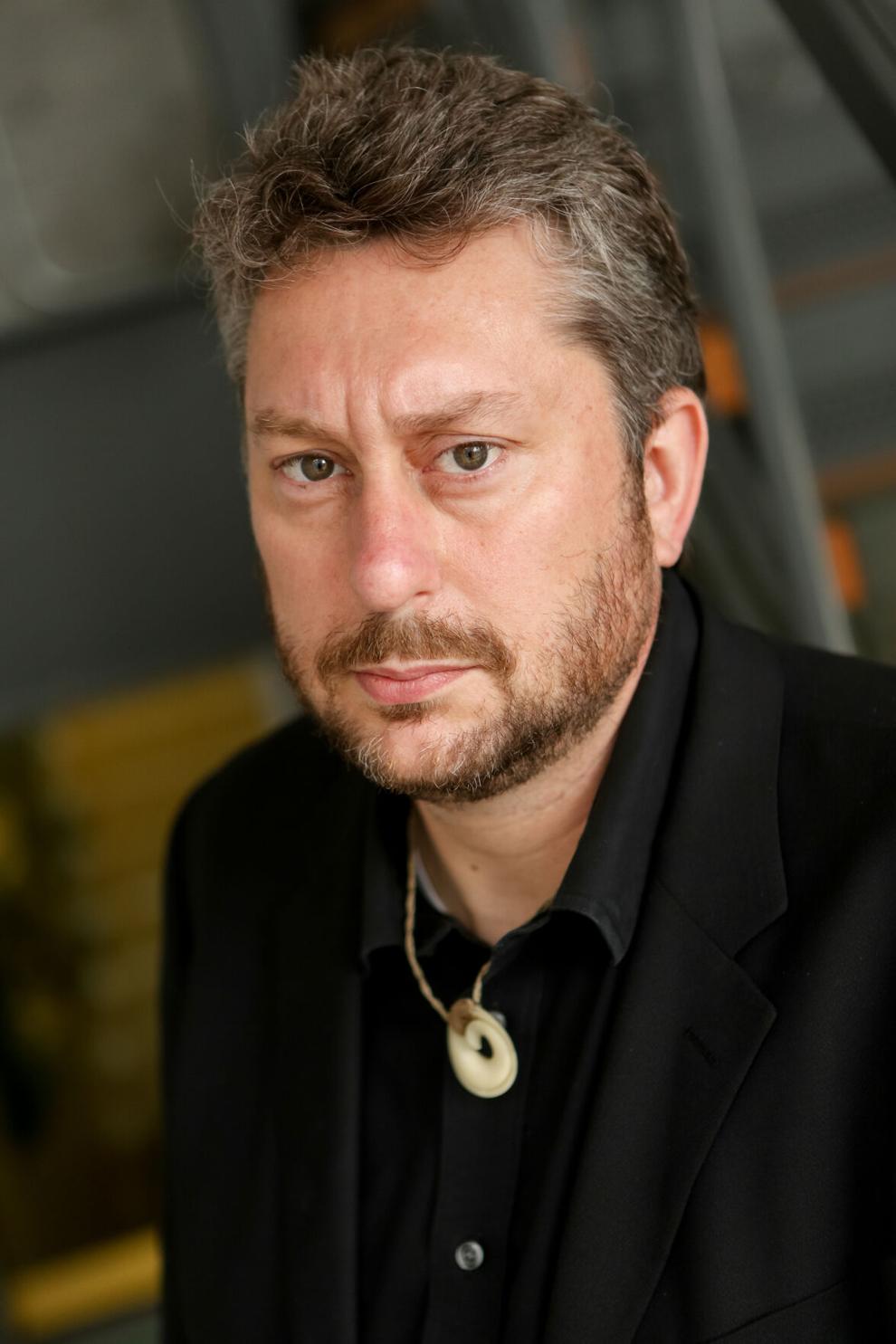 He expresses appreciation, including for the team owners he's worked for and learned from, the fans, surrounding communities, his staff , and the workers constructing the arena.
"I think he's a bit of an unsung hero, in my opinion, because he doesn't go out and toot his horn," said Jason McLennan, a nationally known expert on green building who is the sustainability consultant for the arena's many green features and is partner and CEO of McLennan Design on Bainbridge Island. "He really has this sort of strong leadership based on relationships that he builds and he pushes, but he's always having fun at the same time, and people, I think, really love working with him. I know I do."
McLennan calls Leiweke authentic.
Climate Pledge Arena was developed by Los Angeles-based Oak View Group (OVG), headed by Leiweke's older brother, Tim. The privately financed $1 billion-plus project saved the iconic roof, but essentially is a completely new building. OVG owns 51 percent of the building, and the team's ownership group, Seattle Hockey Partners, owns 49 percent of the arena and 100 percent of the team. The ownership group of about 30 individuals or families, led by investment banker and primary owner and Chairman David Bonderman, also includes Hollywood producer Jerry Bruckheimer; Amazon CEO Andy Jassy; and Vice Chairman David Wright, whose family owns the Space Needle.
The arena and team groups work seamlessly together, Tod Leiweke said, crediting his brother for helping make the arena happen after years of uncertainty regarding its future. That laid the groundwork for securing a team.
"It was my brother who really saw the opportunity, faced the challenges — challenges were engineering, challenges were that there was not going to be any government money in this project," Leiweke said.
"(The arena) was a Rubik's Cube in this marketplace for decades. And in the trail of it we lost an NBA team, many events never came here, so he deserves enormous credit. But I'd say what we have going on here is old-fashioned teamwork where everybody pitches in and there's no lines of demarcation; we're all just one great team." The group also built the Kraken Community Iceplex, the team's practice facility and community ice center at Northgate, a roughly $90 million project.
Leiweke recently moved from Mercer Island to Seattle's Queen Anne to be closer to Seattle Center, where he spends most of his waking hours. He and his wife, Tara, have two grown children, Tori, 24, and Tyler, 27.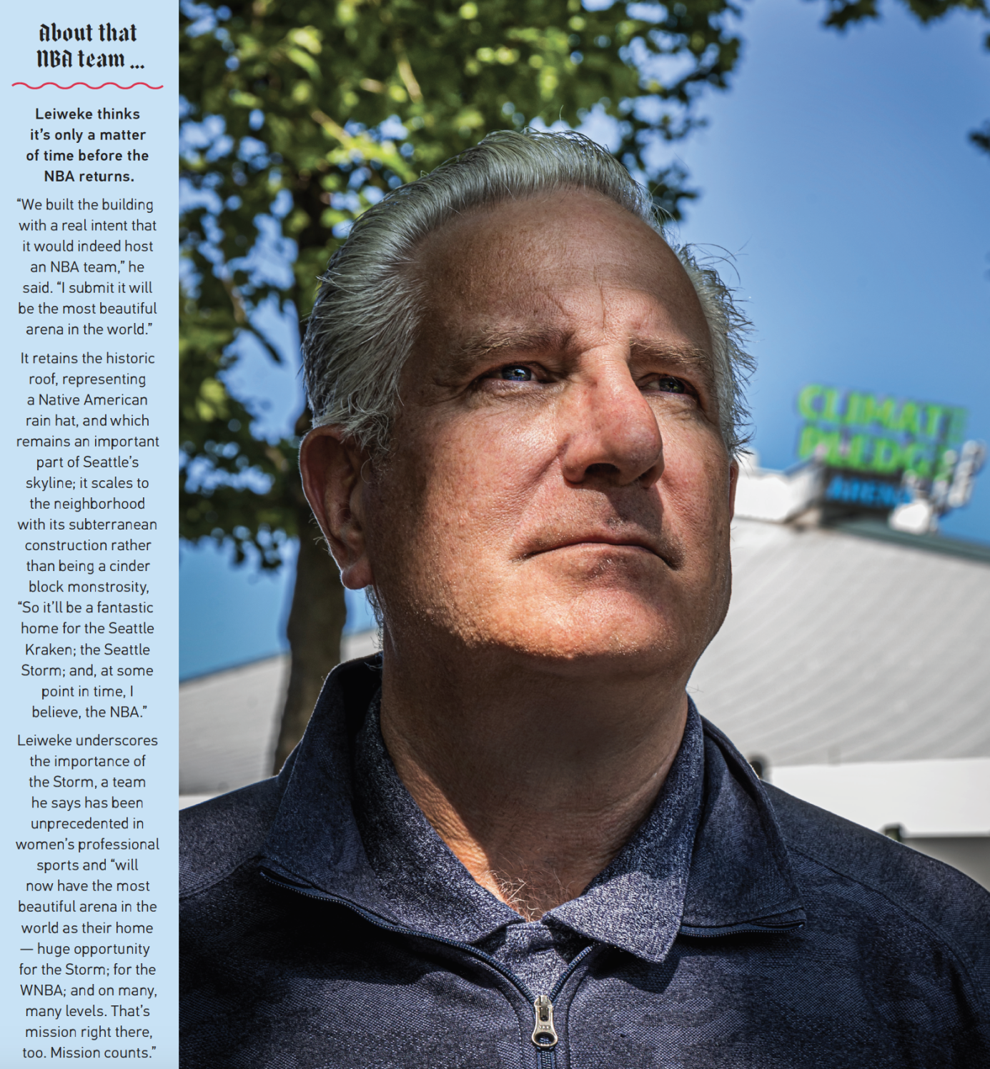 A Long Career in Sports
Leiweke has held executive roles in professional hockey, football, basketball, soccer, and golf. Before he became the chief Kraken, he was perhaps best known locally as CEO of the Seahawks from 2002 to 2010 (which included a Super Bowl appearance in 2006, the 2010 hiring of Coach Pete Carroll, and a revival of the Seahawks' 12th Man brand). During that time, he added CEO responsibilities in 2007 for Vulcan Sports & Entertainment for the late Paul Allen, who, in addition to the Seahawks, owned the Portland Trail Blazers and was a Sounders co-owner. Leiweke was the Sounders' first team president and last year became part owner, as he is with the Kraken.
When he was Seahawks CEO, he chaired the 2008-09 United Way of King County fund-raising campaign that raised $100.3 million for the charity during the Great Recession.
From Seattle, Leiweke became CEO of the NHL's Tampa Bay Lightning from 2010 to 2015, helping lay the foundation for a team that would make the Stanley Cup Finals in 2015, and go on to win the Stanley Cup in 2020 and 2021. He then became chief operating officer of the National Football League from 2015 to 2018, No. 2 to Commissioner Roger Goodell, before returning to Seattle to head what would become the Kraken. Before his first stint in Seattle, Leiweke served from 1999 to 2002 as the first president of the NHL expansion Minnesota Wild, and also held executive positions with the PGA Tour's First Tee, NHL's Vancouver Canucks, and NBA's Golden State Warriors.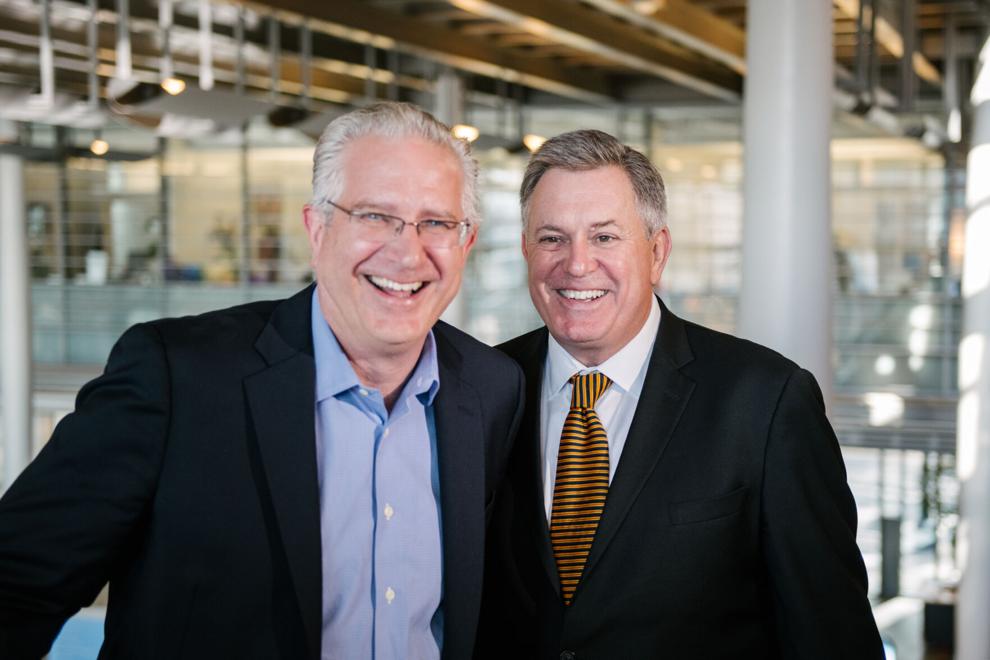 He got into sports management through his two older brothers, Tim and Tracey, who were GM and president, respectively, of the Kansas City Comets of the Major Indoor Soccer League. That led to his "first break" with the Warriors in a marketing role. He took the ball and ran.
In a news release in 2016 announcing Leiweke would be inducted into the National Football Foundation (NFF) Leadership Hall of Fame in 2017, NFF Chairman Archie Manning, the decorated former college and pro football quarterback, said Leiweke had built a reputation as "one of the top sports business leaders in our country today."
Not bad for a guy who never went to college and faced hardships that included the deaths of his mother, and then his stepmother, from cancer before he was 18.
He credited his fire to succeed to his stepmother's advice at the end of her life to make each day count, according to an NFF story on Leiweke's induction.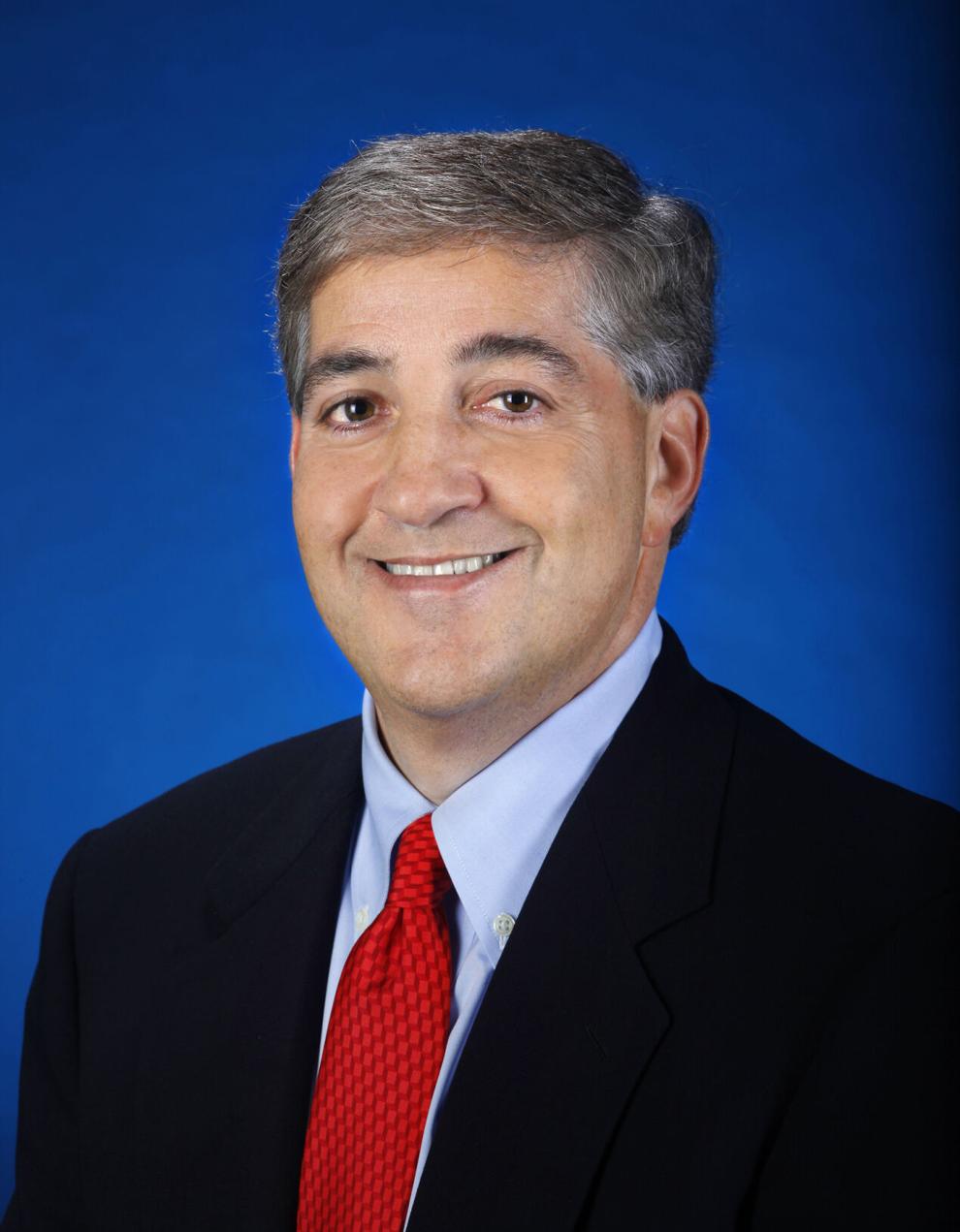 In an August phone interview, Jeff Vinik, owner of the Tampa Bay Lightning, said Leiweke played a big role in the team's turnaround after Vinik bought the team in 2010.
"I truly do not believe that if I had not hired Tod as CEO and Steve Yzerman as general manager, I don't believe we would have made it in Tampa Bay," Vinik said. "Our brand was in tatters; I'd say we were irrelevant in the community. We were losing tens of millions of dollars a year, and it took the Herculean efforts and talents of those two individuals to help us turn it around. Tod has had incredible success wherever he's been, and it took his best slapshot for us to be able to have this remarkable turnaround."
They also hired and groomed their outstanding successors, and other great employees, Vinik said, adding, "It's all about the people and the culture, and we're fortunate to be where we are today, both on and off the ice."
Off the ice is big for Vinik and Leiweke. Vinik remembers first meeting Leiweke at the 2010 Winter Olympics in Vancouver, B.C., and estimates 90 percent of their conversation was about community, giving back, and how teams should be part of the social fabric of the community, and a force for making things better.
A force for good in Tampa became the Lightning's Community Heroes philanthropic program launched in 2011. It awards $50,000 every home game and up to $100,000 during playoff games to someone who has positively impacted the Tampa community and who then donates the money to the charity of their choice. The program has given more than $23 million in donations so far. Vinik also recently extended his funding of the program for another five years, meaning he'll give at least another $10 million away through 2026.
While Vinik and Leiweke each credited the other for coming up with the program's idea, Vinik said, "I'm sure he came up with the idea of honoring a hero at each game, and then together we filled in the details around that about how it would work. But I do think the inception of the idea was from his brilliant, creative brain."
The program has become a Tampa jewel.
"I think we're as proud of that program as anything we've done," Vinik said, grateful he's been able to meet the hundreds of honorees helping others in the community. Leiweke was named a Community Hero in 2016 for his work starting the program and inspiring an employee volunteer program, as well as dozens of other Lightning community initiatives, according to a team press release. He donated the Community Hero award to Friedreich's Ataxia Research Alliance.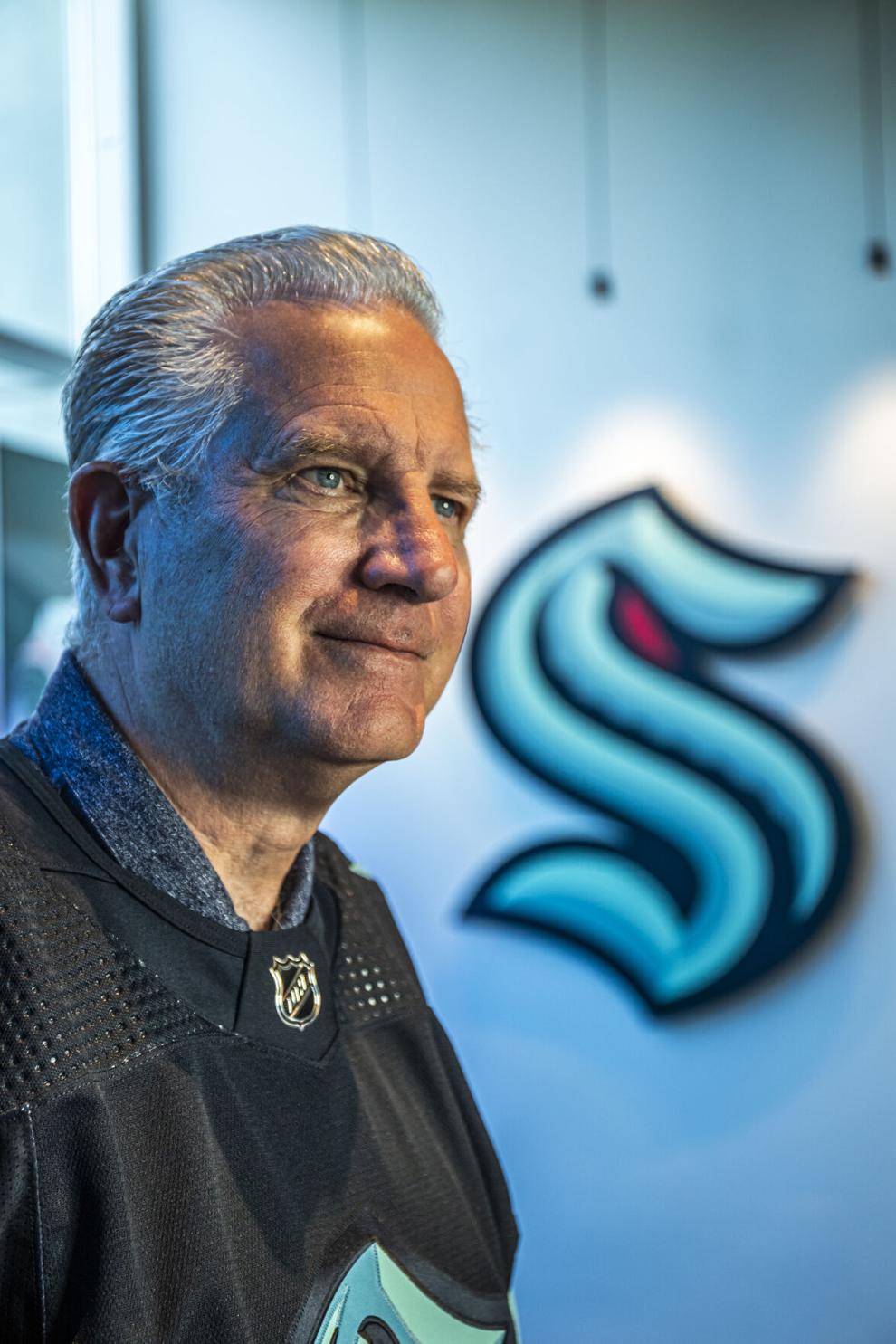 Learning from Others 
Leiweke labels Vinik "just this side of a saint" and someone from whom he has learned a lot.
"In my journey, I've always tried to learn, and if you're open to learning, if you're a good listener, ample education abounds," he said. "At every stop (along) the way, I've been around really smart people. And I would say, if I've done anything, I've tried to always be on good teams."
There's Vinik, whom Leiweke calls "an incredible, incredible person."
There's Paul Allen, who was "an amazing human being" who could have lived anywhere and done anything who chose to stay in his hometown and give back, Leiweke said. There's Adrian Hanauer, majority owner of the Sounders, and, if he were on the open market, could be a hot commodity in soccer's elite Premier League, but he is committed to his hometown, Leiweke said.
There's David Bonderman, "the wisdom, the experience, the touch, all things that I still am subject to learning from," he said. Bonderman is majority owner and the boss, an awesome boss, Leiweke said. It was Bonderman who had the idea at a meeting with designers to put an eye in the tentacled S of the Kraken logo, which until then was a symmetrical letter that could be read from either side of center ice. The menacing red eye emerged and gave the logo attitude, Leiweke said.
Amazon's Jassy is another inspiration, someone Leiweke calls a phenomenal owner, great person, wise, provider of great guidance, and "just watching how he conducts himself is a daily lesson."
Added Leiweke, "That's really one of the fun parts of this job is you get to keep learning. I'm 61 years old, but I keep learning, and I'm around people who have unique skills, and you can learn from them and become better."
Early Lessons
Leiweke said he learned early on that success is about team. It's a critical value from the ice to the front office and the broader community, where he wants to build connection and happiness.
He knows the team can impact lives and raise spirits through its play and causes.
He remembers his own adversity growing up. "Real adversity is seeing your mothers die of cancer," he said.
"Everyone goes through adversity; everyone goes through challenges," he said, "and that's the part of this job that I love, is that we do occupy this unique position where everything we do, every event, every concert, every game, you have the chance to impact someone's life a little bit, and it's absolutely far and away the best part of this. … It's this part that gets you through all the other stuff, because half the teams lose on any given day. It is really a tough business to be in, but the opportunity to give back (is rewarding)."
One way the Kraken and OVG will give back is through the One Roof Foundation, a nod to the historic roof that capped the arena when it opened in 1962. The foundation's three pillars are ending youth homelessness, creating access and opportunity in hockey for BIPOC (Black, Indigenous, People of Color) youth, and supporting communities disproportionately impacted by climate change, according to the team's website. "We're going to do a lot on a lot of different fronts … but there's a whole long list of things that we've engaged in, and it's a wonderful tradition of Seattle sports teams" giving back, Leiweke said.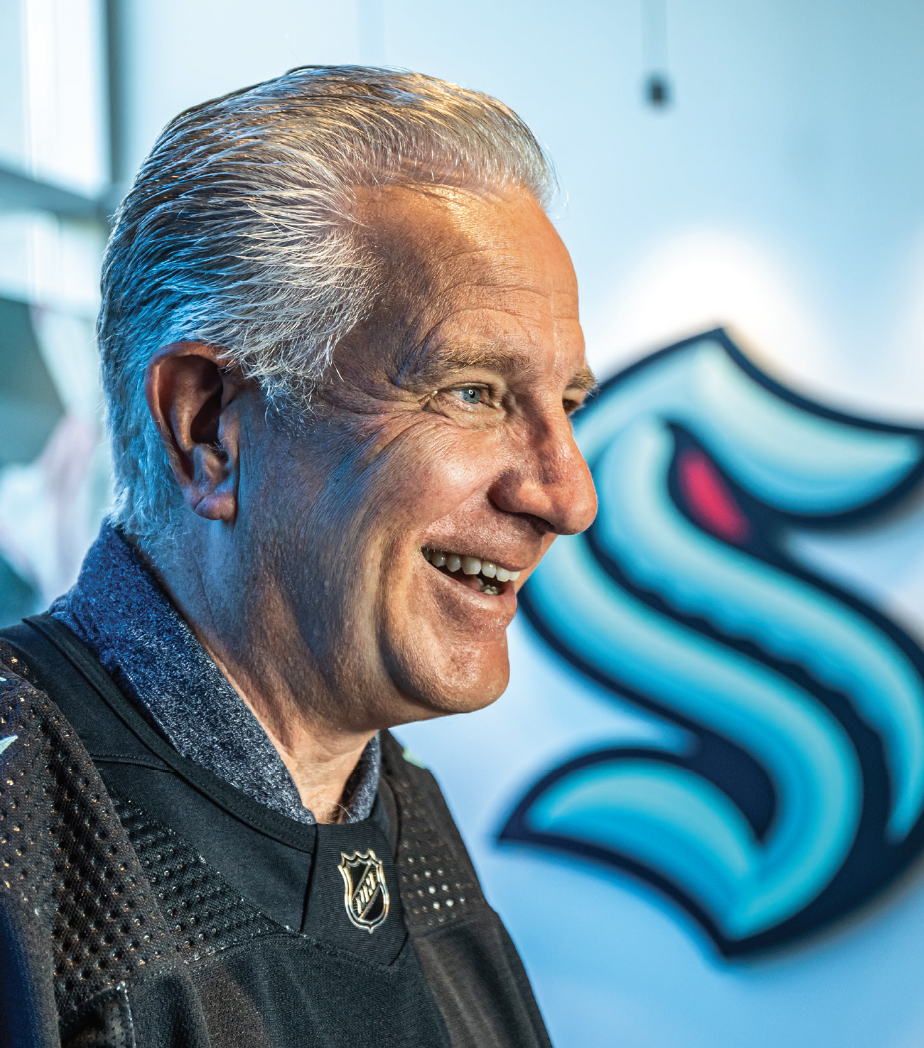 Diversity Exemplified 
The Kraken's Northgate practice facility, which includes three NHL-sized ice rinks, represents the first public ice sheets in the city. "That site was so compelling, because one of the things we want hockey to be about is to be accessible," Leiweke said of the Kraken Community Iceplex.
"We've really made a commitment to diversity and inclusion," so the chance to build it in an urban area on the new light rail line, next to a light rail station, and with free parking opportunities was golden. "It's going to be our secret weapon on multiple fronts, whether it be recruitment of players, retaining players, growing the sport, engaging our partners. It is a spectacular, spectacular facility."
Diversity is apparent in the Kraken office and media sites, where radio play-byplay man Everett Fitzhugh and TV analyst JT Brown are Black, for instance.
"I think all we are is an organization that's reflective of the community we serve," Leiweke said. "I don't know that we're necessarily unique. … Last time I checked, half the world's population were women, but they've been so understated in the world of sports. Today, 45 percent of our front office represent gender diversity, our front office now has 25 percent BIPOC diversity, and that's important."
Hockey really should be for everyone, he said.
"For it to fully succeed in our country, it has to have more diversity, and I think that it's one of the joys of this job, is creating diversity and showing that hockey is for everyone."
Leiweke demonstrated that with golf, too, when he became the first executive director of First Tee, which launched in 1997 to make golf affordable and accessible for all kids.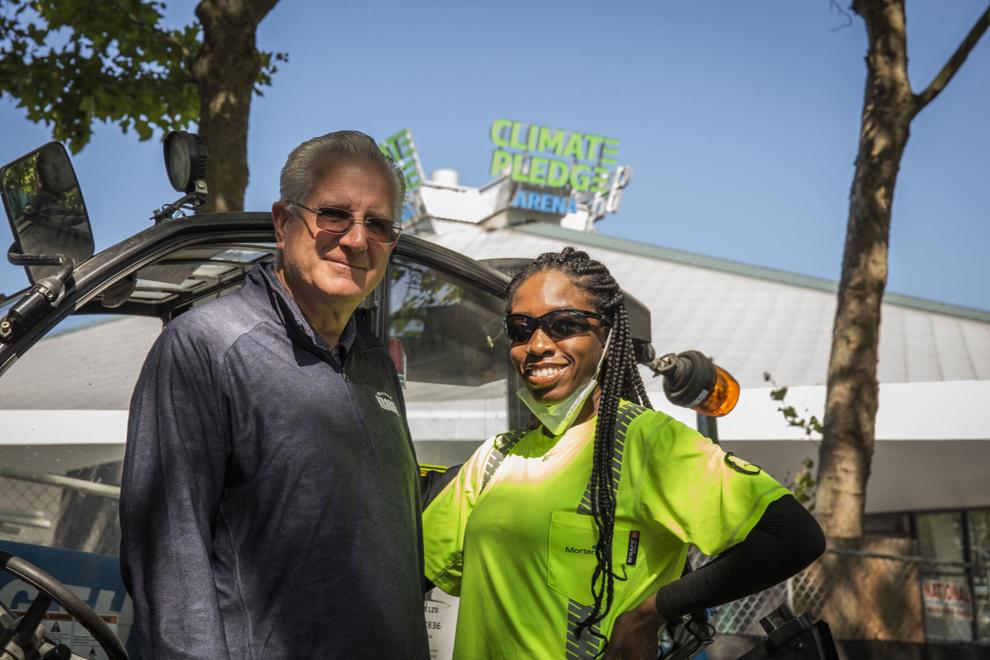 Arena to Stand Out
Leiweke thinks Climate Pledge Arena will be the most beautiful in the world.
Walking a couple minutes from the Kraken's temporary office at Seattle Center (the team's staff has since moved to its permanent home at the Kraken Community Iceplex) to the arena, Leiweke rattled off features of the new facility. Saving the roof, which weighs 44 million pounds, while digging out the arena bowl below was an engineering feat, he said.
Pane glass around the plaza was removed, catalogued, and painstakingly replaced to maintain original architectural features. A new atrium was attached to the south entrance, but the rest of the perimeter looks familiar.
That iconic roof will shed plenty of rainwater, which will be captured and used to make the hockey ice, an interesting feature among many of the green and sustainable elements incorporated in the building.
It's named Climate Pledge for a reason. Amazon, the naming sponsor, co-founded the Climate Pledge in 2019, a commitment to be net-zero carbon across its business by 2040, 10 years ahead of the Paris Agreement, which has been joined by other companies and industries around the world. The arena won't use fossil fuels like natural gas, but instead use solar power from panels on the arena's new Alaska Airlines Atrium and 1st Avenue Garage, supplemented by off site renewable energy. There will be no single-use plastics by 2024, and the arena will be zero waste through its composting and recycling. It will be the first arena certified net zero carbon by the International Living Future Institute, the world's preeminent nonprofit leading ecological building practices, according to the Kraken website. For food service, OVG and NHL Seattle seek to get 75 percent of ingredients from sources within a 300-mile radius (including all of Washington, northern Oregon and part of Idaho) based on seasonality, the site says.
McLennan, the sustainability consultant on the project, said the arena will be the greenest in the world, and it's "not even close." Leiweke, OVG, and Amazon wanted to be part of something exemplary on the project, he said, crediting them all.
"The big thing, as the name suggests, we're really tackling climate change with the operations of the facility," McLennan said.
That meant getting rid of all fossil fuels in the building and accounting for all carbon emitted for operating the arena, which includes procurement of goods and services, travel of fans and teams and artists to and from the building, and purchasing verifiable carbon off sets for all those.
"So there's this massive process of tracking, disclosure, and then off setting, in addition to, of course, getting all of our energy from renewables for the building itself," McLennan said, noting the building itself will be zero carbon when it opens. "Then there's the other story, which is what they were already doing … (and it is) really a remarkable thing, which is saving that historic roof instead of building a whole new structure."
Repurposing that historic piece of architecture also has a significant environmental benefit, he said.
Leiweke's enthusiasm for the arena's green features is evident, McLennan said.
"Tod is incredibly passionate, and I think he's really pushed the team," he said. "I think he wants to leave a legacy — those are my words, not his — but I think that he really wants to be part of something that is globally significant and to do something that's responsible, and not only for the environment, for the community, as well. And he's always cared about the communities he's worked in from what I can see … so this is an extension of that care for the community and the idea that Seattle is a place that should care about the environment and the natural beauty of this wonderful place that we live in."
The green arena is part of a bigger mission, Leiweke said.
It's located amid the trees, great lawns, and fountains of Seattle Center, which also is a place where new citizens take the oath of citizenship each year during a naturalization ceremony.
"It's some real sense of purpose; I love it," he said. "Someday, when I teach it in school, the more mission (you have), the more purpose you have. Making money often is the default position, but … it's serving customers, creating experiences. For us, the mission of serving community, first zero-carbon arena in the world, saving a historic landmark — a lot of mission here, a lot of purpose; it's cool."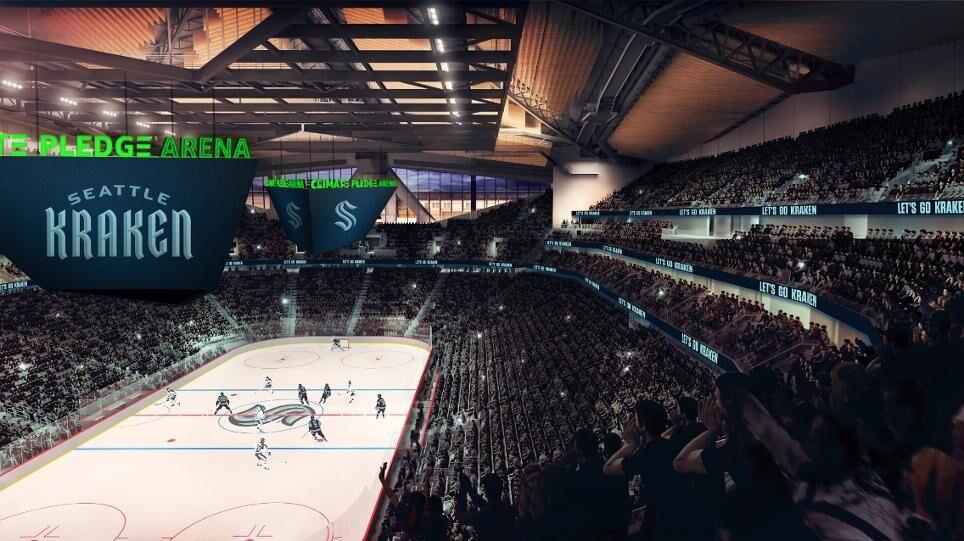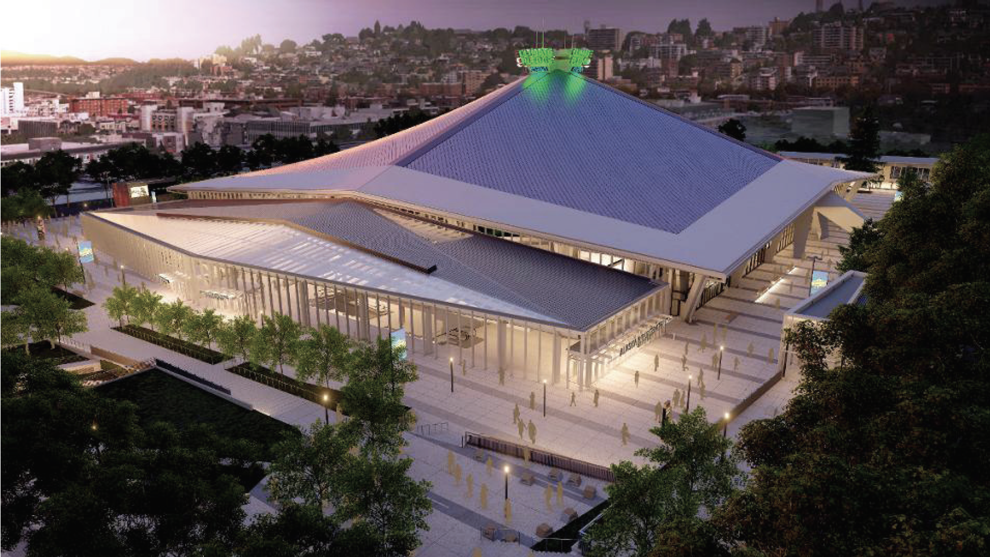 Awesome Fans
Leiweke finds inspiration in fans.
"The fans in Seattle have never let me down," he said. "When I was with the Seahawks, Sounders, and now this, the fans have held true here."
How about a Stanley Cup Finals in year No. 1 for those fans? The last expansion team, the Vegas Golden Knights, did in it in 2018. Can it happen here?
"Well, it can," Leiweke said of the Knights' improbable run, which he believes was partly fueled by the horrific 2017 shooting massacre less than a week before the Knights' season opener.
"I think some of what propelled them in their first season was the amazing purpose that came from having to be community leaders after a terrible tragedy," he said, noting how players stepped up and Vegas Strong became a rallying cry.
Vegas built a great organization, he said, praising George McPhee, its then-GM and current president of hockey operations. But Seattle is choosing its own path with its own unique leaders, including Kraken GM Ron Francis, who finished second to Wayne Gretzky in career assists, won the Stanley Cup twice as a player, and was inducted into the Hockey Hall of Fame in 2007.
"Phenomenal, phenomenal leader," Leiweke said of Francis. "I had the privilege of watching his leadership in the expansion draft and in the entry draft — just the way he went about it, measured, thoughtful, engaged his people, but at the end of the day was willing to take decisions. It's just cool being around leaders."
Tampa Bay Lightning owner Vinik said Leiweke's leadership abilities stand out, too.
"He is a wonderful person, genuine person, cares about other people, tries to get the best out of other people," Vinik said. "He's just incredibly gifted at helping and working with other people."
Vinik believes Seattle's dialed up for success and predicts a love affair between the community and team.
"Tod loves Seattle," he said. "I think he's going to do a fantastic job with that franchise. … I hope to play him in the Stanley Cup Finals someday, hopefully sooner rather than later."