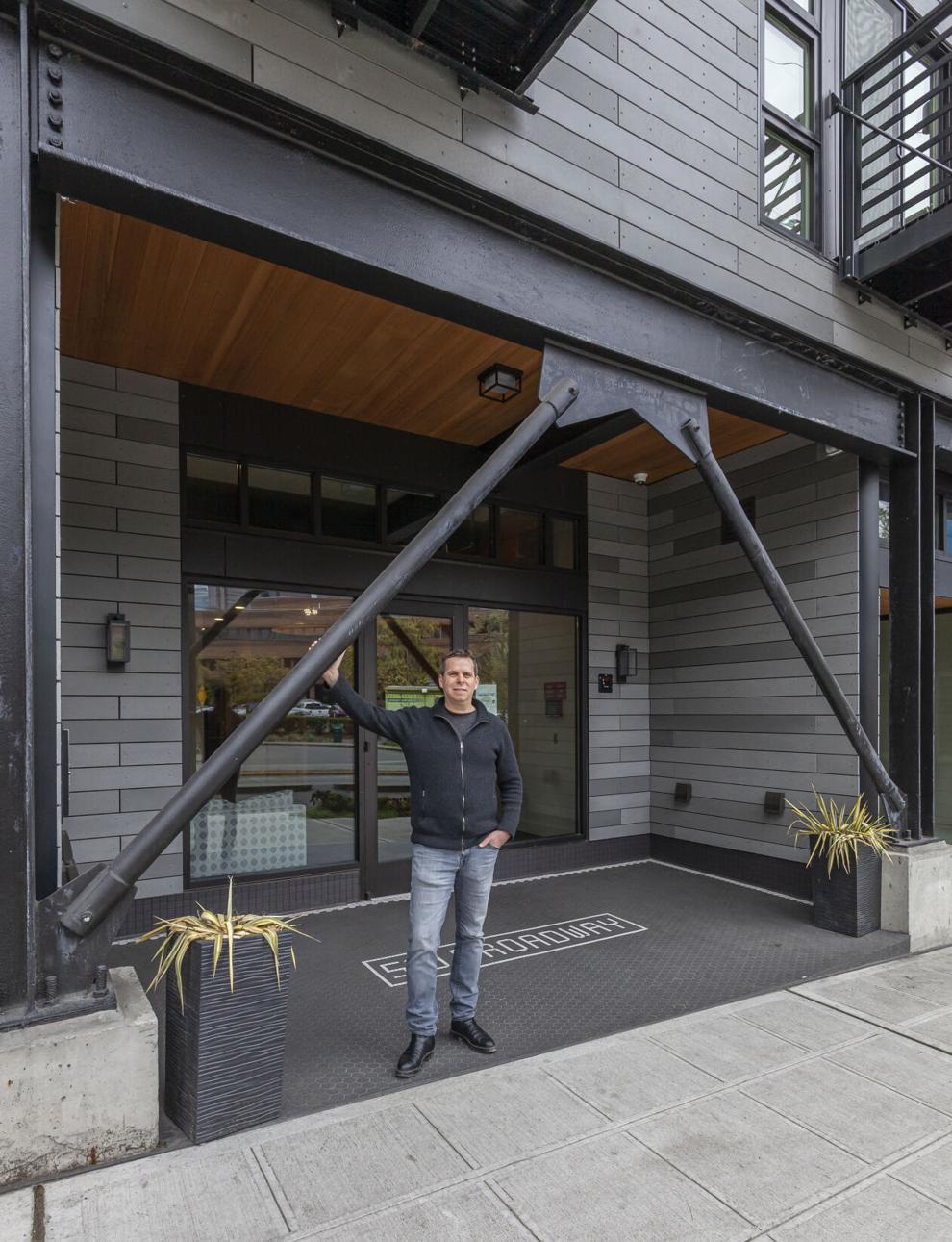 Multifamily housing developer Brad Padden sees the need for attainably priced housing in Bellevue firsthand: He lives within walking distance of areas such as Main Street in Old Bellevue and appreciates the dining, shopping, and other urban attractions within easy reach.
He thinks more people should have that same opportunity, especially middle-income earners priced out of living in expensive urban cores of places like Bellevue, where they would not only live but also contribute to downtown energy, diversity, and commerce.
One catch: Padden needs land use and zoning changed in downtown and in neighborhoods including Crossroads or Factoria, and other Eastside cities to allow projects like those his company, Housing Diversity Corp. (HDC), builds throughout Seattle and Los Angeles. HDC's model is high-quality, high-density projects with smaller units, little to no parking, located in attractive neighborhoods walkable to transit and all the features of city life without budget-busting rents. HDC also sees such walk-central locations as good for physical and mental health and the environment.
HDC has more than 500 apartments in core Seattle neighborhoods and about 2,500 more apartments under construction or in permitting in Seattle and L.A.
By not building expensive underground parking, building efficiency units averaging 300 to 400 square feet, and reducing construction cost through things such as shared washers and dryers on each floor linked to apps and debit cards, HDC can offer rents generally attainable for people earning about 60 percent of area median income (AMI) and higher, HDC founder and CEO Padden said. (That percentage can drop to 40 percent for Multifamily Tax Exemption program units, where HDC receives a tax benefit in exchange for income- and rent-restricting 25 percent of the apartments in the project.) That opens areas of a city that renters, often younger, would normally be priced out of, and puts more feet on the street, increasing the areas' energy while broadening housing accessibility in a desirable location. The model creates more social equity, he said.
But Eastside building and zoning regulations typically require about one parking stall per unit, upending development models like HDC's. Elected representatives would have to change the rules to allow projects like HDC's, Padden said.
"They know what they need to do; it's just a matter of the will to do it — and it's political," Padden said. "As with everything that's political, there's just a lot of forces at work. So I'm watching; I'm listening; I have my open-for-business sign out. I'm ready to come to Bellevue and Redmond, and all these other places and build this type of housing; I just need the welcome mat laid out."
Decoupling parking requirements on a per-building basis in downtown Bellevue, for example, would not result in cars flooding neighboring streets, he said, noting about 1 in 5 HDC residents has a vehicle. In Seattle, tenants often rent unused parking in other buildings. It's a model that can address the Eastside housing crisis cities such as Bellevue are facing, he said, adding, "If we don't really address the need, then we're going to perpetuate the crisis, which is that all our essential workers can't afford to live in our cities, which makes no sense."
While such construction makes rents more affordable, HDC doesn't set income limits on its properties. Many tenants earn more than 100 percent of AMI and choose to save money on housing for entertainment, paying off college debt, sending money to family, or simply saving, he said. Many people don't need a large space, but they want to enjoy the benefits of a central location at an affordable cost.
"It really becomes a lifestyle choice for people that make more money, but the people that make less money, it's really an important part of having a place in the community," Padden said, noting HDC's free-market model. "We have folks that are Amazon engineers making $200,000 living in a 200-square-foot micro-apartment on Capitol Hill because they don't need more, and they don't want to waste, and they want to save money for other things."
Padden has built multifamily housing for the 10 years he's lived in Bellevue, but he formed Seattle-based HDC in 2019 as an operating company managing his myriad real estate projects under various partnerships. His projects and partnerships include adaptive reuse and seismic retrofits under Anew Apartments and Opportunity Zone projects through OZ Navigator — all under HDC's operating umbrella. HDC also has projects separate from Anew and OZ Navigator. HDC and its partners generally hold on to properties long-term and use a third party to manage leasing.
In mid-April, Padden toured 425 Business through an example of his and partners' adaptive reuse work in the First Hill neighborhood, where a 40-room 1911 hotel at 510 Broadway was converted to 84 units with modern finishes and amenities while retaining key historic elements such as old-growth timber. The building was seismically retrofitted, brought to all current codes, and is fully leased at rents of about $1,000 to $1,500 per month.
Next door, at 500 Broadway, he and his partners razed a 1910 building that had eight apartments and are building 107 new units on the same footprint.
Combined, the two projects replace 48 substandard units with 191 new ones, increasing the housing supply in safe, modern buildings at rents Padden called well below the average for single-occupancy apartments downtown.
On the tour with Padden, Mathias Cohanim, HDC's vice president of asset management, told of a renter who was priced out of a then-33-unit Terry Avenue apartment building on First Hill in the 1990s and could afford to return after Padden and partners remade the structure into 112 new units. He's a four-year tenant and counting.
"We've got a bunch of stories like that," Cohanim said. "You can really see the social mission of what we're doing."
Outside the downtown core, HDC broke ground March 29 on a 114-unit apartment project on Harbor Avenue in West Seattle, where residents who might not afford older, larger apartments will be within easy reach of the area's shops and restaurants, seven grocery stores within a mile, Alki Beach, and more.
"It's about this opportunity to live smaller and more simply, pay less in … rent, save some money; some of our residents will live here because they have to, because they can't afford anything more — and we love them," Padden said in a West Seattle Blog video of the groundbreaking. "And there'll be people that actually make a lot more money but want to save money. … This project will support all those populations. …"
Craig Haveson, president of STS Construction Services in Seattle and a West Seattle resident whose company has partnered with Padden on numerous projects, said in the video, "People who work here can live here."
We interviewed Padden in March and April before touring his 510 Broadway project. Following is a Q&A of those conversations, edited for length.
---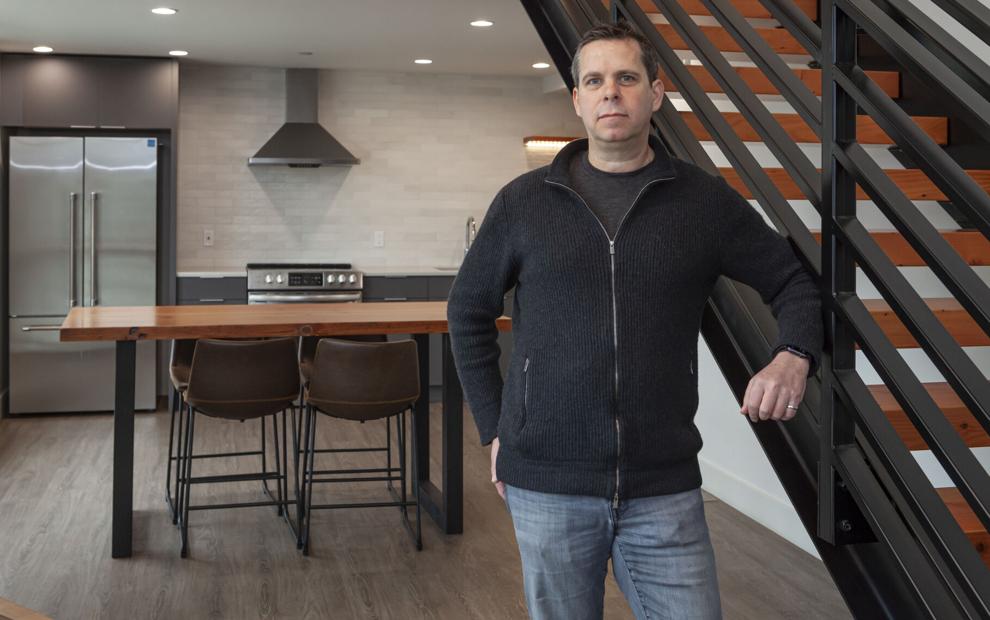 Has most of your development been in Southern California?
It actually started in Seattle in 2012, and then we moved down to L.A. about four years ago to kind of address the similar crisis that they're having in Southern California for housing affordability and specifically this kind of middle-income housing — let's say from 40 to 80 percent of area median income.
How do you make your projects pencil out in these expensive development markets such as Seattle?
For us, it's really about small unit, high dollar per square foot on the net rentable, which as a developer, it has to make business sense; but then a lower chunk rent for the renter, so for them, it makes sense, too. In my mind, as an entrepreneur, it really is the best of both worlds. We're achieving the goal of the renter and of the city, and of the developer, all at once.
So you're really working off a volume model, then (more units at a lower cost)?
In a way. The fact that you're bringing more people into a smaller space does create a higher density. We talk about the density of a building, but it also provides a lot more people and activation at the street level, which is something that cities are always looking for, and how do we support our local retailers? The more density you have in a walkshed around retail, the more people you're going to have out at all hours of the day and night … and going to these restaurants. I know the pandemic has been really tough on a lot of the retailers, but density is what's going to solve a lot of these problems. They want to get the office workers back, but we also need to have more of this 24-hour, at least 18-hour, activity. Bellevue … you see the traffic streaming out at 5 o'clock prepandemic. … It would be nice to have a little bit more activity in the evenings of people walking around downtown. And I think we'd see more of that if we had a little bit more of this type of housing.
Your housing includes very limited parking or no parking, correct?
That's right. Parking is a really expensive thing to produce. … The issue with that when you're trying to build something that's aimed at the workforce is, it pushes up the rents on everyone else's unit that doesn't have a car (associated with it). Somebody gets a place to put a car, but … (parking) is subsidized basically by the entire community because our investors expect a certain return on their investment. … (The first choice renters with cars make is whether to rent based on parking.) The second choice they make is, "Hey, I have a car, but I'm going to spend $200 a month and park in the building next door or in the surface lot a block or two away. … The beauty of not having parking is that residents that wouldn't be able to afford the rent if it was $50, or $100, or $200 more a month, can now afford to live in this location; they're not priced out. So that's really a social-equity thing, and it doesn't create mayhem on the street with parking because people will make choices based on whether or not they have a car.
So your properties have to be in business cores or very near rail stations or bus transfer stations because your renters typically don't have cars?
It doesn't have to be right in the core downtown. It could be out by Crossroads or Factoria; it doesn't have to be ground zero front and center downtown core. It could be in these smaller neighborhoods, where you get out of your apartment and you can go and get food and go out to a restaurant and see a movie, all in kind of a walkable area. So I could see that around Crossroads. I could see that in Redmond. I could see that in Wilburton as they look at upzoning that neighborhood. … What our residents don't want to do is end up in some hinterland where there's no activity, and there's nothing for them to do. Then it's like, "All right; this is not a great lifestyle trade-off for me."
Are you looking at any particular areas in Bellevue or anywhere on the Eastside right now for potential project sites?
I currently am not looking because of the difficulties with the land use and zoning, and the permitting process for low-park or no-park projects. … I'm a scrappy entrepreneur who's been around for 10 years, and I want to be in a position where I can actually produce the product and not spend years debating the validity of the product.
What can Bellevue and other Eastside communities do to make themselves more attractive for your kinds of projects?
It does come down to land use and zoning. … When that topic of rent and affordability comes up (around the country), land use and zoning is really the only way out, and that requires us to really think about decoupling parking from apartment building. In Seattle, where we produce housing, we have zero parking requirements, so we can be really innovative with the product and really be hyper-focused on a demographic that's underserved. … Density limits can also be a problem if you have, like, 10-units-per-acre kind of requirements, those sorts of things.
I saw a partner company that works with you a lot?
So I'm doing a bunch of projects with Nitze-Stagen & Co. out of Seattle. … we're doing a series of Opportunity Zone projects in Seattle, in the Rainier Valley, mostly, and also we have a project in the Chinatown International District.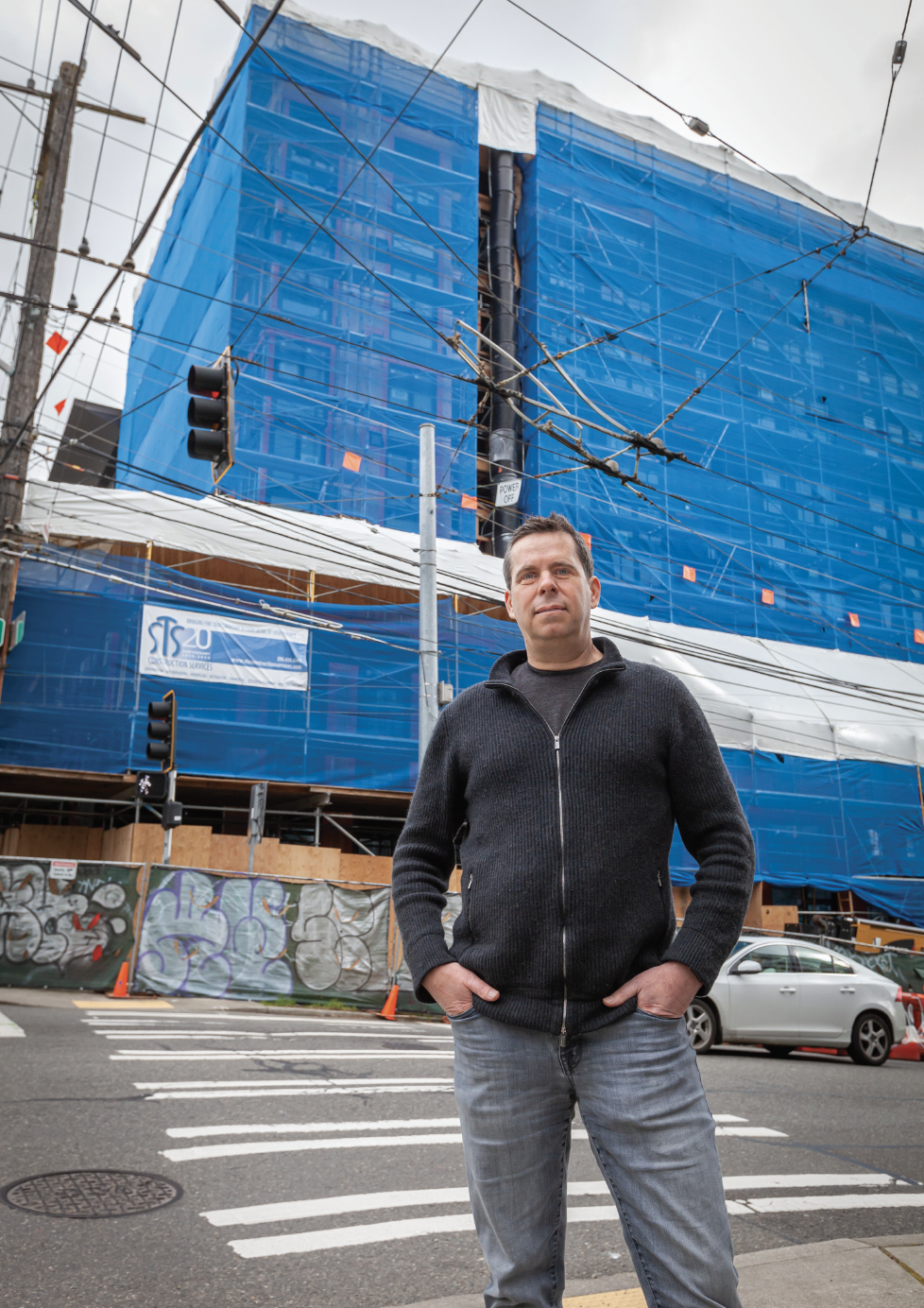 HDC's Opportunity Zone projects offer tax advantages that encourage investors to put their capital gains into multifamily development projects in low-income census tracts, correct?
That's right; yes. Federal tax … it's a way to shelter capital gains and put it into housing. And that was the idea behind the program: Take money that's sitting in, let's say, appreciated stock, turn it into cash, and then invest that cash into housing that's affordable in lower-income census tracts.
Do you do a lot of Opportunity Zone housing?
Twelve of our projects (five in L.A., seven in Seattle) right now are Opportunity Zone. … We are focusing on Opportunity Zones … that are adjacent to high-opportunity areas. For example, the Rainier Valley, the area near I-90 where the Judkins Park light rail station's going in (opening next year). That's a great place to develop because we're going to develop affordable workforce housing a 15-minute light rail ride from downtown Bellevue. So Seattle … in a way is acting like the affordable housing supply for Bellevue.
You're co-founder of OZ Navigator and Anew Apartments. Fill me in on those.
Anew Apartments was a series of adaptive reuse projects that we did in Seattle from 2014 to 2018, where we acquired the buildings, and the last of the projects is being completed right now at 500 Broadway. That was really more of a core Capitol Hill adaptive reuse strategy, taking old buildings and reusing them. A couple of the projects were unreinforced masonry buildings that we did seismic upgrades (on). I'm also involved in … some seismic upgrade legislation that's going on in Seattle right now. So that was part of the Anew portfolio.
Then, when Opportunity Zones came out in 2017, I partnered with Peter Nitze of Nitze-Stagen & Co. They're a longtime real estate developer in Seattle. … They also had a legacy of adaptive reuse, but when Opportunity Zones came out, Peter and I kind of geeked out on the tax implications of the program and how it could support attainable priced housing, and how our model of building housing really fit in the spirit of the Opportunity Zones legislation. …
It's important that we always kind of stick to our moral and ethical responsibilities in being developers. We're not just building housing; we're building housing that helps to move our country forward into a more equitable place. And so Opportunity Zones, for us, we saw as an opportunity to unlock capital gains, and put it into housing and attainable priced housing at scale. So that was the OZ Navigator project. … We have about 500 units in the Anew portfolio, and in the Opportunity Zone Navigator program, we have about 1,200 units.
Are those all separate from HDC?
Housing Diversity Corp. is an operating company that basically helps me operate and manage all these partnerships. … Then I have about another 1,200 units outside of those partnerships that are either unnamed partnerships, or we just run them under the HDC banner.
Seismic retrofit is a side passion of yours?
When I bought a couple of those unreinforced masonry buildings and did the upgrades, I realized just how vulnerable so many buildings in Seattle are. There are thousands of affordable housing units in those buildings. They tend to be the lowest-priced units because the buildings are the oldest buildings in our housing stock. So they're kind of naturally occurring affordable housing, but also unsafe.
If you're thinking about this through an equity lens, is it fair that people that can't really afford to live in typical Class A, Class B housing have to live in unsafe conditions where they are the most vulnerable? They're already vulnerable financially. … To make them live in housing that's unsafe just didn't seem right to me and my partners, and so we created ASAP! — the Alliance for Safety, Affordability and Preservation — which created multidisciplinary stakeholder groups in Seattle … to promote a program that would upgrade those buildings.
We ended up with almost 100 stakeholders that had a seat at the table: developers, affordable housing advocates, environmental groups. … We talked about, "What would it mean to put together a program across the City of Seattle?" … The state of Washington is looking at what Seattle's doing with these unreinforced masonry buildings and considering legislation statewide to somehow require and mandate the upgrade of the buildings. … It's going to be very challenging to find the financing means. We promoted a transfer development credit program that would allow the City to basically fund the seismic upgrades through increases in density and zoning. … We presented the City of Seattle with a program called the unreinforced masonry retrofit credit program. It … would allow the City to upzone areas around new light rail stations and the funds from the upzones, when developers built into those upzone areas, would go to building owners to do the seismic retrofits at cost, just to make those buildings safe. So the owners don't have to come out of pocket to do the seismic upgrade.
Have any buildings been retrofitted yet under that program?
No. The City Council passed a resolution that requires the city to examine and come up with a plan to actually mandate the upgrades, but the resolution that was passed is just a plan; they have to work on figuring out how to implement the program. … Now the cogs of the government are going to start churning on, "What does it mean? How do we do it? What are the timelines?" I imagine over the next year or two, we'll see legislation … that'll require the upgrades.