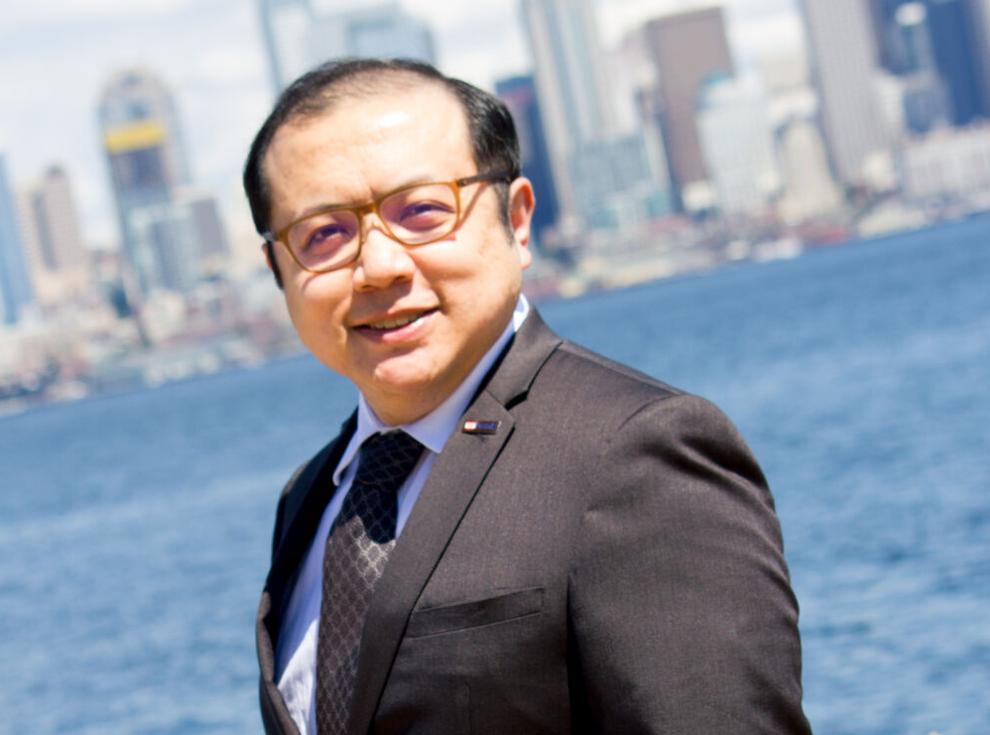 U.S. Bank executive Rocky Fong has played an active role in advocating on behalf of the Asian American and Pacific Islander (AAPI) community for years, working to advance cultural understanding and workplace elevation for a group representing scores of countries.
An Eastside resident for almost 25 years, Fong is the Seattle-based vice president of strategy, transformation, and corporate affairs on the corporate social responsibility team at the bank, monitoring its Community Reinvestment Act (CRA) performance and opportunities in the 26 states in which the bank operates.
In 2018, he founded the Seattle chapter of the U.S. Bank Asian Heritage Business Resource Group (BRG) and is the chapter's president. Last year, he also became president of the Seattle chapter of Ascend, billed as the largest Pan-Asian business professional membership organization in North America, with a mission "to drive workplace and societal impact by developing and elevating all Asian and Pacific Islander business leaders and empowering them to become catalysts for change."
That includes more AAPI people in company board and management positions. "There's still a very significant lack of exposure among Asian Americans when you look at corporate boards, especially Fortune 1000 companies … of representation among middle and upper management," Fong said. "That's why we create a lot of programs (to help break down the so-called Model Minority stereotype) … so that they can really help advocate themselves and … continue to develop and progress through their career development. We do that through really utilizing the high-caliber network that we have, especially those Asian executive networks (in the Ascend national membership) … (to) provide what they've learned throughout their journey and help … those that are in need and take (that) information to reapply back to their daily lives."
Asian Americans (applying to Pan-Asian Americans, AAPI, and Asians) comprise 12 percent of the professional workforce. But only 4.4 percent of all Fortune 1000 board members are Asian American, according to a white paper, "Model Minority Myth & The Double-Edged Sword," on Ascend's website.
That report also notes: "The Model Minority label assigned to Asian Americans seems innocuous, even flattering, on the surface, but in reality, it spins a myth that has boxed Asian Americans in stereotypes that have led to a complex web of anti-Asian bias and the widespread exclusion of Asian Americans in professional advancement, leadership opportunities, as well as diversity and inclusion efforts. Against the backdrop of a global pandemic, political provocation, and scapegoating, the portrayals associated with this myth have also left Asians in America vulnerable to harassment and physical assault."
Statistics bear that out. According to the website Stop AAPI Hate, xenophobia and bigotry against the AAPI community escalated to unprecedented levels since the coronavirus pandemic. In May, it reported more than 6,600 reports of hate incidents from March 2020 to March 2021. "These racist attacks have disproportionately affected the most vulnerable members of the community, including elders, young people, and AAPI women who report hate incidents two times as often as AAPI men," it said.
Fong hopes awareness, education, and outreach by companies, their employee groups, and organizations like Ascend and others can make a difference. Fong joined U.S. Bank in 2008 after spending four years at Wells Fargo Financial and Wells Fargo Bank.
He came to the United States from Hong Kong in 1997, when his father, also in banking, moved the family to Bellevue. Fong graduated from Newport High School, then earned bachelor's degrees in economics and international studies from the University of Washington.
We caught up with Fong, 38, via video conference in mid-July to talk about his advocacy on behalf of AAPI and efforts that he, the bank, and others have made to combat the uptick in hate incidents against group members since the start of the pandemic.
Why did you see the need to launch the bank's Asian Heritage BRG?
I had actually been serving on the (bank's Western Washington Chapter Employee Development Network) for about eight years. During that time, I did a lot of different types of career development events, community volunteering events, and also cultural aspects events … (including an annual) multicultural fair … where employees from different locations and different backgrounds can come together and present their country culture … and what is significant about their culture. … There's a great sense of diversity among the (bank's) employee base that we have in Seattle … but I also (saw) there is a great opportunity where maybe we can go deeper by developing a specific chapter under the … Business Resource Group structure, so that … they have a place to really celebrate the cultures that they … enjoy. … (and) connect with each other. … A lot of the times when you mention Asia … (people only think of) China, Japan, Korea, so on, (but) there are a hundred other Asian countries that they can also learn from. … The bank has always … really valued the diversity, equity, inclusion culture, and so because of that, when I made the proposal, I got the full support (from leaders). …
Talk a little about Ascend: why you got involved in that, and why it's so important.
… When you see the board formation that we have, you have a great representation of a majority of the companies that have headquarters in Seattle … so I'm really lucky because the board (members) themselves, they are all very high-caliber leaders. All of them have some common themes that they share where they have been involved with their own BRG or ERG (Employee Resource Group) Asian heritage initiative within their own company. So they … are already great advocates of doing that, and so by collaborating with Ascend, not only we all benefi t from that experience … we can also leverage the programs and the content that they share and then bring it back to our own individual companies' BRG groups. … The University of Washington also has their own student chapter (of) Ascend … so we kind of work hand in hand with each other and provide support as needed.
If more AAPI people can be elevated into positions of management and higher authority, they can better influence company culture, and over time that helps to erode the Model Minority stereotype?
Yeah, because I think the stereotype that people have in the first place is one of the main reasons why you aren't seeing as much advancement for Asian American groups per se, because they see them as hard workers and they see them as people that are satisfied and willing to do good work, but they rarely really make any noises or try to advocate in that aspect because it's not in their original cultural nature to do so. … We definitely want to change that thought process and that thinking … (for) better representation of what the situation really looks like, because we are basically facing the same kind of challenges as other groups might have (been) experiencing as well. …
Touch on how Asian inclusivity in the workplace has changed in light of the events of the past year-plus with hate against Asian Americans.
… We all came from different backgrounds and come from different cultures, so being inclusive — meaning that we are able to include every single person, regardless of their beliefs or the culture or the skin color … we celebrate them all equally and as a whole — that's really important itself. … Since COVID hit, especially aſt er the unfortunate incidents happened, we have done a lot of efforts internally within the bank, and then also externally to provide our support and let our community know that we are definitely there with you, not just for employees, but for the community as well.
… After those events happened, a lot of employees (were) really glad that they have a place to really make their voice heard, but at the same time, from a community standpoint, we are also doing what we can by providing additional support, like grants and sponsorships to nonprofit organizations that are fighting against hate and biases. … We just gave a special ($10,000) grant to Chinese Information Service Center, which is a nonprofit social human services group within Seattle that's been serving King County for over 40 years. … Because of that, a lot of the programs that they supported and especially within the International District, have been empowered. … At the same time, we leverage those opportunities through our BRG involvement, where we have volunteered to help them purchase supplies … for the seniors and elderly people who are the main target for the Asian hate crimes that are happening within the Seattle district. Some of those supplies include a life alarm that they can wear anywhere they go so that they can feel safe, and also making sure that their daily livelihood is not being disturbed. … Overall, we are doing a lot to make sure that even though … those unfortunate things have happened, we are definitely doing our part to make sure that not only we are addressing it and recognizing it, but also … making sure that, one, is that there's no place of tolerance of those types of behaviors within our culture; and, two, is to make sure that we can influence others to follow suit to really make sure that the community that we are living in is also supporting the same message.
Can you discuss the importance of allyship across diverse communities in the workplace and general themes and trends that businesses should be considering when trying to reach and engage with the Asian community this year?
…Because of that allyship between different segments of BRGs and also different segments of markets of employees, we get a lot more input and contributions of feedback how … we can also collectively empower that effort to make a difference in the community that we serve. Some of the positive results of that is that there (was) a lot more engagement with some of the local nonprofit and community organizations that support those efforts. And a lot of employees actually look for those opportunities to serve because of those events and because of what they've learned from our session. … I think allyship overall is very powerful because we have all learned so much. … A lot of the time you can say you want to support something, but when you're saying you support something, are you doing that correctly or effectively? … Knowing what's the right way to really help advocate and be a great ally toward a specific group you want to support, I think that's the greatest impact that we have through this. …
Who's an Eastside or Greater Seattle area Asian-American leader that you look up to, and why?
Wing Luke. … He's one of the first persons of color that served in the Seattle City Council … (and invested a) lot of effort on advocacy for diverse communities. … Unfortunately, he didn't live a long life because he passed away (in 1965) after an airplane accident when he was 40. … Wing Luke Museum was built in honor and memory of him. … The Wing Luke Museum is definitely one of the largest Asian museums across the Northwest, where it's a beacon and representation for people to learn about AAPI culture.
(According to the museum website, "In 1962, Wing Luke made history, elected as the first person of color on the Seattle City Council and the first Asian American elected to public office in the Pacific Northwest. His unique combination of politics, compassion, and advocacy of diverse communities made him a powerful force for equal housing; urban revival; and historic preservation of Pike Place Market, Pioneer Square, and the Seattle Waterfront. Wing was a trailblazer of his time. In 1963, Wing Luke played a key role advocating for the City Council passage of the open housing ordinance, which led to the creation of the Seattle Human Rights Commission."
The museum's mission is "to connect everyone to the rich history, dynamic cultures, and art of Asian Pacific Americans through vivid storytelling and inspiring experiences to advance racial and social equity. As a Smithsonian Affiliate, National Park Service Affiliated Area, and the only Pan-Asian Pacific American museum in the nation, The Wing is a national treasure, preserving and sharing the personal stories of the Asian Pacific American community.")
… I think one of the mottos that he always (went) by is that you don't just do things because so and so said it is right, but because it is the right thing to do, and so therefore, I think it really inspires a lot of people to make sure that they carry out the legacy, not to do something just for the sake of it, but because it is the right thing to do.
Do you have a favorite hangout on this side of town, maybe a favorite restaurant?
I'm a hot pot person. So my favorite hot pot place is The Dolar Shop in The Bravern (in Bellevue).
Anything else?
One key initiative … between U.S. Bank and Ascend is that we have also invested in Ascend Impact Fund over the course of the next five years, in collaboration with … other major corporations … to continue to address the issue of the Stop The Hate movement alongside with the diversity, equity, inclusion effort as well.
(According to Ascend, "The fund focuses on raising awareness of the history and prevalence of anti-Asian racism through expanding advocacy, allyship, education, and community engagement to create sustainable change. This fund will accelerate change by continuing Ascend's 16-plus years of work building holistic Pan-Asian leaders and expanding the focus of its 5-Point Action Agenda launched last year in partnership with over 150 organizations and supporting companies.")
---