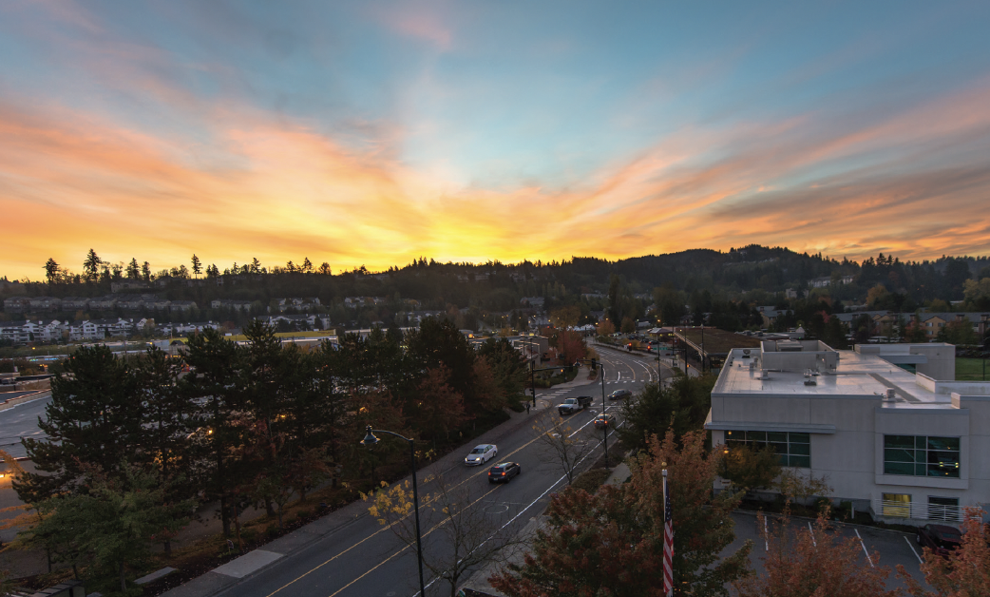 As one of the region's first coal mining cities, Newcastle helped put Seattle on the map. (The millions of tons of coal needed a port from which to be shipped.) The mines operated from 1867 to 1963, with large-scale mining coming to an end in the 1920s.
"Today, (the destination) is the home of a small but growing downtown with restaurants, amenities, and services, including grocers, health care, banking, professional (services), library, and recreational facilities such as the YMCA and Newcastle Golf Club," said Newcastle Mayor Linda Newing.
In addition to the YMCA and golf club, Newcastle counts its school district, Valley Medical Center, BECU, and Overlake Clinics among its top employers. Instead of housing large-scale businesses, the city prides itself on having many longtime family- owned, small brick-and-mortar establishments. With the city's proximity to Seattle-Tacoma International Airport, downtown Seattle, and downtown Bellevue, the most impactful economic driver and funding source today is development.

"As a result of its location, low crime statistics, access to quality schools, and well-maintained open spaces," Newing said, "Newcastle continues to be a desirable location for developers to build residential communities that are attractive to singles and families."
In a nod to its past, the city recently added mixed-use complexes, located in the Newcastle Commons. Previously known as Mutual Materials, the facility used to be one of the nation's largest brick manufacturers west of the Mississippi River; it produced the masonry used to construct large structures in downtown Bellevue and Seattle, including T-Mobile Park.
Homebuyers and renters also are drawn to Newcastle's proximity to larger cities in which more substantial employers are based. "The city manages to retain its sense of a small community, yet still offers residents access to goods and services within a short drive or walk," Newing said, highlighting a recent survey that showed that 94 percent of Newcastle residents were "satisfied" to "very satisfied" with the overall quality of life.
"Businesses are attracted to Newcastle because they thrive," Newing said. "The community is loyal and supportive of them. In recognition of this loyalty and support, business establishments make it a point to get to know their patrons. It is not uncommon for the owner and/or manager of a restaurant to join you for a conversation during your visit. The librarian, produce stand owner, bank manager all know their patrons."
Business owners like that can participate in City-organized events that give all team members an opportunity to feel included, according to Newing. "They know they are as much a part of this community as its residents," she said.
Newcastle hasn't lost much brick-and-mortar business during the pandemic. The City has endeavored to disseminate COVID-related information to the community over the past two years. "City Manager Rob Wyman and I attended many meetings at all hours of the day with local health authorities and high-level government agencies to stay current with the quick-evolving status of the pandemic," Newing said of the initial days of the pandemic.
In early 2020, the City quickly established programs to help highly impacted businesses maintain operations, awarding $195,000 in grants during the early months. The City also partnered with the Newcastle Chamber of Commerce to enact and promote the Newcastle To-Go program, a webpage that has links to local restaurant menus.
"The city supported and helped promote the 'Newcastle Cares' program, which collected food, personal care, and cleaning products," Newing added. "These products were compiled into care packages and distributed via biweekly, drive-thru events to those in need."
Finally, the City partnered with its YMCA to package lunches for children experiencing food insecurity. "Throughout the duration of this pandemic," Newing said, "Newcastle was the epitome of demonstrating how dedication, hard work, partnerships, and volunteer efforts come together for success."
Newing said that she looks forward to bringing most prepandemic events back to Newcastle this summer. "Small cities such as Newcastle take great pride in gathering, celebrating our community, and participating in activities that show our successes and honor our diverse cultures," she said.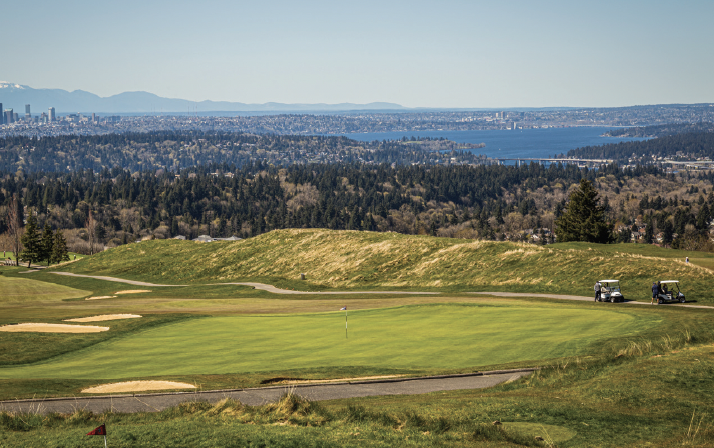 There also is an exciting new development on the horizon. Following the adoption of its Downtown Strategic Plan in 2019, Newcastle's first approved project — a mixed-use complex — is beginning the application review process.
And as the hopeful possibility of migrating away from a pandemic looms, Newing said she hopes to see businesses energized with the high level of patronage they saw before March 2020. "I'm planning to engage the City Council to have a discussion and consider implementing programs that will offer our businesses the support they need to allow them to return to successful operations," she added.
Newing, who has lived in Newcastle for nearly 20 years, said she never tires of scenic highlights such as the abundance of evergreen trees, Lake Washington, and majestic Mount Rainier.
"Trust me," she said, "Newcastle offers all these views from many locations in the city. In addition to great scenery, Newcastle's parks, trails, and open spaces are conveniently accessed and offer a variety of outdoor activities, from hiking, bike riding, exploring, glimpses of wildlife, and even geocaching. The city is filled with opportunities for outdoor recreation that are convenient, well-maintained, and close to home."