It took a pandemic to keep Rick Steves home — 2020 was the first year in decades Steves didn't board a plane to Europe — or anywhere, for that matter. The popular public television host, best-selling guidebook author, and outspoken activist who encourages Americans to broaden their perspectives through travel has stayed busy at home in Edmonds. We caught up with him to learn what he's been up to and how to have a traveler's mindset at home.
We're coming up on a year since the lockdown. How does it feel to not have been able to travel for this long?
Yeah, this is the first time in my life since I was a little kid when I haven't been on an airplane for a year. And there's two things I have noticed. I'm in a beautiful rut. Every year since I was a teenager, I've spent 100 days out of that year traveling in Europe. … And this year, I haven't been able to do that traveling. And, you know, my life is so busy and focused and out of balance that I really enjoyed … taking that traveler's mindset (and) employing it here while I'm locked up at home. It's been a plus for me because I have had this time to take a break from my travels and to realize how many dimensions there are to life, (and) that you can't embrace all of those things, but you can dabble in them. And have a lot more time to dabble in other things.
What was your initial reaction to the lockdown last March?
Well, you know, we had no idea how long it was going to last. So, we were hoping it wouldn't be too long. We were sort of in denial. We weren't going to cancel our whole year's tours; we canceled one month at a time.
We were coming off of our best year ever, and we were just euphoric about how 2020 was going to be. We had almost sold out of our tours. By the time COVID hit, we had 24,000 people signed up.
The other big initiative was making sure my staff was OK. I've got 100 people who have kids; they have mortgages, they have health care — they're just hard-working people, and we had to ensure we were going to survive as a business. My goal was to get our payroll down to about 50 percent in order to survive two years of no revenue. So, this is shared sacrifice. We kept our whole staff, except for a handful of people we had just added the last couple of months, and I was committed to keeping people's health care.
We innovated this thing called the Rick Steves Volunteer Corps (SVC). And our staff is contributing about 400 hours a week of volunteer labor in our community. They're delivering meals to seniors who are shut-in and helping at food banks and helping in the thrift store that supports the senior center and pulling up invasive weeds in the parks for the city. And we're certainly going to be volunteering for COVID vaccinations and so on.
I've had 30 profitable years, and now I've got two very unprofitable years. And you know, if you're a businessman, you've got to be able to take the good with the bad.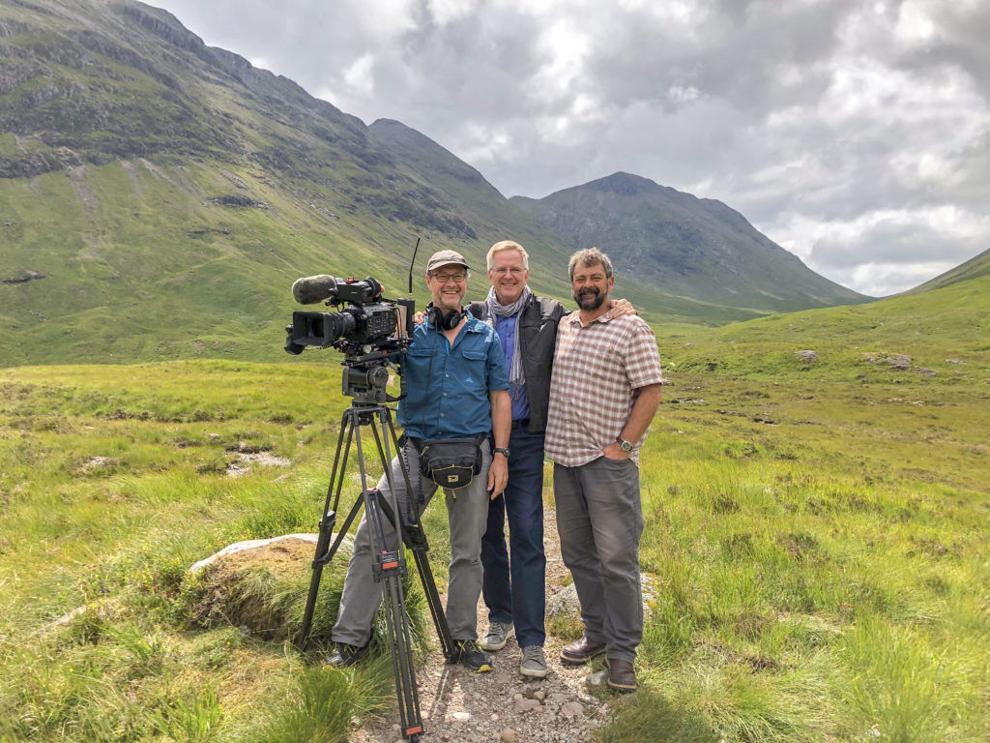 As an extremely productive person — always being on the move — you've had to adjust to a bit quieter life. What has it been like for you?
I've been homebound, essentially. We have a cabin up in the mountains that we like go to occasionally, and we walk around town here and there. I'm really, really privileged to have a comfortable space and beautiful light, and good Wi-Fi and lots of lots of people I'm in touch with, and work that I enjoy. We're working with the (Edmonds Waterfront Center). It's a project I've helped spearhead the construction of, and now it's finished. We've got our Climate Initiative, where we help farmers in the developing world farm in a way that's smarter when it comes to climate change.
I have so many projects. I love to write, and I love to teach. I recorded an audiobook, and we're writing scripts for future TV shows. I wrote a book last year called For the Love of Europe. It's a 400-page collection of my favorite travel essays — my favorite people, places, and experiences. And it's just my kind of my greatest hits of all the writing I've done, and I had to work really hard to comb out all of the practical tips, which I'm sort of wired to include in my guidebook writing. Another book I've long wanted to write is a coffee table book featuring my 100 favorite European masterpieces of art (titled Europe's Top 100 Masterpieces: Art for the Traveler). And boy, that was a fun book to have come out just before COVID.
And then the TV production: You know, when COVID hit, we happened to have more footage that we shot in Europe in the can than almost any other time. Then all of a sudden, we were shut down, and we had to work with what we had, and then we had a year of work to produce those to edit it all together, so that kept my TV crew busy.
You've talked about employing the traveler's mindset at home. Tell us more about that.
(At the beginning of the pandemic), I would get on my treadmill every morning, and I would call people and check in on them. When I first started, I kept a pencil calendar, where I'd write down what we did every day … You sort of get over the newness of the pandemic. Right now, I guess I'm just enjoying the fact that my life has more dimensions than it had a year ago. And the dimensions that I've been embracing are dimensions that can thrive during a lockdown. Like enjoying dogs. I just filled up the hummingbird feeder this morning. I cooked a wonderful salad Niçoise last night. I've been playing my piano in the dark and just seeing where the chords take me. This is good living. I didn't know anything about cooking … I honestly had never felt a knife cutting through a crispy onion, and I love it.
But in a year when I cannot travel, it didn't occur to me I could have the traveler's mindset at home. … A good traveler is curious; a good traveler respects other ways of seeing things and doing things; a good traveler likes to get out of their comfort zone and try something new — to be a beginner at something and to make mistakes and laugh at themselves and learn from it; and a good traveler wants to get to know the neighbors.
Also, at the same time, I'm perched here on my little bluff, you know, admittedly, very privileged. … But I know there's a lot of darkness, there's a lot of fear, there's a lot of anxiety, there's a lot of need. And there's a lot of abundance. And I'm really aware of the fragility of the environment, and more tuned into the importance of good governance, whether it's for the country as a whole, or whether it's for my own little community. … But I also know that that doesn't just happen, it happens; because a lot of people are committed to that sort of community spirit; that makes life a lot better for those who have to live together.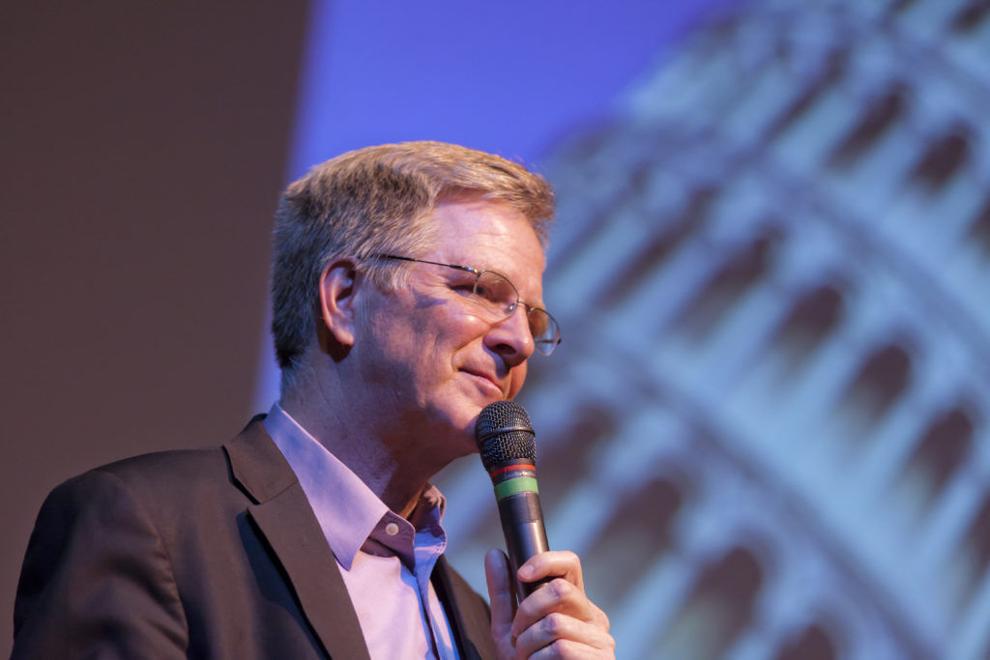 What are you most looking forward to once we can travel again?
I want to go with my loved ones on a barge trip in Burgundy, with a chef who's also the captain of the barge. And just a couple years ago, I did a hike around Mont Blanc for the TV work. I would love to go on the Tour du Mont Blanc, which is a 10-day, 100-mile hike around Mont Blanc, which is sort of like the hiking equivalent of glamping. Sleeping in mountain lodges, eating great rustic food at high altitude, and then hike all day long.
Also, my daughter is getting married, and she had to postpone it because of COVID. I booked a whole tour for her and her in-laws and then a few of my extended relatives who hadn't been to Europe that I wanted to get to Europe.
From a business point of view, I'd love to take a kind of a victory tour for travelers and society overcoming COVID. I'd love to do a repeat of a tour I did a decade ago, where it was 20 cities and 20 days: a road trip from Seattle to Tallahassee. Every day, we would drive for four or five hours. And I would love to do that again, just to help local venues a little bit. But also I have a big project to do. Before COVID hit, we had the best, the most accurate guidebooks in publishing. Now that a lot of places have had to close due to COVID, I want to take on updating each of the guidebooks so that they're completely accurate.
Editor's note: As of press time, Steves has not started traveling again, but he has opened up Rick Steves' Europe Tours for 2022 — and they are filling fast. He is still producing new shows, including a new special about the Alps that is airing this month. He has not yet booked a trip for his next round of filming.