Facebook will have a major presence in Bellevue as it transitions into its new office buildings in the Spring District — creating a local campus that might remind some of the social media giant's headquarters in Menlo Park, California.
"We feel like Spring District could have that little bit of a campus feel to it," said Rajeev Rajan, vice president of engineering at Facebook and the company's head of office for the Pacific Northwest.
Facebook has committed to about 1.6 million square feet of office space spread among five new buildings in the burgeoning Spring District just east of Interstate 405 from downtown Bellevue, where Facebook leases two other offices. The company purchased the Spring District campus that REI Co-op built and planned to make its headquarters before REI opted for a more dispersed work model. Last summer, the retail giant sold the campus to Facebook for $367.6 million. Facebook also is leasing four towers in the Spring District, two of which are completed, with the others coming online in 2023.
As part of its post-pandemic return to the office, Facebook was scheduled in July to begin returning to the office at 25 percent capacity. It could be moved into its three completed Spring District buildings by early 2022, but timing remains fluid due to the pandemic.
To accommodate its 7,000-plus Puget Sound employees, Facebook has more than 3 million square feet of office space in Greater Seattle between Bellevue, Redmond, and Seattle. Most Seattle space is in South Lake Union, and there are two small offices a block south of Lumen Field and T-Mobile Park. Bellevue's Spring District, though, will have Facebook's largest local concentration of employees when offices are fully open.
"We are looking at real estate all across the region," Rajan said. "In general, we are growing in the region. So we look for opportunities in Seattle, or Bellevue, or anywhere in the Greater Seattle area. But yes, for sure; the Spring District is going to be a pretty big campus because of the set of buildings we have over there."
Rajan has been with Facebook since 2017 and became head of office in mid-February. As head of office, he takes care of things that should happen in the Pacific Northwest in terms of real estate, office setup, and culture.
Rajan, 51, lives in Kirkland and works out of Seattle. A native of India, he's a longtime Eastside resident, having worked at Microsoft for 23 years before joining Facebook. He came to the United States in 1992 to get his master's degree at The Ohio State University. He began work on a Ph.D. at the University of Illinois at Urbana-Champaign for a year before interning at Microsoft, where he stayed and did not complete his doctorate. When he left Microsoft, he was a distinguished engineer, vice president of engineering, and led the Office 365 engineering team.
Rajan and his wife, Ranjini, also from India, put their two children through Kirkland schools. Their son, 21, attends Arizona State University. Their daughter, who turns 18 later this month, will enter Purdue University this fall.
"We have adopted the Seattle area and the Eastside as our second home, and I'm super happy to be able to help the community and be part of it through Microsoft in the beginning and now for Facebook," Rajan said.
We visited with Rajan in mid-May to put a local face behind Facebook — a company that had 58,604 employees globally as of Dec. 31 (30 percent more than 2019), $86 billion in 2020 revenues, and whose site averaged 1.84 billion daily active users in December — and to learn more about the company's local plans since arriving in Seattle in 2010 with fewer than 10 engineers.
Greater Seattle is Facebook's second-largest engineering hub behind Menlo Park, with a significant number of the 7,000-plus local employees working in that capacity. Not all engineers report to Rajan. He oversees the video and audio engineering teams for all of Facebook. He has teams locally but also oversees teams in Menlo Park, New York City, and London.

What is the schedule for opening the Spring District buildings?
We do have a building that's ready to go … and then we have more buildings coming online end of this year, early next year. So we are looking to have quite a bit of space open up this year, early next year.
What is Facebook's return-to-work policy, or what's it going to look like after COVID?
We'll be returning to the office at 25 percent capacity starting July 19. We are also working toward opening at 50 percent capacity in September. Our offices in the region were the first to shut down at the beginning of the pandemic, and we are looking forward to welcoming our teams back to the office this fall. As we return to the office, the health and safety of our employees and neighbors in the community remains our top priority.
Is Facebook going to allow flexibility to work from home and the office?
We recently announced an updated remote work policy where we opened up remote work to all levels across the company, so now anyone whose role can be done remotely can request remote work. Our offices will be more flexible for those expected to return — guidance is to be in the office at least half the time. Obviously, COVID has changed how we think about going into work. Though I will say that a lot of people still want to go back to work and spend a good amount of time in the office because we miss the hallway conversations and meeting people. A lot of what got us through COVID, honestly, is the culture we built when we were in the office, and in some ways we are drawing down — it's like a bank account where you had all this credit and culture built up, and we are drawing down that balance — and now we need to go back to the office to kind of renew the culture. Lots of people joined Facebook and have never been in an office. They need to go and understand how it is to work in an office. So we are very committed to going back to the office and having that be a dominant mode, but could there be some flexibility? Absolutely. We are talking through it. I think the whole industry is talking through it, and Facebook will be very competitive when it comes to what that arrangement looks like.
We recognize that expanding flexibility is a huge step, and will learn and iterate as needed to best support the health of the community and teams who work here. We're taking a collaborative approach, learning and iterating as we go, something that is especially critical over the next year as the world continues to normalize.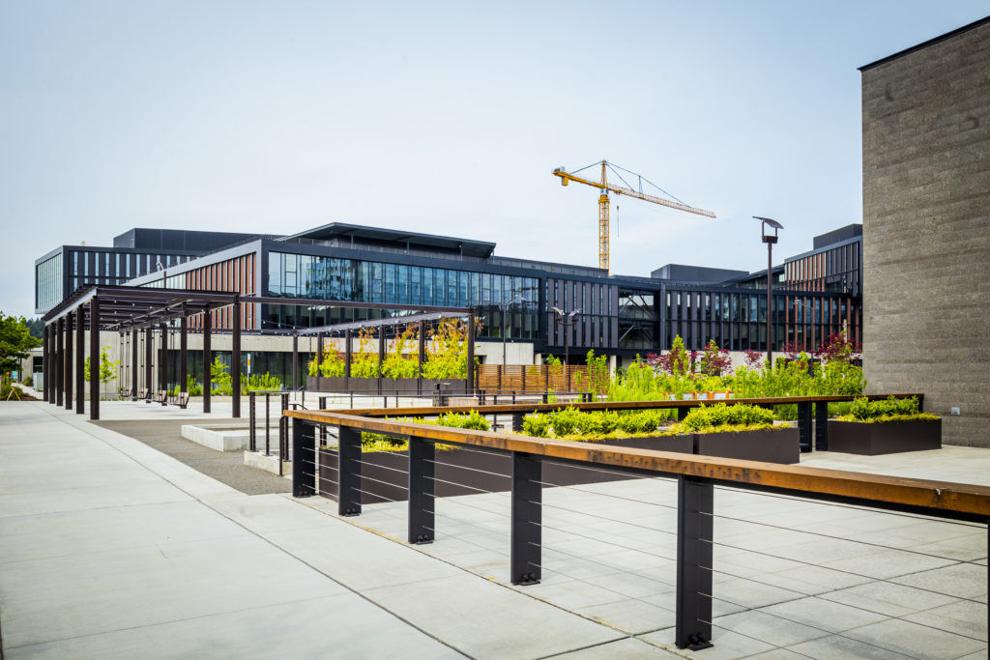 I saw one report estimating that your current office space could accommodate about 20,000 employees. Do you expect to get that high here?
I don't think we are driven by that particular number. We also have a lot of office space for hardware, with the Oculus (AR/VR) and Facebook Reality. A lot of the space in Redmond is also hardware space, so I don't know that you can take the square footage and imply a 20,000 number. But … we are growing in the region. We are going to have more real estate and more people over the years.
Why is the Eastside so attractive for Facebook?
We think that we have amazing talent on the Eastside, and obviously there's a lot of people for whom a commute across Lake Washington might not be the best option. So we want to give flexibility in the Greater Seattle area for people who are living on the Eastside. … Over 80 percent of our employees use an alternate form of commute beyond just using their single-occupant cars, and so that gives more accessibility to people in the region to have an Eastside (presence). Also, we are very committed to the growth in Bellevue; we think there's amazing facilities there. We like the transit; the light rail transit center (in the) Spring District is a great way for people to commute in, as well. So we want to be a responsible member of the community. As the region grows, we work with transportation and housing and the city to make sure that we are situating our offices in a way that can accommodate the broader master plan for the region.
The tech talent around here is amazing, but with all the tech openings, can you find enough people?
We are looking to hire a lot of talent in the region. Facebook.com/careers has a bunch of openings. … We are recruiting big-time, and we are very keen to hire talent across the board, be it machine learning, infrastructure, back end, or front end, mobile, across the board, all sorts of skills, and not just engineering … we hire a lot of people in design and research, and hardware, and a variety of roles in technology.
As an engineer, you support the video side of Facebook, right?
I support what's called the video engineering team. So any time you see a video on the Facebook app or Instagram or WhatsApp or Messenger, or even on Oculus, there's a bunch of infrastructure that needs to be built to be able to upload the video and then play the video, and make sure that the video plays well across low network conditions and all kinds of conditions. So that's the video infrastructure that supports the whole company. And then on top of that, we also have machine learning … for video products. So … we figure out through artificial intelligence the next video that you might be interested in watching. … And then we build products. We have a product called Watch that's on the Facebook app. You go into it and just like you have a news feed, you see a feed of videos, and over time we … try to show you videos that you are interested in.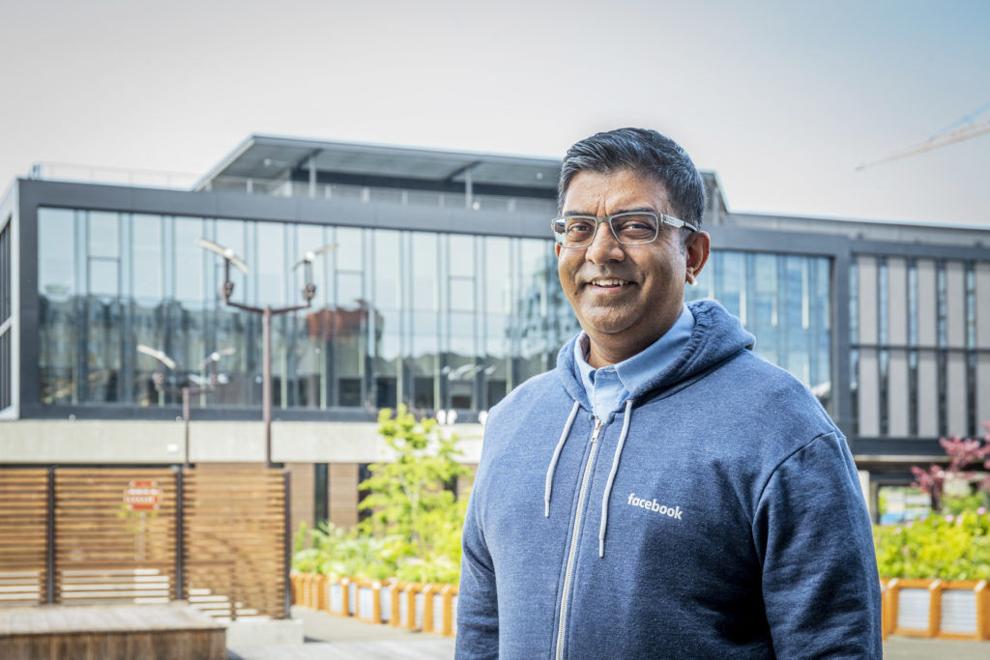 Give people an inside peek into some really neat stuff going on in this region in Facebook.
I think one cool product was Marketplace, started in Seattle, and it's a broad-based product that's used by many people around the world. … Commerce in general is a big initiative for the company. It's not just about posting pictures and videos and so on, but you have something to sell and you put it up there and you find somebody who buys it from you, and then you become friends on Facebook. And there's a whole bunch of community things that happen where communities come together to buy things for people who might need it. So we really want our products to help the community. That's really who we are as Facebook: We want people to come together and help each other. So Commerce and Marketplace started in Seattle, live in Seattle. … Facebook Gaming is another product that's very much built in Seattle and heavily located in Seattle. Gaming is another fun activity, young people especially, but also people of all ages and gamers; it's a great way to build community. Video has a big presence in Seattle. Groups and community have been a big deal. Many groups on Facebook have helped even people in the Seattle area find vaccines or find information on COVID or health data, things like that. So community groups are a big effort in Seattle. I'd say there's a range of things. (There's) obviously Oculus, which is a future-leaning AR and VR. This is something where we are headed to in the future. Imagine being able to have meetings where you can literally see each other and feel like you're next to each other … except it's virtual. I think, things like COVID and so on, this is going to be the future of remote presence.
Do you have a favorite Eastside hangout, maybe a favorite Indian restaurant?
My wife cooks such amazing food, and it's hard for me to find a standout Indian place, because I'm always comparing to home-cooked food. (Laughs.) My favorite hangout place is the Kirkland Marina Park downtown. … I love to go to any of the restaurants that are in Kirkland downtown. If there's a favorite, it's like going to Ben & Jerry's and getting some ice cream, and walking down the dock, especially on those wonderful summer evenings with the sun setting. Having some ice cream on the dock in Kirkland — to me, that's like bliss.
What's your wife do?
She's a small-business owner. … She does custom jewelry. … She sources it from different parts of the world, sometimes from India, and then (designs and sells it). … The name of Ranjini's jewelry business is R'Kria LLC. The website is rkria.com, and it has a page on Facebook called R'Kria, as well as a handle on Instagram called R'kria1.
Who's an Eastside tech leader you admire or follow?
I've really come to admire Vijaye Raji. Vijaye used to actually do the role that I'm doing right now. … He's now doing his own startup company after working in Facebook for many years. He's somebody actually who was instrumental in hiring me to Facebook and somebody I've really, really admired and have a lot of respect for.
What prompted you to leave Microsoft after such a long career there?
It was a hard, hard decision. … A friend of mine invited me over to Facebook- Seattle for lunch, and I went to the office … and I was just struck by the energy of the place and the engineering culture. They had me fly to Menlo Park and meet a few people there. I was struck by the campus, and just the feel seemed very energetic. And I was thinking about, "Hey; is there something I want to do, like a second inning?" While I was super happy at Microsoft, I felt like, "OK; this may be a chance to try a different setup." Facebook reminded me a lot about Microsoft in the early days in terms of it was a smaller-stage company. I thought, "This is a good chance to try something different," and I was attracted to the engineering culture quite a bit, and so I decided, "OK; this is a good combination of I get something new and then maybe I have some experience I can bring to this company," and so that was a good combination.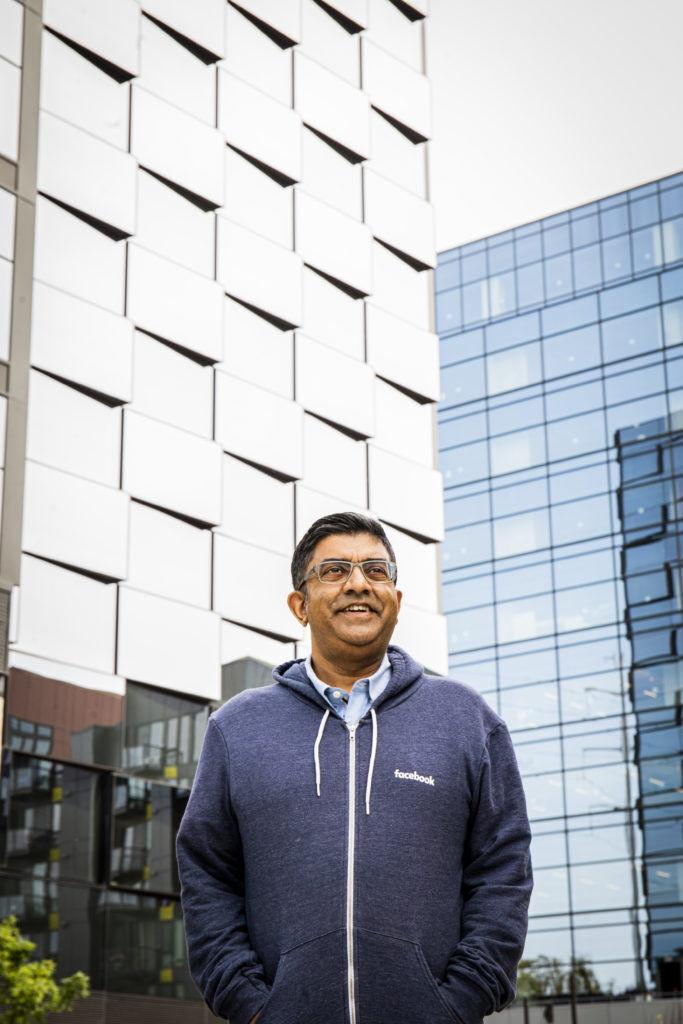 The changes you've seen in this market over 30 years — it's got to be pretty mind-blowing.
Absolutely. … When I joined, Microsoft was kind of like the biggest company … now we have so many big companies in tech. Overall, I think technology is like an amazing force of good for the world. Yes, we do have unintended consequences. We do have challenges, for sure. But … as an immigrant, to me, people from all over the world in the Seattle area have come because of technology, and that enriches the local community and culture so much, not the least of it being the number of Indian restaurants. When I first moved to the Greater Seattle area in 1994, there were not too many Indian restaurants. Now we have … lots of choices in terms of Indian cuisine. The same is true for global cuisine choices overall.
You referred to press reports about Facebook …
At Facebook, we're working to solve challenging problems at an unprecedented global scale. There's a lot of discussion around Facebook's impact on society or our technology's impact on society. … You hear similar questions about some of the other tech companies today and I'd say, as an engineer, having worked in a couple of the companies and having known a lot of engineers … first of all, I'm an immigrant. I came here with nothing, with a couple of suitcases, a few dollars in my pocket and to the dream called America, and America welcomed me with both arms and helped me get an education and then helped me get a job. So I'm just here to work on things that make the world a better place. … Now, as you build technology, many times it has unintended consequences. This is true of any technology ever invented. … Those are good discussions to have. … Sometimes the technology gets used in ways that cause problems. Then to us as engineers, it's like, OK, here's a problem, let's go figure out a way to go fix it and solve it so that we don't have those problems. … We are excited that everyone's using our products and the world is a smaller place. You're able to communicate with people, but at the same time, it causes some unintended effects … you have to go solve. So that's something we are excited to go do. You hear a lot of reports about intentions or designs or things that we actually don't have. We are just engineers trying to make the world a better place. We help billions of people around the world build community and come closer together — this is our mission — in some ways throughout the pandemic, our company's mission may have become even more important.