Venture capital money flooded into U.S. startup companies in 2021. This year shows indications for a continuing surge, with tech companies such as those prevalent in the Eastside and Greater Seattle region among those cashing in on the VC action.
VC investments in the United States hit almost $330 billion last year across an estimated 17,054 deals, a record for deal count and roughly double 2020's previous deal value high, according to the PitchBook-NVCA Venture Monitor, a quarterly report produced by Seattle-based PitchBook and the National Venture Capital Association with support from Insperity.
"Venture capital really is pouring into startups," Elisa La Cava, an investor at Seattle-based Madrona Venture Group, told a Bellevue Chamber of Commerce conference in November. And that money isn't just flowing into the traditional tech and biosciences meccas of the San Francisco Bay area, Boston, and New York. The Greater Seattle area was the fifth-most-active region in the country in deal count and sixth in deal value, she said, adding that Madrona is the most active VC fund in Washington state and focuses on investing in early-stage Pacific Northwest companies.
The PitchBook-NVCA report bears out the Northwest surge, which includes angel (preseed), series seed, early stage, and late-stage funding rounds.
The Pacific Northwest accounted for 754 deals valued at $10.5 billion last year. Boiling that down further, Washington state had $8.5 billion invested into 549 deals in 2021, increases of 77 percent and 37 percent, respectively, over 2020, according to data in the report. In the Seattle region, stretching roughly from Tacoma to Everett, there were 494 deals valued at $8 billion, up 134.2 percent, and 171.2 percent, respectively from year prior.
"Seattle has positioned itself really well to benefit from the huge amount of interest in VC right now," Kyle Stanford, senior VC analyst with PitchBook, said in a January interview. "A lot of that does have to do with the Eastside. I think this area, and the Northwest in general, it is really well set up to continue to benefit from the increase in dollars going out of the major hubs and into these second-tier cities or even smaller ecosystems."
Seattle was just behind the four areas generating the most deals — led by the Bay Area, then New York, Los Angeles, and Boston. Seattle will be the first "ecosystem" to raise more than 500 deals in a year (based on anticipated deals reported too late for the report), outside the Bay Area, New York, Los Angeles, and Boston, Stanford said, calling it a testament to Seattle's VC community.
PitchBook ran a separate report for 425 Business looking at Eastside deals in 2021, culling the data for a region that it included as Bellevue, Kirkland, Redmond, Sammamish, Issaquah, Newcastle, Mercer Island, Kenmore, Bothell, Woodinville, Beaux Arts Village, Clyde Hill, Hunts Point, Medina, and Yarrow Point.
It found almost $1.8 billion invested in 120 deals, including 56 software deals, 22 in artificial intelligence (AI) or machine learning (ML), nine in pharmaceutical and biotech, five in cybersecurity, two in cryptocurrency, and one in climate tech.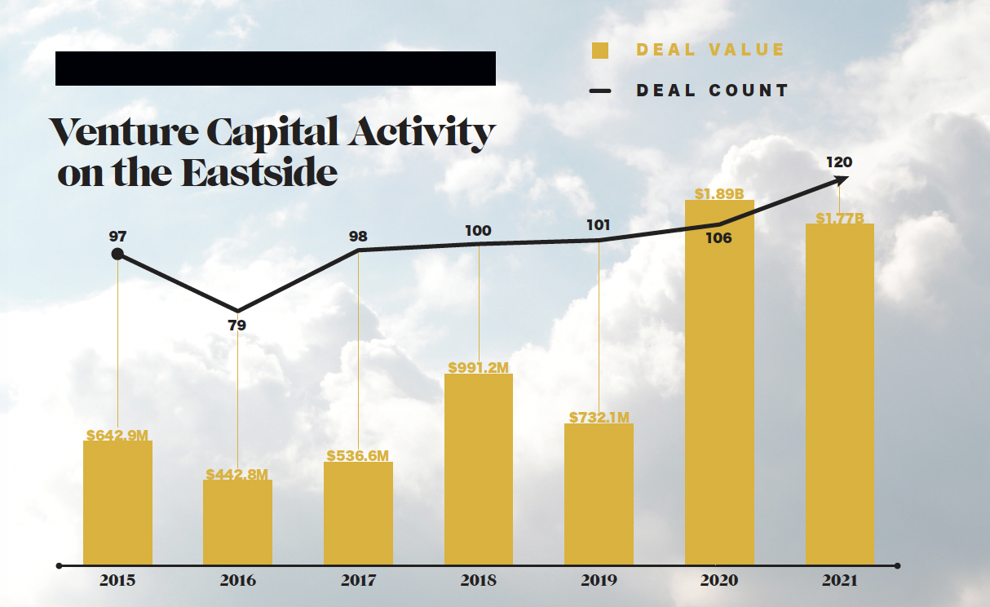 It also listed six Eastside unicorns, which are privately held companies valued at $1 billion or more: Tanium, Chronosphere, Zenoti, OfferUp, Auth0, and SeekOut.
Madrona's La Cava, in an interview in late December, said Northwest startups are attracting VC from not only local sources, but funds all over the country, including the major hubs Stanford noted.
"We have a great set of early-stage investors here in Washington state. I think there has never been enough capital for the amount of innovation we have in the region," she said.
Many of the entrepreneurs fueling the innovation are former employees of the region's largest, most well-known companies.
"We do have such an innovation engine here from a lot of different, great kind of entrepreneur factories," La Cava said, citing companies such as Microsoft and Amazon, plus "the incredible UW," and places including Fred Hutchinson Cancer Research Center, the Allen Institute for Artificial Intelligence, and more.
"There's just this incredible tight-knit ecosystem of innovation given our region's size and population that I think creates an incredible amount of new ideas and innovation."
The Northwest has surged, in part, because of where its strength lies.
"We see the Pacific Northwest as a leader in some of the most important core technologies that we see today," La Cava said during her talk last November.
The innovation ecosystem is rapidly building and expanding from the region's five core clusters of e-commerce, cloud, AI/ML, mobile, and biotech, the latter of which is generating many new companies, she said. Demonstrating her point, she showed a chart of sectors branching off these core clusters: robotics, Internet of Things (IOT)/edge computing, digital/physical (reimagining how digital meets physical via mobile, for example), digital ads, marketing analytics, data analytics, health care, blockchain, storage, gaming/e-sports, security, virtual reality/augmented reality, intelligent voice and vision, autonomous vehicles, drones, and space.
"I am still very bullish on what will happen in 2022 and that we will continue to see record amounts of new startups going out for funding and receiving funding," she said in her interview. She also noted the significant amount of capital raised by VC funds last year that will get invested in coming years.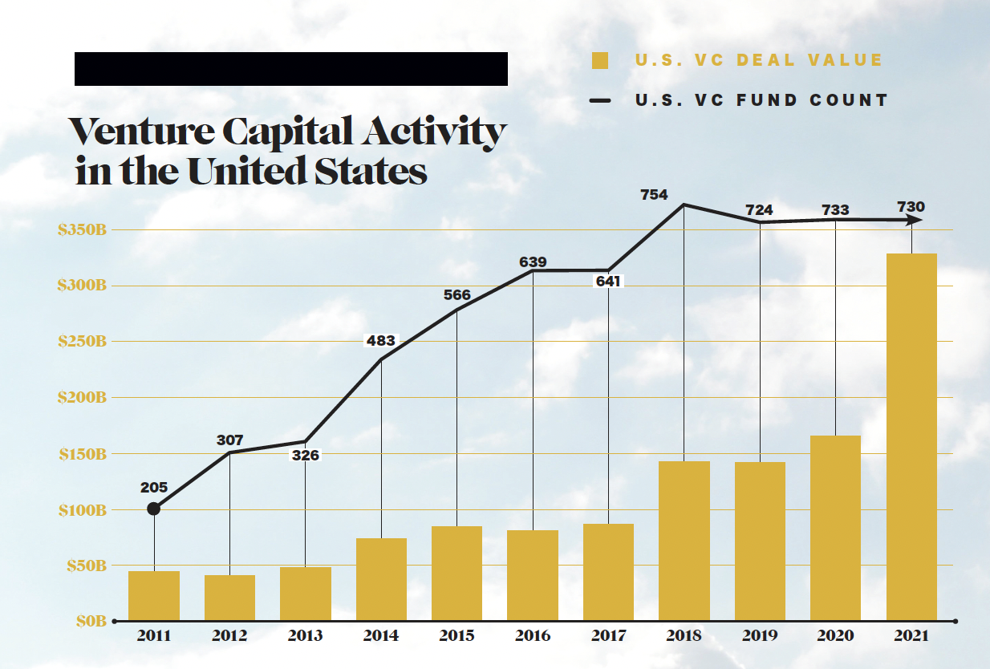 Stanford also expects VC activity to remain strong. While it might be tough to keep pace with 2021, the significant spike last year wasn't expected, either.
"The amount of interest that the venture capital market has generated is bringing new investors, more funds from investors that have been around for a while, nontraditional investors … like hedge funds, mutual funds, private equity (PE) funds are pouring capital into VC everywhere, and so the amount of capital available for companies to raise is something that no one would've foreseen in the past few years or really ever before," he said. "So barring any major economic shock, we expect 2022 to be a very strong year for VC, especially in Seattle and kind of the second-tier markets to continue in their growth."
Nontraditional investors went big into VC deals last year, according to the report.
"Nothing may have characterized 2021's VC landscape more than non-VC firm activity within the space," the report said. "Nontraditional institutions participated in an estimated 6,483 deals, which produced $253.5 billion in deal value. Venture returns from the past several years have undoubtedly led to an increase in nontraditional investment, as VC has been the highest-performing private capital asset class over recent horizons. Companies have continued to wait longer and grow larger prior to going public, leading public market funds to miss out on a large portion of high-growth opportunities."
In a news release about the record year nationally for VC, John Gabbert, founder and CEO of PitchBook, said, "By all metrics, 2021 was a banner year for the U.S. VC ecosystem. A fair portion of the new investment records can be attributed to the record levels of capital washing through the system. VC dry powder at an all-time high and a rapidly growing number of crossover investors are participating in, or even leading, VC deals. With VC returns outpacing every other private capital asset class, we expect LPs (limited partnerships) to continue to allocate capital toward venture at unprecedented rates in the coming year." 
Highlights of 2021 National Investment, Exit, and Fundraising Activity in the Pitchbook-NVCA Venture Monitor (Source: Report's Press Release.):
VC deal activity reached $88.2 billion invested across 4,591 deals in the fourth quarter, bringing year-to-date totals to $329.9 billion across an estimated 17,054 deals and nearly doubling the previous annual record set in 2020.   
Nontraditional investors participated in 6,483 deals valued at more than $253 billion, representing 64 percent year-over-year growth in participation.   
Mega-deal activity rose sharply in 2021, with $190.8 billion raised. Growth outpaced the broader market and nearly equaled the roughly $200 billion of capital invested in mega deals over the previous three years.   
A record number of startups received first financings in 2021, collectively raising $23.8 billion and exceeding 4,000 investments for the first time.
Exit Activity 
Total 2021 exit value was over $774.1 billion, representing an astonishing 168 percent year-over-year growth. Q4 alone returned $152.6 billion in liquid value to investors across more than 500 exits.   
IPOs accounted for 88 percent of total VC exit value at $681.5 billion. Rivian, Aurora, and Gitlab led the way in Q4 in terms of highest-valued public listings, but the story is also about the breadth of exit activity, with 296 VC-backed public listings representing a 114.5 percent increase year over year.
Fundraising Activity
VC fundraising activity for 2021 eclipsed $100 billion for the first time, notching a year-to-date total of $128.3 billion across 730 funds and representing a 47.5 percent year-over-year increase compared to 2020's record of $86.9 billion.   
The median and average fundraising value in 2021 also saw a notable jump to $50 million and $188.1 million, respectively, a significant increase over 2020's median and average fundraising value of $42.1 million and $156.9 million.

---