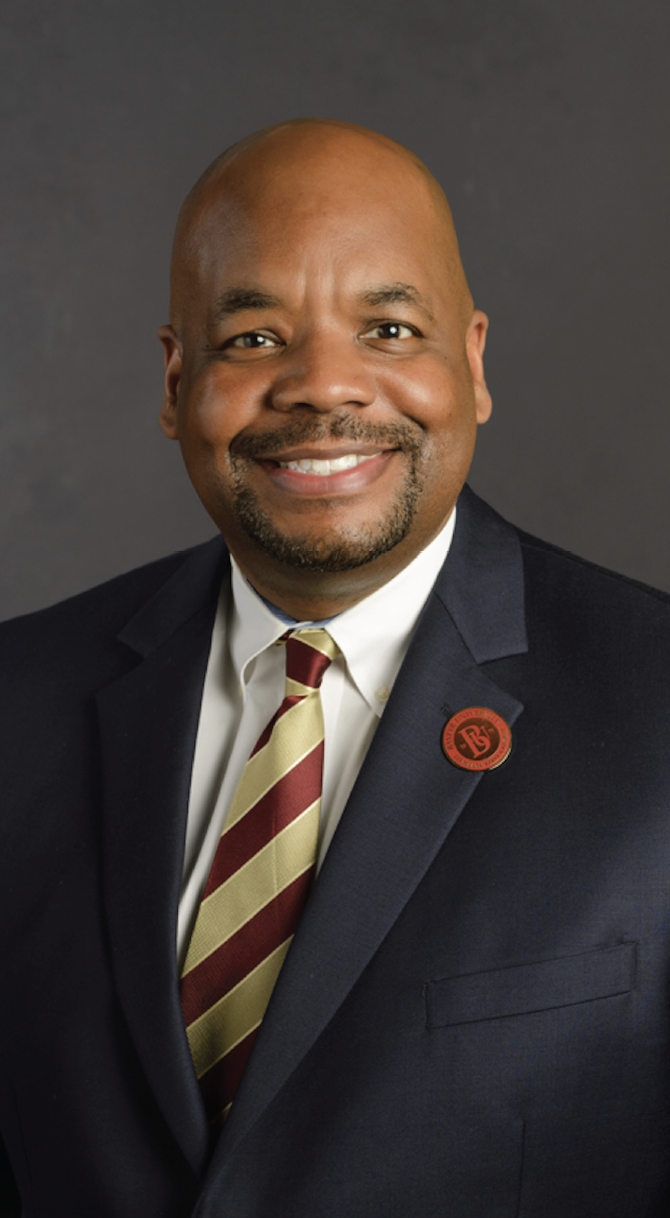 This month's edition of Lead + Follow — a Q&A section dedicated to further understanding the personal and professional mindsets of area business leaders — features Devin Byrd, president of Bastyr University in Kenmore.
Prior to being named president of Bastyr in 2021, Byrd was vice president for academic affairs at Saybrook University in Pasadena, California. He holds a Ph.D. and a Master of Science in psychology from Virginia Polytechnic Institute & State University. Byrd, a resident of Issaquah, is the first Black president in the school's history.
Twenty years ago, I never knew sending my children to college would be so hard.
What was your favorite TV show as a kid?
That's Incredible, because of the challenges people always faced and overcame as a result of their perseverance.
How would you describe your look?
Dignified, respectful, and open to conversation. I grew up in the Southeast. I was taught that the way you dress conveys respect for yourself and for others. So, that's how I try to show up — here to respect you and treat you with dignity.
If you could be anywhere in the world right now, where would it be?
The Maldives. Although I have never visited, it is a location I plan to visit one day. The area appears very relaxing, serene, and refreshing.
What is your email etiquette?
I get back to people and keep it simple. If it's complicated, I like to talk about it — in person or over the phone. That way, I make sure to fully understand the situation, tone and all.
What car you are most attached to?
Lately, I'm real interested in electric vehicles and any kind of transportation that doesn't pollute. Stewardship of our planet is everyone's job, and taking steps to be kinder to Mother Earth is just a natural, smart thing to do.
What's worth paying for?
A healthy community shows excellent return on investment. Being newer to the area, I see how much people on the Eastside care, and I see some people getting pushed out of our community because it's expensive to live here. It's worth it for us all to invest to ensure everyone has access to nutritious food, a great education, and mental health support.
What's your favorite neighborhood?
I'm still learning the area. I've come to love St. Edward State Park, hanging out at The Lodge, and I am really excited about a new initiative in Big Finn Hill Park to allocate seven additional acres of forest for folks to enjoy. I live in Issaquah. I love having the mountains at my doorstep along with all the amenities of the neighborhood, like grocery stores with organic whole foods, golf courses, local gyms to exercise, and coffee shops.
What's your favorite children's book?
The Sweet Pickles book series was my favorite. I enjoyed reading and rereading each of them as they created moments of anticipation with a good ending that was enjoyable.
What excites you most about our future?
I see more people opening up to the idea of whole person health and wanting to really understand the mind-body-spirit connection.
What is the first thing you do in the morning?
I take time to pause and practice gratitude. It helps set the tone for my day. When you walk into meetings and conversations or learn about a problem with a sense of appreciation for what's being shared, your mind tends to frame things in a solutions-oriented way.
What in your wardrobe do you wear the most?
I like a navy suit and blue tie. It's formal yet approachable.
What do you crave at the end of your day?
Watching a really good sunset, a good dinner and robust conversation with my family, and a solid night of sleep. It's a great recipe for personal wellness.
What does success look like?
Success looks like making beautiful memories, experiencing moments of joy, not letting the worst days bring you down for too long, having work with purpose, and the time to be with the people you love most of all.
If you could learn a new skill, what would it be?
It would be learning a new language (Japanese) in the near future. I have a desire to expand my awareness and connection and believe I would enjoy the process.
What advice would you give your younger self?
To always seek those who have an opportunity to provide a positive impact on your life. Enjoy the connections you will make.
What book would you recommend to everyone?
Crucial Conversations: Tools for Talking When Stakes are High by Joseph Grenny. It is a book that has provided good and necessary information for critical situations. When self-doubt creeps in, I remember the opportunities I have been afforded and the gains that have been made over the years.