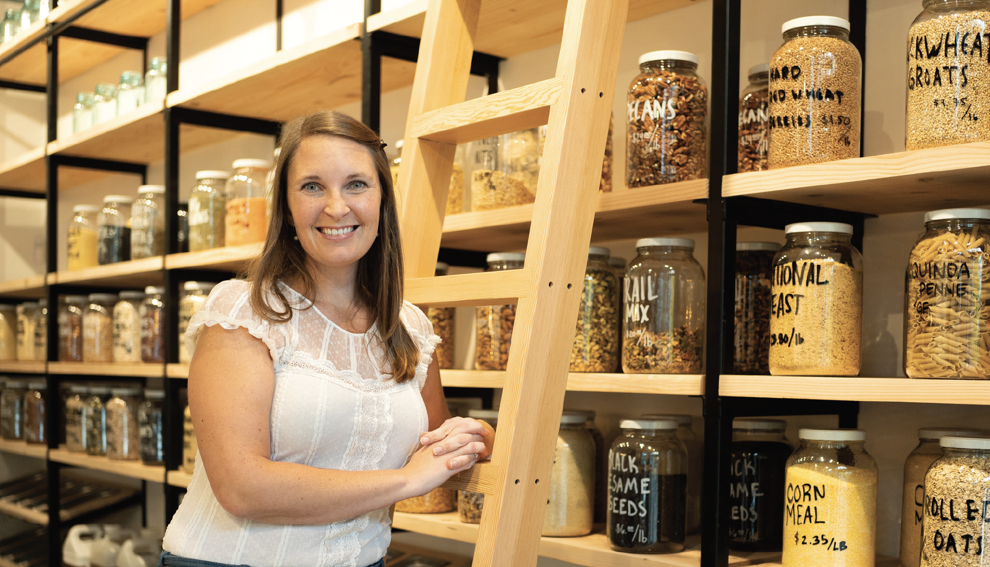 The average person produces approximately 4.5 pounds of waste each day, according to a 2018 report from the Environmental Protection Agency. Single-use products offer an easy, affordable, and convenient option in myriad scenarios; however, they take their toll on our planet.
In doing her part to mitigate this growing problem, Stephanie Lentz opened Scoop Marketplace, a zero-waste grocery store in Kirkland.
After changing her own family's habits and routines to reduce waste, Lentz said she wanted to provide opportunities for other people to "walk more gently on the planet."
Lentz first opened Scoop Marketplace in Seattle, but the shop closed two years after opening. The Kirkland location opened in September 2021.
The store allows customers to fill reusable containers with quantities of package-free food, home goods, and personal-care products, thus eliminating the need for disposable packaging and significantly decreasing environmental impact. All food and items are locally grown and sustainably sourced, Lentz said, as each item undergoes a rigorous research process.
"Our products will always be palm free, and they will always be plant based," Lentz said. "We don't sell any animal products and then all our food products are organic. And most of the ingredients that you'll find in our household and personal-care products are organic as well."
Anyone can shop at Scoop Marketplace, but memberships are available. Annual memberships come in two options — founding ($80) and VIP founding memberships ($150). Memberships grant customers discounts on all purchases (online and in store); access to the large quantity bulk food ordering service; access to digital sustainability resources; exclusive member-only opportunities, such as preorders for new products and exclusive events to provide insight into Scoop's growth and development; and more. 
Living a sustainable and waste-free life often can feel overwhelming, Lentz said. She reiterates the progress over perfection mentality because trying to singlehandedly save the world from waste and pollutants is not only unsustainable but it also is near impossible.
"I didn't want it to be this huge, extreme sacrifice. You don't have to live off-grid and deny yourself every comfort and convenience that we have available. But you know, we can just take these small steps and make progress, although a little at a time," she said.
Education is just as much a facet of Scoop Marketplace as the goods are. Scoop Intelligence provides resources and mentorship opportunities for people who want to open zero-waste stores in their communities.
Lentz said she struggled to find help when she first started planning her business. She reached out to other zero-waste shop owners, but no one wanted to help. She suspected it was because they were already too busy managing a small business in addition to some competition. "And so, at that point, I determined it was very important for me that when I got myself to a stage in my business where other people were looking to me for those answers and asking me, 'Hey, I want to start a business like yours. How do I do it?' I wanted to make sure that I could provide them with those resources," she said.
Scoop Intelligence started with a digital course that provides a road map to opening a zero-waste store. Lentz said more than 40 students have completed the program and several of them have opened zero-waste stores within their communities. Scoop Intelligence has grown to also offer sustainable business coaching — Positive Impact Professionals — where businesses can receive aid if they want help clarifying their mission and value statements, or writing their first impact or sustainability report, or learning the process of getting B Corp certified.
For those who don't want to open a zero-waste business or need sustainable business help but just want to learn more about leading a sustainable lifestyle, Lentz started a podcast, Green Stuff. She also launched a monthly subscription program, Scoop Swap Box, that sends products that she and her team have thoroughly researched, vetted, and tested.
"We're bringing them these sustainable swaps right to their door, and it comes with a really robust educational component so that they learn what these products are, where they came from, why we chose them, how to use them, and then maybe most importantly, how to dispose of them at the end of their life, whether they're compostable, recyclable, (or) reusable in some fashion," she said.
Going forward, Lentz said she's excited about Scoop's future. What started as a grand vision to change the world, Lentz realized that the thing that has the biggest influence is the individual impact.
"What's most encouraging and most inspiring to me is when I hear just one person's story … and telling me how the information that I've shared and my life experiences have improved the quality of their life and how thankful they are that we're providing this service and we're making this accessible to our community members," she said.
The article has been updated.
---