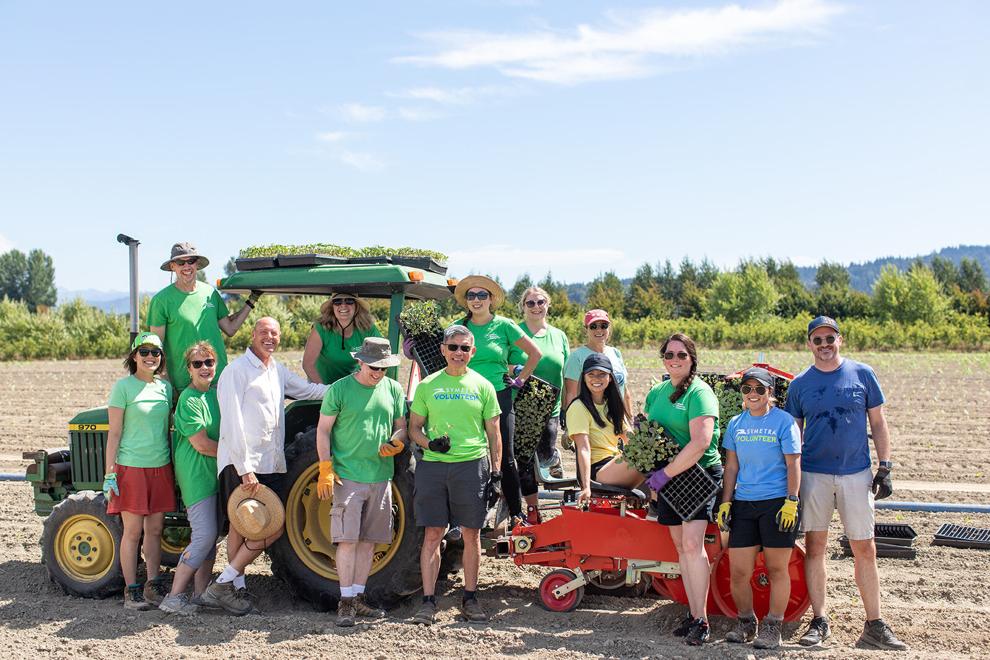 This is the first in a series of stories from the November 2022 Philanthropy Issue exploring the different ways Eastside companies are giving back.
---
Eastside companies give back to their communities in more ways than writing checks — although that's certainly huge for recipients who rely on donations to pursue their missions, compensate staff, and pay the light bill.
Companies also give through employees volunteering time at nonprofit events, serving on boards, offering in-kind services such as bookkeeping or event space, facilitating key introductions to other funders or helpers, or advocating politically on their behalf. It's work that puts a big smile on the face of givers and recipients alike. Corporate funders such as Bellevue-based Symetra Life Insurance Co. also bring a long lens to their giving.
"We want to fill the gaps, and we want to address the needs of today, but we really want to take a longer view in really supporting systemic change," said Sharmila Swenson, vice president-public affairs and social impact, who oversees giving for Symetra, which provides annuities, life insurance, and benefits products to people and businesses nationwide.
Symetra focuses its giving on underserved BIPOC communities, women, and at-risk youth and students, and on programs that address the homelessness and housing affordability crises for those disproportionately affected populations. Grants for women focus on reducing barriers to success and creating economic opportunities, and grants for youth focus on education scholarships and programs that build skills for long-term success. Symetra also advocates on grantees' behalf to fix systems or address policies that might contribute to inequities in the system.
"We know we're not going to necessarily show up with the biggest check, but we want to partner and pair that with advocacy and engagement and trying to figure out how we leverage other relationships that we have to support the organizations that we're trying to support in the community," Swenson said. Symetra last year gave $2 million across states in which it operates, with large chunks of support locally in its home region. The company has about 2,100 employees nationally, including about 975 in Washington, the vast majority of those in King, Snohomish, and Pierce counties.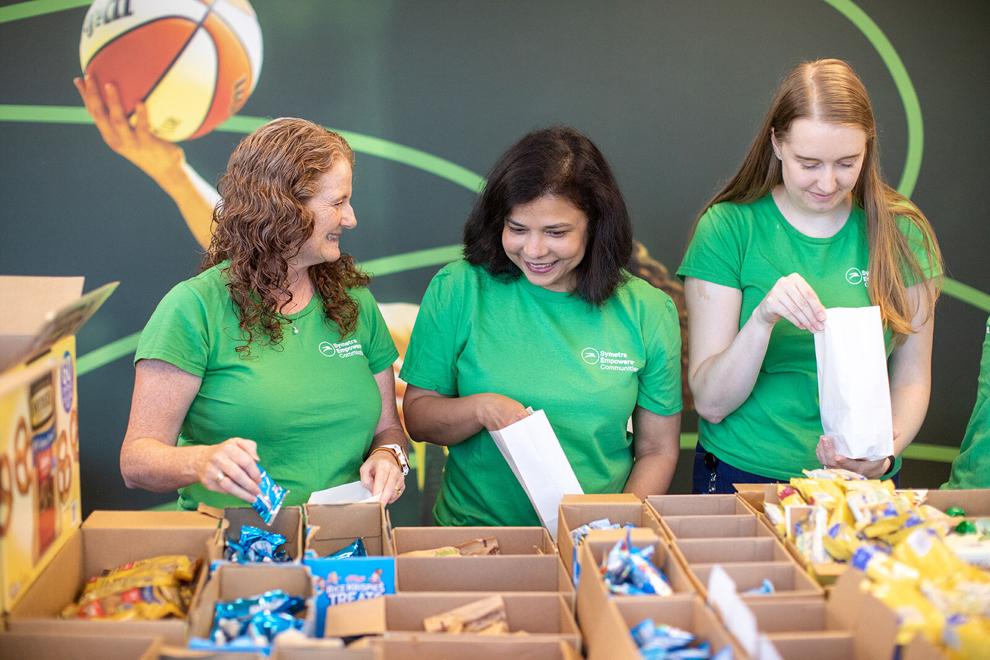 "We have … a long history of being engaged in the Eastside community," Swenson said.
The company launched a new giving program in 2020 called Symetra Empowers Communities, part of which includes Symetra Empowers grants of $25,000 to $50,000 that also can be multiyear commitments. Washington received eight of 13 such grants last year, with Empowers grants going to the GSBA Scholarship Fund, LifeWire, The Sophia Way, Treehouse, United Way of King County, Ventures, We Are In, and YouthCare.
Symetra Empowers Communities marked the start of contributing more than money to include advocacy on behalf of nonprofit partners; employee engagement strategies around giving and volunteerism that also include employee resource groups; and providing unique and inspiring experiences for youth, which included Symetra partnering with major sports programs to provide those opportunities, Swenson said.
Symetra Empowers Communities allows the company to focus larger grants and broader advocacy in a few key areas of impact, "so we could be thinking about more transformational relationship building and not as transactional," she said. "We still have opportunities where we're engaging employees across a large variety of volunteer opportunities; we have employees that give across the board on a huge number of issues and a huge number of nonprofits that benefit from our employee engagement, and we provide matching for those items," she said.
Before the Empower Grants, Symetra would occasionally offer larger grants, but most tended to be smaller and spread over a larger number of groups — what Swenson called a "peanut butter" approach. Symetra still gives a lot of what it calls Partner grants.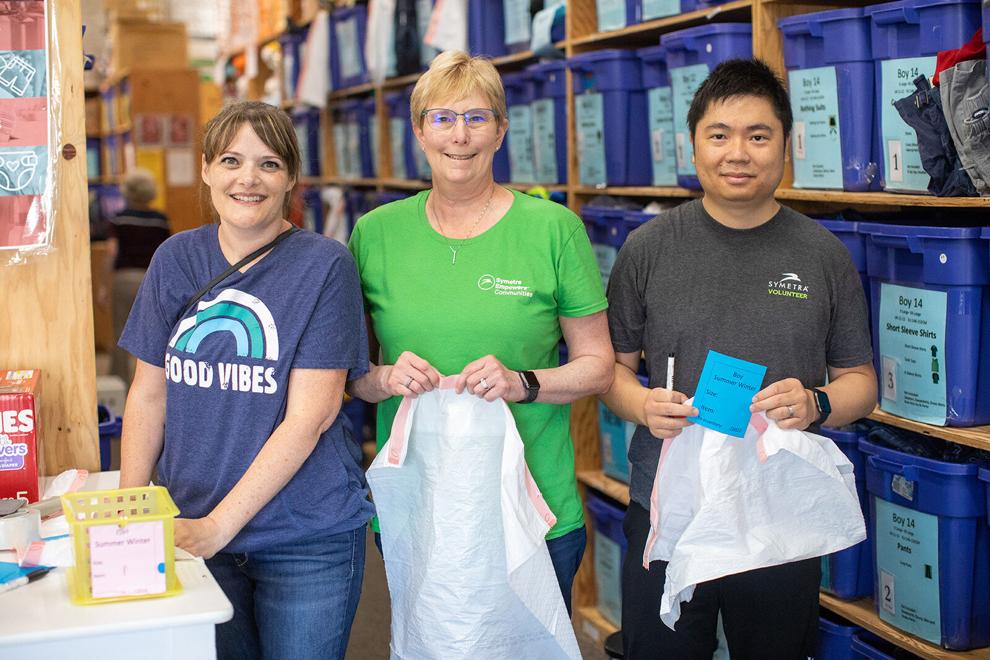 "When we think about those grants these days, they're often an opportunity for us to get to know an organization that we might want to fund at a larger level in the future," she said. "We also like to just make sure that we are providing some consistent funding for some of the things that we funded in the past as well."
Symetra awarded 65 Partner grants of $2,500 to $20,000 each last year to nonprofits throughout the country where it has an office, with many of the groups offering critical relief during COVID-19, including local shelters, food banks, and those offering care for children of first responders, and essential workers. Nearly half of those grants were in Washington, including Eastside recipients such as the Bellevue Botanical Gardens, Bellevue College Foundation, Bellevue LifeSpring, Boys & Girls Clubs of Bellevue, Eastside Baby Corner, Friends of Youth in Kirkland, Green Kirkland, Imagine Housing, Issaquah Food and Clothing Bank, and Snoqualmie Valley Food Bank.
Symetra's community outreach also includes employee involvement, nearly 3,000 hours were volunteered to various causes in 2021, and the company recently began an internal program it calls BOLD, Board Organizational Leadership Development.
"We really wanted to take the opportunity to kind of demystify what it takes to serve on a board," Swenson said.
Employees might not consider themselves qualified, but with Symetra's focus on diversity, equity, and inclusion, the company wants employees to feel qualified.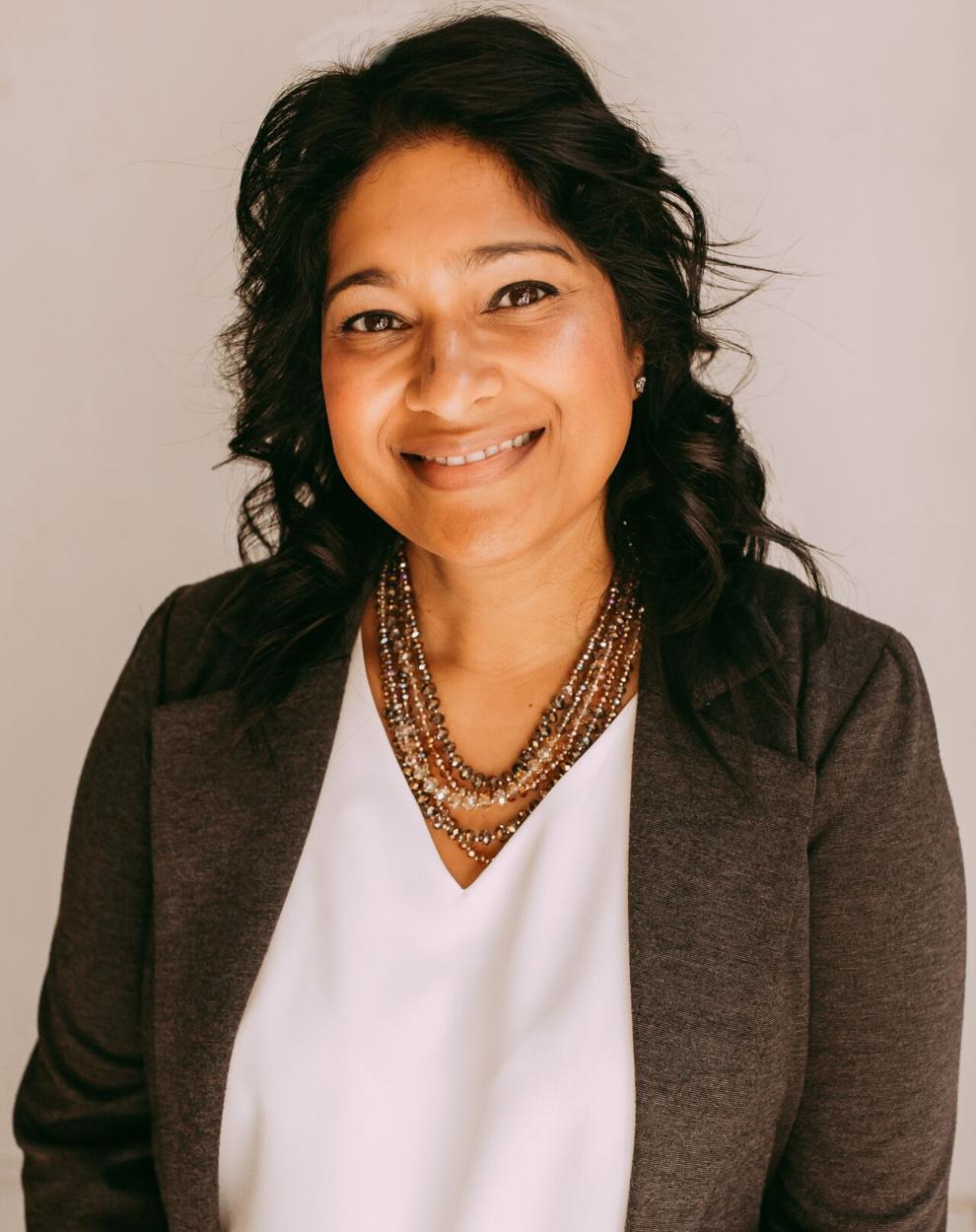 "They're well prepared already to serve in leadership positions because they have a unique perspective, they have a lived experience, they have a passion for what the organization does" that they're trying to help, she said. "So we've started this program to do a little bit of matchmaking so that we can provide opportunities for employees to more deeply, meaningfully engage in these organizations and for these organizations to benefit from having those folks in the community represent (them)."
Symetra is getting great feedback from employees and nonprofits where employees are joining boards, she said. The company encourages people to explore what such service means, and Symetra can help them prepare, "or more likely, they really already have what it takes."
Employees serve on boards of numerous local and regional nonprofits, including Attain Housing, Bellevue Downtown Association, Bellevue LifeSpring, ChildStrive, Congregations for the Homeless, Eastside Baby Corner, and more.
Symetra also has worked more broadly to lean into issues affecting the Eastside and Seattle, working toward more regional cohesion on issues including homelessness, transportation, and affordable housing.
"I think one of the important roles that we've played alongside other business (and) community leaders is to try and make sure … that people feel that they're at the table for the conversation — not just that all the decisions are being made in one particular spot," Swenson said. The company is participating in groups such as the Bellevue Chamber, We Are In, Eastside Housing Roundtable, and the Bellevue Downtown Association to tackle borderless regional issues and ensure the Eastside voice is represented.
"That has been another kind of major engagement strategy of ours regionally … and it doesn't take us spending a lot of dollars to do that; it just takes us making sure that we're reaching out to the right organizations and kind of casting a wider net on the Eastside than has traditionally been involved in the conversation," she said.
Symetra also launched its first corporate social responsibility program earlier this year, Symetra Social Impact, establishing a program map and goals through 2025, according to a news release at its launch. The new program, under an equity and inclusion framework, emphasizes social impact and integrates community, environmental sustainability, and governance efforts to broadly influence and drive positive outcomes for customers, communities, and employees, Symetra said.
"The work that we do in the community is part of that social impact leg," Swenson said.