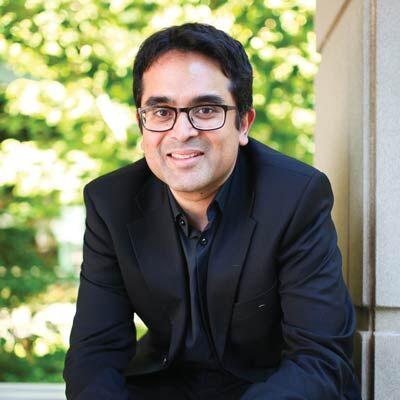 1.DimensionalMechanics commoditizes AI
In some ways, artificial intelligence is no more impressive than common sense. After analyzing thousands of Instagram posts and their corresponding likes, the team at DimensionalMechanics, a Bellevue AI company, had devised a program on its NeoPulse platform that assesses how interesting people might find an image. A broadcast company the firm is working with needed convincing, so they ran a test with a series of images to see whether the AI corresponded with editors' intuition. The image roll included police tape with a blurred cop car behind it — long a B-roll stalwart — and a shot of Mariah Carey showing generous cleavage. You can imagine what image the AI endorsed.
It's those types of judgments, albeit ones that aren't as obvious, that DimensionalMechanics hopes to assist clients with. The company recently began beta testing NeoPulse, which helps companies build artificial intelligence programs without an artificial intelligence scientist on staff. "We want to turn AI into a commodity," said Rajeev Dutt, CEO and founder.
One application predicts the efficacy of headlines. During a demo, engineer Armen Aghajanyan typed "President Obama and Wife Michelle Obama Visit Seattle and Cincinnati Gay Pride Parades" into the engine, and, based on previous analyses of headline performance, NeoPulse predicted that ditching mentions of the First Lady and of parades would double traffic. "I don't know what people have against parades," he said.
Dutt thinks this is the future of computer-assisted decision making. "Our core focus is to make AI accessible. … Our focus is to enable everything from small businesses to enterprise applications."
NeoPulse has been used to tag and search video archives, detect nudity, and render 3D images (the original vision for the company was in the virtual-reality sphere). So far, clients are impressed; Dutt expects to ink at least two contracts this fall. — JB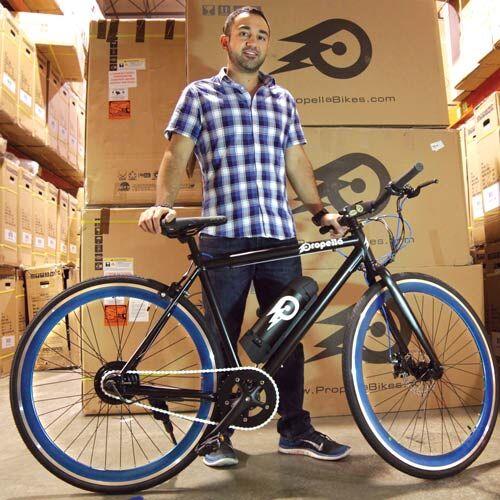 2&3.Propella and Coros make bike commuting much easier
Given the choice between cycling in the rain or driving in the rain and holding a conference call and receiving turn-by-turn directions, the dedicated professional will choose the latter.
But for a week in August, I chose the former. Equipped with an electric bike from Propella and a connected helmet from Coros, I was able to ride uphill without breaking a sweat, to accept calls and hear road noise, and I didn't look like a buffoon using either product.
After a couple weeks of wearing Coros' LINX helmet, I met the company's CEO, Chuck Frizelle, at a coffee shop in Seattle. "As I was coming here, I almost ran into two knucklehead bikers, both of which had earbuds (in)," Frizelle said. "How do we remove the earbud? How do we give people the music and podcasts and ability to take phone calls, yet keep their ears wide open?"
The defining feature of Coros' product is the bone-conduction speakers that rest on the rider's cheekbones instead of inside the ears. Coupled with the microphone, sneakily mounted in the forehead, they make mid-ride phone conversations a snap.
"We've had purists who would never listen to music" try the helmet, Frizelle said, "and 100 percent of them come back and say, 'This is amazing.'" Music for me, however, was an elusive pleasure — traffic noise routinely overpowered the speakers.
In that same traffic was where Propella's bike was most enjoyable. My test ride, a single-speed equipped with a six-pound battery where the water bottle usually sits, proved a worthy steed for urban commutes. With the throttle thumbed and a few pumps of the legs, the bike quickly gets up to 20 mph — the motor's maximum speed — and got me darting between cars in downtown Seattle.
Adding electricity to cycling's two most fundamental products makes the activity instantly more feasible for commuters. I'm not a performance-oriented cyclist; buses handle the long legs of my commute. But Coros allowed me to field phone calls and turn-by-turn directions on a trip to an unfamiliar Redmond office park, and Propella had me cruising at 15 mph up the hill near Microsoft's campus that I normally dread.
"Our target customers are, well, in the gray area," Propella founder Ben Tarassoli said. "Our minimalist approach helps that. We don't want an electric bike that's too aggressive or powerful, but we don't want a regular bike, either. So our target customer is … considering upgrading to get a boost of power."
Both products have early-generation problems. Coros' app interprets decimal points as commas when it reads off ride stats; I was surprised to hear I had ridden 3,250 miles on a recent trip. Propella's pedal-assist mode fires up when you walk the bike, and I have abrasions on my calf to prove it.
But if you consider Coros' and Propella's first products as glimpses into the future of cycling, you'll see a practical road ahead. Oddly enough, these expensive products (Coros will retail for $200, and Tarassoli expects Propella bikes to eventually be sold for $1,200) could democratize cycling for all. After all, those two products are vastly cheaper than a car, and they'll still get you to work on time and let you talk to your boss along the way. — JB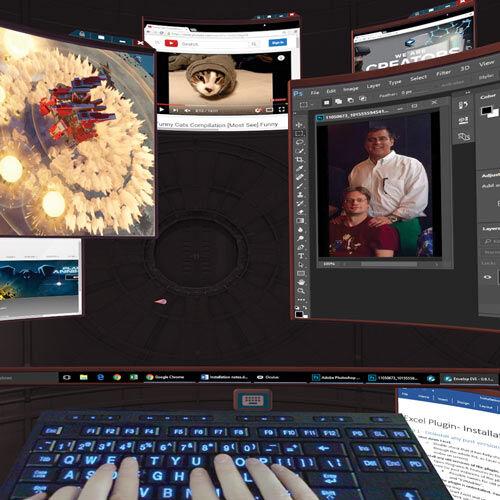 4. Envelop VR makes windows virtual
Virtual reality takes some getting used to. Sure, the whimsical games and videos can overwhelm one's senses, but I'm talking about a far more pedestrian virtual scene: the computer desktop.
I recently went to the Bellevue offices of Envelop VR to put its flagship Envelop for Windows software to the test by writing my "Weekly Reads" column that runs on our website. It's an aggregation exercise, and I wanted to see whether I would be more efficient with tabs strewn about a virtual world than I otherwise am with tabs strewn across my laptop screen.
Getting people to try the program is the primary concern of Bob Berry, Envelop's CEO. "It's about organizations understanding how to apply the technology to their business," he said. "You can't just go to a CTO or an executive and wave your hands and say, 'This is the future!' You have to get a headset on their face."
A couple Cisco employees who received a demo while I was at the office excitedly called Envelop's product "very cool" and "a game changer." It's not an uncommon response, but folks still struggle to see what Berry considers the ubiquitous value of VR. "I feel like I'm selling web services in 1994," he said.
Envelop for Windows puts you at the center of a virtual, cylinder-shaped desktop. It took me about 20 minutes to adjust to the new setting: I had to fiddle with window size (smaller is better; it initially felt like I was reading a newspaper as big as a sheet of plywood), text legibility (it's not good), and window positioning (stacking them atop each other was far better than positioning them side-by-side). But once you get things in place, Envelop for Windows becomes a very efficient place to work, in part because of the other-reality nature of it.
"We don't really publicize this part," Chief Marketing Officer Steve Santamaria told me after I wrote my story, "but there's nothing to distract you in VR. All you do is work." — JB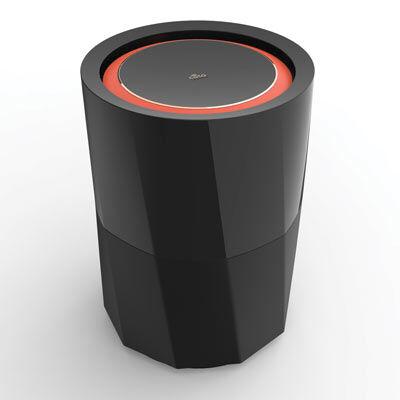 5. Ossia gets rid of all the cords
Hatem ("It's pronounced like 'Tim,' but with 'Ha!' at the front") Zeine, the CTO of Bellevue startup Ossia, is an excitable fellow who's excited about his latest invention. Called Cota, Zeine's creation is a transmitter-receiver combo that charges devices over a Wi-Fi spectrum, no charging cords or outlets required. The heart of the Cota system, and the reason it won't mess with your internet service, is that the transmitter and the receiver communicate with one another. "The transmitter says to the receiver, 'OK, on the count of 10, illuminate where you are. Let me see you. Imagine it's like lighting a candle in the dark. Now the device sends out a very short pulse, a millionth of a second, and the transmitter says, 'Now I can see you, and I will send power to you.'"
The pulse works. Ossia has functioning prototypes of smartphone-charging sleeves and receivers that fit in AA battery compartments, but Zeine believes that, eventually, these devices won't be needed. Just as Bluetooth and Wi-Fi receivers are now built into electronics, Ossia is banking on Cota being the next must-have device capability, and that our homes, coffee shops, and airports will be wirelessly charging those devices.
"You've seen those smart remotes. People buy them, but then find out they have to charge them every night? The last thing they want when they are tired is to remember to put their remote in the cradle. If suddenly wireless power is available, then all these scenarios become empowering."
By Zeine's logic, it's that fact that has us ditching devices. His theory is that we tolerate plugging in our smartphones so often because they eliminate the need to plug in scores of other devices. But with consistent power, Zeine thinks more devices will enter the public realm. "The number of (electronic) devices will grow in the home from 140, to 500, to 1,000 in 10 years' time," he said.
Investors believe in that proliferation; Zeine said the company has received $50 million in capital. Cota-enabled devices should be available in 2017. — JB
6. Translational Software aligns medicine and genes
When the human genome was mapped in 2001, Don Rule, then a Microsoft employee, saw a data science opportunity. "It occurred to me that when you could digitize the genome, there's a huge opportunity for a software person to make a huge contribution to human health."
Rule eventually founded Translational Software, a firm that analyzes a patient's genome to better understand which drugs will be most effective.
"Our effort is part of a global effort of what we call digital medicine," said Dr. Houda Hachad, the company's chief science officer. "How can we use computer systems to reflect the latest discoveries and knowledge, and bring it to the doctors within their existing workflow?"
Analyzing a person's genes sounds like a tall order: The human genome is made up of 3 billion base pairs. "But only about 5,000 of those are actionable," Rule said, referring to the genes that are known to affect how a person receives drugs. "We focus religiously on those."
Rule was at Microsoft when he began working on the software. The Redmond giant saw his project as a "zero-billion-dollar problem" that lacked an existing billion-dollar market, making Microsoft hesitant to fund. So Rule set out on his own, coding relentlessly until he found Hachad, then a University of Washington researcher, to handle the science side of the company.
The result: a profitable company that employs 15 and sells easy-to-interpret reports to physicians. Each report classifies drugs as green, yellow, or red based on the patient's genetic makeup. And the reports should become more comprehensive.
"In five years … you won't bother with a (series of tests)," Rule said. "You'll just get one test, and we'll be able to tell you everything that's clinically important." — JB
7. Sequitur Labs protects smart devices from others
A tiny section of the chip that runs your iPhone is called a "TrustZone." This is where fingerprint matching takes place, and where authentication happens when the phone connects to networks and other devices.
Fall City-based Sequitur Labs lives in the TrustZone. As more and more devices connect to the internet and to each other, security, or the lack thereof, becomes more and more important. You've seen the news stories: One week it's two guys initiating a friendly hack to gain access to and control a Jeep. Another week, it's a security issue regarding Hello Barbie, a Wi-Fi-enabled doll that allows children to have conversations with the iconic toy. So Sequitur steps in with software solutions that shore up security from other devices that connect to your gadgets or networks.
"I think we're going to have to go through a period of such hacks before everybody wakes up and says enough is enough, and we need to have a standard that can protect ourselves. There are some guidelines that are beginning to emerge, but I think it's going to be a very long time before a standard emerges," said Abhijeet Rane, vice president of marketing at Sequitur Labs. "In the meantime, the best we can hope for is increasing awareness and putting in place certain practices and technologies that already exist."
That line about the technology already existing is important. Rane said the technology for securing connected devices is available; it simply needs to be applied to new devices. Sequitur Labs has developed software that runs alongside the operating system to ensure authentication tasks and critical information remains secure and separate from the outside world.
"There are devices getting connected to the internet and other systems in a huge way. The benefits of that are clear, but the risks should be clear as well. That's happening as companies move forward," Rane said. "We are at an inflection point now where people know and understand the TrustZone and want it. And we are one of the few software companies that provide it." — MC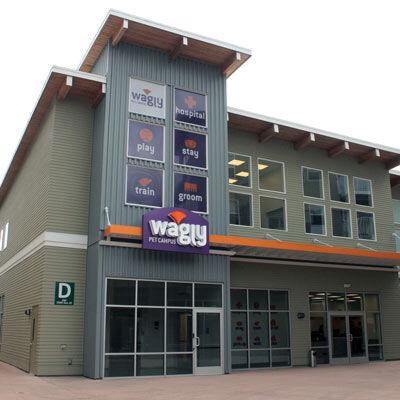 8. Wagly throws urban dogs a bone
Imagine if there were one place for haircuts, doctor's appointments, and day care for your kids. Wouldn't that make life so much easier? Sorry to say, we don't know of a place like that for children, but Wagly aims to be that place for pets.
When you pull up to Wagly's new campus in Bellevue's Lake Hills neighborhood, you can tell right from the start that it's a different sort of pet place. Wagly's cofounders, Shane Kelly and veterinarian Peter Brown, have been conscientious about making sure the establishment, with its grooming, veterinary, and boarding services, doesn't disrupt its residential neighbors, all while offering a one-stop shop for pet care.
"We're being really unique with our whole focus on what's best for the dog or cat, whether that means having groomers be trained on identifying skin disease or whether boarded animals are supervised by staff trained to identify disease or sickness," Brown said. "If they do get sick, we have a full hospital here to take care of them. The whole focus is on what's best for the pet."
Investors back Kelly's and Brown's approach: The company pulled in "tens of millions of dollars" in June 2015 from New York-based Invus Group. The company isn't wasting any time putting that money to use. Wagly launched in April 2015 and opened the Lake Hills campus in July of this year; by this time next year, there will be seven more.
Alongside the company's move to provide top-notch pet care, it's made a huge bet on technology. Wagly will soon release an app that helps pet owners make an appointment, view their animal at day camp, and request to pick up and drop off their pet. — MC
9. CloudMoyo is ushering in a new wave of cloud technology
CloudMoyo is located in Bellevue, but the company sits right on the corner of cloud technology and analytics. "The fusion of the two is where we live," said CloudMoyo CEO and President Manish Kedia.
CloudMoyo provides cloud analytics to clients such as North American railroad, Microsoft, and Toyota. Kedia sees the company as part of what he calls the "second wave" of cloud technology: the fusion of cloud technology and the huge amounts of data it can store. The first wave was more about the reduction of cost that came from using the cloud. "The next five years belong to the cloud and data (analytics)," Kedia said.
The startup was spun off from larger company Icertis, a contract management company, two years ago. CloudMoyo's office is unassuming, but what's inside stands out. Kedia and most of his staff are devoted Seattle Seahawks fans who deck out the office in blue and green. There's also quilted art around the walls — the work of office manager and employee-professed "office mother" Arlette Wentz.
The office is small; most of CloudMoyo's 200 employees work out of it, meeting with clients or at the engineering office in Pune, India.
Kedia credits the company's success to the talent pool he's been able to draw from. Many are former Microsoft employees, and the office in Pune sits near a university. But he's also relied on intuition. For Charlotte Shimko, who came to CloudMoyo a year ago, taking the job meant moving across the country from Florida after only a phone interview with Kedia.
Shimko is now the senior program manager and analyst for CloudMoyo. Her time at CloudMoyo has been special, she said, especially being able to travel to Pune to visit the engineering office.
"(Kedia) took a chance on me, and I took a chance on him," she said. — KM
10. Faira simplifies homebuying
When customers call the web-based real estate service Faira, they'll likely reach cofounder and CEO Kamal Jain directly on his mobile phone. A former Microsoft and eBay employee, Jain knows what it is like to work at a large company doing one job day in and day out. However, Faira has 10 employees in three small offices, so Jain wears many hats, including that of receptionist.
"In this company, we all have to do multiple, different kinds of jobs because we don't have the luxury to have each employee for just one job," he said.
This may seem like a drawback to entrepreneurship, but Jain sees it as a constant learning experience. "The last year or so (that we have been in business), I have learned so much more than I would in a job for five or 10 years," he said.
Jain and his cohorts, who have backgrounds in technology and economics, sought to streamline buying and selling houses. What they came up with is a website and app that offer complete transparency to buyers and level the playing field in a red-hot market. Selling a home on Faira is free — buyers pay a 0.5 percent fee — and the company handles the listing, photography, and inspections.
"When I was buying a home, it was unnecessarily hard," Jain said. "There was no way for me to trust the system. I didn't know what goes on between the two agents. It makes it harder."
Faira works with and supplies agents, but the service is meant to cut out the middleman. Along with the listing services it provides sellers, buyers are provided with inspection reports, and are able to make offers via smartphone — no earnest money required.
When it comes to giving advice to other budding entrepreneurs, Jain takes a page from Nike: "Just do it," he said. "Don't bring excuses." — JK