Seattle-based Wrench aims to remove the frustrations car issues create by bringing a mobile mechanic straight to your driveway
There's never a convenient time for your car to break down. Between getting your vehicle to the shop, shuttling in late for work, and waiting for the mechanic to call with a costly quote, car problems can disrupt your entire day — or week.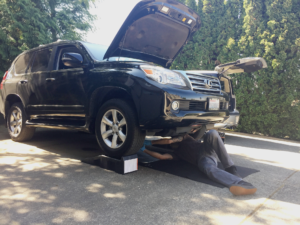 Wrench co-founder and CEO Edward Petersen said the idea for Wrench was born out of personal frustration. "I'm actually not a car guy. You wouldn't find me under the hood on a Saturday afternoon rebuilding an old Mustang," he admitted. "When we got this idea, it was purely from the side of the consumer and all the things that drive us nuts about having to deal with cars."
When Petersen says he's not a car guy, he means it. He's a tech guy, and he also doubles as a serial entrepreneur. Over the years, he's started a handful of companies, including Bellevue-based Intelius. With a strong tech background and experience launching successful businesses, Petersen looked to technology to create a 21st century solution to this age old problem.
"The notion of a mobile mechanic has been around forever," Petersen said. "But being able to create a network of trusted mobile mechanics and mobile services on the scale we're trying to do it? I don't think that's been done before."
Using the Wrench app, car owners are able to easily connect with ASE certified mechanics the minute they start having car troubles, and in no time at all, a Wrench mechanic is on his or her way. Mechanics are alternately connected to a wide inventory of resources and parts. And because Wrench's mechanics are able to perform most repairs in a driveway or parking space, Wrench users don't have to coordinate their entire day around getting their vehicles to and from the shop.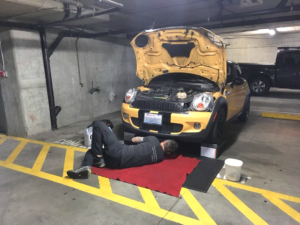 "It's cheaper than the dealer and way more convenient," Petersen said.
Because Wrench doesn't have the overhead of a traditional auto repair shop, the service is less costly to the consumer. "It's more convenient, more cost effective — and it's certainly disruptive," Petersen said.
While there are still some services that can't be performed in a driveway, Petersen said most repairs, more than 90 percent, can be made right where the customer's car is parked.
After a successful launch this past summer, Wrench is already looking to expands its services and markets. Currently, Petersen is most excited about Wrench's membership program, which provides variety of preventative maintenance services (oil changes, tune ups, etc.) for less than $20 a month. He's also excited to expand to other markets. Currently, Wrench serves Seattle, the Eastside, Everett, and as far south as Joint Base Lewis-McChord, with plans to launch in Phoenix, Arizona on Nov. 1.