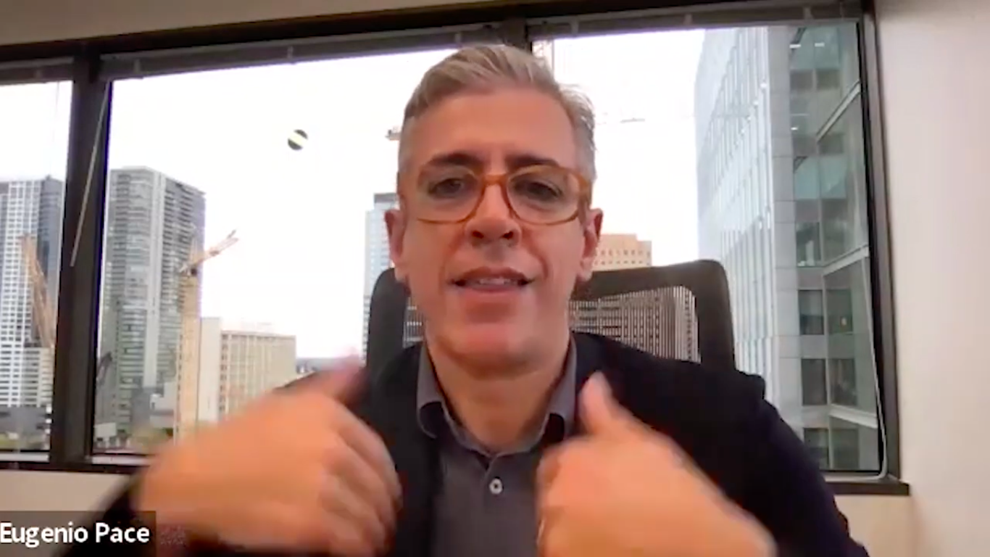 Eugenio Pace never ran Bellevue-based Auth0 with the goal of being acquired or going public, he said last week during an hourlong discussion about his journey co-founding and leading the identity management company.
"I always built the company with a mindset and with an objective of always being in the game," and of permanent development, Auth0 co-founder and CEO Pace said in the virtual Q&A.
The event was hosted by Dave Parker, a founder, investor, and author, and Emily Carrion, a five-time technology startup veteran, as part of the Washington Technology Industry Association's Founder Speaker Series.
Pace said he hired with that mindset, built for that, and didn't think of optimizing the company for a specific outcome, saying that trying to get acquired reduces one's options.
"Your chances of getting that are fewer than if you say, I'm going to build a great product that people will buy and will grow," he said. "Your chances are still challenging, but your chances are higher of succeeding there."
Almost a decade into his journey building Auth0, which he co-founded in 2013 with fellow Argentinian Matias Woloski, San Francisco-based identity provider Okta Inc. acquired it last May in a stock transaction valued at about $6.5 billion.
While Auth0 was acquired, Pace remains and said he's still building, just in a different context that he described as a "transformational component" of a joint mission. When the deal was announced in March 2021, it was billed as accelerating the companies' shared vision of enabling everyone to safely use any technology and shaping the future of identity on the internet. Auth0 would operate as an independent business unit inside of Okta, with both platforms integrating over time.
Leading up to the Okta deal, Pace shared his decision to leave Microsoft after 12 and a half years to start Auth0, as well as what he learned starting and running a company.
He touched on topics including building a strong culture based on trust; leveraging the company's status as a remote organization to hire talented people wherever they lived; the moments of euphoria and fear that come with a startup; leadership self-awareness; and learning as an engineer the value of sales. For the latter particularly, he learned that it's important not just to sell the product to customers but also sell oneself, the idea to investors, and the vision to employees.
Pace also brought up some of his favorite business books, including The Infinite Game, by Simon Sinek; The Hard Thing About Hard Things: Building a Business When There Are No Easy Answers, by Ben Horowitz; and The Advantage: Why Organizational Health Trumps Everything Else In Business, by Patrick Lencioni.
Pace talked about his development as a CEO, a role he held until 2014, when Auth0 hired a CEO who knew the fundraising and venture capital world better than Pace at the time. Auth0's funding rounds included seed, A, B, C, D, E, and F.
With the CEO in place, Pace focused on his strengths of talking to customers and on customer success, product management and support, and technical writing.
"Everything that was really focused on customers — that was me," he said. 
The new CEO held the role from 2014 to 2017, a period of significant growth. Pace was grateful for his work; then, he returned to the CEO position. Knowing what he does today, Pace said he probably wouldn't have handed over CEO duties in 2014, but that it was right at the time given what he knew then.
Returning to the post, his perspective had changed about what being a leader meant. Pace had worked with a business coach previously, but in his second CEO stint, he joined a program for CEO development called 10X CEO to become the best leader he could be. Its format included quarterly get-togethers of a small group of peers and a coach, with learning from each.
"That was a life-changing decision," he said.
While Pace could represent Auth0 well for its value and what it offered, Pace said he lacked technical knowledge in areas like finance and legal. With his interest in development and learning, Pace dove into gaining more knowledge.
"Having a coach and joining a CEO development program didn't take that much of an effort … it's money and it's time-consuming, but the effects are pretty dramatic because you avoid costly mistakes, mistakes that are difficult to revert," he said.
Carrion, noting Auth0's strong culture, asked Pace how he built that early on.
Pace said his management principles are simple.
"It's based on creating a culture of trust," he said. "That's kind of like level No. 1, because if you don't have trust among your team, team members, and the leaders of the organization, it's impossible to effectively resolve conflict."
Conflicts are intrinsic in companies, he said, citing the example of the push and pull between sales and product development.
"By its own nature, a company has teams which have different conflicting interests and without trust, we cannot put those problems on the table," Pace said. "And so this framework that I'm using — trust, conflict, commitment, accountability, and results, which is the hierarchy — it's all based on trust. So a lot of my effort has not been on results, which is what people want, but all the levels beneath that, the first one being trust and building a company where mistakes are kind of encouraged, so to say, because you learn by doing; and, guess what, sometimes you do and you make mistakes, but then you correct — and that's information, mistakes are information for you to be better."
Added Pace, "This notion of we are in this together, and trust, and deep collaboration — and the interests of the mission, our customers, our team, and ourself, in that order — we kind of like build around those concepts all the time."
Pace emphasized near the end of his presentation that his journey was his own, noting, "This is the only company I built, one; second, it's the only time I've been like a more serious CEO in my life, so it's like one data point, so take it with a grain of salt, OK. And I don't claim that my journey is going to be exactly yours or anybody in the audience."
Watch the full discussion online here.