Bellevue-based DimensionalMechanics hopes new AI applications help others with their own AI problems
Since he was 13 years old, DimensionalMechanics cofounder and CEO Rajeev Dutt has dreamed of living in a world where artificial intelligence is a part of everyday life.
With his company's recent release, Dutt's dream may be one step closer to reality.
In June, the Bellevue-based company announced the launch of NeoPulse AI Studio, an intuitive set of applications that allows businesses to easily design custom AI solutions to help them with everything from detecting Internet trolls, to evaluating trends based on a set of data. NeoPulse AI Studio is the third prong in DimensionalMechanics' NeoPulse Framework, which also includes a selection of off-the-shelf AI software solutions, as well as the NeoPulse AI Store, which — similar to an app store — allows businesses to license, share, and monetize their AI models.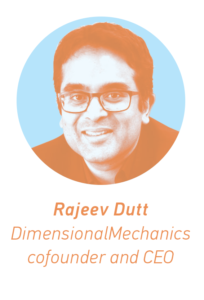 Dutt said the biggest challenge in today's market is making AI accessible to businesses and that's the ultimate goal of NeoPulse AI Studio — accessibility.
"When I look at the state of the AI marketplace today, a lot of things start to emerge," Dutt said. "And the first is that most of the solutions are very narrowly focused. Most deep-learning systems focus on one specific vertical … and that's not really useful for most businesses."
Dutt said other challenges that hinder AI's accessibility include high cost, inability to customize, lack of privacy on the cloud, and monetization — also issues NeoPulse aims to address.
"NeoPulse is about reducing that entry bar," Dutt said.
"With AI Studio, if you know nothing about AI, then we have this thing called the oracle, which is basically an artificial intelligence whose job in life is to build deep-learning models," said Dutt. "So, it's literally an AI that builds AI."
Dutt said all NeoPulse AI Studio needs to automatically generate an AI model are a few clues and some data. And, Dutt said, the more you use it, the better the AI gets.
"The exciting thing about this is that the AI, the oracle, actually becomes smarter every time you use it," Dutt said. "As you start to apply it to problems, it starts to learn from its solution and starts to optimize that and becomes even better at solving those kind of problems or writes models faster. It's constantly learning."
In addition to providing businesses with an easy way to create custom AI solutions, NeoPulse AI Studio also saves time. Dutt said customers have seen an 85 percent reduction in time required to code. And they save money, too. NeoPulse AI Studio is available as a free download to start, giving users a chance to try it before buying. From there, the annual cost ranges from the low hundreds to several thousand dollars, depending on the complexity of the problem the user is trying to solve.
Once built, businesses can decide to monetize their models via the cloud, on-premise (query run time), or through the NeoPulse AI store.
Dutt is excited about the launch of NeoPulse AI Studio, and said DimensionalMechanics currently is targeting the media and entertainment industries. For example, some of DimensionalMechanics' off-the-shelf solutions include a model that has the ability to rank the quality of an article headline. Another pre-built solution includes a model designed to rank photos based on social interest. And one company DimensionalMechanics currently is working with is utilizing NeoPulse AI Studio to automatically review drone footage for interesting content.
To better reach this market, DimensionalMechanics recently partnered with GrayMeta, a provider of automated metadata collection, curation, and search, and whose customers include ABC, NBC Universal, and HBO.
With the launch of NeoPulse AI Studio, a new partnership with GrayMeta, and a round of series B funding slated to begin this fall, DimensionalMechanics is one startup worth watching.