The average Eastside home is worth approximately $805,000, according to December 2019 data from Northwest Multiple Listing Service. In some parts of the area, like Medina — where local billionaires Bill Gates, Jeff Bezos, and others reside — homes are worth upwards of $20 million.
Protecting these gigantic assets presents a unique set of challenges. So, some homeowners turn to the private security industry — made up of security officer services, AI cameras, home alarms, and more — to ensure their property remains uncompromised.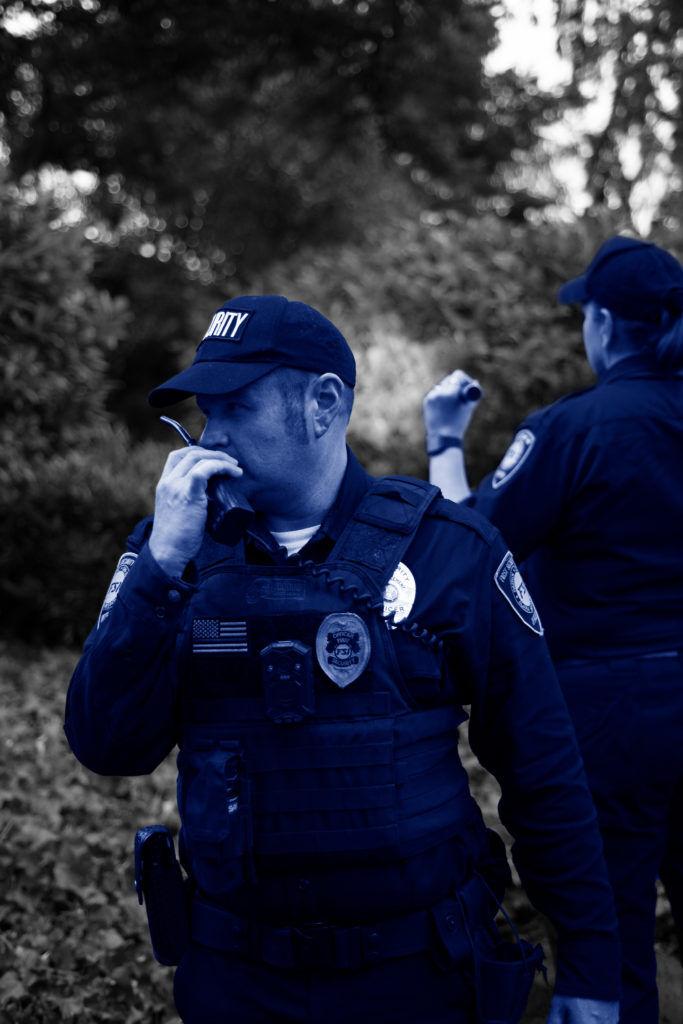 "In this day and age, everyone should have an alarm," said Moya Skillman, broker at Team Foster, a Bellevue-based real estate company she co-founded with her mother, Tere Foster. "And so many people are becoming huge fans of different types of cameras now, too. Cameras help from the overall security of a home from a crime standpoint, and they also help you maintain your property. That's important: You know, (a home) is the biggest investment of a person's life, for the most part."
This turn toward additional support from private security, on top of the safety provided by local law enforcement, is nothing new. In fact, patrolling local neighborhoods to prevent crime is what 67-year-old Jeff Kirby has built his career on.
"For $10.40 a month, I'd drive the road seven nights a week, 10 p.m. to 6 a.m., and run off the bad guys," chuckled Kirby, reflecting on the years following his founding of Puget Sound Security, in 1981. It was a time when home alarm systems and always-running cameras for personal use were far less prevalent. Then, 28-year-old Kirby was dedicated to protecting Bellevue's Newport Shores neighborhood, where today's median home value clocks in at $766,033, and the chance of being a victim of crime is 17 percent higher than the state's average, according to data used by areavibes.com. To get customers in the early days, Kirby knocked on residents' doors, offering everyday security patrol services.
Kirby said his presence alone made a big difference for Newport Shores.
"At the time, they were having a burglary every other week. We shut that down in 60 days: no burglaries for 18 months, just by having someone around who was paying attention."
That's what much of private security comes down to: some kind of presence that is paying attention — warning potential thieves or criminals that illegal activity won't go unnoticed.
In many neighborhoods today, that presence often is nonhuman. The use of cameras that surveil an entire neighborhood — not just an individual homeowner's front porch — is becoming increasingly ubiquitous. In 2009, Medina installed surveillance cameras that can read license plate numbers, which seemed appropriate thanks to the area's significant concentration of wealth. Now, 11 Seattle-area neighborhoods have installed similar technology sold by Atlanta-based company Flock Safety, including neighborhoods in East Sammamish, Crossroads, and central Bellevue.
---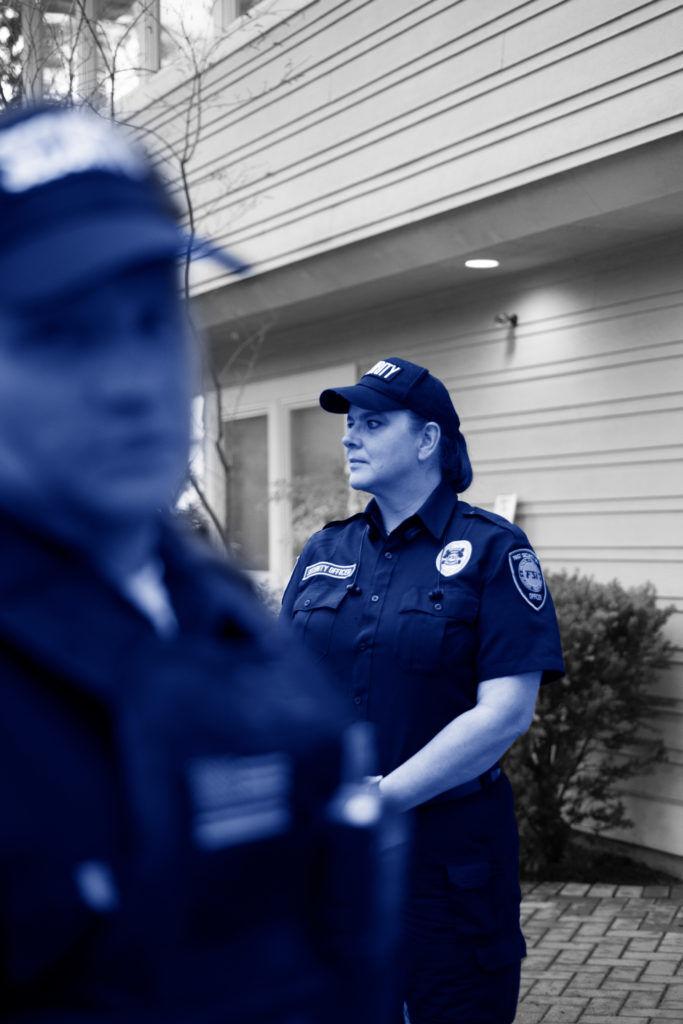 With 39 years under its belt, Puget Sound Security — which has headquarters in Bellevue and additional offices in Aberdeen and Spokane — has had a front-row seat to changes in the security industry. Kirby, who continues to serve as the company's CEO and chairman, noted that incremental shifts have made security services more reliable.
Positive changes in the industry have made background checks more substantial — Kirby said they used to be run only within jurisdictional lines — and training requirements more robust.
Over time, too, the industry has seen steady growth: IBISWorld, a 49-year-old company dedicated to market research on thousands of industries worldwide, reports annual growth of 2.7 percent between 2014 and 2019; the Bureau of Labor Statistics expects employment of security officers to grow by 5 percent though 2024.
"It's growing all the time because as the population grows, so does that small percentage of frauds and felons we have to protect ourselves from," Kirby said.
The growth hasn't been without its pain, though. Kirby said that every dip the economy takes, the security industry feels acutely.
"Take the dot.com dive in the 2000s," Kirby said. "The first thing to go was security because security is the last thing to come to any business. Nobody worries about protecting something that hasn't been built yet, and once they've built it, they have to earn enough extra money to be able to protect it."
The same held true of the Great Recession in 2008, during which Puget Sound Security had $1 million worth of security contracts canceled overnight, according to Kirby.
"Nobody knew where their next dollar was coming from," Kirby said of security companies like his.
But the company has so far outlived the downturns, continuing to deploy officers to protect property even as the tech sector of private security grows increasingly popular.
"When the economic climate isn't strong and businesses run short on cashflow, it's common to see clients reduce their personnel and lower their costs by relying on electronic measures until they bounce back," said Steve Squire, vice president of customer service at Puget Sound Security.
Security technology is becoming increasingly advanced — and increasingly affordable, thanks to companies such as Flock Safety and its license plate-reading software. Since launching in July 2017, Flock Safety cameras have come to adorn lampposts in some Eastside neighborhoods, and in 400,000 such neighborhoods across 36 states.
"It winds up being $25 to $50 per house per year for one camera," explained Flock Safety founder and CEO Garrett Langley. The company charges $2,000 per year for a camera's installation, and Langley said residents typically split the cost. This cost is in direct contrast, Langley said, to traditional license plate camera companies, which are seven to 10 times more expensive.
"I called some incumbent products, and we got a proposal for over a quarter of a million dollars for my neighborhood in Atlanta," Langley said. "Maybe neighborhoods in big cities like San Francisco and New York can afford something like that, but much of the rest of America probably can't."
That lower price point likely explains why this type of technology is becoming less exclusive to neighborhoods like Medina — though the communities now installing cameras still tend to be wealthier ones with assets that residents will invest to protect.
To a certain degree, the cameras can add a gated-community atmosphere to any neighborhood by tracking the make, model, and license plate numbers of every car that passes through the neighborhood, 24 hours a day. The camera — known as an automated license plate reader — can read plates up to 75 feet away, and with cars moving up to 75 mph, day or night. The necessity of an affordable model of the camera, Langley said, came out of conversations he had with Atlanta police departments that said arrests cannot happen without solid evidence like a license plate number, even if someone is caught on camera committing a crime.
"We have a really clear mission as a company, and that is to eliminate crime," Langley said. "So, we work with every customer during the early phases to put together a custom solution for their neighborhood, and that's not just about where the camera is going, but also how (it's) going to be operated — who will have access to it."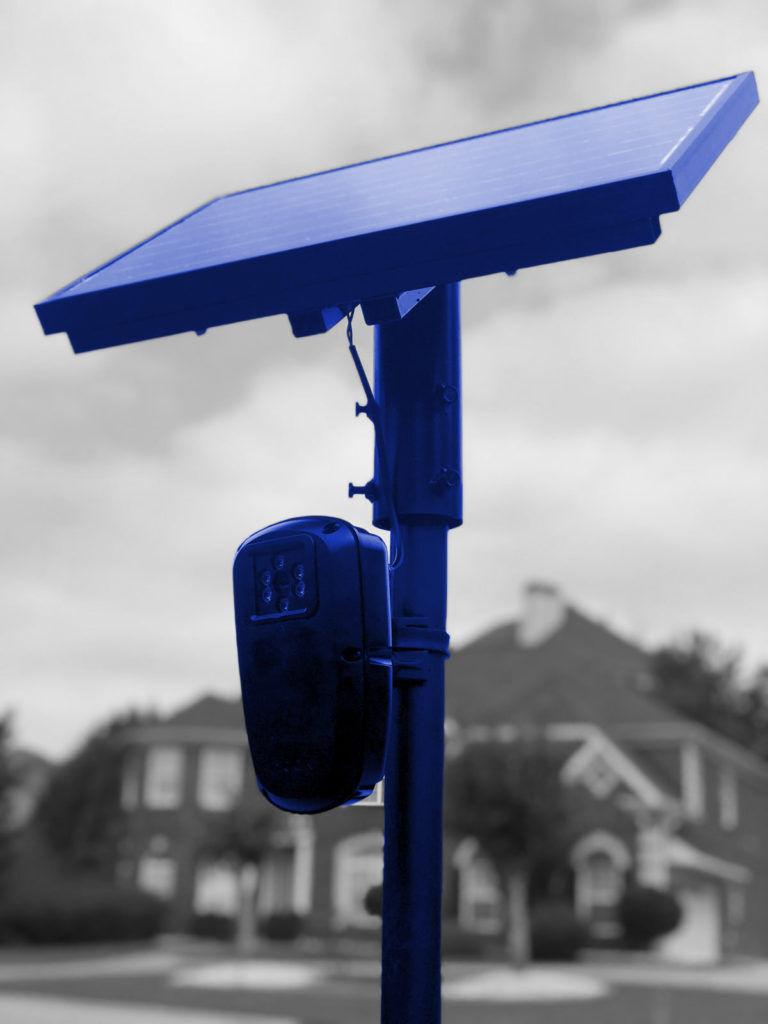 Flock Safety works with law enforcement, Langley said, passing along recordings to local police departments only if a crime is committed. Private security companies like Puget Sound Security are not a part of that equation: Cameras have the ability to call the police directly and give them the needed information in the event of a stolen car or Amber Alert, Langley said.
"It's essentially like having a police officer on your street corner 24/7," he said.
In other words, these security cameras do a similar job to the one 28-year-old Kirby did when he first started Puget Sound Security.
Private security companies don't seem to feel threatened by the development of strong surveillance technology, however, instead viewing it as just another layer to help keep people and their possessions safer.
"The technology isn't a replacement of the human element, but rather an augment to help enhance surveillance efforts," Squire, of Puget Sound Security, said. "A human being can do what a camera can't do, and that is interrupt an act that's being committed in the moment that it's happening. A camera is only as good as the person who's monitoring it. And, you know, a camera is only going to show you so much, and it can't provide follow-up information or anything."
The development of technology certainly helps Eastside neighborhoods protect themselves, though it doesn't look like security cameras will squeeze out private security officers hired to ensure properties go undamaged. In the meantime, Eastside residents have more options than ever to keep their homes — and their companies — safe and surveilled.